Every once in awhile you run across an irresistible chart pattern. A pattern that tempts you like no other. Even as a practitioner of infinite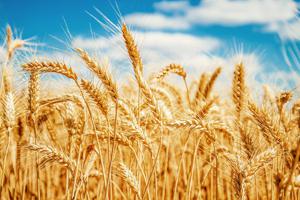 patience, your trigger finger still itches at the sight of it. You can't waitto jump in and ride that beautiful trend.
That's the sensation we get when looking at wheat futures (/ZW) (NYSEARCA:WEAT) to the short side. Just take a look at this monthly chart: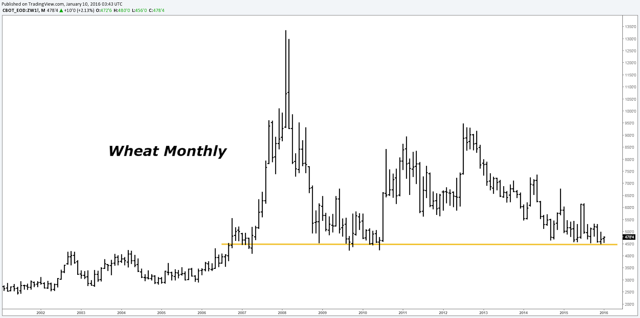 Check out that support line wheat is pushing up against. The horizontal extends all the way back to 2007. Break that level and look out below….
We recently tried our hand at hitting this pattern. We alerted our premium members to our short entry on January 4th on a break of a weekly pattern. Unfortunately, as soon as we entered, wheat rebounded. It hit our risk point a few days later on January 8th and we alerted our members to our exit.
What happened here? Was it a bad entry? A bad trade?
Not necessarily. The risk/reward was in our favor and the pattern was legitimate. Getting knocked out is just a part of the game. That's why we have strict risk control.
But now after being forced out, we feel the need to reevaluate wheat's fundamental picture. Does wheat's back story actually support this trade? Or is this chart pattern just a trap? Let's take a look.
Bear Market In Commodities
The commodity markets have been struggling, especially in the last 5 years. Prices have plummeted not only in wheat, but in most other commodities too.
The CRB index measures the price movement for a combination of commodity sectors. Below you can see how prices have been dropping since 2011.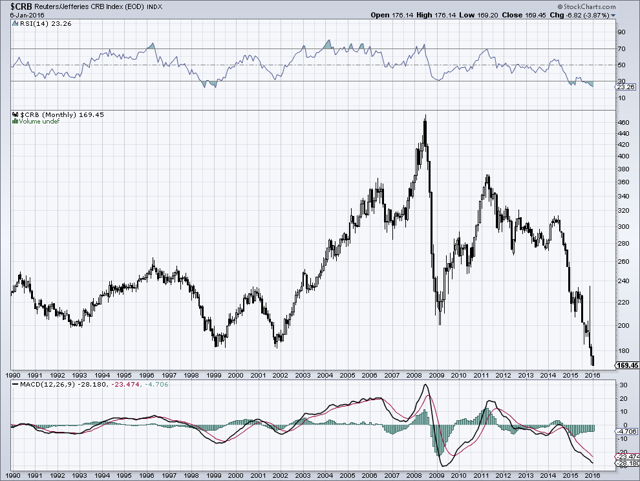 The index has fallen to multi-decade lows and is now below the 1999-2002 double bottom base.
The 10-year rolling annualized return for commodities has also dropped to -5.1%. This is the lowest return since 1938 when we were in the middle of the Great Depression!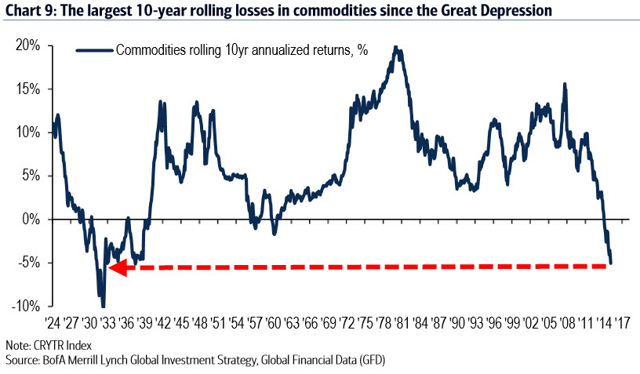 Most of the rout in commodities is attributed to the slowdown in China (NYSEARCA:FXI). China is the number one consumer of many commodities, including wheat. It serves as a huge source of demand. A slowdown in China results in a dropoff in this demand. And this in turn leads to lower commodity prices.
As we explained in our recent Apple article (NASDAQ:AAPL), China's situation is grim. China has massive debt problems that place a large burden on its growth. The Chinese government is currently attempting to manage this problem by manipulating its currency. But as we've seen in the past, they usually have little success when it comes to regulating the economy. The 10% sell-off in the Shanghai composite last week does not inspire much confidence in their abilities.
The demand destruction caused by a faltering China will likely cause commodity prices to stay depressed for some time to come.
Global Supply Glut In Wheat
Apart from the general lack of demand for all commodities, wheat in particular has suffered from oversupply issues. 2014 and 2015 had great weather and strong harvests. As a result, the US Department of Agriculture has seen world wheat stocks grow to a record 229.9m tonnes. According to Morgan Stanley, the U.S., EU, and Russia have all been producing better than expected harvests. World producers are now en route to build global stocks even higher for a third year in a row.
The USDA's most recent crop report predicted that the oversupply situation would continue at least until the Summer of 2016. They believe that significant production problems or trade disruptions would need to occur to change the direction of current wheat prices.
Strong Dollar Leading To Weak US Exports
Wheat is produced around the world and has various futures contracts to support it. The specific ones we trade are found on the CME and are called Chicago Soft Red Winter (SRW) Wheat Futures. SRW wheat is primarily grown east of Mississippi river from the Midwest to the South.
This choice in contract makes the US wheat market our primary focus. While global supply and demand affects SRW wheat, many domestic factors play a role too. A big one is dollar strength.
SRW wheat is suffering from the same problem as other US exports. As the dollar gets stronger, US exports become more expensive to other countries. This results in foreign buyers purchasing their wheat from the EU and Russia instead of the US. Non-US producers have cheaper prices due to more favorable exchange-rates. In this environment, the US becomes a last resort supplier. This situation has stressed US producers. They are now facing their lowest wheat shipments in 40 years.
The current lack of demand has caused US wheat supplies to swell. According to Citibank, the US stock-to-use level is around 42%. Wheat markets are considered tight when this ratio is closer to 30%. The current reading tells us that supply has a long way to fall before pricing becomes tight again. But this doesn't seem likely to happen anytime soon. Morgan Stanley believes that the US stock-to-use ratio will reach a six year high in 2016. Conditions for crop growth are still favorable and there continues to be a lack of demand.
The strong dollar effect is unlikely to end either. If anything, it will just become worse. The Federal Reserve is expected to continue raising interest rates throughout 2016. And judging from the strong jobs report released last Friday, the Fed has all the data it needs to do so. Higher rates mean a stronger dollar. A stronger dollar will continue to have a negative effect on US wheat exports, causing prices to drop.
Recent US Weather
The current growing season in the US has been cooperative so far. Many were concerned with drought conditions in the southern plains, but these concerns have subsided. States like Oklahoma are now reporting 0% drought conditions compared to 62% a year ago. December's record rainfall relieved Oklahoma of any dryness. Oklahoma is also reporting that 77% of their seedlings are good-to-excellent, which is up from 51% in November. According to Commerzbank, the improvement in moisture levels has raised the condition of winter wheat to levels comparable to previous years. And as we know, previous years have yielded bountiful harvests. This is a positive development for this year's harvest.
There were some concerns of flooding in the Midwest, but recent reports have shown that less than 2% of SRW wheat acreage was affected. The damage was minor.
Based on recent weather, it looks like we will have another great year of crop harvests. This will likely keep prices low.
A Strong Bear Case Makes A Good Short...Right?
Our reevaluation of wheat's fundamentals has revealed a strong bear case. So it makes sense to short right?
Maybe not.
There are many factors depressing the price of wheat right now. The general commodity bear market, the global supply glut, a strong dollar, good weather. With all these factors going against it, wheat is still resting near the $450 level. It's having a tough time breaking through.
At this point a trader has to wonder, what other news can come out that will be able to push wheat past this giant support level?
The amount of bearish news already baked into the price reveals a skew in market expectations. Investors expect wheat prices to remain low. And most of the available information supports this thesis.
With expectations tilted so far in one direction, the only way for wheat prices to make a significant move is if investors are surprised. Some unexpected news will need to cause investors to revise their expectations. For expectations to become even more bearish, a significant bearish event needs to occur. But apart from what we've already mentioned, it's difficult to imagine something new happening that pushes prices lower. Especially something that investors didn't expect and haven't baked into the price already.
This leaves the other side of the equation as a much larger risk factor. What can happen that will surprise investors to the upside and cause the price of wheat to jump? What will make investors revise their ultra-bearish expectations? When everyone is bearish, more bearish news will not surprise anyone. But bullish news could serve up a shocker and cause the price of wheat to skyrocket.
A big bullish surprise factor for any crops this year will be El Niño.
El Nino
El Niño is a section of abnormally warm water in the eastern and central Pacific Ocean near the equator. The extra heat pushes currents around the Pacific while leaking into the atmosphere. The heated air then begins to stir in tandem with the water and in turn causes some crazy weather patterns.
You've probably experienced some of this El Niño weather already. The oddly warm winter in the Midwest. The extreme flooding and tornadoes down south. El Niño is known to cause all sorts of strange weather. Droughts, floods, hurricanes, typhoons, hot/cold spells. None of these conditions are off limits for El Niño.
Our current El Niño is also very special. This one is exceptionally warm and has morphed into what's called a Super El Niño. Normal El Niños occur every 2 to 7 years, but Super El Niños happen a lot less often. This is only the third on record, with the other two occurring in 1950 and 1998. Crops are in danger.
Take rice for example. El Niño caused floods in Burma and a drought in Thailand that destroyed a lot of crop. This caused rice prices to soar.
El Niño can also affect US winter wheat. Winter wheat usually benefits from moisture, but this winter, it may be getting too much. There are concerns that certain areas of the US will receive too much water. If the fields are too wet, the crops will suffer. And if temperatures drops too low while the fields are wet, it could cause freezing. The soil freezing would hurt the crops' roots and lead to a poor harvest.
Experts expect El Niño to continue to affect weather patterns well into 2016. This could lead to a lot of surprises for crops, especially wheat. El Niño's unpredictability creates a huge risk for anyone trying to short wheat.
Shorting Wheat Feels Like A Trap
The short side of wheat feels like a trap. It will take substantially stronger bearish news to move wheat lower, while any bullish surprise will easily move prices higher. With its unpredictability, El Niño is a strong candidate to surprise overly short investors and cause prices to rebound hard.
For these reasons, we are leaving wheat alone for the foreseeable future. The general trend for wheat is down, so we won't be going long. But at the same time, we don't want to go short because of the major potential for a bullish surprise. This is an asset where it's best just to wait and watch.
The USDA reports on various soft commodities on January 12th. Part of the report will cover the health of winter wheat seedlings, grain stocks, and global supply and demand. Surveys are expecting the report to show that stocks and crops are both strong. It will be interesting to see how price reacts to the report.
Disclosure: I/we have no positions in any stocks mentioned, and no plans to initiate any positions within the next 72 hours.
I wrote this article myself, and it expresses my own opinions. I am not receiving compensation for it (other than from Seeking Alpha). I have no business relationship with any company whose stock is mentioned in this article.