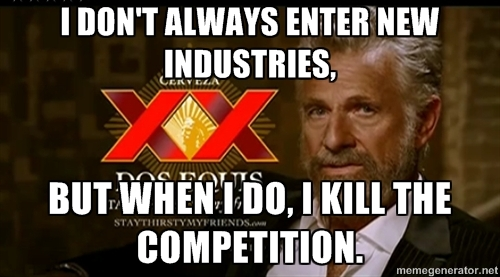 In the run up to the dotcom bubble burst, an online bookstore founded by Jeff Bezos that virtually everyone in America now knows went public in 1997. At the IPO price of $18/share and after three stock splits (two 2-for-1 splits and one 3-for-1 split), investors would have done very well to have bought and held the split-adjusted $1.50/share stock over the last 18 years. At a little over $600/share today, that is over 40,000% profit during this period. This represents around 40% per year compounded return over this period. Of course, the name of this wonderful company that now sports a market cap approaching $300 billion and is widely considered to be one of the most innovative companies in the world is Amazon (NASDAQ:AMZN).
Over the years, I had considered investing in Amazon's money losing (or fringe profitable) business and always came to the conclusion that the stock was a bit overpriced. Every time I would take another look at the situation, the stock price had moved up significantly and I would again be wrong about the valuation of the company not being justified by its fundamentals and future growth. I was well aware of the transformation of the company from just an online bookstore or online retailer years ago, but I kept habitually underestimating the growth of Amazon and its ability to consistently become the top company in every sector it competes in. It is quickly becoming a conglomerate that spans retailing of all categories of items, cloud computing and streaming video. It will almost certainly attempt to enter other sectors in the future and it likely will have a great chance of being disruptive to any industry it touches.
For the hundredth time it seems, I believe Amazon is a bit overpriced at the moment. It would not surprise me at all if I am wrong once again. Frankly, I expect to be wrong. (After all, I am batting 0.000 so far when it comes to predicting where Amazon's stock is headed.) Because I tend to avoid mega-caps, Amazon will probably never be a part of my portfolio. And frankly, if it is a part of your portfolio, there are probably better alternatives out in the market today. My suggestion is to look at companies that currently compete against Amazon or will potentially compete with Amazon in the future. I believe there are many companies who Amazon will eventually crush that will make great shorts and ultimately yield higher returns than buying shares of Amazon today. Along with looking at companies that the CFPB (Consumer Financial Protection Bureau) is looking at as potential shorts, a list of Amazon competitors is one of the best places to begin the search for short candidates.
While I believe Amazon will negatively impact some fellow mega-caps, I strongly doubt that it will be able to cripple the likes of Microsoft (NASDAQ:MSFT), Alphabet (NASDAQ:GOOG) (NASDAQ:GOOGL) or Wal-Mart (NYSE:WMT). AWS (Amazon Web Services) has proven to be the top cloud computing firm in the early stages of the growth of the industry and will be a thorn in the side that prevents Microsoft's gross margins in this segment to reach astronomical levels. Google's executive chairman, Eric Schmidt, discussed competition to Google's bread and butter search business. He suggested that Bing and Yahoo (YHOO), the number two and three search engines in the United States, are not Google's greatest threats. Instead, Schmidt suggested Amazon is its greatest competitor. Schmidt stated:
People don't think of Amazon as search, but if you are looking for something to buy, you are more often than not looking for it on Amazon. They are obviously more focused on the commerce side of the equation, but, at their roots, they are answering users' questions and searches, just as we are.
Wal-Mart's advantage as the world's largest low cost retailer will be further diminished every year by Amazon's growing clout as a retailer and its ability to make the shopping experience as convenient as possible.
The companies that I believe could be most negatively impacted by Amazon are small and mid cap retailers. Brick-and-mortar electronics retailer Best Buy (NYSE:BBY), mall retailers such as Abercrombie & Fitch (NYSE:ANF) and Aeropostale (NYSE:ARO), handmade and vintage items website Etsy (NASDAQ:ETSY), online home furnishings retailers Overstock (NASDAQ:OSTK) and Wayfair (NYSE:W) and numerous others.
Best Buy has run into trouble over the last few years as it has had difficulty competing against the rapidly growing Amazon. With the large overhead expenses associated with running a physical brick-and-mortar store, it is extremely difficult to be cost competitive against the ultra efficient Wal-Mart and online giant Amazon. Wal-Mart is efficient and willing to realize slim margins on enormous sales volume. Wal-Mart has been the bane of retailers for decades as it has single-handedly prevented competitors from achieving greater profit margins. Amazon is a leaner operating machine than Best Buy. The Washington-based online giant also benefits from customers using Best Buy as a showroom before ultimately making a purchase at Amazon. Best Buy's management has done a fairly decent job at combating Amazon with price matching and other initiatives, but it's a steep uphill battle for Best Buy where there are no simple plans that will lead to sustainable long-term profits.
For mall retailers, it has been a tough couple of years. The great downfall of the American mall has gotten significantly worse since 2013. Women are spending more time (and money) shopping online and less time shopping in the mall. Take a look at the below chart of the frequency in which women visit malls: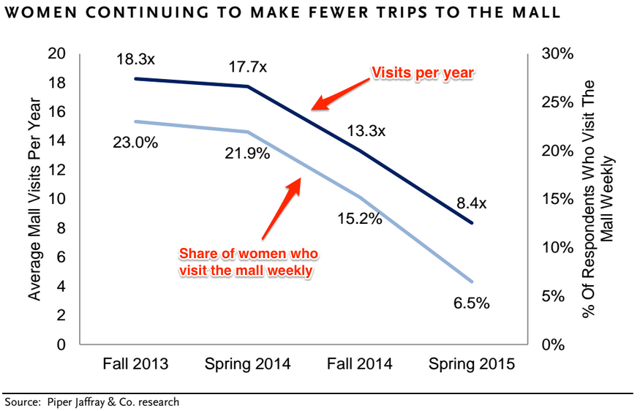 In the case of teen clothing retailers Abercrombie & Fitch and Aeropostale, the story gets worse. Teens have continuously spent a smaller percentage of their money on clothing since 2003. That trend is not going to stop. Logo-based clothes are in decline and the lean efficient online retailer can further compress margins on clothing by offering similar or identical items at attractive prices. The tech savvy teen generation will inevitably gravitate towards online shopping as it has been the way to shop their entire lives. (The below chart again comes from Piper Jaffray & Co.)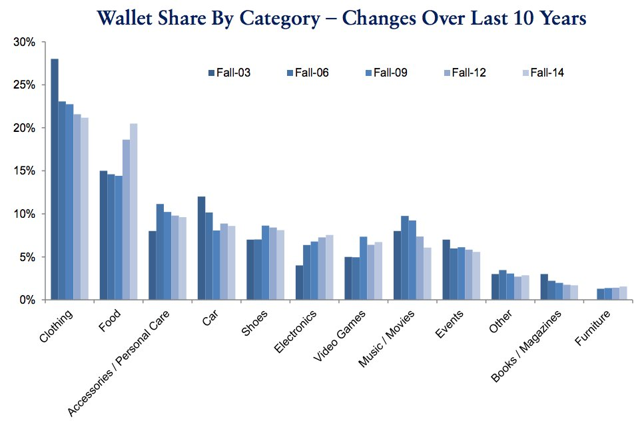 Etsy had a nice run as a platform for sellers of handmade and vintage items. It was a niche that was small enough to not be on Amazon and eBay's (NASDAQ:EBAY) radars. However, the secret is out that the total addressable market is in the billions and growing. Etsy is a money-losing business despite charging a flat fee for listing items and also charging a percentage of the value of each sale. Unlike Etsy, Amazon has an incredible war chest of capital that it can deploy to advertise and gain market share. If this niche market is as lucrative as Etsy believes it is, Amazon could steal a page out of the Microsoft playbook when it established Internet Explorer as the dominant web browser over Netscape in the browser wars. By making Internet Explorer free (and using some of its large cash stockpile to allow for this), Microsoft cut off Netscape's only revenue stream that eventually led to its demise. Netscape's CEO Jim Barksdale prophetically noted in 1996 that "Very few times in warfare have smaller forces overtaken bigger forces." Amazon has shown a willingness to lose money over long stretches of time if the tactic ultimately leads to significantly enhanced market share and an enormous competitive advantage that eventually leads to profits. In this battle, Etsy is like David in David versus Goliath, but Amazon is not Goliath. Amazon is more like a large team of highly trained guys from the special forces with modern weapons traveling back to Biblical times to fight David.
I hold put options in Wayfair currently. This is the only company I have mentioned in this article that I have an investment in at the moment. I have known about this company well before its IPO and I spent some time thinking about it over the last few months because it is a competitor of Amazon. Wayfair believes that the asset light business model is a significant permanent competitive advantage over brick-and-mortar retailers and traditional online retailers (who hold inventory in warehouses). I strongly disagree with that idea.
In the asset light business model, Wayfair is able to source product from thousands of suppliers without the need to store inventory in its own warehouses or incur other expenses that most suppliers do. Despite having what it believes to be a competitive advantage and revenue that is likely to far exceed $2 billion in 2016, the Boston-based home furnishings company will still not turn a profit (over the course of the year). This is also in spite of the fact that it is (very) frequently not the lowest cost seller of an item online. When it comes to customer service, few e-commerce companies are as good as Amazon. If you check online reviews, Wayfair's reviews are spotty at best.
Amazon has the greatest logistics teams ever assembled. When you buy a new house or move to a new apartment, you frequently get new furniture. If you buy a dining table, some chairs, a desk, a bed, a couch and a cabinet from Wayfair, you will likely pay higher prices on average than if you had purchased the same or identical items from Amazon (or another online retailer) and someone will have to pay for up to six separate shipping costs if you use Wayfair exclusively. The efficiencies of Amazon's logistics are completely lost in Wayfair's business model. I want to reiterate that Wayfair is still bleeding money at a high rate while not being the lowest cost online retailer and Amazon is likely wavering in the small loss to break-even range in its furniture business. If the online furniture market is as vast as Wayfair seems to believe, Amazon can (and likely will) use the tactics I described above in which Microsoft killed Netscape. While Amazon can't offer free home furnishings, it can further compress gross margins by making prices even more attractive to consumers and keep Wayfair an unprofitable company indefinitely.
If you buy from IKEA (as many low and middle income families do), you can get all of your stuff at one place at a lower cost than what you could get at Wayfair for similar items. IKEA also pays a little more attention to the safety of its products than Wayfair does. IKEA mentions its policies about formaldehyde in "Improvement #42" on its website. While IKEA is not immune to possible formaldehyde trouble in the future, the company's proactive approach on this issue leads me to believe the world's largest furniture company is much less at risk than its competitors if formaldehyde becomes the next big public health issue. Formaldehyde does not pose the same high level of risk as cigarettes or sugary carbonated beverages, but the spotlight from an episode of 60 Minutes and the outcry of respected hedge fund manager Whitney Tilson may spark a movement against formaldehyde. Tilson has tested the formaldehyde levels of several products purchased from Wayfair and published the results on this site.
I published a quick article using basic statistics to analyze the results from Tilson's testing. There is a very good chance that a large number of MDF (medium-density fibreboard) products on Wayfair containing elevated levels of formaldehyde. While some of these same products can also be found on Amazon, the reputation damage done to Wayfair if the general public hears the objections of Tilson and other formaldehyde testers will be far worse than what will be done to that of Amazon. Amazon has a history of employing customer friendly solutions even if it comes at a hefty expense. Even if Wayfair attempts to follow in the footsteps of Amazon on this issue, could Wayfair afford to take that sort of large expense? Issuing more equity sometime over the next 18 months is a foregone conclusion in my opinion. If Wayfair has to refund a significant number of customers who purchased MDF product, the timeline of when Wayfair will need to issue more equity will be accelerated greatly. In my view, that is the event that will wake Wall Street up and send this stock plummeting.
MasterCard (NYSE:MA) released data suggesting that women's apparel and furniture were winners during this holiday season. Wayfair also posted impressive growth during the long weekend that begins on Thanksgiving, includes Black Friday and ends after Cyber Monday. Despite these positives, Wayfair is likely to again combine major revenue growth with net losses again. How much revenue does Wayfair need to produce to get to break even for a full year? In my view, there is no reason to believe the Boston-based online furnishings company will ever record a profitable year.
Henry Ford, Sam Walton and Bill Gates were among the handful of men who shaped America's economy in the 20th century. There is no doubt in my mind that Jeff Bezos will be in the small group of executives who have the greatest impact on the lives of Americans in the twenty-first century. Bezos (via Amazon) has forever changed the way Americans shop and has begun the process of turning cloud computing into something that will eventually be as standard as having Windows installed on a PC. Not even UPS (NYSE:UPS) and FedEx (NYSE:FDX) are safe from Amazon's dreams of drones delivering goods faster and more cost efficient than any delivery service can today. Netflix's streaming video service is clearly in Amazon's crosshairs. Even Elon Musk's SpaceX is not safe from competition from Bezos. The Amazon founder also created Blue Origin, a company that successfully launched a rocket into space and landed upright back on Earth. Jeff Bezos, quite simply, is everything the Dos Equis man claims to be in advertisements (the most interesting man in the world). He doesn't always enter new industries, but when he does, he kills the competition. As a result, I believe looking at Amazon's competition is a great place to search for stocks to consider shorting.
Disclosure: I am/we are short W.
I wrote this article myself, and it expresses my own opinions. I am not receiving compensation for it (other than from Seeking Alpha). I have no business relationship with any company whose stock is mentioned in this article.
Editor's Note: This article covers one or more stocks trading at less than $1 per share and/or with less than a $100 million market cap. Please be aware of the risks associated with these stocks.