My investing strategy often centers on finding fundamentally strong companies undergoing transition. Covisint Corporation (NASDAQ:COVS) is such a story with a small twist. Its transition phase is over, but despite that it's a grossly misunderstood company. This makes the story even more compelling.
Covisint is a provider of IoT (Internet of Things) solutions via its innovative cloud platform. It also provides identity and access management solutions. IoT is a business opportunity worth billions of dollars in a matter of years. As an investor, I believe IoT offers huge money-making opportunities in the next three to five years. However, selecting the right companies is a difficult task. COVS is a potential multi-bagger opportunity not only due to its growth prospects but also since it's misunderstood.
Background
In late 2014, COVS was spun-off from Compuware Corporation, a company that failed to boost growth primarily due to the decline in the automotive manufacturing business in the US immediately after the financial crisis of 2008. A significant part of Compuware's revenues used to come from auto manufacturers.
In 2000, General Motors (NYSE:GM), Ford (NYSE:F) and DaimlerChrysler invested $500 million to form Covisint together with Renault, Nissan (OTCPK:NSANY) and Peugeot (OTCPK:PUGOY) in order to reduce the cost and complexity of automotive supply chain management. The carmakers thought that an online platform for exchanging resources would reduce input cost substantially for them. However, with the dot-com bubble bursting, the then Covisint became defunct and Compuware acquired Covisint's assets in 2004 for only $7 million.
Compuware, which was a tech company at that time serving the healthcare industry, successfully utilized the assets to build efficient supply chain solutions for the automotive, healthcare and manufacturing industries. Compuware also expanded the business by offering technical services to customers in performance engineering, mobile application development and system modernization. However, as the 2008 financial crisis unfolded, Compuware's business got messed up. Furthermore, introduction of compatible products from IBM (NYSE:IBM) created huge competitive pressure on the company. As a result, the company continued to remain a laggard until the COVS spinoff, after which it was taken private by Thoma Bravo, LLC.
Why the opportunity exists?
In 2015, after the spinoff, COVS successfully transitioned from a services business to an enterprise-grade platform company that is capable of bringing disruptive changes in the way automotive and manufacturing industries operate today. Post transition, the company basically provides PaaS-based (platform as a service) IoT and Identity Management-centric (IdM) solutions to the players in these industries. I expect that revenues from the PaaS business will grow at a CAGR of more than 20% in the next three to five years.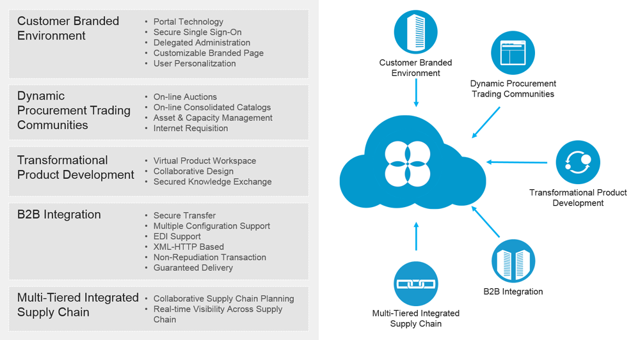 Image Credit: Covisint
The stock hasn't yet priced in the fact that with its transition is now over, the company's revenue growth will improve dramatically in the coming years. The transition involved creating a stable subscription-based business model by selling COVS' highly competitive services across the globe. Covisint Chairman and CEO Sam Inman said during fiscal 2015 earnings release:
Fiscal 2015 was a transformative year for Covisint. Over the past twelve months, we successfully transitioned to a fully independent enterprise-grade software company, made a number of strategically significant decisions in both our subscription and services businesses, and transformed our leadership and sales teams.
The core of my investment thesis lies in the fact that the market has completely ignored what COVS has built. It has built a robust platform for offering its services. The platform has ensured COVS' services will reach every corner of the world. Unfortunately (or fortunately for new investors), the market has been focusing on Compuware's messy business model to extrapolate it to COVS' situation in the absence of any meaningful sell side coverage (currently only three sell side firms cover the company).
I believe fiscal 2017 will be a significant year for the company in terms of financial performance, which will set the stage for the company to break even in fiscal 2018. I don't expect its expenses will rise substantially from the current level. If revenue grows at a CAGR of 20% in the next three to five years, which is a strong possibility, COVS will generate positive cash flow and profit in fiscal 2019.
Sounds too optimistic?
Absolutely not. Why? Well, first because the company's product development team continues to strengthen the platform via which it offers its services. In June last year, COVS released resources for developers to create software solutions for IoT, IdM and B2B collaboration for the automotive and manufacturing industries.
Second, COVS substantially expanded sales force for distributing its products. Selling will be done (1) directly to customers via cloud, and (2) via strategic partners. There are enough reasons to believe COVS will be able to deliver as the company's sales initiatives have already started to bear fruit. In the most recent quarter, the company garnered total revenue of $18.4 million and subscription revenue of $15.3 million, which is encouraging if we take into account it's been only a year since the spinoff happened. With a handful of blue-chip names like GM, Ford, Hyundai (OTCPK:HYMTF) and Coca-Cola (NYSE:KO) associated with the company as its customers, I am optimistic on COVS.
Valuation
For valuing the company, investors need to understand why industry players need COVS' solutions? Well, after the spin off, Compuware's Covisint Application Services business segment, which was originally created by the carmakers mentioned above, meaningfully improved its operations by shifting the business to cloud. The supply chain platform that failed in 2000 has suddenly become an absolutely relevant business opportunity today.
Currently, it is capable of powering more than 212,000 businesses worldwide via its B2B (Business-to-Business), B2C (Business-to-Consumer), B2P (Business-to-Partner) and B2E (Business-to-Enterprise) cloud platforms. COVS' platforms not only help customers securely identify and authenticate users but also allow customers to connect devices, applications and information.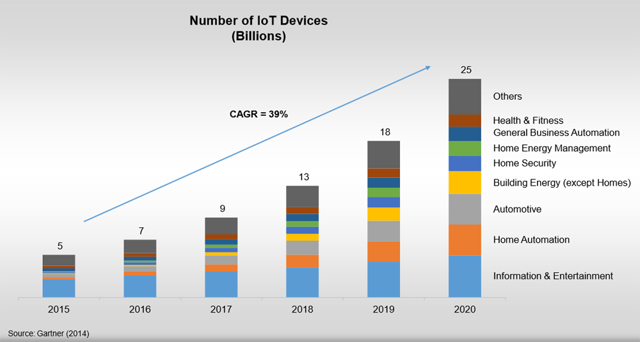 Image Credit: Covisint
In the backdrop described above, let's now focus on COVS' valuation. The company's total revenue for fiscal 2015 was $88.5 million. It has $41.7 million of cash on its balance sheet without any debt load as of September 30, 2015. With 39.64 million shares outstanding, COVS' market cap currently is $90.38 million and enterprise value is $48.68 million. COVS' book value as of September 30, 2015 is $72.85 million. Shares of the company are trading at 0.54x EV/Revenue and 1.24x Price/Book.
This is a ridiculously depressed valuation. Given the company's balance sheet strength and growth opportunities, the only reason for such valuation could be that COVS is grossly misunderstood. I have seen many financially distressed companies enjoying such valuation, but I have rarely seen such valuation for a financially healthy company that belongs to a high-growth sector.
If COVS is considered a cloud IAM (identity and access management) player, most of its peers such as Okta, CA Technologies, One Login, etc., are privately held. Large companies like IBM , Microsoft (NASDAQ:MSFT), Symantec (NASDAQ:SYMC) and Salesforce.com (NYSE:CRM) offer their clients cloud IAM software solutions. However, COVS is not just a cloud IAM software provider; instead, it's a fully independent enterprise-grade software company. I, therefore, believe the companies just mentioned can be considered COVS' relevant comps, even though they are much larger in size. Let's see what valuation multiples they receive from Mr. Market.
| | | | | |
| --- | --- | --- | --- | --- |
| | IBM | MSFT | SYMC | CRM |
| EV/Revenue | 1.9x | 3.9x | 2.0x | 7.8x |
| Price/Book | 9.7x | 5.4x | 2.3x | 10.2x |
The giants are getting gigantic multiples compared to what COVS is getting. However, I don't suggest COVS should get such multiples since its opportunities are limited compared to that of the giants. So how to derive COVS' fair and reasonable price? Well, that's a tricky business.
William Blair & Company, a financial services firm, provided what kind of valuations next-generation IT security providers enjoy (see the table below) in its "IT Security Sector" Q2 2015 report. You can download the IT Security Sector report by William Blair.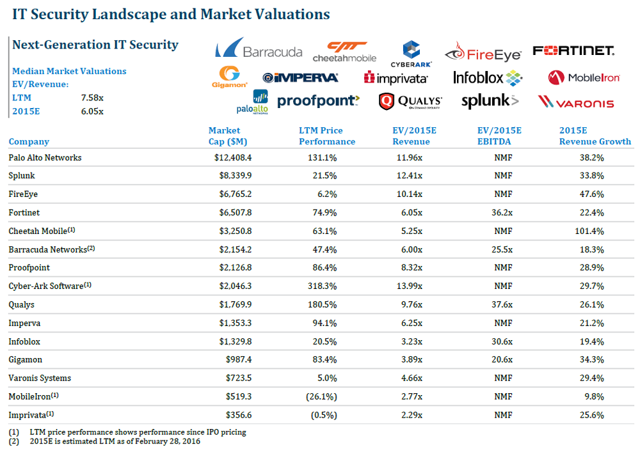 According to the report, Imprivata gets the lowest EV/Revenue of 2.29x. Imprivata operates in the healthcare IT sector, which enjoys minimum growth potential (see the Gartner Presentation above). Despite COVS' exit from the healthcare IT sector, I am attaching Imprivata's EV/Revenue to derive COVS' valuation for the sake of being conservative, which yields $5.11 as COVS' share price. I didn't take into account the company's cash reserve because I believe the company will burn a significant portion of the cash before producing a positive cash flow.
Catalysts
I expect the company to announce new products this year. Independent developers will also build innovative solutions using developer resources that Covisint offers via its developer portal. Upcoming products and solutions could act as significant catalysts to drive the stock up.
The nascent identity and access management space is hot for acquisitions. It saw a number of acquisitions in the past two years, including IBM's acquisition of Lighthouse Security Group in August 2014, and Microsoft's acquisition of Adallom in September 2015. In the unlisted space, Kaseya acquired Scorpion Software in 2014. I won't be surprised if Covisint is taken over by a tech giant this year.
Risks
More than 30% of Covisint's revenues came from the healthcare IT sector in fiscal 2014 and 2015. In fiscal 2015, the company completed its transition to become an enterprise-grade platform provider in IoT and IdM, as mentioned above, from an IT services provider earlier.
As a part of the transition, COVS stopped providing applications to the healthcare industry since fiscal 2015. As a result, revenues from healthcare will significantly decline in fiscal 2016. My investment thesis is based on the expectation that loss of revenues from the healthcare sector will be more than offset by revenue gain from the new PaaS business. However, if the company fails to replace healthcare revenue, the stock price could be negatively impacted.
Although the PaaS business has huge growth potential, deteriorating macro conditions worldwide could adversely affect COVS' revenue growth. Weaker macro conditions globally could create significant headwinds for the global automotive industry. Since a significant part of COVS' revenues come from the automotive industry, its revenues in the next few years may not grow as expected, putting the investment thesis at risk. However, since the US auto sector is expected to remain immune to global macro headwinds, the macro-driven risk is mitigated to an extent.
Conclusion
Covisint is a deep-value opportunity. Recently, it has strengthened its relationship with Cisco (NASDAQ:CSCO) via multiple agreements. Per the agreements, Cisco will be able to sell its functionality into its customer base by accessing COVS' platform. For instance, Cisco is a provider of security solutions to connected cars, and accessing COVS' platform will help Cisco provide its customers security solutions effortlessly without the hazards of developing a suitable automotive platform. For Covisint, this will result in expanded revenue base.
This is true not only for the automotive sector, but for other sectors as well where Cisco offers security solutions. Covisint will sign more such agreements in future with many other companies in several fields. This is why I believe Covisint is an excellent opportunity for investors to grow money.
Disclosure: I am/we are long COVS, IBM.
I wrote this article myself, and it expresses my own opinions. I am not receiving compensation for it (other than from Seeking Alpha). I have no business relationship with any company whose stock is mentioned in this article.
Editor's Note: This article covers one or more stocks trading at less than $1 per share and/or with less than a $100 million market cap. Please be aware of the risks associated with these stocks.