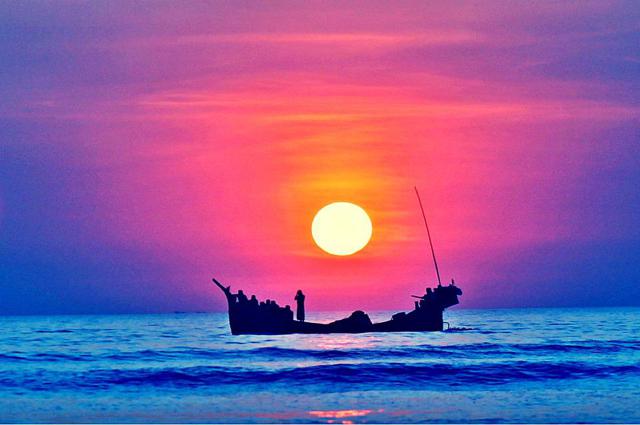 A reader requested I look into ConocoPhillips (NYSE:COP), as investor sentiment on the stock is sharply divided between bounce and crash. Many of the recent articles here on SA, for example, are discussing the dividend of COP. More specifically, they argue over the possibility of COP not meeting its obligation of paying out its dividend: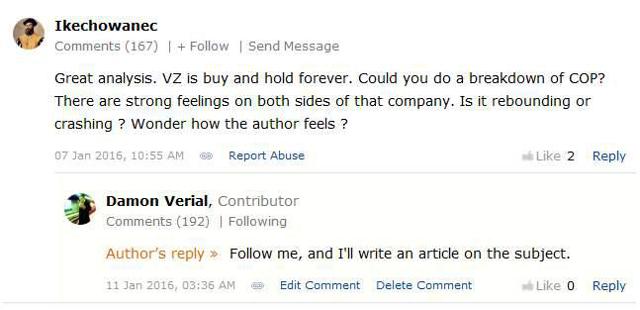 I will investigate this issue from both a numbers analysis of the dividend, as I previously did for Verizon (NYSE:VZ). Then, I will give my thoughts on the stock itself as well as my intrinsic valuation for the stock.
The Dividend
With only one bump, COP's dividend per share has been steadily and consistently rising over the since 1995. It is now nearly six times what it was in 1995. This looks good on its own: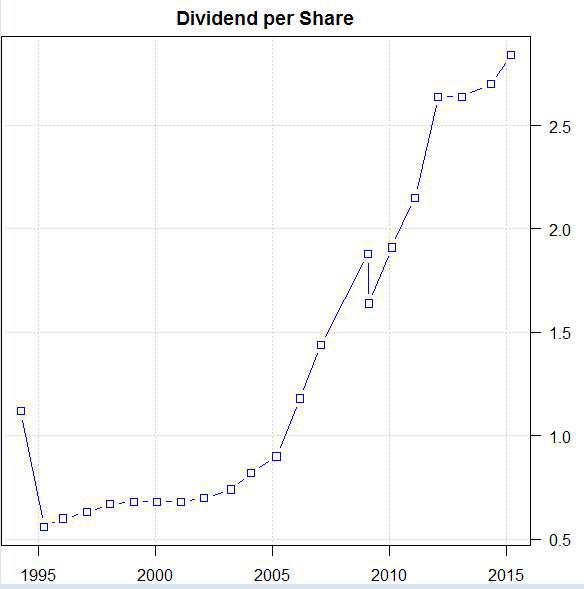 However, we ought to plot the dividend with the price of the stock to see whether they are in accord. If they are not in accord, then something about the company or investor sentiment is likely to lead to the ability to profit in certain ways, such as by buying dips. A look into this first can give us some ideas: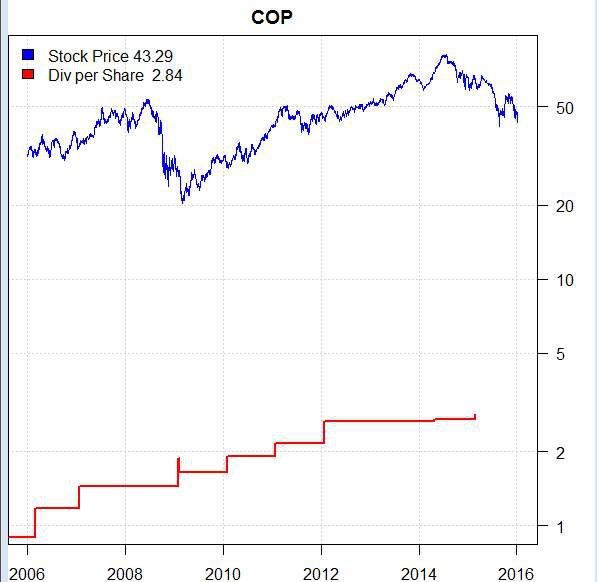 Both the dividend and the stock price have been consistently rising, barring that blip in 2009. However, recently, the stock price has fallen precipitously as a result of the oil bear market. This is expected, yet raises the question as to whether COP will have the income to sustain the dividend.
No buyback program or share dilution is present during this recent decline in stock price. Thus we can attribute yield changes to the stock price itself: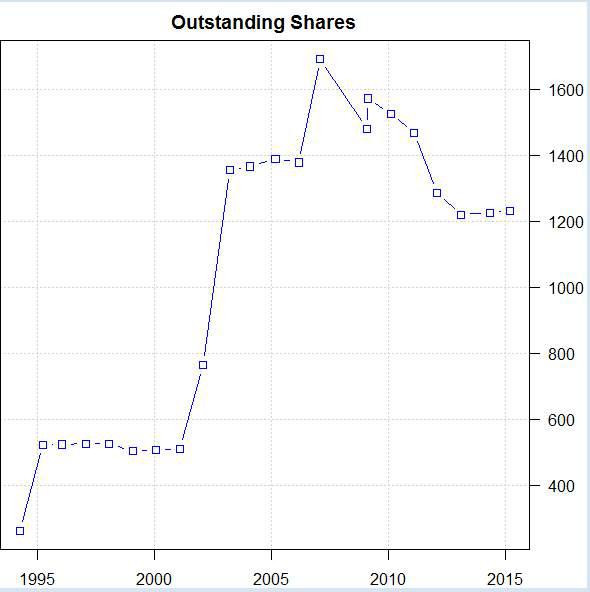 So how has yield been affected by the oil bear market? As expected, the drop in the stock price has led to an increase in the yield per share. Nice for new investors, but meaningless for holders: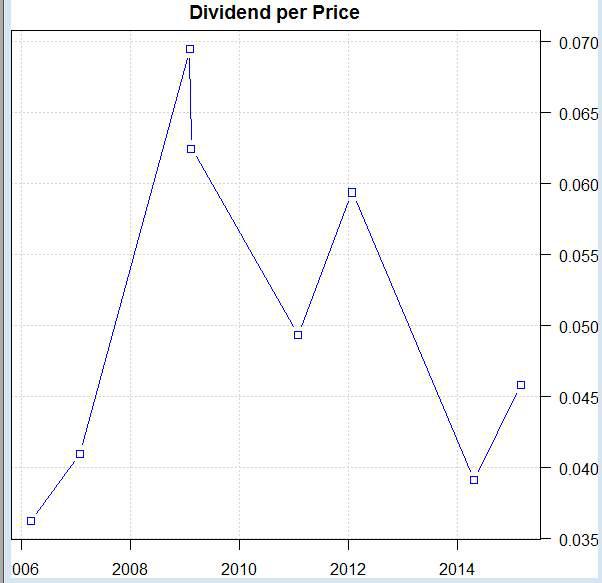 Should investors be concerned that the oil bear market has led to a significant profit loss? On that note, how does COP's dividend payout look in comparison to its net profit? This question can help us learn about the possibility of sustaining the dividend and whether the concern for a dividend cut is justified. If the payout costs more than the company can make, we have a problem: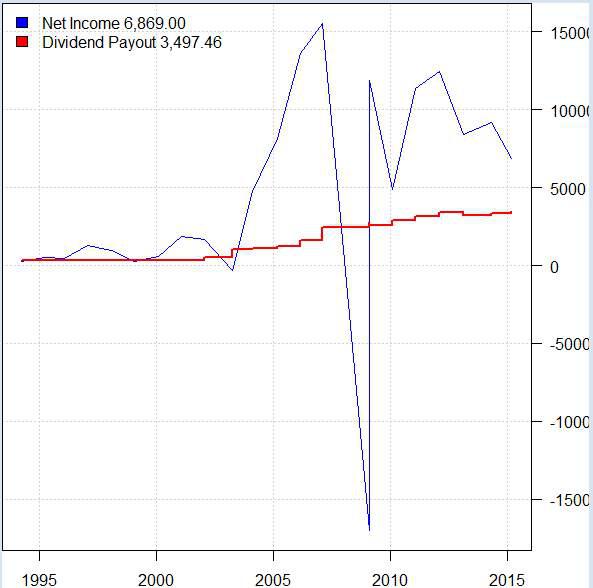 Net income is on the decline but still way above the dividend. Except for that blip in 2009, we have a huge difference between income and dividend payout. The percent of the income paid out as a dividend has remained under 100% since 2000: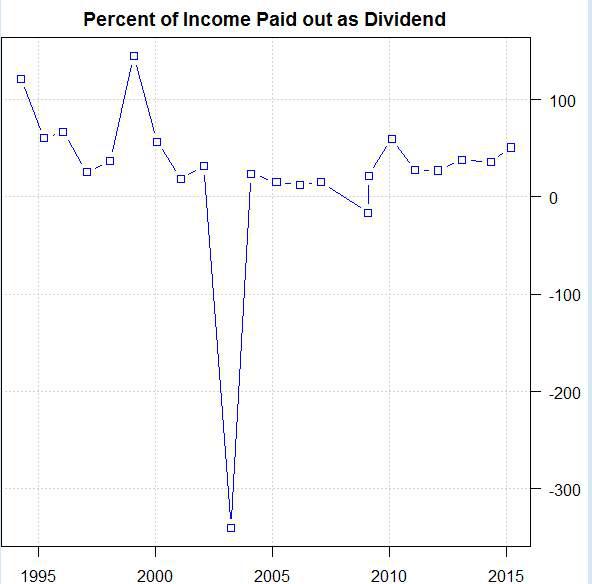 Even with the decline in net income during the oil bear market - dropping 25% - the dividend payout versus net income remains low for this high-yield stock. The percent payouts for the past five years follow:
| | |
| --- | --- |
| 2009-02-10 | 21.67266 |
| 2010-01-30 | 59.95780 |
| 2011-01-28 | 27.78266 |
| 2012-01-27 | 27.29373 |
| 2013-02-02 | 38.21547 |
| 2014-04-24 | 36.15629 |
| 2015-03-02 | 50.91658 |
So while the percentage has typically been between 20% and 40%, we have seen the occasional 50+ percentage. The most recent number is not a large concern. What is of concern, however, is the upcoming number for 2016. With the three recent quarters of negative income, the dividend payout is of course a problem, and COP will need to use debt or cash reserves to pay out that dividend.
However, COP's free cash flow has been dipping into negative territory for over a year: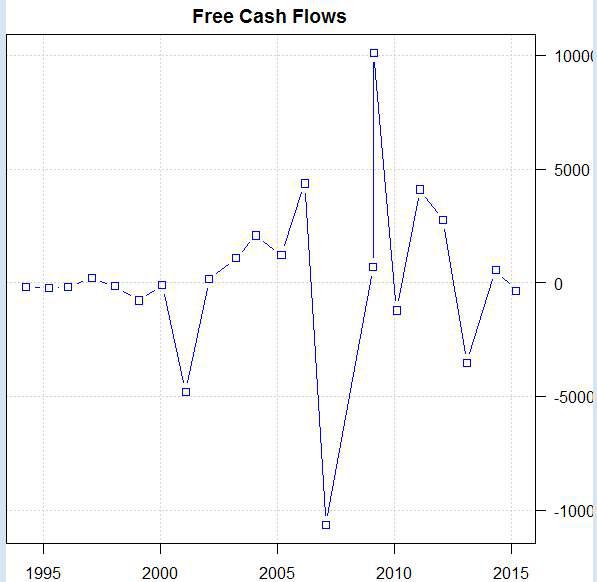 As a running average, the free cash flow of COP is still positive but in free-fall toward negative numbers: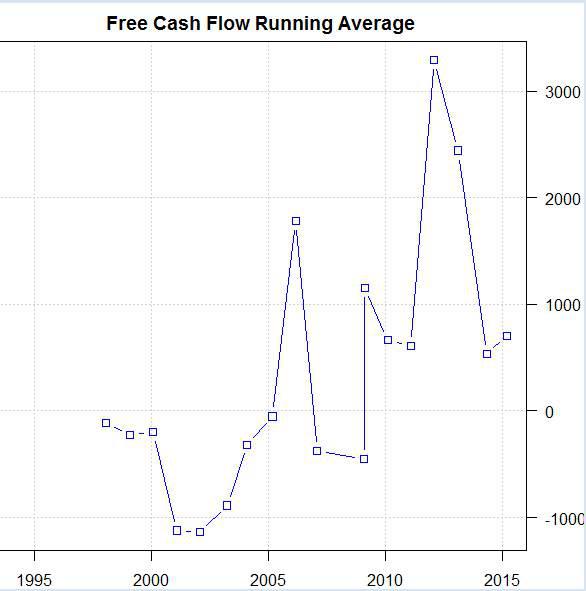 But a history of COP's dividend payout versus free cash flow shows that COP hasn't had the money to pay out its dividend most years. Indeed, COP's dividend seems to be running on fumes. As a percentage of the free cash flow, COP's dividend has never been covered: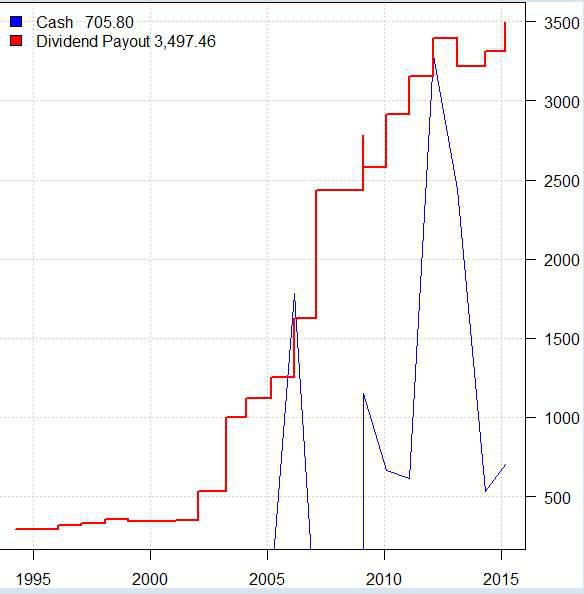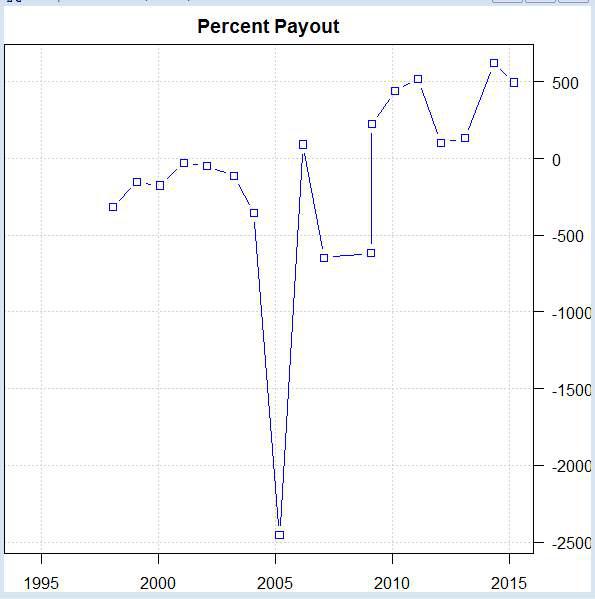 Thus, it seems as though dividend investors do have real cause for concern.
Conclusion
Perhaps COP should not be looked at as a dividend stock but a growth stock with the added benefit of a dividend. Its slow, stable growth has fueled the growth of the stock in alignment with the fundamentals since 2011. My discounted cash flow model shows the intrinsic valuation predicting movements in the stock price: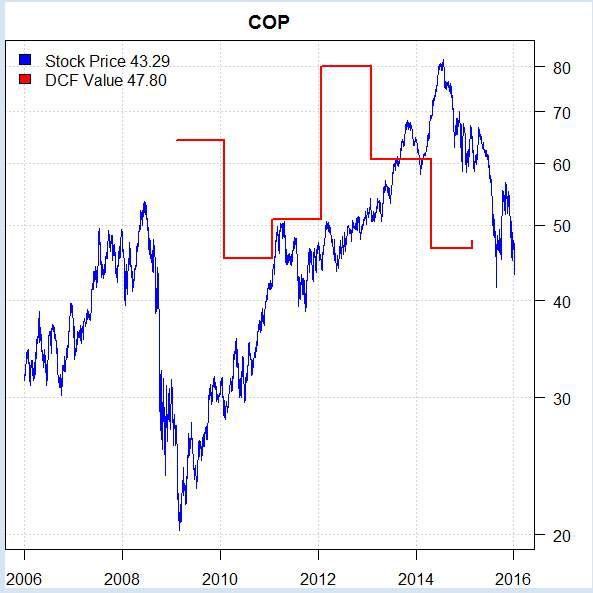 The intrinsic value is declining. However, the stock price is declining at a faster rate, equating to a current undervaluation. This is relatively good news.
Better news though, is the macro reasons for buying COP are increasing. The main problem with COP is out of the firm's control: the price of oil. Though the price of oil is predicted to continue falling throughout 2016, it cannot be denied that global oil demand is on the rise.
The difference between supply and demand for oil is slight - less than 5%. Supply and demand tells us that the price must rise as this difference tightens. When consumption exceeds production, we will see a rebound in the oil market.
This rebound is inevitable, as oil is a finite resource. Oil prices will always rise on a long enough timeframe. Investors with long time horizons might see COP as a good investment now.
But currently, although the stock has already fallen below its intrinsic valuation, I do not see this as a great buying opportunity. The buying opportunity is there, for the macro reasons, but not for the fundamental reasons - at least until the intrinsic valuation turns upward again. It's tempting to buy COP while it trades at a discount, but the bottom isn't in.
Be patient, and your patience will pay off. Sometime in 2016, we shall see oil consumption exceed production. That is your buying point.
For now, COP should continue paying out its irresponsible dividend to keep the investors it has. Holders of COP should hold on. But those on the fence should stay on the fence: COP is undervalued but not undervalued enough to buy.
In 2016, watch for three things before you buy COP:
Oil demand exceeding supply
Increased FCF to payout ratios
An upward trend in the discounted cash flow model
In the meantime, holders should start selling call options. Traders who want to watch the stock and make a profit should sell bull credit spreads. Everyone else should just wait.
Request a Statistical Study
If you would like for me to run a statistical study on a specific aspect of a specific stock, commodity, or market, just request so in the comments section below. Alternatively, send me a message or email.
Disclosure: I/we have no positions in any stocks mentioned, and no plans to initiate any positions within the next 72 hours.
I wrote this article myself, and it expresses my own opinions. I am not receiving compensation for it (other than from Seeking Alpha). I have no business relationship with any company whose stock is mentioned in this article.