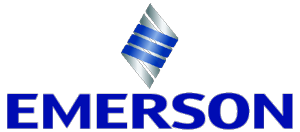 Emerson Electric (NYSE:EMR) has been falling at double-digit rates over the past several quarters. The company's business model has experienced significant impact from major shifts in the market dynamics. Consequently, its financials shrank by amounts approaching double digits. Sales for its top two revenue contributing segments - Process Management and Industrial Automation - dropped significantly in fiscal 2015, due to the momentous impact of the environment. Its remaining business segments also paint a doubtful picture for future financial performance.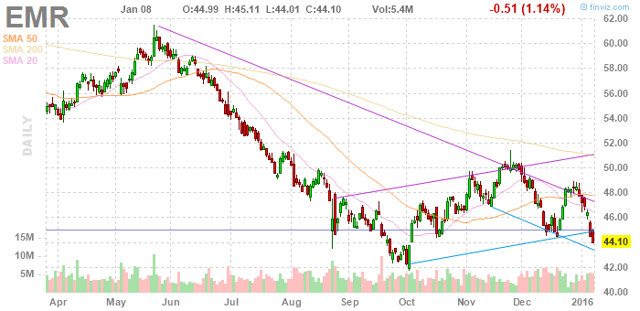 Along with major threats to its existing business model, EMR remains unable to sustain its share price. Amid significant headwinds, its stock has lost almost 30% of its value in the past twelve months. I already advised investors to sell this stock back in November on the latest rally, when its stock touched $50 per share. At that time I predicted that oil prices would continue to fall, leading to a major plunge in EMR's share price.
The big question is now, what next? Valuations are important in predicting any company's future performance, but market fundamentals are more critical to me than valuations. I believe revenue base and future market fundamentals are the growth engine for any company. With oil prices collapsing over the last couple of quarters, it is becoming increasingly difficult for oil producing companies to make any profit at all. In fact, most E&P companies, as well as the oil majors, have posted big losses over the past two quarters, due to falling oil and gas prices.
Consequently, cash flows are running in the negative and many companies have suspended their capital projects. Indeed, the entire industry slowed down drastically in 2015 and most companies are headed toward even further reductions in expenditures - we're talking twenty to thirty percent - in the year to come. I think investments will be reduced even further, following oil's recent drop to its lowest level in several years. In the last two days of trading, oil dipped below $33 per barrel, at a time when most companies need it at $60 to just break even.
On the other hand, the majority of Emerson's business segments are highly dependent on activities in the energy sector. Process Management is a major revenue-contributing segment for Emerson, with sales directly related to growth in the oil and gas industry. In fiscal 2015, sales from this segment fell short by $0.6B, compared to fiscal 2014. This sharp decline has extended back for the past two quarters, reflecting the impact of continued lower oil and gas prices.
Industrial Automation is the second major revenue contributing segment for Emerson. This segment is also exposed to strong headwinds coming from industrial spending, upstream oil and gas markets, and slow demand from the European markets. Sales from this segment have declined at a significant rate over the past couple of quarters. In Q4, the Industrial Automation segment posted negative sales growth of 28%, relative to the same quarter of the previous year. The company is now looking to spin off its network power segment, while the remaining two are also facing trouble.
| | | | |
| --- | --- | --- | --- |
| Figures in percentage | September | October | November |
| Process Management | -20 | -20 to -15 | -15 to -10 |
| Industrial Automation | -20 to -15 | -20 to -15 | -20 to -15 |
| Network Power | -15 to -10 | -20 to -15 | -15 to -10 |
| Climate Technologies | -15 to -10 | -15 to -10 | -15 to -10 |
| Commercial & Residential Solutions | -5 to 0 | -15 to -10 | -5 to 0 |
Source 8-K form
Emerson has recently released its form 8k, which shows that sales declined at a very high rate for the first quarter of fiscal 2016. As shown in the above table, the company's sales have now started to fall at high double-digit rates, a very unenthusiastic sign for the company and its shareholders. Echoing the fall in sales, its earnings and cash flows will decline at a similar rate. Consequently, the company's dividends will come under pressure. In anticipation of this reality, Emerson has taken a defensive step by reducing its dividend increase in anticipation of an ongoing slow market environment.
The prospects look even bleaker for its second quarter. Market dynamic are turning even tougher for the company, with unstable oil prices, the plunge in global markets, and slow economic growth. In my view, Emerson' revenue base is under major threat and is likely to remain under pressure due to its extensive exposure to the oil & gas and energy markets. In addition, the company's spin-offs and divestures will further reduce its revenue base in 2016, as the company is looking to make big changes to its business model.
In Conclusion
The latest dip in its share price is not presenting a buying opportunity for this giant, despite high dividend yield. Its share price could sink further in days to come, following the collapse in its financial performance. In addition, the market fundamentals look poor for this company and restructuring such a large organization will take some time. Its dividends will become questionable, due to falling cash flows and growing payout ratios. I suggest investors wait longer before buying this stock.
Disclosure: I/we have no positions in any stocks mentioned, and no plans to initiate any positions within the next 72 hours.
I wrote this article myself, and it expresses my own opinions. I am not receiving compensation for it (other than from Seeking Alpha). I have no business relationship with any company whose stock is mentioned in this article.