Whitbread (OTC:WTBCF) (OTCPK:WTBCY) is a behemoth in the UK that dominates the market place within the tourism and leisure sector. Their 2 leading brands are none other than Premier Inn and Costa Coffee, these are market leaders in the UK ahead of competitors Inter-Continental Hotels Group (NYSE: IHG) and Starbucks (NASDAQ: SBUX).

Company History & Overview
The company was launched in 1742 by a man named Samuel Whitbread, who created the first purpose-built mass production brewery in the UK. Within a few years Whitbread became a household name throughout the country. Go forward 100 years to 1868 and the company introduces the bottling of beer and becomes a national brand. In 1974 and 1987 the company opens its first Beefeater restaurant and Travel Inn respectively.
The first major acquisition for Whitbread come in 1995 and it was none other than Costa Coffee, this is also their most successful at present. A major overhaul of the business started in 2000 when the sale of the breweries / pubs and bars took place over 2 year period. Many acquisitions and sales have taken place since then with Premier Lodge, the key ingredient to Whitbread's success, come at 2004.
Many past names that investors will recognize are Marriott, where Whitbread had 51 franchised hotels, a sale of 50% shareholding in Pizza Hut UK Ltd, and the sale of TGI Fridays.
The Brands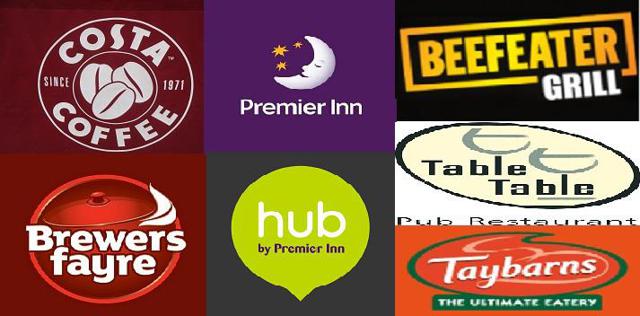 Hotels
Premier Inn has almost 700 hotels and more than 59,000 rooms across the UK. More than half of the hotels are accompanied with a Whitbread restaurant, plus providing a moat and recipe for success as 1 area of the business contributes to the other. Internationally Premier Inn has 5 hotels in the Middle East and 3 in India with more in the pipeline. In 2015 the company announced that it will open its first hotel in Germany this year.
Hub by Premier Inn has 2 urban hotels in London's Covent Garden and Tower Bridge, another will be opening shortly in London's Brick Lane and Edinburgh's Royal Mile. These rooms are small but designed to look flawless by providing excellent use of the space and providing tech gadgets for the consumers luxury and entertainment needs. These come highly recommended to people on business trips to the capital for an affordable price, for more information look here.
Costa Coffee
Costa is the UK's favorite coffee shop, with over 1900 stores in the UK, 1100 in 29 international markets and over 4200 Costa Express self-serve units. Costa Express was launched in 2011 after the acquisition of Coffee Nation. This gave the company access to a range of locations where customers on the move could get a quality coffee on the go.
Restaurants
Beefeater Grill has over 140 restaurants offering the finest cuts of prime beef., salmon or burgers, it sells over 3 million steaks a year. Brewers Fayre has over 145 restaurants offering classic pub food or a Sunday Roast dinner. Table Table has over 105 restaurants offering classic pub food with a modern twist.
Financials
Whitbread is still expanding internationally so it relies on debt to get the new coffee stores, restaurants and hotels off the ground. This will be an ongoing cycle until the company's full potential has been realized. The ability to attain loans and issuing new shares is vital to the success of the current expansion. To achieve this result, Whitbread keeps the financial position and capital structure consistent to retain its investment grade status.
The balance sheet continues to grow and improve, as the debt ratio has decreased from 55% to 47% over the past 5 years. This means that more than half of the assets are now being financed through equity. The return on equity (net income / total equity) is healthy at 18% over the same period.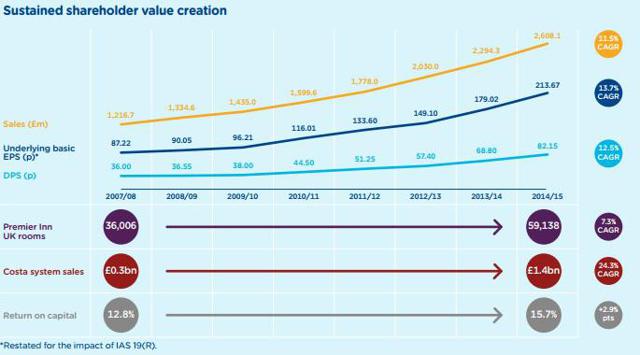 Forecasts
The company currently sells at a forward PE of 17.33 as analysts at yahoo finance are estimating an average EPS of £2.37, an increase of 12%. The average PE over the last 5 years has been 17.40 so the shares are fairly valued. Analysts at dividend max are forecasting a dividend of 93.1p representing a potential increase of slightly over 13%.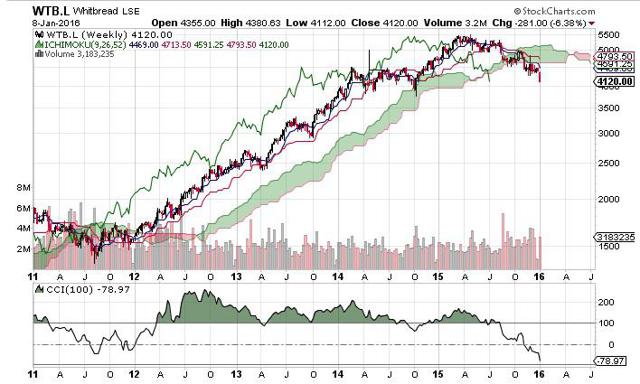 The Shanghai Composite Index has crashed 10% so far this year and has resulted in a subsequent sell-off in international markets. The chart above represents a perfect opportunity for a trader to go short on this company and possibly hundreds of others as this takes advantage of market sentiment. Investors on the other hand, have the opportunity to buy strong UK & International brands at discounts to recent prices. We can see there is strong support at £40 and £35 a share as these are major psychological levels and you can see this shown by the volume of shares traded.
I'm recommending initiating a position and cost averaging if the markets continue to decline this year. Though Mark Carney over at the Bank of England has said that no interest rate rise will happen from the current 0.5%, I wouldn't be surprised to see us follow the Federal Reserve and increase by 0.25% also by late 2016.
The annual report for Whitbread is expected on April 26th, if the results are lower than analyst forecasts, expect a price decline as a result. Remember that you should invest on Main Street (company) figures, use Wall Street figures to your advantage when possible, as analysts and investment banks have an agenda to boost the profits of their clientele.
Disclosure: I/we have no positions in any stocks mentioned, and no plans to initiate any positions within the next 72 hours.
I wrote this article myself, and it expresses my own opinions. I am not receiving compensation for it (other than from Seeking Alpha). I have no business relationship with any company whose stock is mentioned in this article.
Additional disclosure: All information provided from Whitbread's 2014/2015 annual report, the brands image is my own, and analyst forecasts are based on yahoo finance and dividendmax. Last image is generated from StockCharts.com
Editor's Note: This article discusses one or more securities that do not trade on a major U.S. exchange. Please be aware of the risks associated with these stocks.