It's almost hard to quantify how unimpressive, if not pathetic, was the performance guidance that Sirius XM (NASDAQ:SIRI) provided during its most recent earnings announcement - an event that has caused me to look more closely into the company's operations and scrutinize it in a way that I haven't before. I have indeed placed much emphasis on the 1.3 million number - some might suggest unfairly. Granted the company did show improvements in several areas.
It showed somewhat favorable return to profitability, with diluted earnings per share rising from a loss of -$0.02 in Q4 2010 to a gain of $0.01 in the fourth quarter of 2011. At the same time, its net income increased over the same period from a loss of -$81 million in Q4 2010 to show a profit of $71 million in Q4 2011 on a GAAP basis. I will concede that the rest of its report relative to its full year 2010 performance was decent at best if not average. But there was very little to be excited about or from which to inspire any ounce of confidence.
How confident should investors be?
I think this is the question that has caused some division among investors. A recent article by fellow Seeking Alpha contributor Spencer Osborne asked is there a lack of confidence in Sirius XM? - specifically by those who know it best. I think after seeing some recent activities within the company, "a lack of confidence" is an under-statement. First it was clear that Sirius lacked confidence in its own ability by how it guided for 2012. While many have chosen to focus on the fact that the company always "under-promises to over-deliver," I have reason to think there are other issues that may not be as cut and dry.
That is not to say that I believe the projected 1.3 million subscriber net additions for 2012 will not be exceeded, I think it will and by a large margin. But what I'm starting to realize is that Sirius now appears less stable than it did even when it was on the verge of bankruptcy in 2009 - now that's saying a lot. What has caused me some recent concern centers (partly) around the news that the company's CEO, Mel Karmazin plans to exercise his options to then sell some of his shares.
As the article noted, the pre-planned sales are part of a strategy for financial planning in connection with his philanthropic efforts. The transactions are set to start this coming April where he will first exercise 60 million options which he will then sell to cover the price to exercise the options. At which point he will sell the remaining shares at market price for profit. To be fair, he will still own almost 70 million shares as well as options of the company. But a sell (by any definition) is a sell nonetheless. As I said in the recent article discussing the topic, it did not mean that his choosing to sell some stock should be an implication that the company is falling apart. But it did however, (at the urging of some readers) cause me to do some extra due diligence on the matter - specifically insider activities over the past 12 months. What I have found was pretty eye-opening to say the least.
Too confident perhaps?
According to recent insider activity figures released by the Nasdaq (and as the graphic below shows) there have been some pretty interesting sells from some top executives of the company. And remarkably, what is missing from the "transaction type" column over the past two years are "buys." So it begs the question, why does it appear as if regular investors, or for that matter retail investors, seem to have a firmer belief in the company than those who run it? Said differently, why are we buying when they are selling? As the graphic also shows, Scott Greenstein, the company's Chief Content Officer, has had two sells over the past week - one at $2.14 per share and a price of $2.16. It's interesting that both of his transactions mirrored my trade where I sold ahead of earnings at a price of $2.15 and I was called stupid.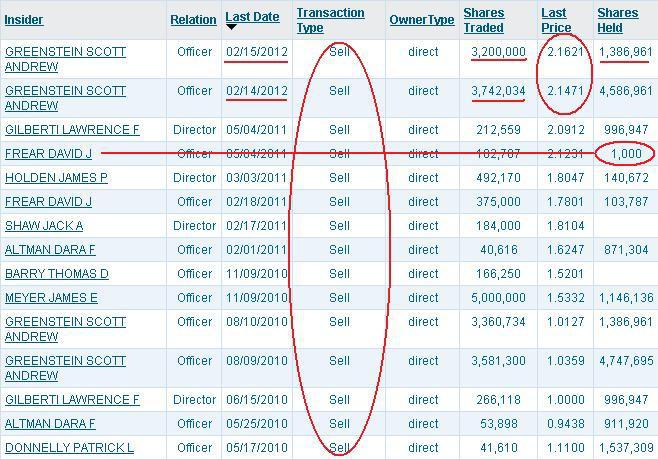 If that is not eye-opening enough, I don't recall having ever noticed a situation where the CFO of a company, in this case David Frear - essentially the No. 2 in charge, has less shares (1,000) of the company for whom he oversees financials, than possibly 90% of all retail investors. Do you suppose it is realistic that he has less conviction in his share ownership than those without intimate knowledge of the company and aware of its "true potential." Asked another way, is David Frear dumb or are we sometimes a bit too confident in Sirius XM?
Let's let that marinate for a second, the CFO of a $8 billion publicly traded company holds 1,000 shares of the company's stock - essentially his ownership stake is valued at $2,150. I guess he did not get the memo that the stock was heading to $10 in a couple of years nor does he seem to believe it's going to be the next Apple (NASDAQ:AAPL). Not to mention that it is often compared to be the next Time Warner (NYSE:TWX) or the next Netflix (NASDAQ:NFLX). The disappointing part of all of this is that Sirius XM doesn't even appear to be the first Sirius XM - the value proposition and its mission when founded have long been ignored.
Summary
Granted, it is possible that I might just be grasping at straws here and there may not be anything to these insider transactions. I got into some heated discussions over the weekend on Spencer's article regarding the human aspect of investing and basically the fact that we all have a bias and there is no such thing as impartiality when discussing stocks that we have an interest in. I bring this up because I can't entirely rule out the fact that it is possible that I am looking for evidence to confirm my existing bias which suggests that I might have been right for selling at $2.15. So far evidence tends to support my decision.
However, to be fair to those who are still holding, it is also possible that I might be wrong. Because the fact of the matter is, had I discovered the insider transactions while I was still long the stock, there is a good chance that I would have dismissed it and come up with an excuse as to why it might not be that big of a deal.
As far as the stock is concerned from a technical perspective, it continues to trade in a tight range. To me that has always been a signal that the stock should be avoided given the possibility of short term weakness in the stock. It has strong resistance at the $2.18 - $2.20 level with some support at $2.00. Investors who are currently in the green at the moment should consider putting a stop loss at $1.98. But if it breaks $2.20 it can easily head north to $2.35 while if it falls below $2.00 it will likely head to $1.86.
Disclosure: I am long AAPL.
Additional disclosure: Author may initiate a long or short positition in SIRI at any time.