Gazprom and OMV partnership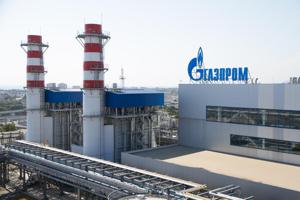 Gazprom (OTCPK:OGZPY) is the leading oil and gas giant in Russia and Europe's main supplier of gas. Most of the pipelines go through eastern Europe and the eastern sea. The Russian giant always had close ties to the Austrian energy firm OMV (OTC:OMVJF). Recently both firms have entered a strategic partnership and are discussing an asset swap. OMV will participate in the enlargement of the eastern sea pipeline (Nordstream) that will carry additional 55 bn. cubic meters of gas to Germany. Furthermore OMV (OTC:OMVJF) will also be entitled to purchase a part of the large "Urengoy" gas field in western Siberia. OMV will be one among the few foreign gas firms to gain access to a Russian gas field. In exchange Gazprom (OTCPK:OGZPY) will receive some of OMVs refinery assets in Schwechat (near Vienna) and Bavaria (Germany). Gazprom is obviously investing now in the downstream business across Western Europe. According to people familiar with the matter both are also in talks to change ownership of a refinery in Romania. Despite the political challenges between the EU and the Russian Federation, OMV has managed to even improve its relationship to Gazprom and will therefore work closely together with the eastern energy giant. The asset swap is worth billions of dollars. (Gazprom and OMV, 29.12.2015)
Weak Ruble and low oil prices
The Russian Federation needs an oil price of roughly $90 to have a balanced budget. According to the recent slump in oil prices the Russian Ministry of Finance has cut spending and assumed oil prices at $50 for 2016. With the current level of roughly $35 the Russian economy will take a further hit in 2016. The economy stagnated in 2015 already and GDP decreases by 3.7%. A number of economist predict a 2% drop in GDP for 2016 with oil prices at $50. If lower, the picture could get more bleak. Apart from that a weak Ruble is making the situation more challenging. Also because inflation is soaring and domestic purchasing power is decreasing quickly. Not to mention the currency reserves which are also depleting at a fast pace. The Russian central bank constantly intervenes on the currency market to stabilize the Russian Ruble. However, every drop in oil prices immediately hits the Ruble. At the moment 1$ equals 75 Russian Ruble and 1 EUR equals 81 Ruble. At the moment the Russian currency reserves amount roughly $400bn. (Russian economy and ruble, 7.1.2016)
The debt to GDP ratio is below 20%, which means there is enough space even if the Russian bonds are near junk status. Below you can see a chart that basically shows how much the Russian currency depends on the current oil price.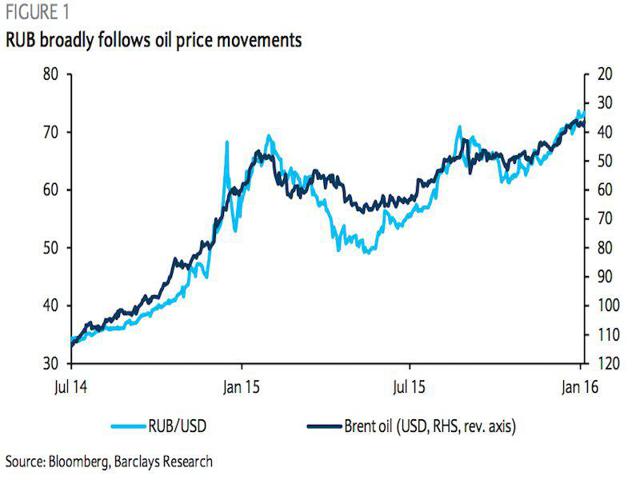 US LNG exports to Europe
Recently the US has lifted its ban on exporting oil and gas which was introduced in the 1970. For years, US gas companies looking to export liquefied natural gas dreamed of a booming Asia. Now, with demand there falling and the first shipment weeks away, Europe has emerged as an unlikely savior. For both, eastern and western Europe, reducing dependence on Russian gas is on top of the agenda. Since domestic European gas production is down and many countries from Estonia, Poland, Netherlands, Croatia to Bulgaria are building LNG terminals to reduce headaches with Russia. First shipments are only weeks away and Europe plans to partially substitute Russian gas by US gas. Although there are not enough terminals for LNG in Europe yet, this poses a significant risk to the Russian gas suppliers. In the long term Europe's demand for gas will only rise, but Russia as a major supplier will have a competitor, the US. This will likely further push prices down. (US LNG for Europe, 6.1.2016)
Below you can see the recent development of Europe's gas output.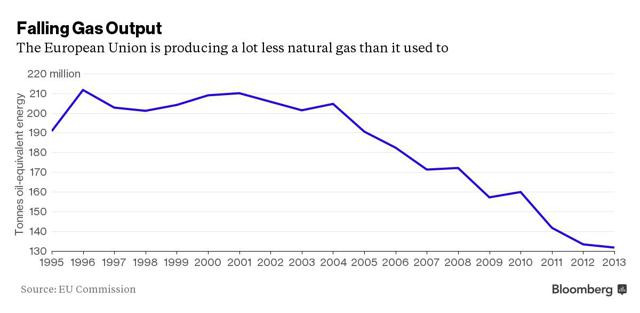 Summary
Europe's dependence on gas imports from Russia and the US will rise. The domestic gas output in Europe is falling. Gazprom will find itself in a challenging situation. However, the so to speak monopoly will likely continue to be the main source of income for the Russian state. The times of high oil prices seems to be over, at least for the next couple of years, also because of massive oversupply and weak demand from Asia and especially China. Saudi Arabia is even considering selling shares in its oil jewel, Aramco. The market sentiment for commodities is bad and most investors are bearish on energy stocks.
Disclosure: I/we have no positions in any stocks mentioned, and no plans to initiate any positions within the next 72 hours.
I wrote this article myself, and it expresses my own opinions. I am not receiving compensation for it (other than from Seeking Alpha). I have no business relationship with any company whose stock is mentioned in this article.
Editor's Note: This article discusses one or more securities that do not trade on a major U.S. exchange. Please be aware of the risks associated with these stocks.