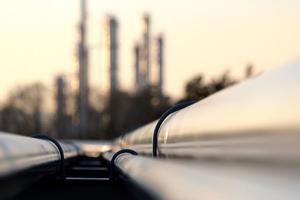 Goldman Sachs' recent prediction that oil prices will drop further, to only $20 per barrel, certainly appears to be coming true. In the latest trading session, oil prices continued to fall, dipping below $33 per barrel. Goldman Sachs' predictions are always valuable and often accurate. I think investors should listen carefully to these predictions and heed its recommendations before committing to investments.
I believe that the current level of oil pricing will significantly impact companies like ConocoPhillips (NYSE:COP), who rely on oil prices for their livelihood. In a recent conference call, COP's CEO stated that the company could achieve cash flow neutrality at $60 per barrel, a price that appears impossible, at least in the next few quarters.
ConocoPhillips has been struggling over the past twelve months. The company posted its worst losses in years over the second and third quarters, marking its biggest downturn since 2008. However, in my view, the company is heading to post even further losses in the coming days. In my recent article, from late November, I strongly suggested investors view the rally in its share price as a tasty selling opportunity. At that time, I raised a big question mark over its dividends amid falling cash flows and low oil prices.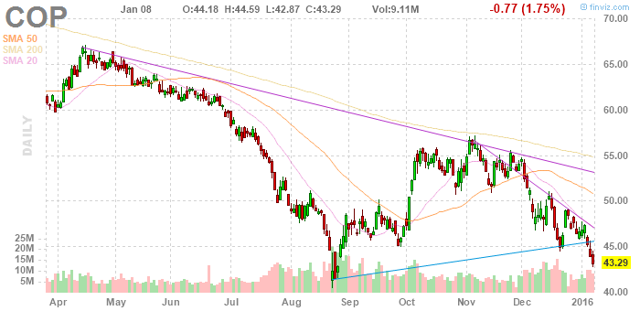 My predications came true, as its stock has fallen significantly since that time. As of today, I believe COP's stock could drop even further, based on current extremely low oil prices and their expected impact on the company's financial performance. COP posted an unadjusted Q3 loss of $1.1B, its biggest loss in the past eleven years. In the latest quarter, the company's production from continuing operations stood at around $1,554 MBOED and is expecting production outputs of about $1.585M to $1.625M boe/day. At this rate the company can expect 3%-4% Y/Y growth from continuing operations, excluding Libya.
Despite notable growth in production, combined with year-to-date operating cost improvements of 18%, the company was unable to reduce its losses, particularly due to low commodity prices. ConocoPhillips has no answer to the current market conditions other than to enhance its volumes and reduce its costs. This strategy hasn't worked for the company in the past two quarters, so there's no reason to expect anything different in the fourth quarter.
Even if we ignore the results of the fourth quarter, the company's business fundamentals look bearish for the first and second quarters of fiscal 2016. After hovering around $38 per barrel in the final days of 2015, oil plunged to new two-decade lows with the beginning of 2016. Saudi Arabia and other Middle-Eastern countries are not expected to cut their production levels, despite an extreme oil glut. Neither are North American and other producers looking to reduce their production. Instead, they all are hoping to beat low prices with sheer production volume, which I believe is only further exacerbating an already over supplied market.
In addition, the threat of Iranian oil is also negatively impacting the market. Because of this, oil prices could dip further in the coming days. After dropping to $1.68 per MMBtu, gas prices have gone up to $2.40 per MMBtu, with the arrival of the winter season and consequent higher consumption. However, gas prices are still well below the level we witnessed in the final two quarters of 2015.
With such low prices, it will be difficult for the company to manage its cash needs. In Q3, it generated an operating cash flow of $1.3B, excluding a $0.6 billion change in operating working capital. Despite this, its operating cash flows are still not covering its capital requirements of $2.2 billion and its dividend payments are around $0.9B. This means the company is funding its operations and dividend payments by selling non-core assets, along with taking on additional debt. As a result, COP's debt has increased by $2.4 billion over the past nine months, a phenomenon that only increases the risk to its balance sheet.
In Conclusion
I strongly advise investors to avoid this stock, even on the latest dip, as the company's share price could drop even further in the coming days. In addition, its dividends are under a real threat from current oil prices, since the company is already said to achieve cash flow neutrality at around $60 per barrel. Goldman Sachs' prediction could well come true, which would prove a disastrous time for COP. Therefore, waiting longer before buying is a good strategy, given the current environment.
Disclosure: I/we have no positions in any stocks mentioned, and no plans to initiate any positions within the next 72 hours.
I wrote this article myself, and it expresses my own opinions. I am not receiving compensation for it (other than from Seeking Alpha). I have no business relationship with any company whose stock is mentioned in this article.