Are we really entering a prolonged period of mediocre to flat growth as many gurus are predicting? Or, is this period in history just another head-fake which will leave prognosticators heaped in a pile as investors charge forward and trample their well-intended advice…again. Savvy investors understand that uncertainty is opportunity. However, taking advantage of opportunities requires sound due diligence.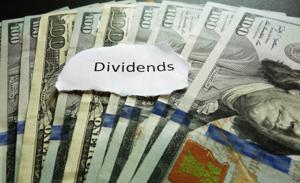 Most of us are aware of the important role dividends can play in total return. Indeed, most are aware of the strong correlation between dividend growth and the underlying stock price. The thinking is that companies that pay and increase dividends over time are healthier fundamentally and are more focused on retaining loyal investors for the long-haul as the consistent growth of dividend payments is a strong indication that a company cares about building wealth and regularly delivering income for investors.
Of course, dividend paying stocks are just one important investment category that most portfolios incorporate as part of an overall strategy. They occupy that sweet spot between income and growth…and sometimes both at the same time. In a recent May 1, 2015 article in Forbes Magazine, many of the well-known reasons why dividend growth stocks make so much sense were discussed, but one reason put forth that should resonate for this financial time period: high-dividend paying stocks have historically performed well in rising rate environments. Our research takes this one step further and demonstrates it is in fact the dividend growing stocks that have historically been the best performers during rising rate environments. So, maybe now is a good time to review your portfolio allocation to dividend paying stocks and to check them for dividend growth potential.
Seeking Alpha is very aware of investor interest in the world of dividends and has presented many interesting and informative articles on the matter. What makes the DIVCON dividend health rating system so relevant to investors is its historical predictive capabilities for future dividend growth. Reality Shares Advisors developed the tool.
Back-testing the rating system from 2001-2014 demonstrated a remarkable ability to predict future dividend growth as well as dividend cuts for the 500 largest market cap companies in the U.S. over a next-12-months timeframe. DIVCON applies different weightings to seven key factors (the secret sauce) and the resulting scores land each company in one of five rating tiers, with DIVCON 5-rated stocks being the healthiest dividend payers and DIVCON 1-rated stocks being the unhealthiest dividend payers.

Source: Reality Shares Advisors
The results show that DIVCON 5 companies increased their dividends over the next 12 months 96.6 % of the time, and none of those DIVCON 5 stocks announced dividend cuts during those years. The DIVCON 1-rated companies cut their dividends over the next 12 months 28.6% of the time. The takeaway is: DIVCON has historically been very accurate in identifying dividend growers and dividend cutters among the 500 largest market cap stocks in the U.S.
Of course, in the spirit of full disclosure, history is no guarantee of future success, but analyzing historical data and developing probabilities is one of the ways the investment community conducts a portion of the due diligence. Keep in mind that the back-testing period (2001-2014) included one of the worst financial (and broad market) meltdowns in history.
Dividend Growth Stocks and Diversification
Much research has been done on the risk-reward benefits of diversification and when too much of a good thing can hurt overall performance. Our research has demonstrated that a portfolio of 30-40 dividend growing stocks can produce a better overall risk-return ratio (Sharpe Ratio) than a gaggle of diversified dividend stocks. Of course, investors may have different reasons for choosing certain stocks but the implication is that selecting the highest DIVCON-rated stocks would do two things: identify high probability dividend growth stocks while simultaneously avoiding dividend payers with a high probability of cutting their dividends.
Income Generation for Retirement Shortfall
The statistics are pretty astounding: about 8,000 baby boomers are reaching age 65 each day. We also know that most Americans do not have sufficient funds or income for retirement. A recent study by the Retirement Institute reported these dismal numbers:
40% of baby boomers have no savings
36% of boomers expect that Social Security will be their primary source of retirement income
The maximum monthly Social Security benefit is $2,663
20% of boomers who are offered a 401k or other pension plan do not participate
Dividends can play an important part in helping struggling seniors generate income to help supplement their social security income. Indeed, depending on the markets and the amount of savings and investments, even good retirement planning will probably need some supplemental income.
The "Rule of 4%" has been a tool for money managers and financial planners to help retirees answer the question: how much can I withdraw from my portfolio each year and not exhaust the corpus of the fund? Generally, a 30 year period is used for the calculation of the exhaustion period. Although the name says "4 percent", the rule is that if retirees withdraw 4.5 percent of their savings every year -- adjusted for inflation -- they would not exhaust their nest egg before the 30 year period. Of course, there are many factors involved such as inflation, taxes and the availability of other investments to produce income. But the implication is that you can plan on how to draw down your nest egg without doing too much damage as well as planning for the long term. Dividends are an ideal way to generate income while still being exposed to potential growth.
Here is an example: Suppose you are one of those boomers who has planned to create a retirement fund in one fell swoop by selling your home. Let's say you sell the home and net $500,000. According to the "rule of 4" (4.5) you could draw down about $22,500 each year and not put too big a dent in your nest egg. That would double your monthly income if -- as the statistics show -- you are one of those 36% of boomers who depend on Social Security. Reality Shares Advisors applied the "rule of 4" to the DIVCON Leaders Dividend Index (comprised of the highest DIVCON-rated stocks) and the S&P 500 Total Return Index from 2001 through 2014.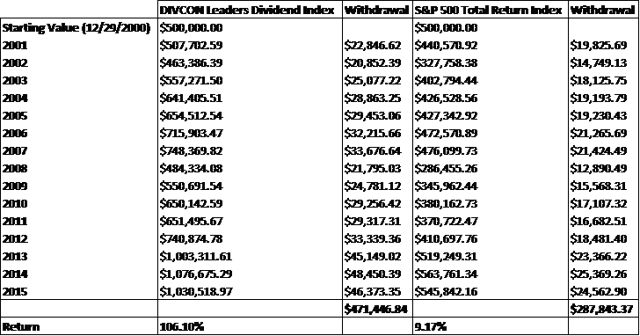 Source: Reality Shares Advisors
During this time, an investor would've withdrawn and benefitted from 64% (nearly $184,000) more income from the DIVCON Leaders Dividend index vs. the S&P 500 Total Return portfolio (and an average of 62%, or nearly $12,000, more income per year compared to the S&P 500 Total Return portfolio). In addition, the cumulative return for the DIVCON Leaders Dividend Index was 106.1% vs. only 9.2% for the S&P 500 Total Return portfolio.
While each person's situation is a bit different and requires some professional investment guidance, the use of consistent, high quality dividend growing stocks potentially provides an excellent alternative for generating passive income to supplement social security income.
Top 10 DIVCON 5 Stocks (based on DIVCON Scores) as of December 31, 2015

Source: Reality Shares Advisors
What's in your portfolio? Find out how healthy your dividend stocks are with our searchable, sortable and filterable DIVCON website.
Business Relationship Disclosure: This article was written by Eric Ervin. Eric did not receive compensation for this article, and he has no business relationship with any company whose stock is mentioned in this article.
Disclaimer:
This material is presented for general information purposes only, and does not constitute an offer to sell securities.
This publication has been prepared and issued by Reality Shares Advisors, LLC ("Reality Shares"). Reality Shares makes no express or implied warranties, and expressly disclaims all warranties of merchantability or fitness for a particular purpose or use with respect to any data included in this publication. Without limiting any of the foregoing and to the extent permitted by law, in no event shall Reality Shares, nor any affiliate, nor any of their respective officers, directors, partners, or employees, have any liability for (A) any special, punitive, indirect, or consequential damages; or (B) any lost profits, lost revenue, loss of anticipated savings or loss of opportunity or other financial loss, even if notified of the possibility of such damages, arising from any use of this publication or its contents.
This publication does not constitute general or personal investment advice or take into account the individual financial circumstances or investment objectives, or financial conditions of the institutional users who receive it. This does not constitute an offer or solicitation to purchase or sell any securities or funds, nor shall any securities be offered or sold to any person in any jurisdiction in which an offer, solicitation, purchase, or sale would be unlawful under the securities laws of such jurisdiction.
Index performance returns are for illustrative purposes only and do not represent actual fund or portfolio performance. Index performance returns do not reflect any management fees, transaction costs or expenses. Indexes are unmanaged and one cannot invest directly in an index. The information herein is not intended to predict actual results, which may differ substantially from those reflected. Investing involves risks, including possible loss of principal. Performance data quoted here represents past performance. Past performance is not necessarily indicative of future results.
Other than disclosures relating to Reality Shares, the information and material contained in this publication has been obtained from sources that Reality Shares believes to be reliable, but Reality Shares does not represent or warrant that it is accurate or complete.
This document contains certain performance data based on back-testing, (i.e.) simulations of performance of a strategy as if it had actually existed during a defined period of time. The results of such data presented here are for illustrative purposes only, and constitute the judgment of Reality Shares. While the information has been prepared in good faith, there are inherent limitations that recipients must consider carefully. Different models or different assumptions may yield different results.
Reality Shares, Inc. keeps certain activities of its business units separate in order to preserve the independence and objectivity of their respective activities. As a result, certain business units of Reality Shares, Inc. may have information that is not available to other business units. Reality Shares, Inc. has established policies and procedures to maintain the confidentiality of certain non-public information received in connection with each analytical process. No representation is being made that any investment product will achieve performance similar to those shown.
Disclosure: I/we have no positions in any stocks mentioned, and no plans to initiate any positions within the next 72 hours.
I wrote this article myself, and it expresses my own opinions. I am not receiving compensation for it (other than from Seeking Alpha). I have no business relationship with any company whose stock is mentioned in this article.