This will be a rather simple idea, especially suited for investors wanting market-neutral ideas. You can pair trade Depomed (NASDAQ:DEPO) with Insys Therapeutics (NASDAQ:INSY). The trade consists in going long DEPO (now at $14.62) and selling short INSY (now at $25.71) for equal amounts.
The Respective Businesses
Both DEPO and INSY have their main products geared for the "pain market," on which there seems to be an epidemic going on in the United States.
DEPO's (recently acquired) drug is Nucynta, accounting for 62% of its revenues in the latest quarter and likely to go up from there. INSY's drug is Subsys, accounting for 99.8% of its most-recently reported revenues. Both of these drugs are opioids, and both are controlled (Schedule II) substances. These substances are addictive and can also lead to significant side effects, including death.
There is a phenomenon of tremendous abuse of prescription opioids, that's leading to a significant death toll (estimated at >18,000/year now).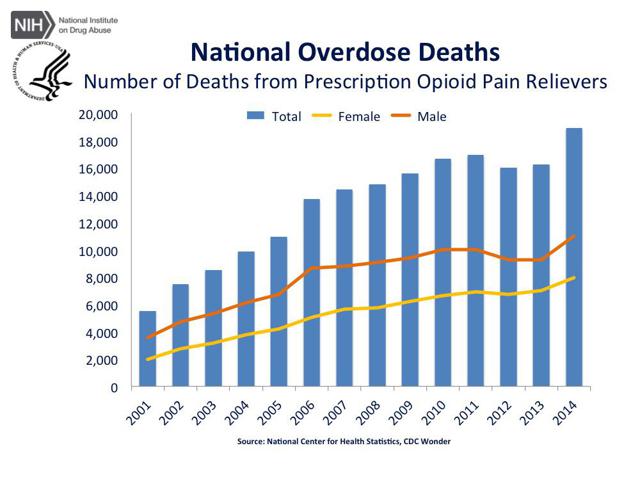 Source: Drugabuse.gov, NIH
Furthermore, the abuse of opioid prescription medicines is seen as a door towards illicit drug usage, such as heroin.
Thus, there are two things to keep in mind here:
These substances are highly addictive and that's objectively an attractive market (and one that's seeing significant growth), on top of the fact that the legitimate "pain market" itself also seems to be growing.
These substances are provoking so many deaths that they might prompt harsh regulatory/political action. Indeed, prescription opioid deaths now exceed half of those provoked by motor vehicle accidents.
On top of this, both DEPO and INSY rely on the ever more visible trend to try and push through large price increases for existing drugs. DEPO announced a 44% price increase right after acquiring Nucynta, and INSY announced a ~12% price increase for Subsys back in mid-2015.
To make it short: both these companies sell very attractive, profitable and growing drugs, which are also at the center of a lot of controversy (pricing, addiction, death).
Thesis For The Pair Trade
Even if we thought any of these companies were very attractive on its own, we would still have to face the fact that both might see regulatory action substantially affecting their businesses. This is so due to growing pressure for regulatory agencies and politicians to act both on the pricing front and regarding opioid deaths. As such, even at a cheap valuation, both these stocks could be risky.
But as it were, there might be a way to profit from a large discrepancy between these stocks. That's the base for this pair trade, which goes as follows:
Long DEPO
The long leg of the pair trade would be DEPO. This is so because:
DEPO is cheaper on multiple valuation measures. It trades at 2.8x book, 1.9x 2016 estimated revenues, 8.9x my 2016 estimated EV/EBITDA (@ 35% EBITDA margin).
DEPO is more diversified along several products (in Q3 2015, ~38% of revenues came from 4 other products, though I expect Nucynta's share to increase). This gives DEPO less downside in case of significant regulatory/political action against opioids or pricing practices.
Nucynta is supposed to have fewer side effects and potentially be less prone to abuse, which is significant when it comes to the opioid abuse risk, and might also lead to it gaining prescription share. On this regard, read Nisha Hirani's and Jason Napodano's excellent article titled "A Deep Look At Depomed's Billion-Dollar Bet On Nucynta."
Short INSY
The short leg of the pair trade would be INSY. This is so because:
INSY is more expensive on multiple valuation measures. It trades at 8.4x book, 4.6x 2016 estimated revenues, 11.5x my 2016 estimated EV/EBITDA (@ 40% EBITDA margin).
There are reports of INSY promoting Subsys usage off-label. Indeed, these reports also include significant claims of wrongdoing, which would be worrisome even on their own. Due to this INSY's risk greatly exceeds that of DEPO or the risk implied by potential opioid/pricing regulatory action. On this regard, read Roddy Boyd's article series, which includes "Murder Incorporated: Insys Therapeutics, Part I" and "Murder Incorporated: Insys Therapeutics, Part II."
Both Subsys and Subsys active ingredient, Fentanyl, are now taking the lead in terms of deaths, abuse and visibility - including the mixture of Fentanyl with heroin. This, too, makes INSY more likely to see an adverse reaction from regulatory bodies (also covered in the 2 linked articles, but of a different nature to INSY's wrongdoing and potentially intrinsic to the drug).
A Problem For The Pair Trade
There is one large problem that this pair trade faces, though. Many of INSY's issues are already visible and have led to a large short interest position. As much as 28% of INSY's diluted share base is sold short.
This, in turn, has led to a high short fee (fee to borrow INSY stock and keep a short position open). It now costs ~33%/year to keep a short INSY position open: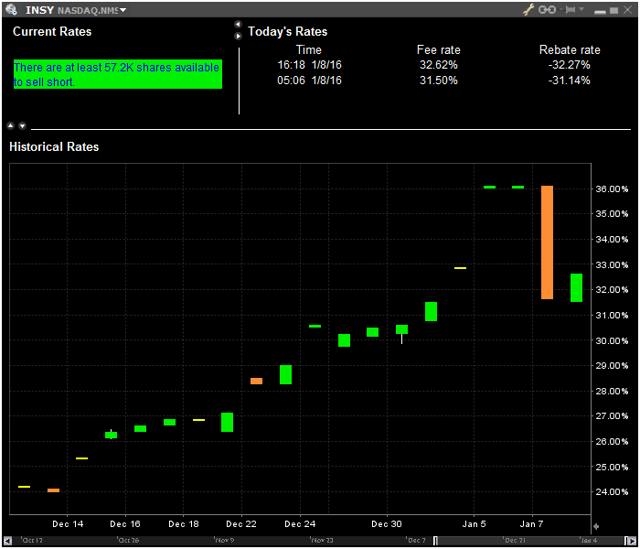 Source: Interactive Brokers
This means that putting on the long DEPO/short INSY trade not only requires the trade to work, but is also somewhat time constrained.
Conclusion
It seems clear that DEPO has a lower valuation, better prospects and less risk than INSY. It might make a lot of sense to marry a long DEPO position with a short INSY position.
It might also make sense for those already short INSY to use DEPO as an hedge against possible upside in the sector.
Finally, DEPO alone as a long also seems attractive, though somewhat exposed to possible regulatory action.
Disclosure: I/we have no positions in any stocks mentioned, and no plans to initiate any positions within the next 72 hours.
I wrote this article myself, and it expresses my own opinions. I am not receiving compensation for it (other than from Seeking Alpha). I have no business relationship with any company whose stock is mentioned in this article.