It is no secret that refiners tend to benefit when crude oil prices fall. A significant reason behind this is the growth in margins that occurs before the crack spread (the differential between the price of crude oil and petroleum products) normalizes. Yet given the highly inelastic demand of many refined petroleum products, refiners often also maintain higher degrees of stability despite the volatility that may be ongoing in the oil and gas sector as a whole. One such company that investors may want to consider in these times of volatility is Calumet Specialty Products Partners, LP.
Calumet Specialty Products Partners, LP (CLMT) is a master limited partnership that operates as a refiner and processor of specialty hydrocarbon products. The company was founded in 1916, and today produces nearly 5,000 products classified within the fields of lubricating oils, solvents, synthetic specialty products, waxes, fuels & asphalt, and oilfield services.­­­ The company operates within the United States in a geographically diverse array of states as seen in the graphic below.
A look at the company's Q3 2015 results demonstrates how Calumet has prospered over the past nine months. Fuel gross profit margins have significantly increased from $2.24/bbl in 2014 to $7.91/bbl over the same time period in 2015. While oilfield services has understandably fallen given the decline in shale activity, specialty product gross margins have also improved in light of falling input costs.
Over the past nine months, the partnership noted that its distributable cash flow was at a healthy $216.8 million. This was significantly higher than the prior year's poor performance of $106.9 million over the same period. Yet more importantly, the performance to date realigns the company into an acceptable distribution coverage ratio of 1.1x. Although this falls slightly short of the 1.2x-1.5x expected long-term range previously noted by management, it provides investors with ongoing reassurance of a covered distribution through ongoing operations.
(Image Source)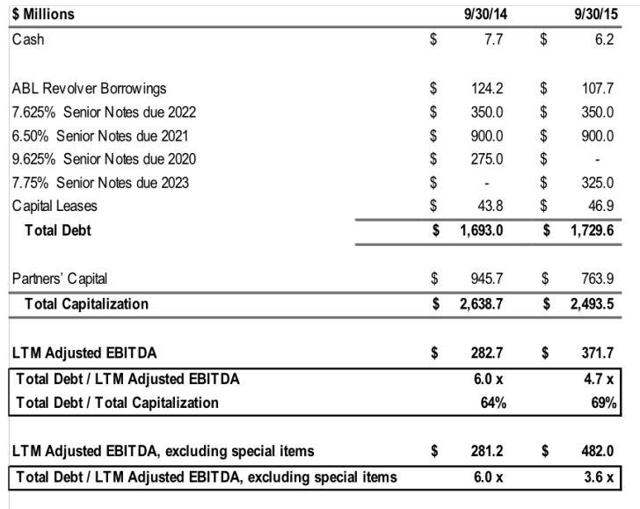 A further reassurance of distribution stability lies in the company's existing capital structure. The majority of the company's long-term debt doesn't become due until 2020 at the earliest. Additionally, with increasing earnings over the past 12 months, the company's debt-to-EBITDA ratio has fallen to a more comfortable ratio of 3.6. As of the end of Q3 2015, Calumet also had $310.7 million available under its revolving credit facility of $501.5 million to provide ample liquidity over the near term.
A look at the company's distribution history to date shows an overall picture of stability over the past 10 years. As noted in the chart above, Calumet has maintained its quarterly distribution of $0.685 per quarter over the past two years despite significant changes in crude oil prices over the same period. At its present rate, the annual distribution of $2.74/unit reflects an annual yield of 14.5% based on the closing unit price of $18.84 on January 8. Before even considering potential capital appreciation, the company's distribution provides an ample incentive for long-term income investors.
One key supporting reason for the ongoing maintenance of the current distribution also lies in the company's capital expenditures to date. Over the past two years, Calumet has endured an abnormally high amount of capital improvement expenditures as it pursued three organic growth projects that were slated to reach completion by the end of 2015. As of the Q3 2015 earnings results, the company was on track for each of these projects. What is key here is that the completion of these projects will enable the partnership to reduce its capital expenditures going forward. As the new facilities ramp production over the coming months, they should also begin to contribute to revenue which should further improve the company's operational performance. As shown in the chart above, the growth projects accounted for more than 65% of the estimated 2015 capital spending.
A More Diversified Approach To Gaining Exposure to Calumet
For investors who may be averse to the complicated tax reporting of master limited partnerships, an alternative method of gaining exposure to Calumet can be through the Yorkville High Income MLP ETF (YMLP). While pursuing this alternative investment will reduce some of the tax-sheltered benefit of directly owning partnerships, the fund avoids the need for Schedule K-1s while also providing broader diversification within the MLP universe. As of January 7, the fund held 9.54% of its net assets in Calumet, which represented its largest holding.
At present, the Yorkville High Income MLP ETF has been considerably knocked down due to its heavy association to the oil & gas sector. For some, this may prove to be opportunistic given its current annual yield of 32.5% over the past 12 months. While this yield is likely to trend down in the quarters to come as some of its holdings reduce their distributions in light of a weak environment, the fund's annual yield should nevertheless remain reasonably high and considerably higher than Calumet on its own.
A brief look at some of the fund's top holdings also suggest that a bottom may soon be in terms of the fund's share price. For example, NGL Energy Partners (NGL) recently gained $350 million in additional liquidity through an asset sale which sent the partnership's unit price up more than 60% in a day. Capital Product Partners L.P (CPLP) is actually increasing its distribution given the prosperous environment now found in the tanker market. CSI Compressco LP (CCLP), Alliance Resource Partners LP (ARLP), Sunoco LP (SUN), and Golar LNG Partners LP (GMLP) have steadily increased their revenue and maintained profitability over the past few years despite the heavy volatility in commodity prices. Combined along with Calumet, these holdings already represent 42.69% of the fund's total net assets.
Final Thoughts
Overall, Calumet Specialty Products appears to be a high yielding partnership with a relatively safe business model in the current environment. Although the company's distribution remains marginally covered in the near term, the completion of several capital-intensive projects should significantly bolster the company's ability to cover its distribution through reduced capital spending and increasing cash flows. For an industry with notoriously high barriers to entry and long planning cycles, the company appears to be well positioned to take advantage of improved margins as crude oil prices remain suppressed.
Disclosure: I am/we are long YMLP.
I wrote this article myself, and it expresses my own opinions. I am not receiving compensation for it (other than from Seeking Alpha). I have no business relationship with any company whose stock is mentioned in this article.