Introduction:
According to data provided by comScore Facebook's (NASDAQ:FB) share of US mobile and desktop Internet time, which excludes Instagram and WhatsApp for November, continues to be on a downward trend since peaking in July 2015. This in my view poses a challenge to FB in terms of how management intends to turn this around. I continue to think FB offers a compelling value proposition in terms of monetizing their other strong businesses such as WhatsApp, Instagram and Messenger. But look at the declining time spent with concern. I remain long but I'm now less bullish.
Facebook engagement time slight blip or start of a declining trend?
According to data provided by comScore, FB's share of US mobile and desktop Internet time ex. Instagram and Whatsapp continues to be on a downward trend since peaking in July 2015. You can see this for yourself below.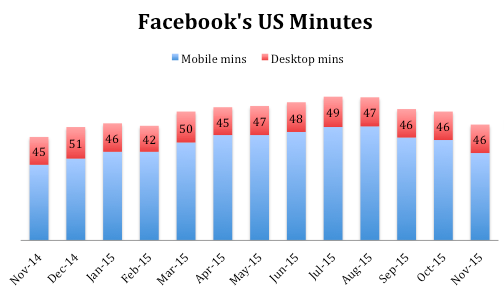 Source: comScore
According to comScore, US smartphone (excludes tablets) minutes declined 13% on a month-on-month (NYSEARCA:MOM) basis, even though this was up still up 16% on a year-on-year (yoy) basis.
Not all negative
FB however continued to grab the lion's share of total Internet time in the US with 16% of total Internet time. This comfortably beats that of other social media services, which remained stable at around 4%. This however is still down from the 20% they managed last year during the same time period and also is on a downward trend since July.
While I'm still positive about the value proposition that FB brings to their users and for advertisers such as the user experience and engagement, I'm slightly concerned about the declining time spent on their platform. I think time will tell if this is only a slight blip (which I hope) or if this is the start of a declining trend for FB.
Oculus Rift goes on sale - can it beat consensus?
FB's Oculus Rift also was available for pre-order last week after pricing itself at a $599 price tag. The current consensus estimate for Oculus is for them to sell 500 - 600K of the device in 2016. I guess the question is, can they beat consensus estimates?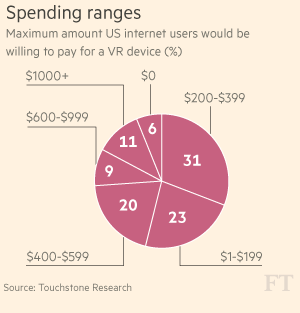 Source: Financial Times
I guess the question will be what consumers think about the price tag? I think the initial price tag of $599 is a nice sweet spot and I'm confident that they will be able to beat the consensus estimates as consumers will be excited to get their hands on the latest fashion gadget. As you can see above, 20% of the respondents have indicated their willingness to pay between $400 to $599 for the set. In my view, that is a respectable enough number for a set that has not yet been tested by the market.
The longer term question however - can FB reduce the cost of this gadget, maintain quality and compete with their other competitors?
Valuations
Based on their last closing price on the 8th of November, FB is trading at about 15x on an EV/sales basis relative to their peers at an average 10.5x. I think the premium over their peers is justified given the strong advertiser demand, user growth and rising ad-loads from the newsfeed.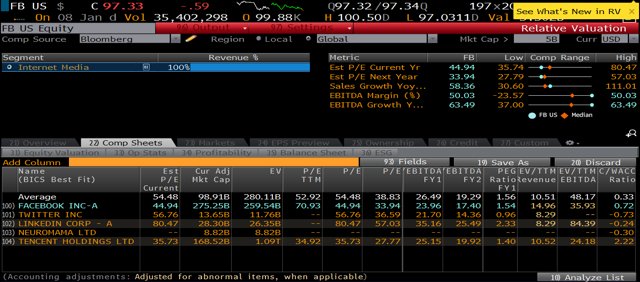 Source: Bloomberg
Conclusion
The analysis provided above gives investors an early read on the fourth quarter results of FB. I think the declining engagement time does not bode well for FB in the near- to medium- term given that for 2016 and 2017 advertising revenue has already been projected by analysts to slow to consensus 40% and 28% for 2016 and 2017 (this might be cut further based on latest data from comScore). I think management has to act quickly to address the declining engagement time trend to maintain investor confidence to justify their steeper-than-peers valuation multiple.
*Author's note: Owing to requests by readers, I have included the survey of customers on the pricing they are willing to pay for the Oculus set*
Disclosure: I am/we are long FB.
I wrote this article myself, and it expresses my own opinions. I am not receiving compensation for it (other than from Seeking Alpha). I have no business relationship with any company whose stock is mentioned in this article.