Commodities across the board collapsed in 2015. In fact, many soft and hard commodities alike are trading at either multi-year or multi decade lows. However, the cattle market has held up quite well despite the negative outlook that has been placed on commodities in general. Prices have declined 10-15%, but those declines were from levels not seen in over 15 years. Below I will discuss reasons why cattle prices will fall significantly in 2016.
While cattle prices did drop in 2015, hog prices fell off a cliff. See the below data for hog production and prices over the past two years:

You can see that pork prices dropped 33% in 2015, and yet pigs on feed actually increased by 7.6%. This tells us that an ample supply of cheap pork is on the market, and will continue to be through 2016. While it will not steal huge amounts of market share, pork will continue to be a substitute for beef in many American households until beef becomes more affordable again. This, at least in 2016, will hurt beef demand and in turn cattle prices.
One only has to look at hog prices to predict what is going to happen to beef prices in 2016. In 2013-2014, a deadly pig virus wiped out large portions of the US hog supply. Prices spiked, and farmers reacted by putting more pigs on feed than ever before. Since a pig only takes 3-4 months to fatten out, the market was quickly oversupplied with pork, leading to the dramatic price declines we saw in late 2014 through 2015. Cattle prices would be following along with this trend, but a live cow takes 16-24 months to fatten out. Cattle on feed were up in 2014 and again in 2015 as you can see below: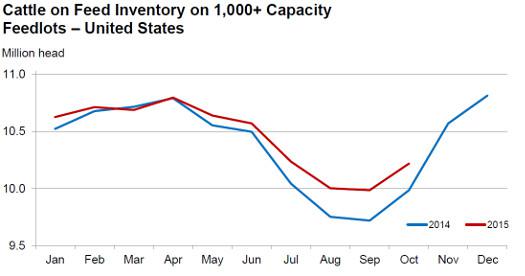 With an additional 300,000 cattle on feed through this fall, supply is going to grow even more in 2016, causing prices to fall further than they did in 2015.
In conclusion, cattle prices have not declined nearly enough to deter farmers from decreasing the number of cows they fatten out and feed. Coming into 2016, beef is going to face stiff market competition from pork prices, cattle herds are continuing to grow, and farmers have no incentive to decrease the number of cows they are fattening out. All of these factors make shorting cattle prices in 2016 an excellent idea.
Disclosure: I am/we are short LIVE CATTLE.
I wrote this article myself, and it expresses my own opinions. I am not receiving compensation for it (other than from Seeking Alpha). I have no business relationship with any company whose stock is mentioned in this article.