The most impactful advice regarding investments I have ever heard was this: "When you're buying a stock, you're buying a little slice of a business." This fact is forgotten all too often, with retail investors getting caught up in "the story" of a company, the excitement of an ever advancing tape, and projections of growth to come decades in the future. Surprisingly, even Wall Street analysts are prone to these same mistakes: Buying low and selling high, and for all the wrong reasons. The way this happens is that investors forget that they are buying a little piece of a business. It's vital to keep in mind that the most important factors in predicting a business' success are the most boring: Earnings, cash flow, and price. Unfortunately, today many of the talking heads in the world of investing encourage the natural predilection of investors to fall in love with story stocks, momentum trades, and herd-like behavior. Following this sort of thinking can cause investors to do two disastrous things:
Make investments in wildly overvalued equities, leading to huge losses, and
Neglect investments in disfavored (but highly profitable) businesses, missing out on safe and outsized gains.
Let's look at a few examples from the past year or so that serve as warnings to not heed analyst predictions too much and to keep a sensible outlook on investment for 2016.
Tesla: Nothing Can Stop This Hype Train
Much has been written on Tesla (NASDAQ:TSLA), its innovative and controversial CEO Elon Musk, and the prospects of its electric vehicles in the automobile market. I would posit that Tesla probably engenders the strongest emotional response on both the long and short sides (disclaimer: I'm in the second camp). What has been interesting are some of the outlandish target prices that analysts have set for Tesla without any regard to underlying valuation metrics. In September 2014, Tesla was in the midst of a massive run-up, having gone from a price of ~$25 to ~$270 in the span of 2 years.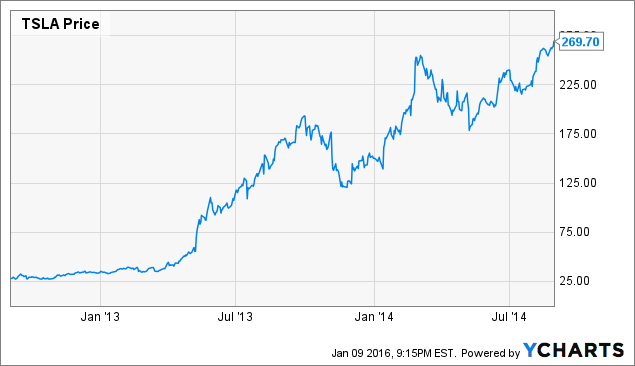 TSLA data by YCharts
Now, had the business prospects of Tesla improved enough for it to be worth 8.5 times as much as just two years before? Perhaps, but we'll let the myriad bulls and bears debate that another day. What is certain, however, is that new analyst "research" notes were no longer even bothering with fundamental business metrics. Take, for instance, the position of James Albertine (of Stifel Nicolaus) who had just raised his price target on Tesla to $400:
"While there are no fewer than a half-a-dozen other key concerns we share with industry purists, the reality is, these issues simply do not matter with respect to (Tesla's) stock," Albertine wrote in a note to clients. "(Tesla) sentiment is like a freight train, in our view, benefiting from a well manicured growth story that has caught the eye of a much broader investor base relative to most auto stocks."
You can be sure that when even Wall Street analysts start reviling basic valuation and business concerns, danger may be around the corner. Tesla's shares promptly plummeted some 30%, as a stock which had rallied 850% in the past 2 years finally lost a little momentum. Shares remain down 25% still today after the egregious call: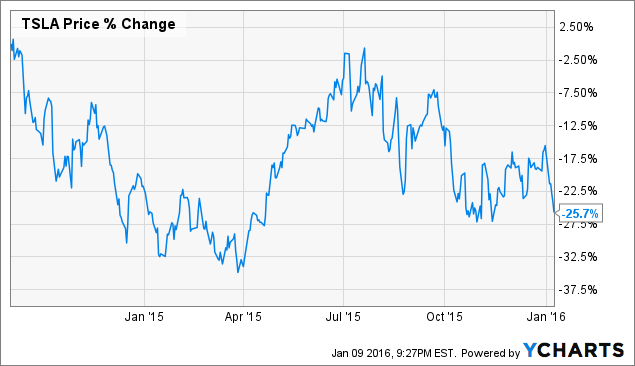 TSLA data by YCharts
Kinder Morgan: Buy Today, Sell Tomorrow?
Perhaps the most bizarre case of talking head bad behavior happened less than a month ago. In early December, the common stock of Kinder Morgan (NYSE:KMI), the enormous oil and gas pipeline operator, fell by a third in the span of a few weeks. For a brief bit of background, Kinder Morgan's stock had plummeted into the year-end in 2015 because of concerns over the dividend being sliced in the difficult commodity environment, resulting from a lack of access to debt and equity sources of capital.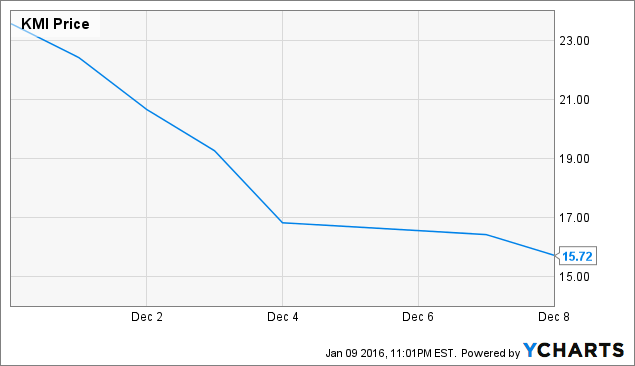 KMI data by YCharts
On December 3rd, Dan Dicker (who writes for TheStreet and has appeared on CNBC and Bloomberg) wrote the following of Kinder Morgan:
...the lone pipeline company I think has caught an extremely oversold panic-selling opportunity. And a CEO I think is the best in the business.

I bought some KMI at $21, and if the panic continues, will buy more at $18. Bring it on.
Dicker wrote further in the article how management is the best in the business, and Kinder Morgan's operational performance was exceptional in the face of such commodity headwinds. On December 8th, the company announced that, indeed, the dividend would be cut by 75%, and the downward trend of the stock largely stabilized. Amazingly, after having exhorted the company as one of the best in the business and being a buyer just the week before, on December 9th (the day after the cut), Dicker began selling KMI and wrote the next day:
I couldn't think about staying with the trade now.

I don't even know what Kinder Morgan is anymore.
In short, Kinder Morgan remains what it always has been: a fee-based cash cow with excellent growth opportunities. As a business, nothing about the prospects of Kinder Morgan had changed, only its dividend policy. Now, for some income investors, it may make sense to lighten their holdings of KMI for other vehicles with higher yield, but for the average investor looking for total returns, a dividend cut is essentially meaningless (and a net positive if those distribution funds are used for future growth). If Kinder Morgan had an unappealing business model on December 9th, it was just as unappealing on December 7th, and if the dividend was unsustainable on December 9th, it was just as unsustainable on the 7th. An astute investor would have understood this, and only invested in the company if the prospect of a dividend cut was palatable.
China: When Farmers Bet The Farm
Few nations have had as wild a swing in their stock indices as China had in the span of a year and a half (Summer 2014 to the end of 2015), when stocks roared up some 150% (Chinese A-shares):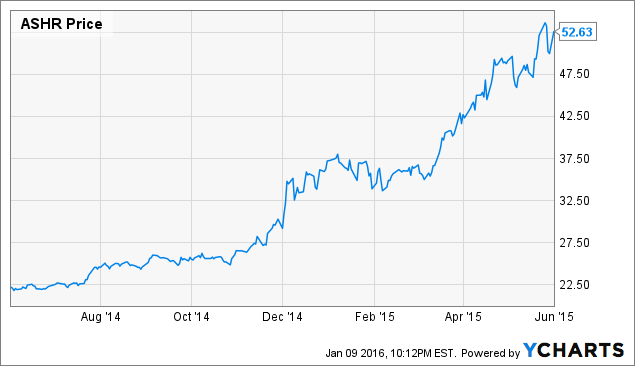 ASHR data by YCharts
The frenzy of purchasing saw a massive number of new Chinese investors bidding stocks ever higher, with farmers even neglecting their fields in favor of the action. After a 150% run-up, one would argue that equity valuations were, perhaps, a bit stretched. While some analysts and banks favored caution, many saw the huge run-up (and any pullback) as a great opportunity to continue adding to a long China position:
Jeffrey Qi, June 2015 (almost the exact peak):
It's better to embrace the stock market bubble than be afraid of it.
James Yip, June 2015 (from above link):
Valuations such as earnings yields or price-earnings ratios are not really applicable to China's stock market
"We think it would be premature to call an end to this rally
What happened? The Chinese markets, divorced from any sensible valuation, crashed: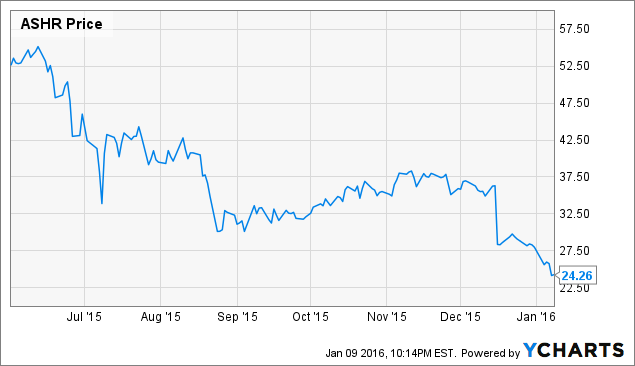 ASHR data by YCharts
Final Words
For a successful 2016, always remember to keep business fundamentals first and foremost when considering a stock or sector purchase, and beware any bubbles which divorce themselves from those fundamentals, be they hydrogen fuel cell forklifts or 3-D printing. Your takeaway is this: Stay vigilant of herd behavior, and particularly the analysts who encourage it. When you begin to hear analysts talk about companies or sectors as "hot stocks" or sure-fire "momentum plays", be cautious, and when analysts outright ignore fundamentals, be wary. For investors focused on the long term, the most important things have been (and will always remain) companies that are safe, make boatloads of money, and are cheaply priced.
Disclosure: I am/we are long KMI, AND SHORT TSLA.
I wrote this article myself, and it expresses my own opinions. I am not receiving compensation for it (other than from Seeking Alpha). I have no business relationship with any company whose stock is mentioned in this article.
Additional disclosure: This article does not imply investment advice regarding Kinder Morgan (KMI) or Tesla (TSLA), or any other investment opportunity.