With the Wal-Mart Stores, Inc. (NYSE:WMT) share price currently trading at levels not seen since 2012, investors are undoubtedly rattled. We believe that although returns may be slow to come by, there is plenty ahead in the next three years to make it worth sticking with the retail giant.

Background:
Wal-Mart operates retail stores in various formats under various banners. Its operations comprise of three reportable business segments, Wal-Mart U.S., Wal-Mart International, and Sam's Club in three categories retail, wholesale and others.
Today:
Over the last ten years (although it stretches much further back), we've liked Wal-Mart due to its steady and predictable earnings growth. For us it has always represented an investment that rewarded us well for the low-level of risk involved.
Recently, things have not been as plain sailing and we've hit some choppy waters. The share price is down to a level that we've not seen since 2012, and earnings are going to be lower for the next two fiscal years.
Significant, and necessary, investments in new technologies, specifically including e-commerce and digital capabilities, wage rates and store hours will result in an increase in operating expense and a decrease in operating income in fiscal 2017. The effect this will have on the bottom line is demonstrated below.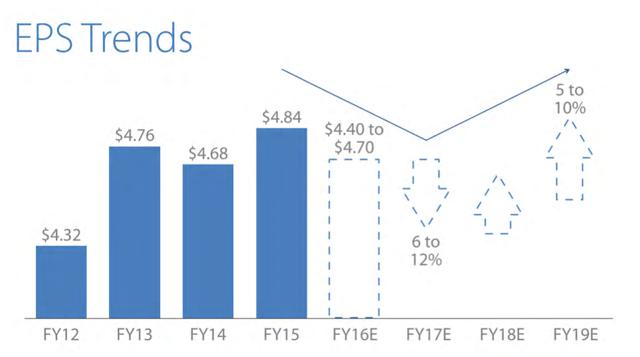 Source: Company Presentation
We feel these investments had to be done for the good of the company in the future. E-commerce is a huge part of the company's future and its growth is going to be heavily dependent on it. As is customer experience, which we believe the investments in technology will provide by creating a seamless integration of the bricks-and-mortar, mobile, and digital worlds.
Supporting the earnings growth that the company forecasts in fiscal 2019 is management's plan to add an additional $45-60 billion to the top line.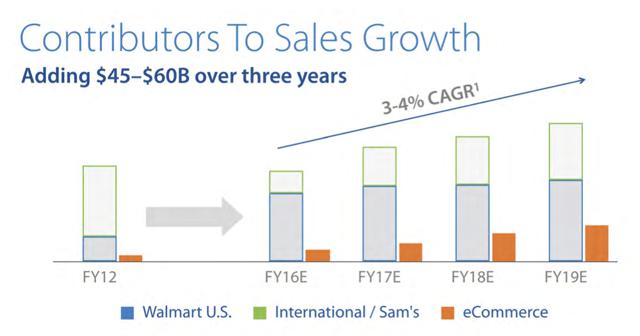 Source: Company Presentation
On the Q3 call, management indicated that they will achieve this by putting focus on winning on value, growth in North America and China, appealing to a blend of income levels, and e-commerce.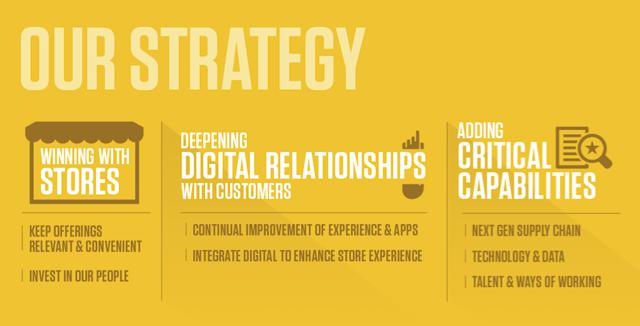 Source: Company Presentation
They added:
"The way we're approaching e-commerce, Neighborhood Markets, Sam's Club, grocery pickup, and other areas will appeal to value-conscious customers of all demographics. We already serve customers from all income levels around the world but we have an opportunity to get even stronger."
We believe this is extremely attainable and see the company achieving the high-end of the range. We were encouraged by the strong finish to 2015 for WalMex, which reported that revenue rose 11% to 485.86B pesos ($27.1B) in 2015, marking its best rate of growth in over ten years. Hopefully, this is a sign of things to come across the border.
China remains a huge long-term opportunity for Wal-Mart. The company has been in China for twenty years and has learned a lot about the Chinese consumer. With 12 Sam's Clubs stores operating there now, we see a lot of growth ahead for that brand. On the Q3 call, management has said that the 12 stores are performing very well, and have a supply chain that puts them in a winning position.
The company acquired Yihaodian, a Chinese e-commerce merchant, in 2015 as part of its plan to improve its Chinese operations by moving focus away from expanding its lagging brick-and-mortar presence to focusing on China's online shopping boom. We feel this is a great move, and agree with management that e-commerce, online grocery, and convenience are critical in the dense urban areas that make up so much of the Chinese opportunity.
A recent Nielsen study reveals that the Chinese online grocery market is gaining a lot of traction, with almost half of Chinese consumers are already buying groceries on the web, compared with just a quarter of global consumers. If Wal-Mart can take a slice of this market, then the company and shareholders should benefit greatly.
Dividend:
The current dividend yield is approximately 3.1% which, considering the lack of earnings growth, appeals to us. As we see little by way of share price growth in 2016, so the dividend helps us significantly.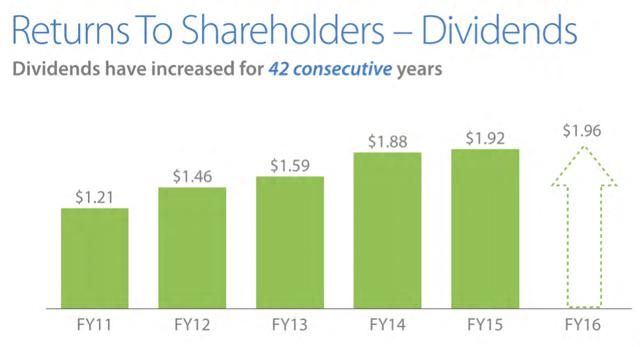 Source: Company Presentation
We don't believe that after 42 years of dividend growth, the company will stop growing its dividend any time soon, making the company an attractive option for income investors.
Valuation:
The company tends to trade at an average price-to-earnings ratio of 14.4 times earnings. It is currently trading at 13.6 times earnings, but that is down to the market factoring in the decreasing earnings per share. On a forward price-to-earnings ratio, the stock is currently trading at 15.2 times 2017 earnings and 14.4 times 2018 earnings. This doesn't leave much room for shareholder returns moving forward. Thus, we feel the company is trading at a fair value at the moment based upon our future earnings assumptions.
Management believes, though, that by 2019, when all this extra investment in technology and e-commerce starts paying off, that it will be earning 5-10% more per share than where it is at right now. This would put the earnings per share at around $5.20 per share, which at 14.4 times earnings equates to a share price of $74.88, or 17.8% higher than where we are today.
Is it worth the wait? We think it is. A return of 17.8% over 3 years is CAGR of 5.6%. When you factor in the 3% dividend yield, it would certainly make it worth the wait in our eyes.
Final Word:
There is a chance that the potential lack of share price growth in the next two years could cause investors to offload and reallocate assets chasing gains elsewhere, driving the share price down a little further. We are aware of this possibility and see any decline in share price as a further opportunity to add to our stake. We believe a patient investor could do very well investing in Wal-Mart for the next few years.
Disclosure: I am/we are long WMT.
I wrote this article myself, and it expresses my own opinions. I am not receiving compensation for it (other than from Seeking Alpha). I have no business relationship with any company whose stock is mentioned in this article.