To many, Tesla Motors (NASDAQ:TSLA) is a big 'game-changer' in the car industry. With the introduction of its Model S sedan in 2012, the company was among the first to bring a EV on the market that is a real sales success. Suddenly, traditional car makers looked very old, almost like dinosaurs that couldn't adapt to a new, zero-emission reality. But the 'dinosaurs' are not going down without a fight and look to exploit their recent production advantages to catch up. In addition, the Consumer Electronics Show in Las Vegas showed us that newcomers identified Tesla's weakness and could become a real threat.
Modular: The Road To Mass Manufacturing

Despite challenging the conventional car industry, much of Tesla's future depends on becoming a 'traditional,' mass-producing car manufacturer. Tesla Motors CEO Elon Musk has stated that the company needs to produce at least 500,000 cars to become profitable. Tesla expects to reach this threshold by 2020. The planned Model 3 and the Gigafactory are key in Tesla's ambition.
During the presentation of its Gigafactory plans in 2014, Tesla announced its goal of producing a mass market electric car in approximately three years. That is a clear announcement to critics who only see a future for Tesla in a niche market. It is likely that the Musk's ambitions don't stop at the figure of 500,000 cars, since he's traveling around the world to look for a suitable place for a next Gigafactory. Actually, it's called Gigafactory 1 to show the desire to build more.
Tesla's current production architecture and the product range raise serious questions about the feasibility of its mass manufacturing claim. To become a mass market car producer these days, one needs to offer a wide range of cars to meet consumer demands. As described in an extensive study by the German advisory body TAB, future competitiveness depends on market diversification. Consumers have increased their individual demands and car producers introduced a significant portion of personalization in their offerings. We might laugh at the Henry Ford (NYSE:F) quote "People can have the Model T in any color - so long as it's black," but this is essentially what Tesla still does: "You can have any Model S or X, as long it's a sedan or SUV". Look at other mass producers: nobody works that way anymore. Take for example BMW (BAMXY): all its number-series come in various forms. Or Mercedes-Benz (OTCPK:DDAIF): sedan, station wagon, shooting-brake, coupé, SUV, SUV-coupé: often largely based on a single model. The table below shows how product ranges in the car industry broadened during the previous 50 years.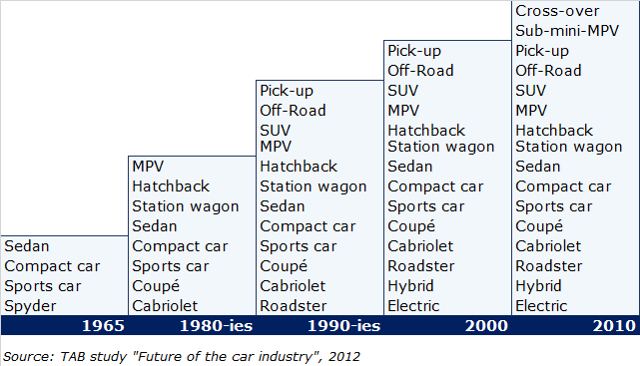 The table above makes clear that we're not talking about exterior colors or interior details that all producers can personalize for their customers. Continuing individualization means more models that suit specific consumer demands. Apart from more specific individual consumer demands, composition of consumer groups is changing as well. Trends, such as urbanization, especially in emerging markets, increase the need for compact cars. That's one of the reasons BMW launched the compact EV-model i3, good for 17,793 sales in 2014 (though certainly not reached in EMs).
With a target of 500,000 cars, Tesla would become roughly the size of Swedish premium car maker Volvo (OTCPK:VLVLY) (OTCPK:VOLVY). As one of the safest brands in the industry, just like Tesla claims to be, Volvo sold 503,127 cars in 2015. However, Volvo needs to offer 14 different models to reach these numbers. Even Porsche, which plans to intensify its EV efforts, offered six cars to reach 203,087 in sales in 2014. Compared to premium mass market producers, Tesla has a very poor product palette and pipeline, as the table below shows.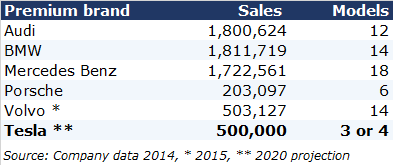 How are the "dinosaurs" able to produce such diverse products? Most car manufacturers introduced in recent years a production architecture that facilitates more flexible production. The new modular architectures provide platforms that introduced highly flexible car configurations. Wheelbase is no longer invariable and a producer can vary to produce a compact car, sedan, cross-over or shooting-brake on the same platform. Volkswagen (OTCPK:VLKAY) has its widely-acclaimed MQB (Modularer Querbaukasten), Mercedes-Benz its MRA and MSA and General Motors (NYSE:GM) the D2XX architecture. Especially Toyota's (NYSE:TM) New Global Architecture highlights another important feature of modular production architecture. With the TNGA framework, the largest car maker in the world wants to share 70-80% of parts among its vehicles.
To be fair, the Tesla Model S and Model X share the same platform as well and part sharing is adopted at the Tesla Factory. However, this is only 30% and with current low volumes, this doesn't bring the required cost reductions. Tesla's production advantage is largely based on its battery platform that can be mounted on varying models. But the EV-market leader is having a hard time launching new models. The Model X was delayed several times and, according to an interview in 2013, the Model 3 (then called E) should have already been shown to us last year. Delivery to customers is now scheduled for late 2017. That is also the year GM comes with the Bolt, an EV that can match one of Tesla's biggest edges: an extended range.
Tesla's weakness in production and conversion of development was underlined by Faraday Future during the recent CES. Although its car of concepts FFZERO1 was obviously meant to attract attention, some reporters looked beyond the "wow-factor" and pointed to FF's interesting production architecture, as can be read here and here. The Variable Platform Architecture offers modular battery, wheelbase, motor and powertrain configurations. In particular, the concept of 'battery strings' (see picture below) looks promising. That would give Faraday Future the option to produce various models with different capacities.

To say FF is a threat to Tesla is premature, since it only will start to build its production facility this year. The first car on the road will leave the factory probably no sooner than 2020. But there's another name with a modular platform for EVs, and it's a big one with slick design: Mercedes-Benz. According to Car Magazine, the German legend brings its first EV based on its Electric Vehicle Architecture on the road by 2018, a year earlier than initially planned. The saloon, with a potential price tag of $100,000 is a late attack on Tesla. Some may say too late, but by 2018 the Model S will look old and an alternative could be welcomed by many. With two EV crossovers and another saloon, Mercedes-Benz brings in total four new EVs in a short time span.
We already know that due to the success of Tesla, plenty of car manufacturers are intensifying their EV efforts, that's nothing new. But the recently launched initiatives are all pointed to hit Tesla at its weak spot: the lack of a wide range of vehicles. Tesla has a hard time addressing this issue. Last year CEO Musk teased us shortly with a Model Y on Twitter, but removed the tweet not much later. For now, the Model 3 seems to be the only car in the pipeline that would bring the manufacturer closer to its long term goal of becoming a mass producer. A new Roadster projected for 2019 is not targeted for high volumes.
Financials Don't Speak For Tesla

Now let's take a look at the financials from the perspective of mass manufacturing. To be sure, the goal of 500,000 cars is only realistic if the Model 3 goes for sale in 2017. Deutsche Bank analysts expect production of 84,000 in 2016 and 113,000 in 2017. Tesla barely passed the 50,000 mark in 2015. If the Model 3 is delayed, 500,000 cars by 2020 will be hard to achieve. Analysts expect revenue to reach $8.6 billion for 2016 and $11.2 billion next year, growing to $19.5 billion by 2019. For 2015 and this year, it's unlikely that Tesla will become profitable. Nevertheless, analyst consensus points to a small profit in 2017, maybe even already in 2016 according to some, with EPS eventually rising to $11.88 by 2019.

As the table above shows, with 2019 EPS at $11.88 and a share price in the recent $200-245 range, investors pay a lot for a to-be mass manufacturer. All car producers (except for VW due to Dieselgate) offer a more than decent dividend yield in the range of 4-5% per annum. True, the conventional producers are not expected to ramp up their earnings as fast as Tesla Motors. But we should note that the car industry will be transformed by 2020. As recent news shows, the traditional car makers are catching up in the EV segment fast. It's not only Tesla's challenge to become a mass producer, but also becoming a competitive car producer in a reshaped car industry.
A Look At The Chart

As indicated above, recently TSLA shares were in a $200-$245 range. That is well off the all-time high of $291.42 in September 2014 (see point 1 in the chart below). Since then, a pattern of lower highs is visible in the chart (points 1 to 3). Next to this, since the October low (point X), a bear flag pattern can be identified. This is a ranging pattern with a slightly upward slope (see pink channel) that partially retraces the former decline (in this case the move from point 3 to point X). The recent high of late 2015 was also close to a 61.8% Fibonacci retracement. We should look for a break of the pink line to conclude Tesla moves out of the range, with levels below $202 as a clear signal for a continuation of the declining trend.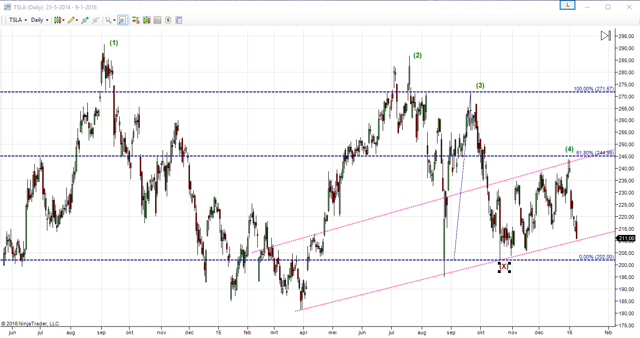 Conclusion: Tesla Not A Fit For Long-Term Portfolios

The moment of truth for Tesla is coming closer. With the launch of its Model X, the company added an important second (potentially) high-selling car. However, even with a Model 3 launch by late 2017, Tesla's product range looks very poor compared to competitors, leaning only on its EV skills. Other premium car makers are catching up fast and have a significant edge in the years to come due to modular production architectures. Potential newcomers like Faraday Future acknowledges Tesla's weakness in production and aim for a modular architecture as well. The EV leader could find itself behind the curve sooner than we think. For investors with a long-term view who want exposure to the car industry, Tesla seems a bad fit at current lofty valuations.
Disclosure: I/we have no positions in any stocks mentioned, and no plans to initiate any positions within the next 72 hours.
I wrote this article myself, and it expresses my own opinions. I am not receiving compensation for it (other than from Seeking Alpha). I have no business relationship with any company whose stock is mentioned in this article.
Editor's Note: This article discusses one or more securities that do not trade on a major U.S. exchange. Please be aware of the risks associated with these stocks.