Since Summer 2014, the price of crude oil has turned sharply downward and crude oil inventories have continued to increase. It seems unlikely that the price of crude oil cannot start to move higher until the record inventory numbers move back towards more normal levels. In recent weeks, there have been a few small pieces of good new (for higher crude prices) coming out of the EIA Weekly Petroleum Status report. While the trading markets tend to focus on the week to week changes, I wanted to go back in time to build a trend model that can be used to evaluate the inventory numbers as we move through 2016.
As a general overview, U.S. crude oil demand has a seasonal aspect. The Spring and Summer driving seasons are the time of higher gasoline demand, pushing refiners to run at maximum capacity. Fall is the traditional time to perform refinery maintenance and turn arounds, which reduces crude demand and leads to growth in inventories. The following two charts from the Weekly Refining Indicators Report published by Scotia Howard Weil show the seasonality of crude oil demand and inventories, respectively: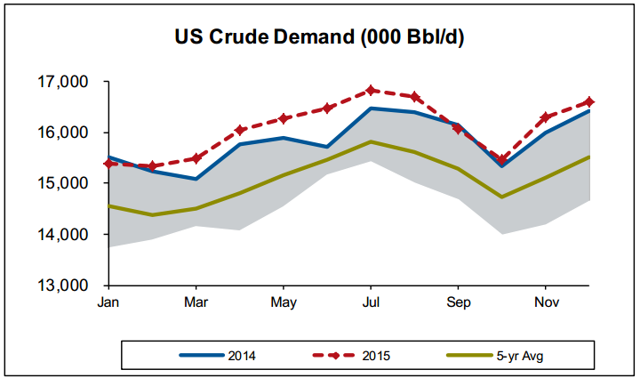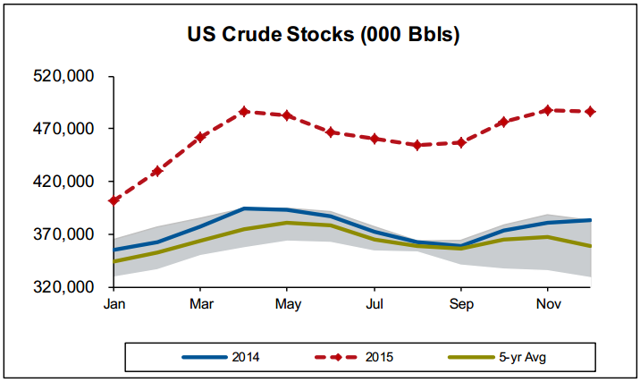 To build a picture of the U.S. crude oil inventory movement, I went back to the fourth quarter of 2014. Although crude prices had started to decline as early as July 2014, it was the Thanksgiving Day announcement that OPEC would not cut production that really gave crude its push to drop by over 50% all the way into the mid-$40's per barrel range in January 2015. By early 2015 a new energy price paradigm had taken hold that the energy markets were now in a period of slowing demand, driven by China's economic slowing and crude over supply, driven by OPEC continue to pump oil as fast as it could. The result is a production oversupply that has kept crude oil down and continued to push it lower. The WTI spot price today of $31.40/barrel is down 32% from a year ago. In early December I published my thoughts on the production supply vs. demand factors, which you can read about here:
Am I Wrong About The One Factor That Could Turn Energy Prices?
The reported crude inventory levels can give us indicators on what may happen to the price of crude going forward. Here is a quarter-by-quarter breakdown of with the crude storage situation over the last five quarters. Note, I use the EIA release dates which come out on Wednesday with data from the previous Friday.
Fourth Quarter 2014: The U.S. crude oil inventory increased by 26 million barrels over the quarter, from 356.6 million barrels reported on 10/01/14 up to 382.4 million reported by the EIA on 1/7/15. The increase pretty much matched what happened with barrels in storage for the final quarter of 2013. For much of the quarter the inventory totals were below 2013 levels. Then over the last half of December inventory started to climb at a faster rate and 2014 closed out with 24.5 million more barrels in storage compared to a year earlier.
First Quarter 2015: The amount of crude in storage climbed by 100 million barrels during the quarter, closing with a reported 482.4 million barrels in storage. This inventory level was also 98 million barrels higher than the amount reported a year earlier. During the quarter WTI traded from the mid-$40's to low $50's, closing out the quarter at $48. In hindsight, the large crude build was a strong sign that the U.S. had a significant supply vs. demand imbalance.
Second Quarter 2015: The amount of crude dropped with the start of the annual higher driving period, both on an absolute and compared to a year earlier bases. Crude in storage at the end of the quarter was 466 million barrels, down almost 17 million for the period. The crude level was then 83 million barrels higher compared to a year earlier, a differential reduction of 15 million barrels. WTI crude climbed into the high $50's during April and spent the rest of the quarter trading right around $60 per barrel.
Third Quarter 2015: Crude in storage continued to decline -it was still the Summer season- and finished the quarter at 458 million barrels, down 6 million. The quarter end storage amount was 101 million barrels higher than at the same point in 2014. The WTI crude priced dropped steadily in July and August, moving under $40 for a bit at the end of August. For September 2015, WTI traded right around the mid-$40.
Fourth Quarter 2015: Now here is where the inventory numbers start to get interesting. In October and November, the storage total climbed every week. There was a small pullback for the first week in December, and then the amount of crude in storage peaked with the December 16 EIA report. In that report, there were 490.7 million barrels of crude in storage, 110.7 million barrels higher that at the same point in 2014. Since that mid-December peak crude storage has started a mini downtrend. The last three weekly changes were down 5.9 million barrels, up 2.6 million and down 5.1 million. The final report was published on January 6 for oil in storage on January 1, 2016. There were 483.1 million barrels in inventory on that date. For the quarter, the WTI crude price has continued to move steadily down. A barrel of WTI was at $49.60 on October 9, 2015 and now -on January 11- is at $31 and change.
For those who had trouble keeping up with the crude price numbers here is the one-year WTI NYMEX Crude chart from Bloomberg: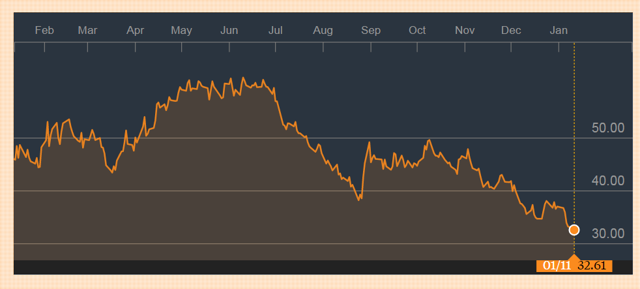 Where to From Here for Crude Inventory and Prices?
Although it is just a three week trend, the amount crude storage level has dropped by 8.4 million barrels since mid December. Last year, the storage level increased by about 3 million barrels over the same period. More importantly is what happens to the crude storage level during the first three months of this year. As I noted above, the amount in storage increased by 100 million barrels during the first quarter of 2015. This is somewhat higher than the historic increases, but not really atypical. However, for the price of crude to get any traction higher, we may need to see a more moderate build up in inventory this year. If storage amounts stay level or even decline, the whole supply vs. demand situation will have shifted. An additional factor this year may be available storage capacity. At 380 million barrels in storage a year ago, there was plenty of capacity to absorb another 100 million. Can the energy infrastructure system take in another 100 million barrels from the current 480 million barrel level? Oil prices could really crash if newly produced barrels cannot find a home.
EIA data has U.S. Field Production of Crude Oil peaking in early July 2015 at 9.6 million barrels per day. The latest number from January 1, 2016 is 9.2 million bpd. Oil producers did not start to significantly reduce capital spending budgets until well into last year, so we should see a steeper slide in production levels going forward. The lifting of the crude oil export restriction may also provide a small benefit to the crude oil in storage issue.
Looking at historical demand and storage numbers, it is not surprising that the price of crude has continued to decline through the late Fall and into Winter. It may not be until the second quarter that demand picks up enough to start to bring down the storage volumes. If we do start to see an earlier, first quarter reduction of the amount of crude in storage, it would be a very bullish signal for the price of a barrel of crude oil. Keep in mind that this data is from the readily available U.S. production and inventory numbers. What happens with the rest of the global crude production and demand factors will also play a roll.
Disclosure: I/we have no positions in any stocks mentioned, and no plans to initiate any positions within the next 72 hours.
I wrote this article myself, and it expresses my own opinions. I am not receiving compensation for it (other than from Seeking Alpha). I have no business relationship with any company whose stock is mentioned in this article.