It has been a few weeks since I penned the final article regarding the four stocks of the twins' portfolio of Starbucks (NASDAQ:SBUX), Visa (NYSE:V), Realty Income (NYSE:O), and 3M (NYSE:MMM). Both boys arrived healthy just before Christmas (the best gifts my wife and I have ever received), and as any first-time parent knows, the first few weeks have been a fast-paced fog of figuring out a "schedule" consisting of the simple things like feeding, bathing, clothing, and of course, the never-ending diaper changes. Needless to say, I am glad SBUX was one of the choices, as coffee has been my best friend. I can also say that I am supporting V more than I would care to admit with many of the trips for groceries and extra baby items. But the weeks have been nothing but joy, especially as both boys are figuring out how to smile and communicate their needs to my wife and me.
And fortunately - yes, fortunately - their first few weeks of life have coincided with market turmoil. I love buying things at a discount, especially stocks that I know I will hold for years. Thus far, 2016 has been a New Year's sale on the stock market. Since the portfolio began on December 8 (I began buying a couple weeks before they arrived), the S&P (using SPY as my benchmark) has dropped more than 6.5%, but that is nothing in comparison to MMM, which has declined over 10%. A look below shows that three of my four choices have incurred larger declines than SPY, with O as the shining light showing a 2.5% increase in price over the same period.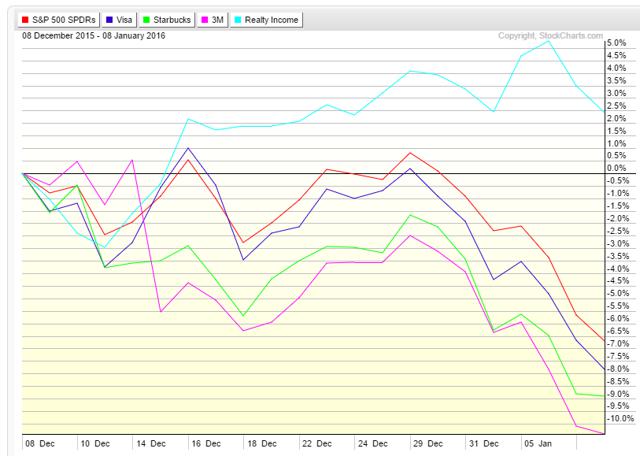 (Chart courtesy of StockCharts)
And while things look bad, the pressing question remains: How is the twins' portfolio faring in this turbulent weather thus far? Is it ahead of the SPY? The answer is yes, but only by a hair, thanks to weekly/bi-monthly purchases that have allowed me to dollar-cost average (DCA) the purchase prices of each position. Below, I provide two purchase analyses - what I bought with the four stocks, and what I would have bought (NYSEARCA:SPY) as a comparison. Times and prices are matching so that SPY would have also been DCA'd to mimic the other positions. This has been done as precisely as possible, with most Sharebuilder trades occurring on the dates below between 11:00 and 11:15 am EST - thus, the SPY price corresponds to those prices. O dates and prices also correspond to the dates of purchase in its DRIP plan. Of note, two purchases of O were made close together - this is an on-time occurrence to catch up with the other positions; from here on, O will add holdings between the 10th-15th and the 25th-30th of each month.
Purchases in the twins' portfolio: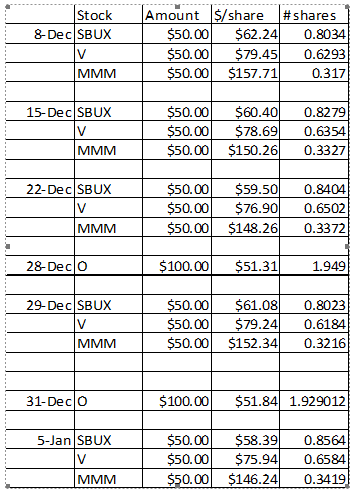 These bring us to a grand total of: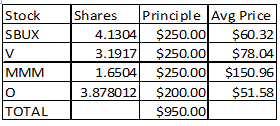 And here is the current value of this $950 investment:

So overall, the boys are down 5.60%. But how would SPY have performed with this $950?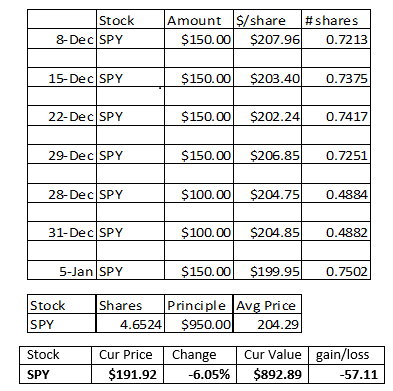 So currently, the boys are ahead of the SPY by a very small margin of $3.93, or about 0.4%. While not much, over the long term this small percentage gain could turn into a substantial difference for my sons. Thus, I am very pleased with the portfolio's current performance.
Trailing in the Industrial Goods sector
Even as O has performed well and SBUX and V have seen their premium prices trimmed, MMM has experienced the largest decline over this period. If you look at MMM on the SA page, the number of negative articles jumps out and covers the issues of foreign exchange rates and global issues. These issues are further amplified by questions regarding the Chinese stock market and the overall economy - an issue that has been instrumental in this past week's thrashing.
But to me, these are the equivalent of being told to not buy Kellogg (NYSE:K) and General Mills (NYSE:GIS) in 2011-2012 as corn prices soared and those food stocks declined. Points like this are accumulation times, and thus I remain committed to MMM and will consider increasing the $50 weekly investment if the stock continues to decline. As a reminder, there is $75 per week in extra cash being put in reserve in the portfolio; thus, if MMM continues to decline below $135/share, I will increase the weekly investment amount to take advantage of a long-term holding with a 3% dividend yield.
Winning with the REIT
The winner over this past month has been O, likely due to investors searching for yield and stability, as well as its limited exposure to international markets and conservative debt holdings. As I mentioned in my previous analysis, the REIT has become well diversified, and it now leases properties to companies with strong business models and balance sheets. It continues to gain positive coverage from analysts, and the strong monthly yield gives the investor a cornerstone for a strong portfolio foundation. My bi-monthly buys keep me sleeping soundly at night!
Dividends not yet a factor
Readers will likely note that dividends have not been factored in with this review, and that is simply due to no positions yet paying dividends. I will be reinvesting them, and will ensure SPY shares receive the same treatment for comparison. SPY's yield has moved towards 2.2%, according to the SPDR website, but my four stocks now cumulatively yield nearly 2.4%, and thus, I am content to continue this plan.
Sleeping like a baby (or babies) during dark and stormy times
The great thing about newborns is that they sleep... a lot. And thus, I am taking a page from their book and sleeping soundly with this portfolio and its future outlook. I welcome future storms, as we know they will come, and look forward to taking advantage of lower prices and a hunger for yield. And speaking of hunger, I hear the two boys stirring, which means it is feeding time. With that, I wish all the best of luck in the new year and will provide another update next month. Until next time!
Disclosure: I am/we are long SBUX, V, O, MMM.
I wrote this article myself, and it expresses my own opinions. I am not receiving compensation for it (other than from Seeking Alpha). I have no business relationship with any company whose stock is mentioned in this article.