Introduction
It's been quite a while since RMP Energy (OTCPK:OEXFF) has received some attention here on Seeking Alpha, and it appears a lot of investors are licking their wounds as the share price was trading at four times the current share price less than 12 months ago.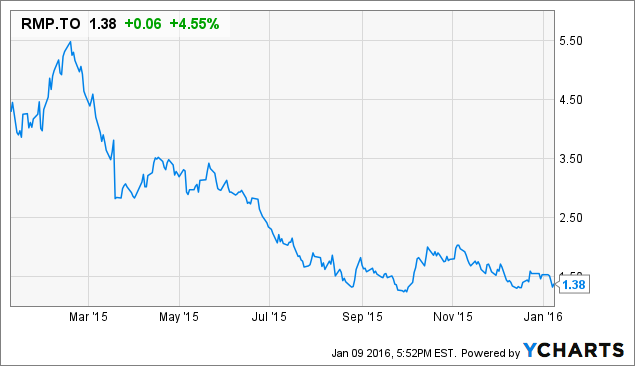 Even though RMP's OTC-listing is pretty liquid (with an average volume of 15,000 shares per day), it would be a much better idea to use the company's main listing in Canada for trading purposes. RMP is listed on the main board of the Toronto Stock Exchange with RMP as its ticker symbol. The average daily dollar volume in Canada is approximately US$625,000. The current market capitalization is approximately US$120M.
RMP Energy had a decent 2015 and is in a relatively good shape
RMP Energy is producing an attractive mix of both oil and natural gas. In the third quarter of the past financial year, approximately 46% of its total oil-equivalent production consisted of liquids. That was indeed lower than the 56% liquids ratio in Q3 2014, but there was a very good reason for that. You'll also undoubtedly notice the oil-equivalent production rate and the oil production rate were respectively 15% and 30% lower than the comparable quarter, and this was due to several reasons.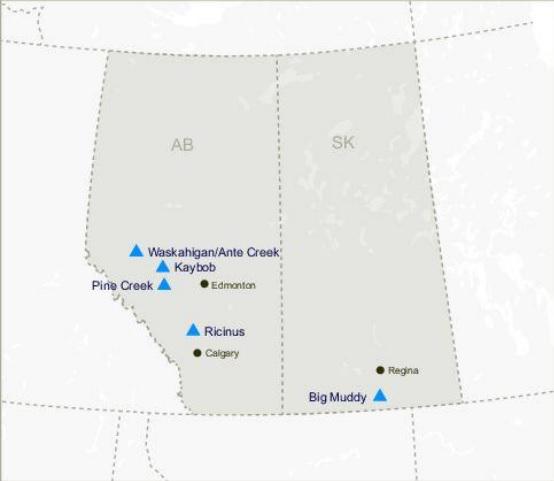 Source: company presentation
The oil and oil-equivalent production was lower due to some third-party gas transportation restrictions which caused the company to shut in a part of its Montney gas field until the gas prices improved. As the pipeline capacity has now increased and as the gas price has been cooperating lately, the Kaybob zone will very likely be brought into production again. Additionally, there was a seven day issue at the Waskahigan oil battery as well as a shutdown of the Alliance pipeline in August, which forced RMP to shut down its production for an entire week. A lot of bad luck, but fortunately all these issues were caused by external parties and had nothing to do with RMP's operations.
Despite the lower production rate, RMP was able to keep its financial situation relatively under control as it realized a total net revenue of C$29M ($21M) which was more than 50% lower compared to the same quarter last year, due to the lower production rate and obviously the lower prices as well. The bottom line is showing a net loss of C$45M ($32M), but this was predominantly due to the fact RMP decided to record a C$51.5M ($36M) impairment charge on the value of its assets (and the depletion/depreciation rate of its operating wells).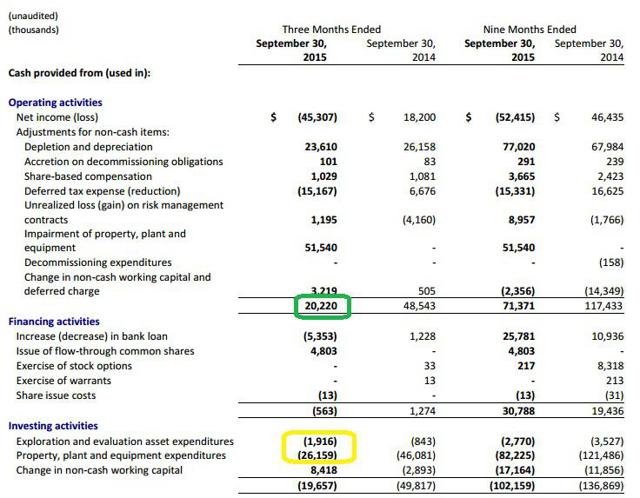 Source: financial statements
As both the impairment charges and the D&D charges are non-cash components, it shouldn't surprise you to see the company's cash flow statements are much better than the income statements. In fact, the operating cash flow was C$20.2M ($15M) which is actually pretty good. It wasn't sufficient to cover all the capital expenditures but you shouldn't forget that a) the capex will decrease and b) the cash flow would have been a bit higher if RMP would have been able to produce its oil and gas without the problems it encountered.
The unhedged 2016 production might cause the management's stress levels to increase
It definitely looks like RMP has everything under control, and the net spending on capital expenditures isn't much higher than the operating cash flow. Also keep in mind that operating cash flow did NOT benefit from one-time events like a hedging benefit. RMP has no real hedges in place for 2016 which could be seen as both positive and negative. It's positive because it will now be able to fully capture a potential oil and gas price increase, but on the negative side, it has no cash flow protection in place at all, and its financial situation is now fully depending on the market price for oil and gas instead of being able to count on some hedging profits.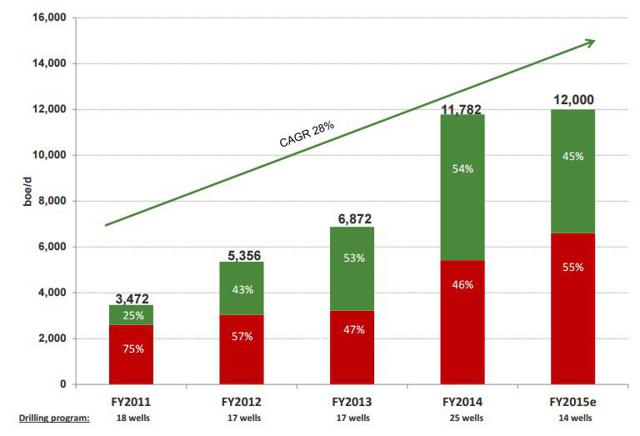 Source: company presentation
I was very interested to see the company's plans for 2016, and it looks like RMP's top (and only) priority would be to deliver a balanced budget. The company plans to drill 6 new wells in the first half of 2016 and has earmarked a total capital expenditures budget of C$30M ($21.5M). That seems to be quite conservative and effectively slashes the capex by 50% compared to the Q3 2015 spending. It will be interesting to see if the company will be able to keep its production rate relatively stable.

Source: company presentation
It doesn't look like the six wells will be sufficient to indeed keep the production at the same rate as in Q4 2015 (11,200 boe/day), but I don't think we should be too upset about a relatively minor fall in the production rate (which will very likely be limited to 5%). It will be interesting to see the how the operating cash flow behaves though, and based on the current movements in the oil and gas price, I think RMP's estimate to generate C$30M ($21.5M) in operating cash flow won't be too far away from the truth, which would mean RMP would be able to balance its budget (OpCF=capital expenditures) but with the negative effect of a 5% lower production rate.
Fortunately RMP still has a very decent credit facility in place and it will be able to draw down an additional C$50M ($36M) in debt should the situation warrant to do so.
Investment thesis
RMP Energy has now provided a clear path forward for the first half of FY 2016, and it's nice to see the company is aiming to be breaking-even on the cash flow front. However, it will now be very interesting to see the budget and anticipated results for H2 2016 because I fear the company will have to step up its development rate (read: spending more cash on capex) to make sure its production rate doesn't continue to slip further.
That being said, there actually isn't anything wrong with a lower production rate as it might be better to keep some more oil and gas in the ground whilst waiting for better times. That being said, a reduced production rate should be managed and the decline rate should be carefully observed, whilst any 'excess' cash flow should be used to reduce the amount that has been drawn down from the credit facility.
Disclosure: I/we have no positions in any stocks mentioned, and no plans to initiate any positions within the next 72 hours.
I wrote this article myself, and it expresses my own opinions. I am not receiving compensation for it (other than from Seeking Alpha). I have no business relationship with any company whose stock is mentioned in this article.
Editor's Note: This article covers one or more stocks trading at less than $1 per share and/or with less than a $100 million market cap. Please be aware of the risks associated with these stocks.