Royal Dutch Shell (NYSE:RDS.A) (NYSE:RDS.B) has dropped to its 52-week lows on account of the weakness in the oil and gas industry. In fact, after having a woeful time in 2015, when the stock lost over 33%, it is already down almost 12% in 2016. So, can Shell make a comeback going forward? We'll try answering this question by weighing its strengths and weaknesses, and then take a closer look at the prospects of the oil industry that will determine how Shell will perform going forward.
Strengths vs. weaknesses
Undoubtedly, Shell's biggest strength is its balance sheet as it has a substantial cash pile of $31.85 billion. Additionally, Shell has been able to generate operating cash flow of $34 billion in the trailing twelve months, putting the company's total cash and operating cash flow position at $65.85 billion. What's more, Shell also carries positive levered free cash flow of $3.86 billion generated in the last twelve months.
But, as far as the strengths are concerned, this is where the positives end. A closer look at Shell's financials and fundamentals brings out the fact that the company is not the best-positioned big oil player in the industry. This can be clearly judged from the chart given below: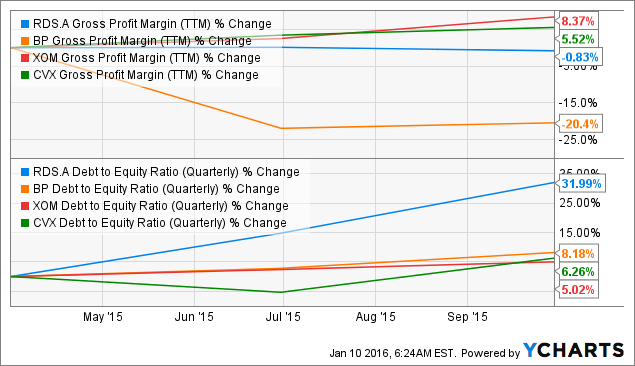 RDS.A Gross Profit Margin (NYSE:TTM) data by YCharts
As shown above, when compared to Exxon Mobil (NYSE:XOM), Chevron (NYSE:CVX), and BP (NYSE:BP), Shell's fundamentals are weak. For instance, Shell has not been able to keep its margin performance intact, while both Exxon and Chevron have been able to improve their margins in a weak pricing environment. Of course, one can give some credit for Shell for outperforming BP and keeping its gross margin flat, but when we move to the leverage, things change for the worse.
Shell's leverage has grown at the fastest pace among its peers, and that too are almost four times the rate of the BP's. In fact, Shell's debt of $55.6 billion is way higher than both Exxon and Chevron, and is slightly less than BP. However, as seen above, BP has managed to keep its leverage growth under check, while Shell seems to have lost control.
As a result, one can infer that Shell's interest burden has increased at a faster pace than that of its peers, which is bad news for investors if we consider the weakness in the end market. Thus, from a fundamental perspective, Shell is not the best-positioned player among other big oil companies as its weaknesses outpace its strengths. This is not surprising as Shell has borne the brunt of the decline in crude oil prices, which has led to a steep decline in its cash flow and earnings, as shown below:

Source: Shell
As seen above, the upstream segment, which accounted for a greater portion of Shell's earnings, has dropped rapidly due to weak oil pricing, while the increase in the downstream segment has not been enough to mitigate the decline in the downstream. Looking ahead, I believe that Shell's fundamentals will continue declining and the state of its balance sheet will weaken. Let's see why.
Potentially weaker oil pricing is a big threat
As already seen above, crude oil prices have turned out to be a headwind for Shell and have negatively impacted its financial performance due to weakness in the upstream segment. Looking ahead, this weakness in the upstream segment will continue and impact Shell's performance in a negative manner given its substantial size are compared to upstream.
I'm saying this because 2016 has started on a very bad note for the oil industry, with the Brent declining to levels last seen in 2004 at around $33/barrel. Crude oil has been pushed to these levels due to a number of reasons, including an economic slowdown in China, and this trend is not going to fade away anytime soon. For instance, after growing 6.9% last year, it is anticipated that China's economic growth will slow down to 6.8% this year according to the People's Bank of China.
However, banks such as Nomura believe that China is being too optimistic about its growth and the country's growth could be as low as 5.8% this year. Now, as China is among the biggest importers of crude oil in the world, a slowdown in economic growth will affect oil demand negatively. This is because manufacturing activity and industrial production will come down in the country, so it will need less oil. As a result, it is expected that China's oil demand will grow by 300,000 barrels per day this year, down 41% from last year.
This will have a negative impact on global demand growth, which is expected to slow down to a range of 1.20-1.25 million barrels per day this year from around 1.8 million barrels per day in 2015. But, at the same time, it seems like supply in the global crude oil market is not going to come down anytime soon as Iran is ready to flood the market with more oil as sanctions on export are lifted this month. In fact, Iran has already taken stock of its oilfields and is ready to increase production.
According to News.az:
"Iran is expected to add 500,000 b/d to its oil exports after the sanctions are lifted. It will continue to raise exports to 1 mb/d six months after.

Iran exported 2.3 mb/d-2.5 mb/d of oil before US and European sanctions targeting its energy sector cut the sales by half in 2012. Saudi Arabia, Russia and Iraq ramped up production to replace the Iranian oil."
This means that there is a lot of room for Iran to ramp up production and flood the global market with more oil, especially because it used to be the second-largest producer in the OPEC, which accounts for 40% of global oil production. Hence, as a result of increased oversupply and slowing demand, oil prices will worsen going forward and this is bad news for Shell.
Conclusion
Considering the points presented above, the odds are stacked against Royal Dutch Shell. Due to further weakness in oil prices, the company's fundamentals will take a hit and its balance sheet will weaken. So, in my opinion, even though Shell trades at its 52-week lows, investors should continue staying away from the stock.
Disclosure: I/we have no positions in any stocks mentioned, and no plans to initiate any positions within the next 72 hours.
I wrote this article myself, and it expresses my own opinions. I am not receiving compensation for it (other than from Seeking Alpha). I have no business relationship with any company whose stock is mentioned in this article.