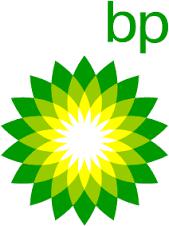 Like most energy companies, BP (NYSE:BP) lived through a terrible year in 2015 in which commodity prices continued to fall off the cliff. High-profile dividend and distribution cuts in the levered shale space troubled investors even more, and made them run for cover. As a result, energy companies including BP have seen their valuations contract.
BP's stock, for instance, declined 20% over the last year. Other big league oil companies didn't fare much better: Exxon Mobil (NYSE:XOM) is down ~17%, Chevron (NYSE:CVX) ~22%, and ConocoPhillips (NYSE:COP) ~31%.
While ConocoPhillips is a special case here due to its lack of a sizable downstream business, and therefore lack of hedging ability in an environment of falling crude oil prices, the takeaway here is clear: Oil companies have destroyed a lot of value for investors last year.
And so far, the start of 2016 is not looking much better than 2015. Some oil companies have seen new 52-week lows in early 2016 on the back of crude oil prices falling to 11-year lows, and BP was not an exception. BP's stock fell to a fresh 52-week low of $28.84 on Friday. Coincidentally, BP's new 52-week low also is a multi-year low.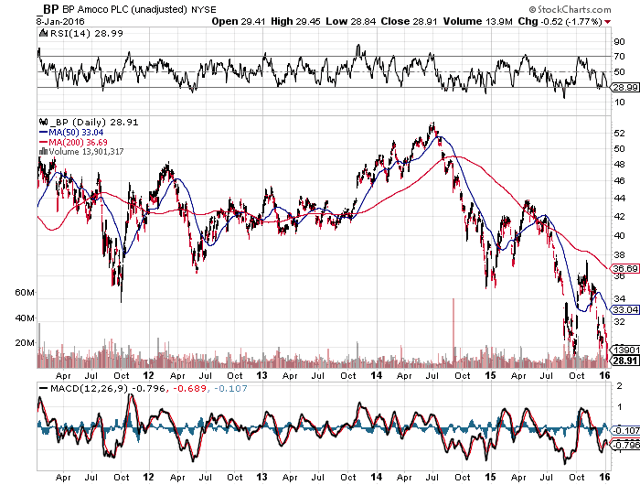 Source: StockCharts.com
BP's asset sales are going to continue
In response to the crude oil price crash (and the Deepwater Horizon incident in the Gulf of Mexico in 2010), BP has shrunk its business. Since 2010 the company has divested nearly ~$75 billion in energy assets, including its TNK-BP stake. Further, BP has guided for additional asset sales in the range of ~$3-5 billion in 2016 and ~$2-3 billion in 2017.
Asset sales are a preferred pathway for oil companies to counter lower energy prices because they bolster their balance sheets, reduce development and operating expenses, and improve their liquidity position. As a result, BP could make it through this downturn without having to cut its dividend.
BP's downstream operations are an asset in this low price environment
BP's upstream profits are likely going to look ugly when the company releases fourth quarter earnings. In the third quarter, BP's upstream profits were already in free-fall: They were down ~79% from $3.9 billion in Q3-14 to just $0.8 billion in Q3-15 thanks to lower upstream realizations.
On the other hand, BP's downstream business has been doing better. BP's downstream earnings improved from $1.5 billion in the third quarter of 2014 to $2.3 billion in the third quarter of 2015, thereby offsetting some of the earnings collapse in its upstream business. Companies with downstream businesses are in a better position to withstand the oil market downturn than companies that solely rely their upstream businesses like ConocoPhillips, for instance. I explained here why.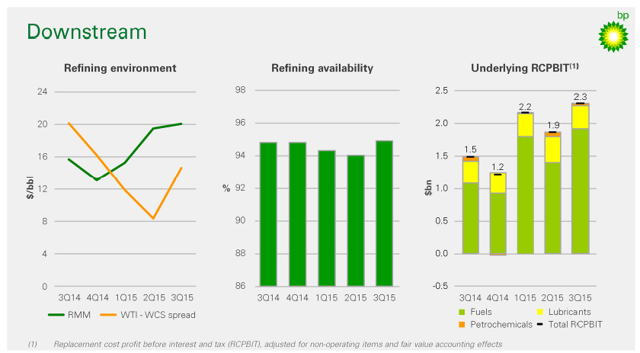 Source: BP Investor Presentation
Short-term volatility
Crude oil prices continue to slide and are now approaching the $30 per barrel price level. WTI crude oil for February delivery costs ~$33 per barrel, and the market price for Brent Crude, also for February delivery, has fallen to ~$34 per barrel. Last week, crude oil fell to 11-year lows, which demonstrates the risk that comes with investing in energy companies. On the other hand, buying BP at this point in the cycle may lead to compelling risk-adjusted returns over the long haul.
Your Takeaway
BP's stock reached a new 52-week low, and multi-year low, on Friday as the oil price rout continued into the new year. That said, BP has positioned itself in such a way that it is in a good position to survive the downturn. After all, BP has done so many times before.
BP has guided for additional asset sales in order to improve its cash position and derisk its balance sheet. Importantly, BP operates a robust downstream segment which will offset some of the decline in its upstream business. Is there any downside with BP? Sure. But buying an experienced, battle-hardened oil exploration company such as BP at fresh multi-year lows during a bear market could prove to be a lucrative investment over the course of a full market cycle.
Disclosure: I am/we are long BP.
I wrote this article myself, and it expresses my own opinions. I am not receiving compensation for it (other than from Seeking Alpha). I have no business relationship with any company whose stock is mentioned in this article.