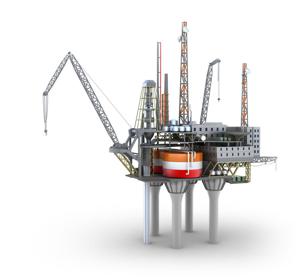 I have long been on record stating Noble Corp (NYSE:NE) would be one of the survivors in the offshore drilling industry. However, I have been circumspect with respect to recommending the stock as, hard as it is to believe, the sector as a whole (with the possible exception of Seadrill (NYSE:SDRL)) has not really experienced price capitulation. I think we are getting near a point of price capitulation and I'd like to share my thoughts (and certainly hear your comments).
Back to Basics
Noble will be a survivor principally due to 1) strong balance sheet, 2) strong contracting position, 3) good fleet profile and 4) excellent management.
Strong Balance Sheet
NE has an acceptable (not highly leveraged) debt-to-equity ratio of 37%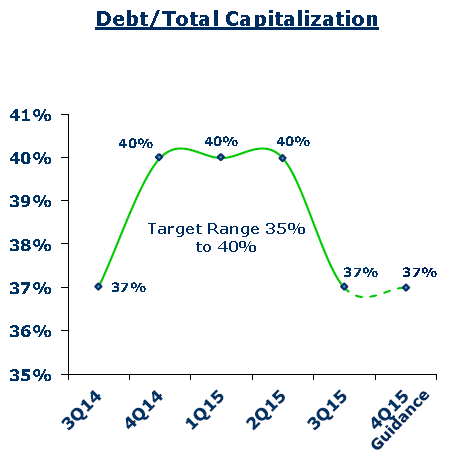 Source: Noble Corp
Moreover, the maturities of the debt are mostly in 2019 and beyond (NE anticipates paying the March 2016 note using cash on hand). The Company also has an untapped $2.4 billion credit line that does not mature until June 2020.

Source: Noble Corp 10-Q
While NE's debt load is manageable, the market has (finally) begun to get a little nervous about longer dated debt. In the example shown below, the Company's August 2020 bonds (maturing after the revolving line of credit expires) yields over 12%, up from under 6% as recently as August.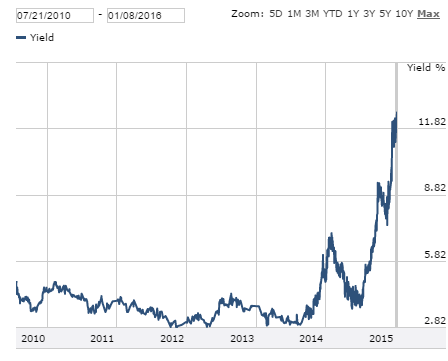 Source: FINRA via Morningstar
Strong Contracting Position
NE has $7.4 billion in backlog (consider worth about $7.0 billion due to likely concessions to Saudi Aramco and others) as of January 2016.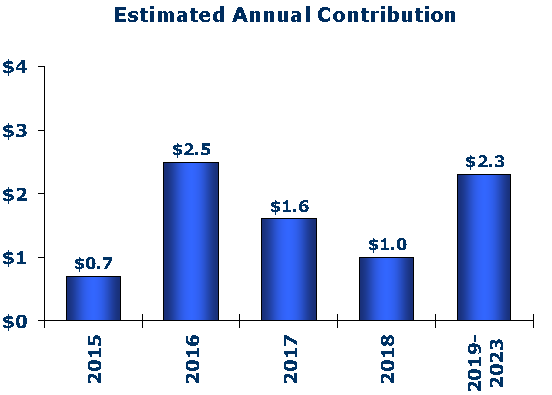 Source: Noble Corp
Good Fleet Profile
The majority of NE's fleet is modern, especially the drillships. In today's over-supplied market, investors are focusing on balance sheet and contract backlog, not fleet composition. However, for NE, or any driller, to have value, it will eventually need to re-contract. In this regard, modern floaters will have an advantage over older floaters (which frankly should be, for the most part, scrapped). NE's jackups are also largely newer (the dogs having been spun-off to almost bankrupt Paragon Offshore), but this will be less of an advantage as these rigs are often contracted on price rather than capabilities.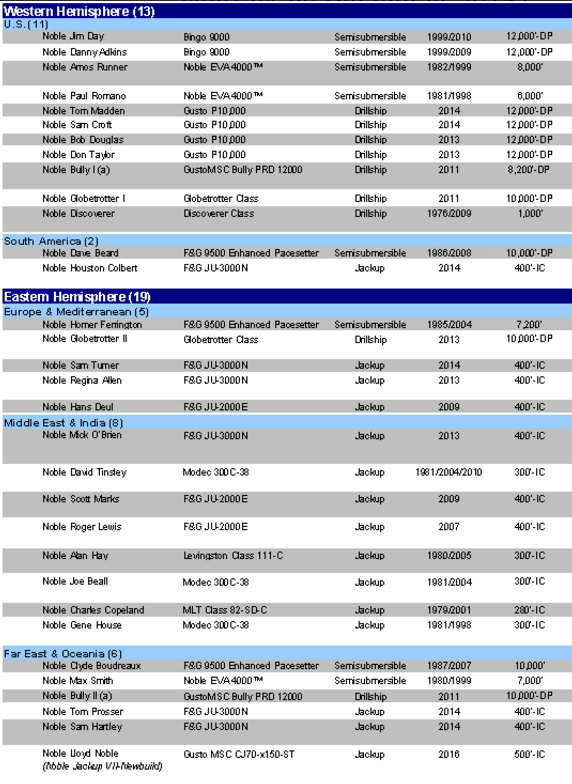 Source: Noble Corp, December Fleet Status Report
Excellent Management
NE management has impressed in recent years. The Company did not go on a buying binge ala Transocean (NYSE:RIG) and SDRL. The Company did not go on a debt orgy . The Company stayed out of trouble in Brazil (possibly RIG). The Company spun off dog rigs and association debt (Paragon Offshore). The Company handled difficult negotiations with Saudi Aramco better than most.
Catalysts of Market Capitulation
As stated at the opening, while offshore driller stocks are down significantly, they do not reflect complete market despair or "capitulation". From the macro perspective, I think we are getting close/closer. Many stocks could still halve. I do want to share two micro catalysts that may drive NE down in the short-term leading to (finally) an attractive entry point.
Micro 1: NE's fleet, as discussed in the article, "Noble Still A Survivor, But With A Less Certain Path To Recovery", is due for a write-down to fair market value. Currently on the balance sheet at $12 billion, I expect an impairment of 33%-50%.
Micro 2: NE continues to pay a dividend, providing a current market yield of 6.6%. While a subset of investors values the dividend, no one can realistically say paying a dividend is the best use of NE's cash in the current environment. I expect the dividend to be either suspended or cut in half.
Ideally, NE will announce all of its bad news (impairment and dividend change) at one time (when full year earnings are announced on February 3).
Conclusion
This is a very dynamic market, subject to change quickly. It is important that all investors continually re-evaluate their thesis against the current reality and expectations.
While an admirer of NE, I have not made an investment. I do believe the Company will survive. I do believe the industry will recover, but it still may be several years due to the heavy oversupply of rigs (due to lack of scrapping). For these reasons, once there is capitulation, I will be ready to make an investment in NE (at this point, I am not sure if it will be large or staged over many months).
I welcome your thoughtful comments. If you want to hear more about the drillers and stocks that have nothing to do with energy, consider "following" me.
Disclosure: I am/we are long SDRL.
I wrote this article myself, and it expresses my own opinions. I am not receiving compensation for it (other than from Seeking Alpha). I have no business relationship with any company whose stock is mentioned in this article.