To wrap up a successful deal, investment bankers might begin their night toasting with Del Frisco's (NASDAQ:DFRG) $17 martinis. It's our belief that within the next twelve months, the deal investment bankers will be toasting will be the sale of Del Frisco's itself, likely at a significant premium to today's price.
For those who haven't been, Del Frisco's is a chain of high-end steakhouses. The company actually owns three different brands: Del Frisco's Double Eagle Steak House (the flagship brand; from here on known as "Eagle" to avoid confusion with the parent company), Sullivan's Steakhouse ("Sullivan's"), and Del Frisco's Grille ("Grille").
The underlying investment thesis in DFRG is simple: the company is ripe for activism. Fidelity National Financial (NYSE:FNF) and Fidelity National Financial Ventures (NYSE:FNFV) have acquired 9.3% of DFRG's shares in the open market over the past month, and FNF has a history of acquiring underperforming restaurants, turning them around, growing them, and selling them. Their presence should quickly lead to a sale that sees DFRG selling itself to either FNF or another acquirer for a premium.
Some more background is useful for understanding why the current opportunity exists. Del Frisco's went public in 2012. Its pitch was clear: grow the company by opening one new Eagle and 2-4 Sullivan's or Grilles each year, with a strong leaning towards opening new Grilles. At IPO time, there were only 3 Grilles, and the company thought the concept had the potential to grow to over 170 units at peak. In total, DFRG thought it could build 6-8 new units per year with cash on cash returns of more than 25% for new units, which meant that growth would create tremendous value and cash flow.
That growth model began to crack in 2015, as 2014's batch of Grille's did not deliver the returns DFRG was expecting. The disappointing results caused DFRG to put a temporary pause on growth initiatives, with only two or three new Grille's opening in 2016. Management argued this pause would allow them to review all of their models and ensure they were generating strong returns on new stores.
The "growth pause" was not exactly what investors were expecting. DFRG had consistently guided to strong and continued growth, and a simple review of the company's investor presentations shows that its biggest pitch was high-teen EPS growth driven by continued store openings.
But just because DFRG is no longer growing rapidly does not mean the stock is no longer valuable. In fact, a key piece of the investment thesis is that DFRG has been geared towards growth and nothing else. The company has been so focused on growth and opening new units at any cost that it has lost focus on its core operations and running the units that are already open. For example, DFRG's margins are well below what they should be. Consider the two charts below (both are from J. Alexander's September 2015 Investor Presentation).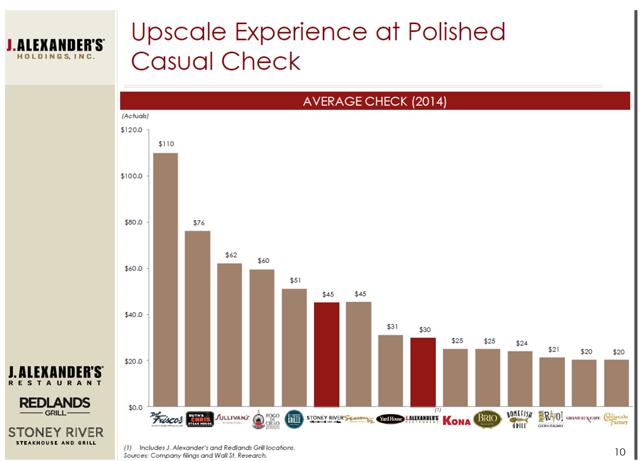 Del Frisco's Grille and Sullivan's have two of the worst restaurant level margins despite average checks substantially higher than most peers. Eagle has restaurant-level margins only four points above Ruth Chris's despite an average check 45% higher than Ruth Chris's. It's also worth noting that these margins were LTM numbers as of September (so only up to Q2'15 numbers); since then, DFRG has reported Q3 numbers that saw its restaurant-level margins continue to deteriorate.
Restaurant-level margins and average checks, of course, can be influenced by a lot of different things, and just because a company has a high check doesn't mean its margins should be higher than another company's. The restaurant business is competitive, and higher checks are normally accompanied by things like higher rent, more pricey ingredients, etc. that will eat into those higher checks. But those stats are interesting, and they aren't the only things that indicate something is off when it comes to DFRG's margins.
Restaurant-level margins for each of the company's brands have been dropping for years. Again, there are a variety of explanations for why margins for every segment should drop over this period (rising beef prices; new stores driving margins down), but it's another indication that something is off here. For reference, both J. Alexander's (NYSE:JAX) and Ruth Chris (NASDAQ:RUTH) have improved restaurant margins over the same time period (RUTH from 20% in FY11 to 20.8% in FY14 and 21.8% YTD15; JAX from 9.6% in FY2010 to 13.9% in FY14 and 13.7% YTD15).

One last indication that something is off at DFRG is same-store sales (SSS): DFRG's are, once again, at or below all relevant competitors across all of its brands.

Again, individually, each of these metrics is simply a negative. But altogether, it's a strong indication that something is off at the company.
However, the fact something is currently off at DFRG is exactly why there's opportunity here. With proper management, it should be able to improve its operating margins and return to SSS growth. The combination of the two should drive earnings and the company's value materially higher.
In fact, there is a great precedent for what DFRG needs to do: FNF's strategy after its acquisition of J. Alexander in 2012. FNF announced its acquisition of J. Alexander in June 2012. At the time, the company's restaurant operating margin was ~10% and SSS growth was decelerating. FNF took over shuttered underperforming restaurants, boosted margins, returned J. Alexander to strong SSS growth, and then spun the company off once it was ready to resume growing its store base. The combination has significantly improved J. Alexander's value: FNF paid ~$87.5 million for JAX in 2012, and JAX's current enterprise value is ~$171 million (Note: This is not a pure apples-to-apples comparison of value creation. FNF contributed Stoney River to JAX while it was private, took a $20 million dividend (in the form of a note payable that was paid in May 2015) from JAX in February 2013, and the newly publicly traded JAX has a related party consulting agreement that almost certainly detracts from its value. But all of those factors aside, FNF has certainly increased JAX's value significantly).
If DFRG follows the same playbook, it seems clear that the company could create a significant amount of value. FNF is certainly banking on it, as it has purchased ~9.3% of the company on the open market.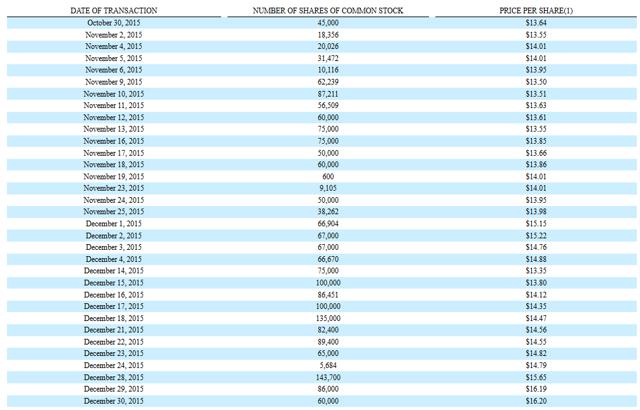 With that level of open market purchasing, FNF clearly thinks DFRG is undervalued, and that an activist can spur DFRG to implement a value realization playbook or sell to someone (like FNF), who can then implement the right playbook. But the open market purchases are interesting for another reason. In 2012, FNF originally announced its acquisition of J. Alexander for $12/share in a mix of cash and stock. But after that deal was announced, J. Alexander faced significant shareholder pressure against that deal and received several proposals to get acquired for a higher price. FNF eventually had to raise its price to $13/share and then $14.50/share in cash to acquire J. Alexander (you can read more in the merger proxy's background section, starting on page 8). By acquiring 9.3% of DFRG shares, FNF instantly becomes DFRG's largest or second-largest shareholder. Perhaps FNF thinks owning the shares will allow it to front-run any activism if it makes a bid to buy the company. Perhaps FNF thinks this will allow it to pressure management to sell. Or perhaps it wants to be able to profit if it makes an offer and someone else ends up winning DFRG with a higher bid. Most likely, it's some combination of all three of those options, but the bottom line is that FNF acquiring that many shares puts DFRG firmly in play.
What would FNF be willing to pay? LTM EBITDA (excluding pre-opening costs and non-cash write downs) comes in at ~$48 million. Higher-end restaurants (RUTH, FOGO, CAKE, BJRI, IRG) generally trade for ~8x EBITDA, which would mean DFRG is trading in line-to-slightly below peers at today's share price of $14.50 per share. FNF would likely need to pay a small premium to take control, so something in the $17.50 range would be fair (a 25% premium to the pre-FNF, unaffected stock price and a ~20% premium to today's price).
However, that value ignores the potential upside as DFRG stabilizes its margins. It doesn't take much to get the company to a run rate over $65 million in EBITDA. The estimates below assumes the following:
All 3 brands do average unit volumes (AUV) in line with their 2014 levels, as disclosed in the company's most recent investor presentation.
Del Frisco's does 29% restaurant-level EBITDA margins, while both Sullivan's and Grille do 18% (in line with JAX and other peers).
No new Del Frisco's or Sullivan's open. Grille, which had 19 units open at the end of Q3, opens three units in Q4 and three more units in 2016 (in line with the guidance).
SG&A increases by ~5% from LTM levels to support the increased Grille unit count (conservative; an acquirer would likely see a decent bit of synergy here).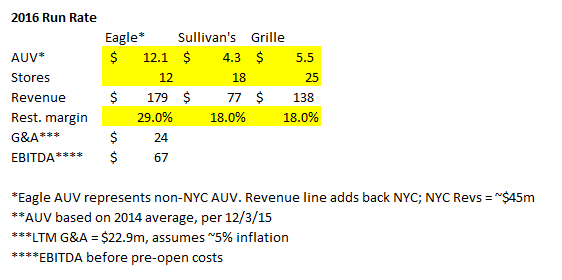 Assuming the company was worth 8x EBITDA, it would be worth ~$22 in that scenario. That price would be a reasonable sale price for DFRG in a competitive auction, and would leave significant upside for an acquirer from cutting SG&A costs, further boosting restaurant-level margins, improving same-store sales, and resuming unit growth. It's also worth noting that Eagle itself is a great brand: the steakhouses are the #1 or #2 grossing steakhouse in all of their markets, and the NYC location is borderline iconic and one of the highest-grossing restaurants in America. True, those are all qualitative things, but they can attract incremental buyers and bid up the price in an auction.
Aside from the economic upside a potential purchaser should see in DFRG, there are technical reasons to believe a sale is likely. With no controlling shareholders and laughably low insider ownership (per the proxy, insiders owns 1.5% of the shares, with almost all of that coming from unexercised stock options), limited corporate defenses (no poison pill and Delaware incorporation, though the board is staggered), and a stock price that has barely budged since the IPO more than three years ago, FNF's large stake should force management to the negotiation table and hopefully lead to a full-out auction for the company.
What happens if there's no sale? While that situation seems increasingly unlikely, the downside from here probably isn't too far. As mentioned earlier, the shares are trading for roughly 8x last trailing month's EBITDA, in line with peers. DFRG has historically plowed most of its cash into new store openings, but with store openings slowing in 2016 and an under-levered balance sheet (~0.3x leverage), it should generate a significant amount of cash going forward, which could be returned to shareholders. During Q3, the company made its first repurchases under the $25 million share repurchase plan approved in October 2014, retiring 189k shares at an average price of $15.87. That plan has $22 million of availability remaining (~6% of shares at today's price), and it's reasonable to think DFRG will accelerate its share repurchases in an attempt to mollify shareholders in the wake of FNF's activism.
Disclosure: I am/we are long DFRG.
I wrote this article myself, and it expresses my own opinions. I am not receiving compensation for it (other than from Seeking Alpha). I have no business relationship with any company whose stock is mentioned in this article.