There are a lot of concerns about China in the markets right now. China must transfer their private sector credit growth to Chinese households whose debt to income ratios are extremely low. Household debt as a percent of income in the U.S. is 136% while in China this number is only 17%. Given this fact, it would be reasonable to believe the rebalancing of the Chinese economy will be successful especially if the United States economy continues improving and if the PBOC announces more stimulus.
This leads to my next point that the United States is not Japan. Total credit to the private sector is at an all time high in the United States and credit growth has resumed since the Financial Crisis. Japan's credit growth has stagnated. I would attribute this difference to the swift policy response from the Federal Reserve and an overall resiliency in the United State's economy to absorb different shocks.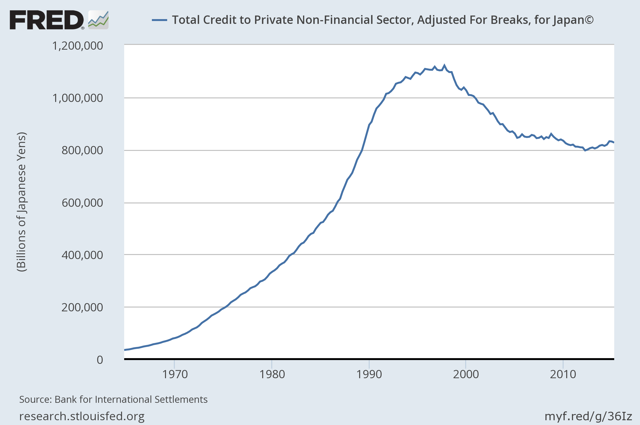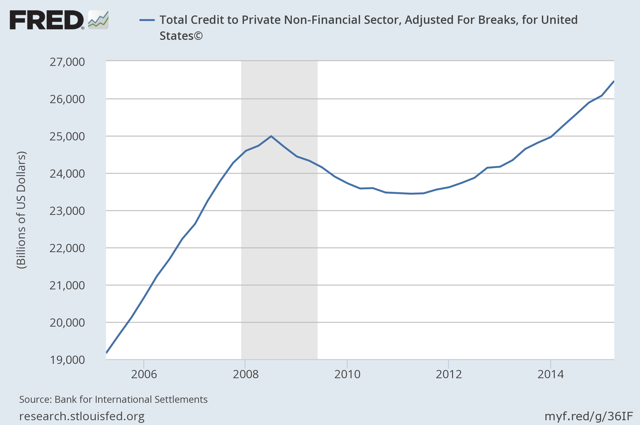 The Fed's decision to begin raising rates is correct in my view and I don't see them reversing course. I expect the data to come in positive in the U.S. Policy will still be accommodative with a base case of increasing rates at every other meeting. China will probably unveil new economic measures aimed at stimulating their economy.
I believe 2016 we will see continued themes of emerging market equities facing pressure, although I believe a lot of the disaster scenario pricing such as seeing safe haven demand in gold/bonds and falling U.S. stocks will subside. I think gold and treasuries will struggle and face a challenging year. The overall tone will be positive driven by strong economic data in the United States, interest rate cuts from the PBOC and the possibility of expanded QE in Europe and Japan.
I'm bullish on the U.S. dollar index in the near term, though longer term I believe we will see a sharp depreciation as a result of excessive inflation in the United States. Years of zero interest rates and QE along with a rebound in commodities particularly oil will prove inflationary. As world economies improve, oil investment falls, and low prices generate demand growth oil has good fundamentals.
Disclosure: I am/we are short EEM, GDX, TLT.
I wrote this article myself, and it expresses my own opinions. I am not receiving compensation for it (other than from Seeking Alpha). I have no business relationship with any company whose stock is mentioned in this article.