Throughout the 10 years I have been a financial advisor both at an independent broker dealer and a big Wall Street wirehouse, American Funds was the staple investment that you ran across in clients' and prospects' accounts. Management trained new brokers to look at American Funds because it was the safe choice, it worked for a long time, and every other broker was using their funds too.
American Funds has always being proud of the fact that they have been helping investors by implementing a long term view of the markets.
"Capital Group's American Funds has helped investors since 1931 with a consistent approach that has led to consistent long-term results. The Capital SystemSM investment process divides funds into portions that are managed independently by investment professionals with diverse backgrounds and approaches, backed by an extensive global research effort."
Source: American Funds - Growth Fund of America Facts Sheet.
Considering the fact that many of the successful corner office brokers have been around as long as Capital Group's American Funds, and the funds' propensity to be found in 401k plans, it is not a big surprise that Capital Group's mutual funds are some of the largest in the investment universe.
This begs the question, are the funds too big for their own good? Do they still have the mojo? Or are you better off just buying an ETF or an index fund like the SPDR S&P 500 Trust ETF (NYSEARCA:SPY)?
This was the exact question that was on my mind as a first year financial advisor after having a conversation with my Fidelity representative. This was part of the reasoning why someone would want to invest in the Fidelity Advisor New Insights Fund (MUTF:FNIAX) over one of Fidelity's cornerstones, the much larger Fidelity Contrafund (MUTF:FCNTX). We discussed this particular issue in my first mutual fund article which you can read here.
We are going to take a look at one of the most popular American Funds' fund, The Growth Fund of America (MUTF:AGTHX) (MUTF:AGBRX) (MUTF:GFACX) (MUTF:GFAFX)(MUTF:GFFFX), and attempt to answer some of those questions.
The Basics
Sponsor: Capital Group's American Funds
Managers: Multi Manager
AUM: $147.127 Billion across share classes
Historical Style: Large Cap Growth
Investment Objectives: Seeks long term capital appreciation by investing with flexibility "wherever the best growth opportunities may be."
Number of Holdings: 270+
Current Yield: .36%, Annual Distributions
Inception Date: 12-01-1973
Fees: A Share: .65%, C Share: 1.45%, F2 Share: .43% (Net Expenses)
Source: Capital Group American Funds Advisor Website
The Alpha
As stated before, the fund's alpha strategy is designed around its flexible mandate. The elevator speech is...
Paints with a broad brush. Takes a flexible approach to seeking growth opportunities, seeking out classic growth stocks, cyclical stocks and turnaround situations.

Source: Growth Fund of America Advisor Site
More specifically, the fund will invest at least 65% in U.S. common stocks. The fund does have the flexibility to also invest in convertibles, preferred stocks, U.S. government securities, bonds and cash equivalents. Furthermore, the fund may invest up to 25% into international investments.
Having this amount of investment flexibility is what separates an actively managed fund from a passive investment. This type of an investment strategy is also what allows many fund managers to outperform not only their peers but also their respective benchmarks. How is it working out for this fund and the investors? Let's dive in and take a look.
The Numbers
This is a tale of two cities. The first is the picture that we get if we look at the long term fund performance, the closer to inception, the better it looks.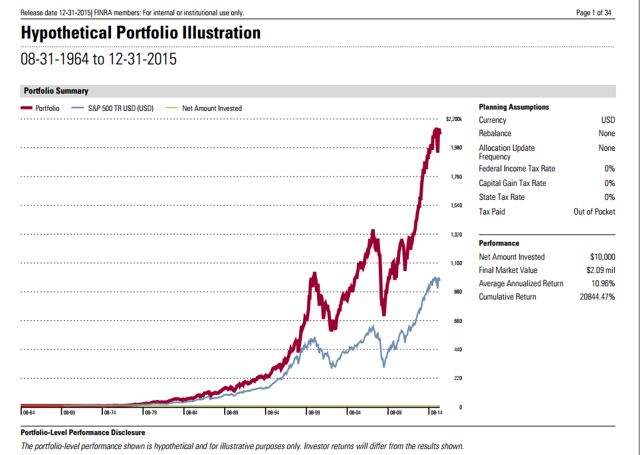 Source: Morningstar Hypothetical
Since 1964, your $10,000 investment would be worth more than $2 million with an average annualized return of 10.96%, easily beating the benchmark S&P 500.
The picture is completely different if you invested a mere 10 years ago.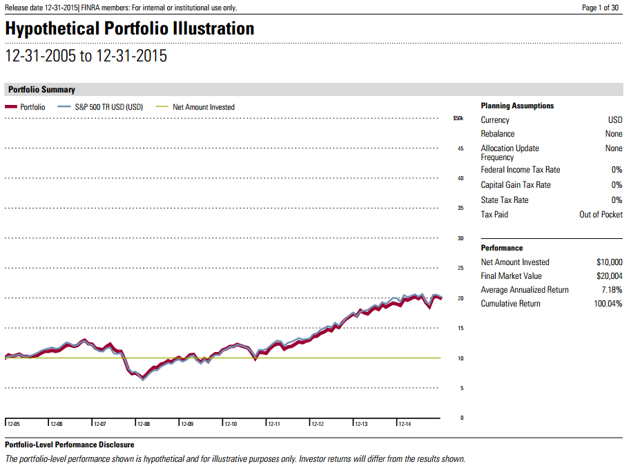 Over the last 10 years, while the fund did not lose you money, it did not really outperform the S&P 500.... in fact... it performed A LOT like the S&P 500.
Lets keep going.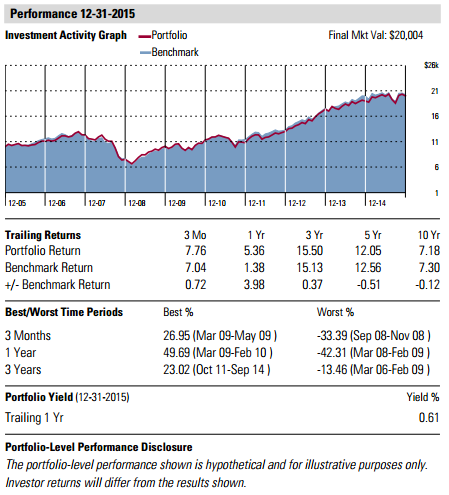 Source: Morningstar
In fact, almost over every measured period, ranging from 3 months through to 10 years, the fund acts and behaves very much like the S&P 500, with the only meaningful exception being 2015.
Looking at the MPT statistics below, we can see that the fund pretty much took market beta and returned no meaningful alpha.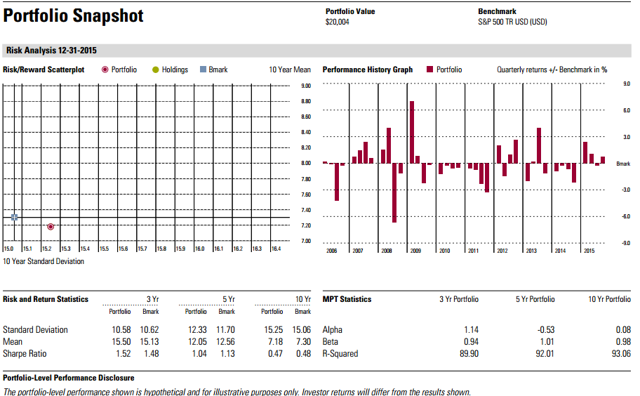 Source: Morningstar
Our Take & Thoughts
So what's going on here?
Simply put, the fund has grown so big in size that it pretty much looks and acts like the S&P 500. With over $147 billion dollars of investable assets in the fund, the universe of investable assets shrinks considerably.
As per the Capital Group, the average market capitalization of the fund's investments' is over $46 billion. In order to make a meaningful investment, if the fund was to invest 5% of its assets in a security, that would be a $7.35 billion dollar check. That is higher than the total market capitalization of a company like Staples (NASDAQ:SPLS), almost twice the size of BlackBerry (NASDAQ:BBRY), nearly half of Twitter (NYSE:TWTR), or more than 25% of the arguably already richly valued Tesla (NASDAQ:TSLA).
The premise of the fund is just not practical any longer. The fund is left to take small stakes (for the fund), in megacap names where the stake in some cases can still be more than 10% of the total shares outstanding. Small investments for the fund end up having the need for hundreds of investments that mimic the S&P 500.
We can see this play out in fund's longer term performance numbers.
Just as far back as 1999, the fund had a mere $20 billion in assets. Today it is seven fold that amount. No wonder why in the last 10 years you could of easily mistaken the price chart of the fund for the S&P 500.
Source: SEC Edgar Reports.
The problem that this presents for investors and the fund is this. If you are a retail investor and you decide to unwind your $1 million dollar position in a large cap, the markets will not even blink an eye. Even a fund with $500 million aum, that may have a $50 million stake in a company can unwind their position relatively quickly.
Take a company like Precision Castparts (NYSE:PCP) which represents about 1% of the Growth Fund of America. Altogether the Capital Group, across all of the funds owns approximately 14 million shares of representing a 12% ownership stake. Even with a current market cap of $31 billion, and an average of 1 million shares traded daily, if American Funds wants to dump over a short period of time, they would crash the market. Unwinding such a large position would mean trying to sell shares into the market, over a longer period of time as to not spook the markets, but short enough that you don't alert the competition when they see the latest holdings report and try to get out before the fund.
Source: Nasdaq
The reality is... investors of The Growth Fund of America should be looking at more nimble funds that can still deploy their alpha strategy, if not, they should just buy the S&P 500 ETF or an index fund with lower fees and not have to worry about the inefficiencies of a mutual fund.
While the portfolio managers may pick the best of the megacaps, that is their only advantage. Due to the sheer size of the fund and the large stakes the investments represent, the fund will in all likelihood not be able to add any significant value in a market downturn due to their inability to liquidate positions in a short period of time.
While this high flying fund was the pinnacle of active management, it has become an overweight, former model that is still trying to get by on her former glory. Time for investors to take a really good look at what they want to do.
This article covers the various share classes of the Growth Fund of America including (MUTF:AGRBX) (MUTF:CGFAX) (MUTF:CGFBX) (MUTF:CGFCX) (MUTF:CGFEX) (MUTF:CGFFX) (MUTF:RGAAX) (MUTF:RGABX) (MUTF:RGEBX) (MUTF:RGACX) (MUTF:RGAEX) (MUTF:RGAHX) (MUTF:RGAFX) (MUTF:RGAGX)
Disclosure: I/we have no positions in any stocks mentioned, and no plans to initiate any positions within the next 72 hours.
I wrote this article myself, and it expresses my own opinions. I am not receiving compensation for it (other than from Seeking Alpha). I have no business relationship with any company whose stock is mentioned in this article.
Additional disclosure: Nothing in this article should be construed as investment advice. Please consult your financial professional to see how anything discussed here applies to you. This is not a solicitation to buy or sell any securities. This is not Tax Advice. Please consult your tax professional.