It's funny, I feel like I'm writing an article today about two extended members of my family. It's almost like sitting around the dinner table listening to Uncle Bob and Aunt Sallie discussing politics and who will win the Republican primary.
Over the holidays, I actually did overhear two family members discussing Hillary Clinton. It became a heated conversation and as soon as I heard Trump's name mentioned, I decided I needed to retreat to a friendlier room in the house.
In case you didn't know, I'm close to completing the manuscript for my book on Trump, and as I have assured others, I'm not writing a political book. Most of you already know that I'm a Wall Street writer and that means I spend most of my time writing about the fictional character known as Mr. Market.
In fact, Mr. Market is almost like family. I spend hours and hours trying to anticipate his next move and although I'm not always right, it pleases me that I am right most of the time (according to Tip Ranks, 64% of my recommendations have been profitable with an average return of 8.9%).
A few months back, I wrote about a company named Easterly Government Properties (NYSE:DEA), a net-lease REIT that owns free-standing buildings leased back to the U.S. government. I initiated a BUY on DEA (at $14.50 per share) and since that time shares have climbed over 19%. Much of bullish sentiment around DEA has to do with the business model that is backed by the credit of the U.S. federal government.
I suppose that Mr. Market liked my article and the buildings that leased back to another fictional character known as Uncle Sam.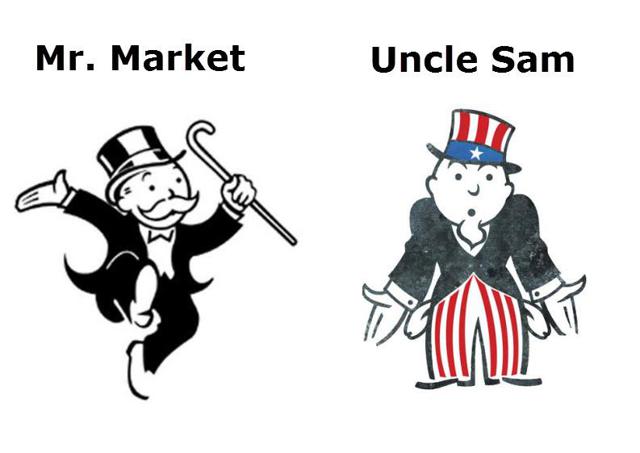 Why Easterly Government Properties?
The U.S. government is the largest employer in the world and the largest office tenant in the U.S. DEA is the only internally managed REIT with a focus on investing in U.S. government-leased buildings. The other direct peer is Government Properties Trust (NYSE:GOV) an externally-advised REIT that has underperformed most all other Net Lease REITs (this chart compares DEA, GOV, and other Net Lease peers).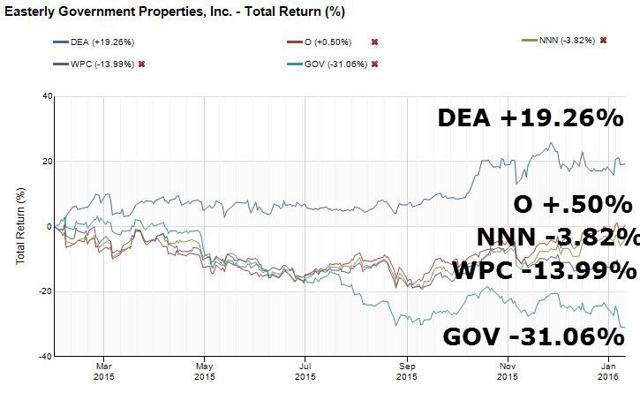 The average age of the U.S. government's owned properties is 47 years and the GSA-leased inventory has grown 30.1 percent since 1998 (as compared to a 1.5 percent decline for GSA-owned), and the GSA now rents more than it owns. Given recent federal budget constraints, DEA believes it is likely that the U.S. government will continue to grow its leased portfolio of assets.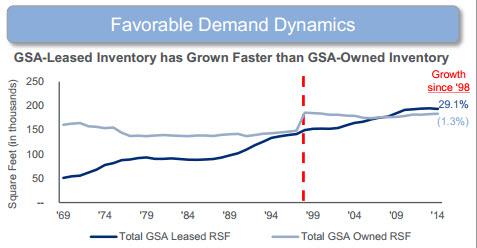 Regardless of who is in the White House, DEA sticks to critical missions of the federal government that don't go out of favor: agencies like the Federal Bureau of Investigations and the Immigration and Customs Enforcement.
The pool of assets that DEA and GOV fishes in is fragmented - the ten largest owners of GSA-leased assets own approximately 15% in aggregate, with no single landlord owning more than 3%. There is no national broker of clearing house for GSA-leased properties.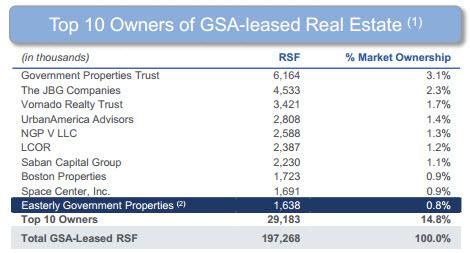 DEA only deals with the U.S. federal government, and the new REIT does not have an interest to work with any other government, state or local because it is not backed by the full faith and credit of the U.S. Its usual tenants are subject to annual appropriations from capricious state governors and governments. Accordingly, DEA underwrites the agency and the importance of the building within the hierarchy of the agency.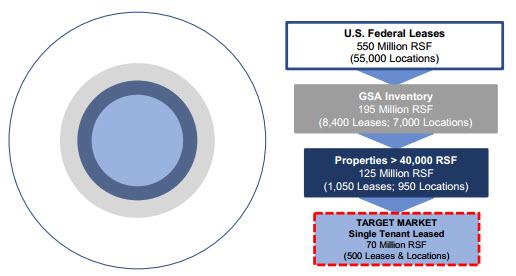 DEA owns 32 properties (GOV owns 72) that consist of around 2.3 million square feet. The portfolio is 100% leased (GOV is 93.5%) and the average lease term is 7.3 years.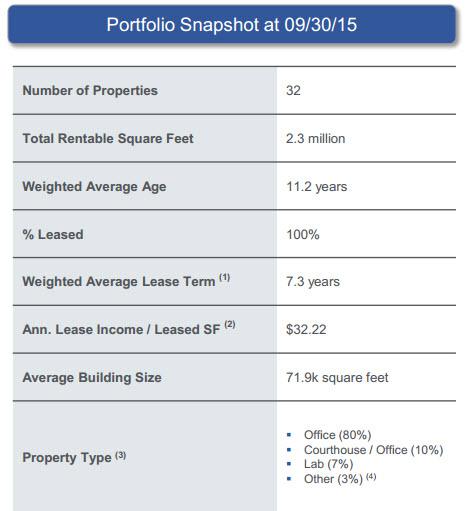 Most of DEA's buildings are office buildings (80%) and the rest are either courthouse/office (10%), lab (3%), or other (3%). Here's a snapshot of DEA's geographic footprint: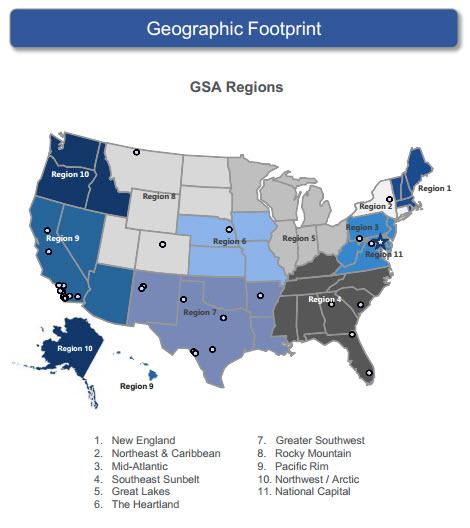 Roughly, 96 percent of DEA's current lease income is derived from the federal government and its full faith and credit. Here's a snapshot below of the top tenants: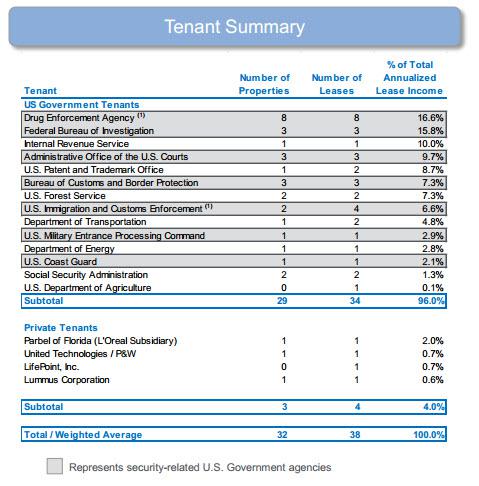 Around 61% of DEA's buildings are leased to security-related agencies. Here's a snapshot that illustrates the budget growth of the tenant agencies: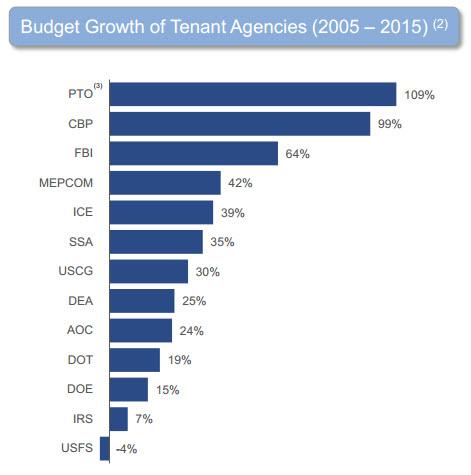 Almost Like a Laddered Bond Portfolio
As stated above, DEA's portfolio is around 96 percent backed by the U.S. government. GSA has never financially defaulted on a lease throughout its history, and because DEA does not lease to state agencies, there are no risks related to appropriations.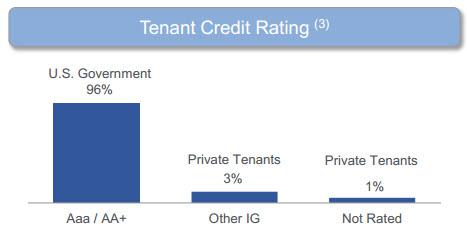 DEA has the highest investment grade lease profile in the net lease sector (GOV is ~93% investment grade). As you can see below, DEA's average lease term is 10.7 years, and that compares favorably to the peer group. Note, GOV's average lease term is 4.7 years.
Due to DEA's long-term lease characteristics, the company has only 6 percent of rentable square feet rolling in the next three years: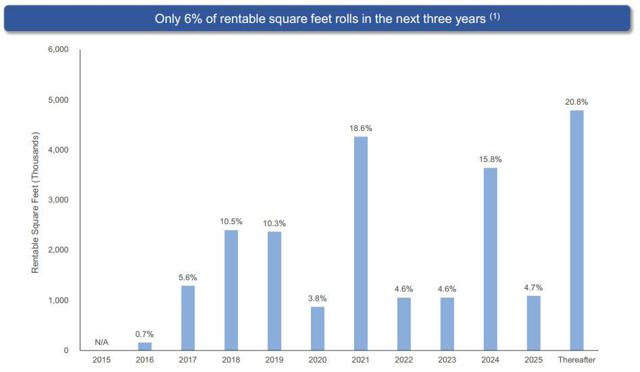 Here's how that compared with the peer group: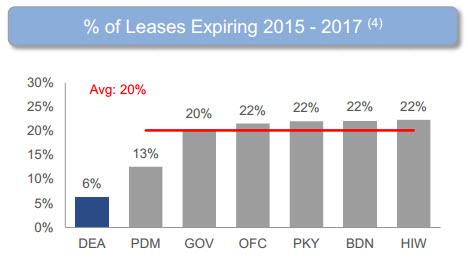 Also DEA uses modified growth leases instead of triple-net leases - meaning they protect against inflation. Operating expenses for a DEA-owned building are agreed upon in the first year, and every subsequent year, the federal government pays an increase based on the consumer price index.
If you take a lease term of 10 to 15 years, the rent will move up, on average, 17.7 percent when it rolls. If the lease term is 15 to 20 years, rents will rise a little more than 26 percent. So instead of getting it every year, or every three years, you're going to get it at the end of the lease term.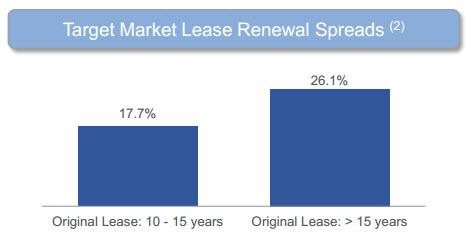 DEA's portfolio is currently 100 percent leased, and here is how that compares with the peer group: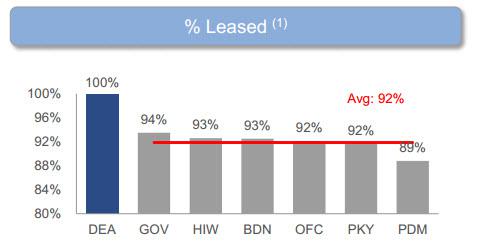 DEA's buildings are newer - the average age of the DEA portfolio is 11 years (compared with 24 years for GOV):
DEA's annualized lease income per leased SF is $32.22 (compared with GOV at $24.03) - that's about half the average age of the competitor's product.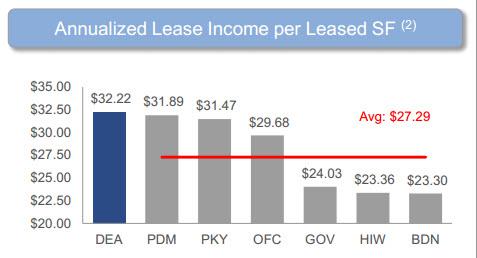 Because DEA's buildings are mission critical, the basis for rent renewal is replacement cost. As long as the construction costs are meeting inflation, those rolls will ultimately catch up with growth. In the appendix of DEA's recent Investor Presentation, the company provides the following overview of a typical GSA lease: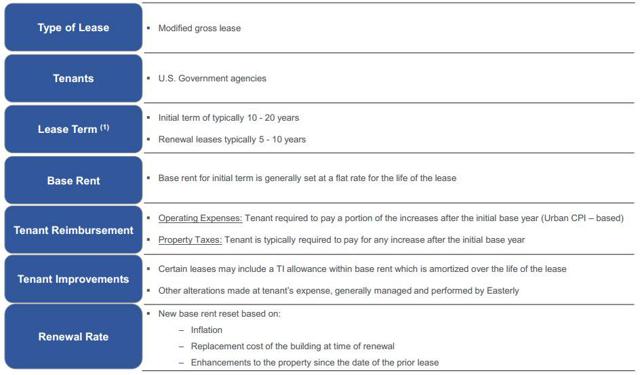 The Balance Sheet
DEA is a young REIT, and the company is targeted to get rated BBB- in the future (GOV is rated BBB-). Here's a snapshot of the company's debt profile: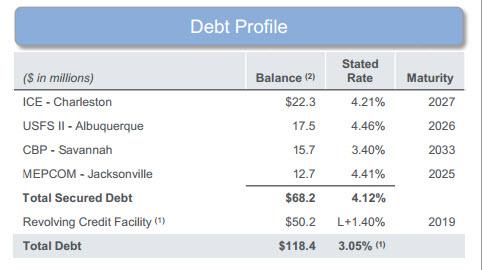 As you can see, DEA has just $68.2 million in secured debt and the company's weighted average cost of debt is 3.05%. DEA has healthy credit metrics, that include just 15.2% net debt to TEV: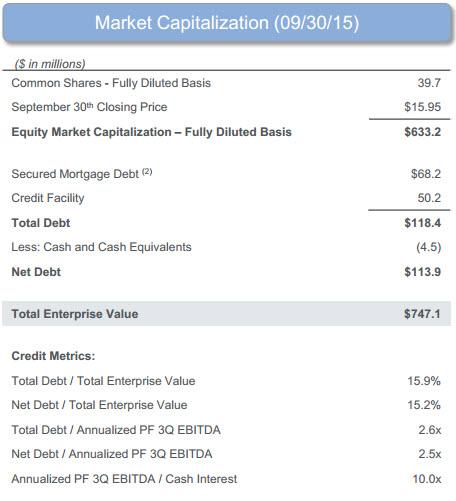 Here's how that compares to GOV and other peers: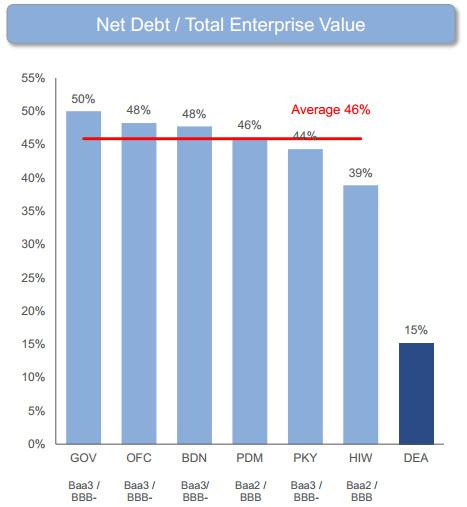 DEA has attractive in-place debt with no maturities until 2019 and $350 million revolver capacity.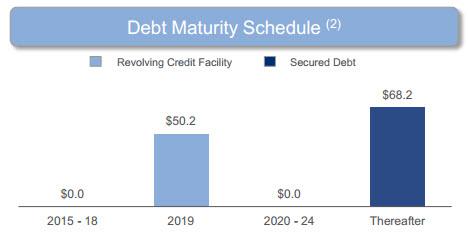 Given the higher composition of credit within the portfolio, DEA is expected to target leverage of around 50 percent. DEA can fund ~$340 million of acquisitions with debt and maintain debt/EBITDA of 6.5x.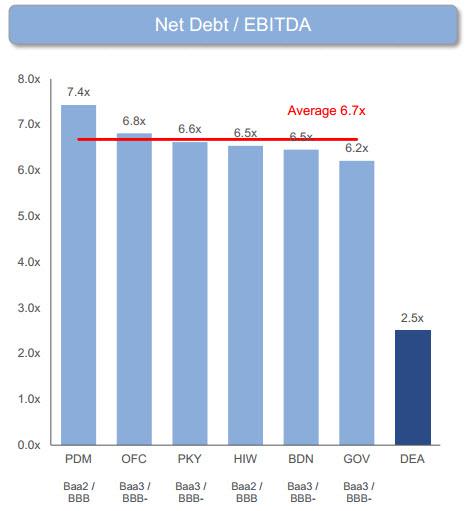 As I alluded to earlier, DEA has very strong credit quality with limited lease rollover. High historical renewal rates also provide stable and sustainable growth (~$468 million of aggregate contractual rent due from the U.S. Government). DEA is tracking an estimated $700 million of properties and is actively evaluating around $200 million of transactions.
The Case For Strong External Growth
Armed with around $340 million of liquidity, DEA is focused on external growth opportunities. Let's take a look at a few deals that DEA has closed: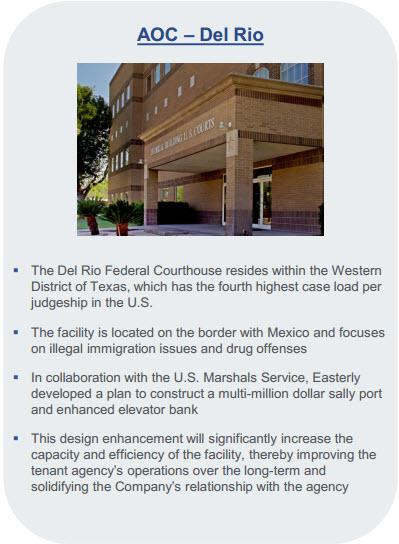 Since 2010, DEA has acquired 33 properties encompassing 2.3 RSF. In the last 12 months, DEA has purchased 895k RSF in 5 transactions. Here's one deal closed during that time: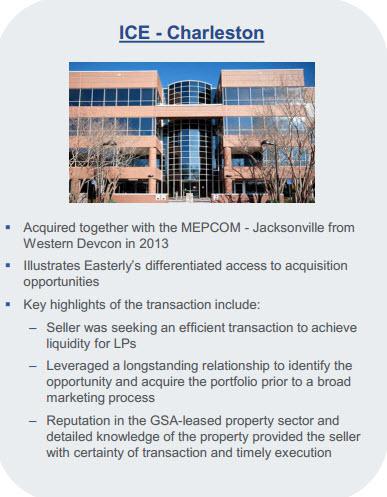 DEA seeks to acquire around $75 million to $125 million per year. Here's a property that the company closed in April 2015: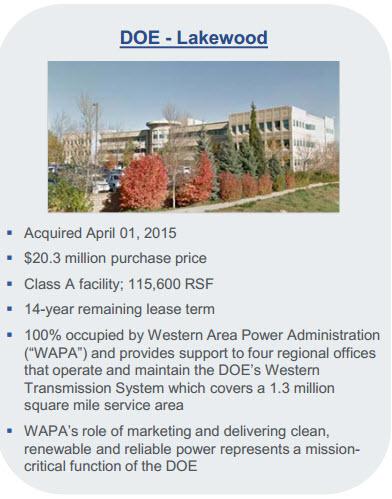 Here's another property DEA purchased in June 2015: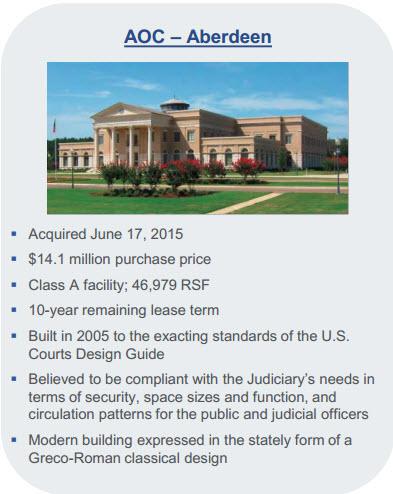 Here's another property DEA closed in September 2015: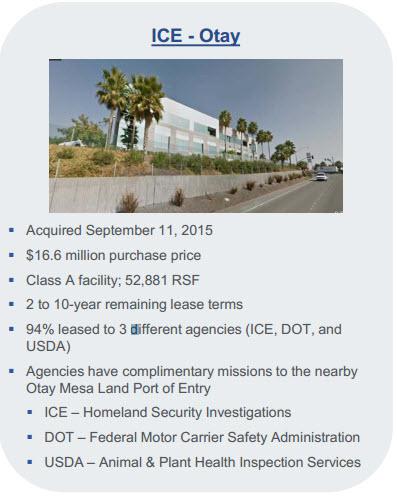 Here's another property DEA closed in October 2015: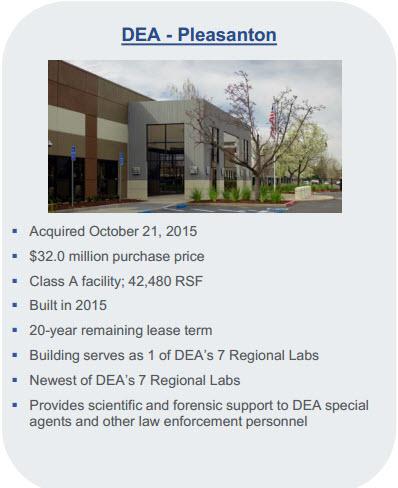 DEA has also been actively developing properties for its own portfolio. Since 1994, DEA has developed 19 build-to-suit projects comprising around 1 million SF. DEA's track record as a developer in the GSA sector has been a key differentiator in securing new projects: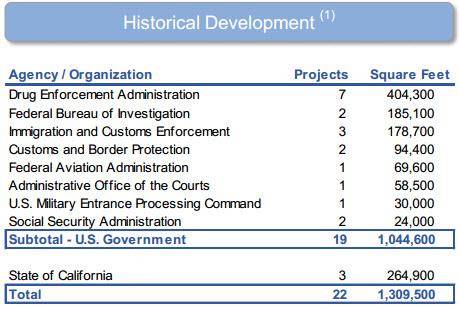 Here's a snapshot of a development project completed by DEA: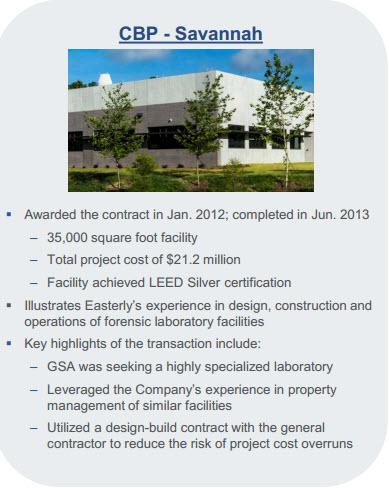 Can Uncle Sam's Landlord Keep Mr. Market Interested?
It's clear to see (below) that Mr. Market is attracted to Uncle Sam's Landlord (not so much GOV though):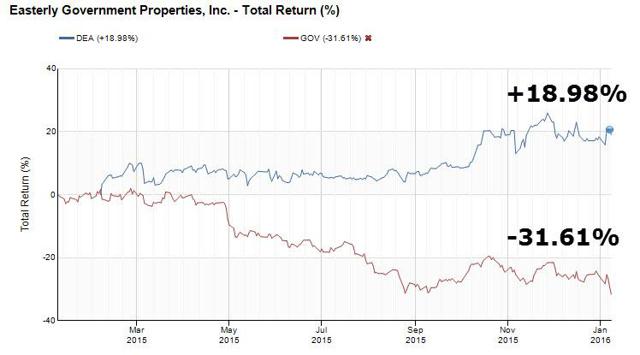 As I pointed out, several key differences with DEA and GOV: (1) DEA is internally-managed, (2) DEA has less debt, (3) DEA has newer buildings, (4) DEA has longer lease terms, and (4) DEA is only focused on "Federal" tenants (not State). Here's how DEA's market capitalization compares with the peer group:
Another key differentiator for DEA is growth. Here's how DEA has increased in size since the IPO (management guidance implies $28 million per quarter average acquisition pace):

Although DEA has limited historical earnings performance, the projected run-rate offers attractive growth trends:

DEA's annualized dividend yield is $.88 per share and here's the current yield (of 5.1%) compares with the peer group:

DEA's 2015 FFO payout ratio is 78.6% and FFO growth is projected to be around 7% in 2016. I suspect that DEA will boost its dividend around 5% in 2016, staying under 80% (FFO payout ratio).
Like Mr. Market, I like DEA's business model and I believe that this internally-managed REIT could become a powerful consolidator over time.
However, DEA has not been battle-tested, and while I consider the business model sound, I do not think it deserves to be trading at a comparable multiple to O and NNN.
Of course, Mr. Market doesn't know that DEA is a "new kid on the block," so it stands to reason that he would be more excited than me. I'm maintaining a BUY on DEA, but I am recommending a pullback…. heck, we have a year or so before we decide on the next President, so Uncle Sam could spark a knee-jerk reaction… and Mr. Market may run like I did a few days ago at my family get-together.
In case you're wondering… why the DEA ticker? The company's CEO explained (source: SNL Financial):
"FBI was not available. We also have one of the largest portfolios of Drug Enforcement Administration buildings in the world, and we thought it would be appropriate."
Author's Note: As I said, I'm a Wall Street writer and that means that I am not always right with my predictions or recommendations. That also applies to my grammar. Please excuse any typos and I assure you that I will do my best to correct any errors if they are over-looked. Finally, this article is free and my sole purpose for writing it is to assist with my research (I am Editor of a newsletter, Forbes Real Estate Investor) and also to provide a forum for second-level thinkers. If you have not followed me, please take 5 seconds and click my name.
The only guarantee that I will give you is that I will uncover each and every rock I can in an effort to find satisfactory investments that, "upon thorough analysis promises safety of principal and satisfactory return. Operations not meeting these requirements are speculative." (Ben Graham)
Sources: SNL Financial, FAST Graphs, and DEA Investor Presentation.
Disclaimer: This article is intended to provide information to interested parties. As I have no knowledge of individual investor circumstances, goals, and/or portfolio concentration or diversification, readers are expected to complete their own due diligence before purchasing any stocks mentioned or recommended.
Disclosure: I am/we are long O, DLR, VTR, HTA , STAG, GPT, ROIC, HCN, OHI, LXP, KIM, WPC, DOC, EXR, MYCC, BX, TCO, SKT, UBA, STWD, CONE, BRX, CLDT, HST, APTS, FPI, CORR, NHI, CCP, WSR, CTRE, WPG, KRG, SNR, LADR.
I wrote this article myself, and it expresses my own opinions. I am not receiving compensation for it (other than from Seeking Alpha). I have no business relationship with any company whose stock is mentioned in this article.