CEO Jeff Immelt. Source: Forbes
General Electric (NYSE:GE) CEO has created a lot of buzz over the past several months. CEO Jeff Immelt has sold the company's real estate portfolio and decided to shutter GE Capital -- its defacto proprietary trading arm. GE is up about 18% over the past year versus a 5% decline for the S&P 500 (NYSEARCA:SPY). The question remains, "Can GE deliver consistent earnings growth going forward?" With its heavy exposure to transportation and the oil & gas sectors, I doubt it.
Despite the buzz, GE 's revenue and profit growth have been anemic.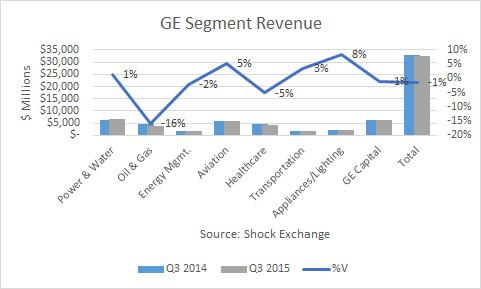 Q3 segment revenue was down 1% Y/Y, while segment profit grew 2%. It will likely get worse given the expected decline in the global economy and outsized declines in Transportation (6% of revenue) and Oil & Gas (17% of revenue).
Transportation
The Transportation segment provides freight and passenger locomotives, signaling and communications systems and rail services; GE also offers repair and upgrade services and wreck repair. Its drive systems are inside off-highway vehicles and mining equipment used by some of the world's largest miners. The segment grew Q3 revenues and profit Y/Y by 3% and 11%, respectively.
North America was of particular focus for the rail industry in 2015 as the EPA Tier 4 emissions standards were implemented. The stricter standards allowed GE to prove its engineering might. The company was testing engines that complied with diesel-engine exhaust regulations in 2014. Meanwhile, Caterpillar (NYSE:CAT) said its freight locomotives would probably not be available until 2017.
The company may get an initial boost in orders due to the higher standards. Nonetheless, the decline in rail traffic will likely weigh. For the week ended December 26th U.S. rail traffic was down 9.8% compared to the same time last year. For the first 51 weeks of 2015 rail traffic was off 2.3% compared to last year. That does not bode for demand for locomotives or the U.S. economy.
Meanwhile the commodities rout could spur miners to buy less mining equipment. The Bloomberg Commodities Index is down about 26% for the year, and the slow down in China -- the world's biggest buyer of commodities -- will likely cause even more pain.
Oil & Gas
GE has built its oil & gas portfolio since 2007 via $10 billion in acquisitions. Amid oil prices exceeding $100/barrel from 2010 and beyond, this may have seemed like a smart move. Oil prices are nearly 70% below their Q2 2014 peak and experts predict they could fall further. Oil & Gas provides drilling and completion services which has been hard hit by the decline in the North American rig count. Shale plays will find it difficult to keep drilling with oil prices below their break-even costs.
GE has also built up a substantial presence in the subsea sector. According to Rystad Energy, big oil has axed or postponed 26 projects representing over $100 billion in new projects; included in that total were deep water or shallow water projects equating to nearly $47 billion in E&P. Petrobras (NYSE:PBR), one of the biggest buyers of subsea equipment, is also cutting capex to stem cash burn. National Oilwell Varco (NYSE:NOV) recently reduced $1 billion of its $3 billion backlog related to Petrobras' $20 billion drill ships package. GE could be next to get clipped by Petrobras.
Revenue and profit were down Y/Y by 16% and 12%, respectively. Of GE 's core businesses, Oil & Gas was the worst performer. With oil prices sub-$40, 2016 could be extremely painful for the sector. In my opinion, CEO Jeff Immelt's foray into the oil & gas business was a misstep. 2016 and 2017 will likely prove me right.
Conclusion
With global economic headwinds materializing, it could be a tough year for GE and the industrial sector. GE's Transportation and Oil & Gas businesses could amplify those headwinds. GE is a sell.
Disclosure: I am/we are short CAT, NOV.
I wrote this article myself, and it expresses my own opinions. I am not receiving compensation for it (other than from Seeking Alpha). I have no business relationship with any company whose stock is mentioned in this article.