Alliance Resource Partners (NASDAQ:ARLP) is the third largest producer and marketer of coal in the Eastern United States. As a business, ARLP primarily sells coal and coal products to utilities and industrial users. Beginning operations in 1971, they have grown organically and through strategic acquisitions. As of December 31st, 2014, the company had 1.5bn tons of coal reserves located in Illinois, Indiana, Kentucky, Maryland, Pennsylvania, and West Virginia. Finally in 2014, the company sold 31.7mm tons of coal and produced 40.7mm tons, in which, 4.0% was low sulfur, 16.0% was medium sulfur and 80% was high sulfur.
| | | | | | |
| --- | --- | --- | --- | --- | --- |
| Regions | 2014 | 2013 | 2012 | 2011 | 2010 |
| Illinois Basin | 30.9 | 30.7 | 28.4 | 25.5 | 23.7 |
| Appalachia | 9.8 | 7.4 | 5.8 | 4.3 | 4.3 |
| Other | - | 0.7 | 0.6 | 1.0 | 0.9 |
| Total | 40.7 | 38.8 | 34.8 | 30.8 | 28.9 |
Tons of coal produced in millions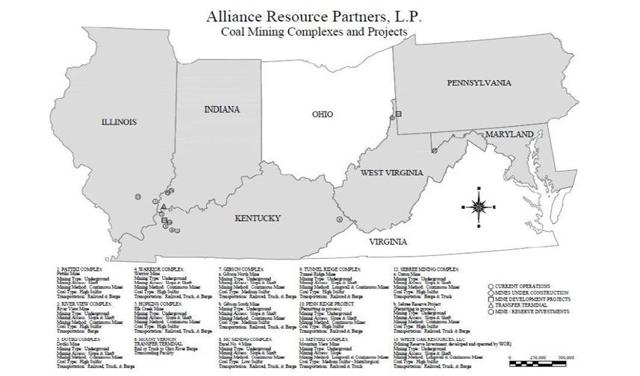 Source: 2014 Annual Report
Headwinds in the Coal Industry
Currently the price of coal is sitting at historical lows. Since the majority of ARLP's assets are in the Illinois basin, the best measurement of coal for ARLP is the Illinois basin price. However, the company does have assets in the Appalachia region, which can also be used as a measurement. Overall, whatever measurement of coal investor's use, they are all sitting at historical lows.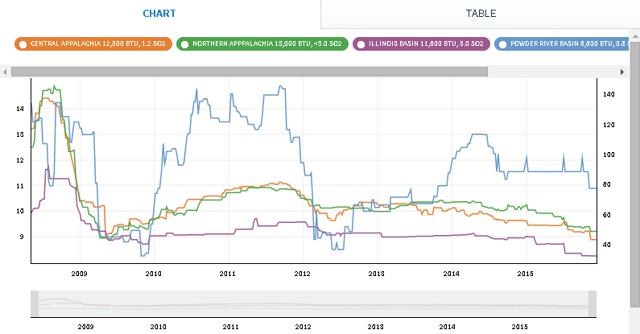 Source: Quandl
Not only is coal sitting at historical lows, but coal production in the US is falling…

Source: EIA Coal Production
In 2015, coal production is estimated to fall by ~917mm tons, which if true, would be the lowest in 29 years. In fact, the US has lost almost half of its coal mines in the past ten years.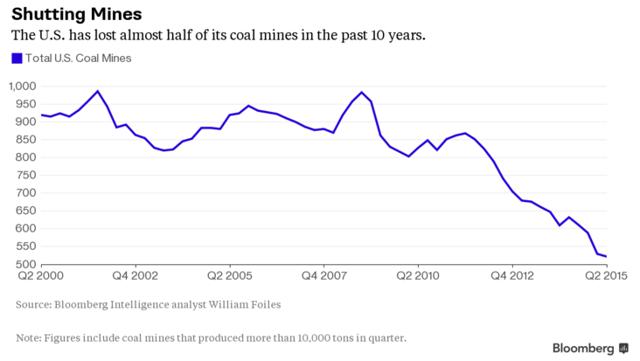 The consumption of coal is falling as well, which is a huge suggestion that this is secular, rather than temporary.

Source: EIA Coal Overview
What suggests that this is a secular trend to greener energy sources, is the recent drop in the coal consumed by the electric power sector.

Source: EIA Coal Consumption by Sector
Notice how the biggest driver of coal consumption (the electric power sector) is finally moving towards a downward trend. In the most recent years, there has been a significant amount of regulations called and acted upon for the entire transformation of electricity generation in the US. The movement away from fossil fuels to a move sustainable and clean energy system is not temporary either. With continual push from government bureaucrat's for cleaner energy (via Clean Power Plan), and acceptance of this change from a younger generation oriented on sustainability, believing that this is not a secular change would be irrational.
Plunging prices has led to a string of bankruptcies in the coal industry in this most recent year. Coal companies that have filed for bankruptcy recently are; Alpha Natural Resources (OTCPK:ANRZQ), Walter Energy (OTC:WLTGQ), and Patriot Coal (PCX). From 2009-2014, there have been over 26 US coal companies that have filed for bankruptcy. We believe that his is only just the start of more bankruptcies to come as well.
Macroeconomic headwinds such as falling coal prices, slower than expected economic growth, secular shift to green energy, and a strong dollar, have all hindered coal producing companies. Many investors and companies have been banking upon a recovery in the price of coal, however, it appears as if this is a structural shift in how the US generates energy, from coal to more so natural gas and renewables.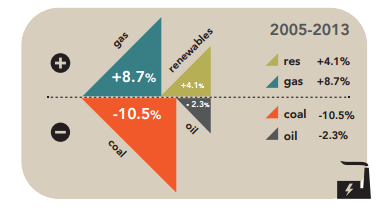 Source: Carbon Tracker
The shift from coal to a cleaner energy is not just the result of market changes, but more so from the result of governmental intervention. In the past few years, there have been a significant amount of bureaucratic regulations that have continued to hinder the coal industry…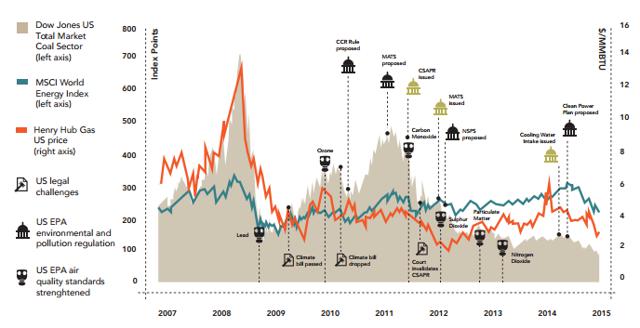 Source: Carbon Tracker
We believe that these regulations and the structural shift to cleaner energy will continue going forward. Believing that there will be a sudden uptick in the demand for coal, may be wishing for false hopes that may never come to fruition. However, it would be wrong to believe that the coal industry will actually come to a screaming halt in the next 3-5 years. In fact, we believe the US will still have a demand for coal in 3-5 years. In order to stabilize prices, there will need to be continual bankruptcies and an overall industry consolidation.
ARLP is stuck Between a Rock and a Hard Place
Despite a secular shift to greener and cleaner energy sources, ARLP has actually been expanding their topline.
| | | | | | | |
| --- | --- | --- | --- | --- | --- | --- |
| | TTM | 2014 | 2013 | 2012 | 2011 | 2010 |
| Revenues | 2,322 | 2,301 | 2,206 | 2,034 | 1,844 | 1,610 |
In millions
Topline expansion has been occurring for several reasons. First, ARLP has made several strategic acquisitions that have benefited the company's topline. Synergies from acquisitions have led to cost reductions (using other owned facilities and reserves), and centralized marketing operations. The company has also ramped up production at their Gibson South and Hamilton locations, which has benefited the topline in the TTM. Finally, if you take a look at the first table in this report (tons of coal produced table), you can see that ARLP has continually raised production every year since 2010.
However due to falling coal prices, ARLP's margins have been getting squeezed.
| | | | | | | |
| --- | --- | --- | --- | --- | --- | --- |
| | TTM | 2014 | 2013 | 2012 | 2011 | 2010 |
| Gross Margins | 38.09 | 38.74 | 35.01 | 32.95 | 33.93 | 34.13 |
| Operating Margins | 21.07 | 23.65 | 20.11 | 18.41 | 22.40 | 21.85 |
| Net Income Margins | 11.33 | 15.60 | 12.34 | 11.24 | 16.44 | 15.39 |
To combat falling margins, ARLP has been focusing on reducing overall expenses. In the first nine months of 2015, there has been a decrease in labor and benefit expenses, material and supply expenses, production taxes and royalties, and a decrease in G&A. However, overall operating expenses have risen a decent amount in the first nine months of 2015 compared to 2014.

Source: 3Q15 Report
Despite the decline in margins in the most recent years, FCF has actually been growing at a good rate.
| | | | | | | |
| --- | --- | --- | --- | --- | --- | --- |
| | TTM | 2014 | 2013 | 2012 | 2011 | 2010 |
| FCF | 450 | 432 | 376 | 131 | 252 | 231 |
In millions
However, FCF growth is not the result of higher operating cash flow, for operating cash flow has fallen -7.71% in the TTM. FCF growth in the TTM is actually from lower overall capex reductions compared to OCF (capex spending in the TTM fell -24.42%). Rather than saying FCF has grown in the TTM, it would be more appropriate to say that capex has fallen.
ARLP is an interesting play due to their high distribution that they pay unitholders. Currently the yield is sitting at 20.75%. Below is the past three years of overall distributions paid to partners measured up against FCF.
| | | | | |
| --- | --- | --- | --- | --- |
| | TTM | 2014 | 2013 | 2012 |
| Distributions Paid | 258 | 317 | 288 | 257 |
| Free Cash Flow | 450 | 432 | 376 | 131 |
| Distributions Per Share | 2.63 | 2.47 | 2.28 | 2.08 |
| Free Cash Flow Per Share | 6.08 | 5.68 | 4.60 | 1.78 |
In millions except for per share items
Based on the table above, ARLP has more than enough ability to continue to pay their currently high distribution yield. However, we must look at a few more items, to see if their distribution is sustainable going forward.
Currently, ARLP is sitting on a decent sized pile of long-term debt. We have provided a table of the company's contractual agreements below, highlighting the years their debt needs to be paid off.

Source: 2014 Annual Report
Here is a more updated version of the long-term debt position as of the most recent quarter…

Source: 3Q15 Report
We have provided a list of when the debt becomes mature and or due.
May 23, 2017 $403mm is due on term credit facility, with interest payable quarterly and an amount per quarter of 2.50%. There is also $212.5mm due on May 23, 2017 on the term loan.
Series B Senior Notes which mature on June 26, 2018 with interest payable semi-annually at 6.72% at a $145.00mm value outstanding.
Securitization facility of $100mm with interest based upon the Eurodollar Rate. This securitization facility is a short-term loan with 364 term loan, however the company can extend the term for another 364 days if chosen too.
The Hamilton Revolving Credit Facility had a $10mm borrowing limit. As of October 19th, 2015, the outstanding balance was paid off.
The Hamilton Equipment Financing Agreement of $82.5mm was recently paid off as of October 16th, 2015.
The biggest outstanding payment of debt in the near-term is $615.5mm due on May 23rd, 2017. Let's assume the company spends $258mm per year on distributions in the next two years or by 2017 and assume that FCF has a run-rate of $400mm in the next two years.
| | |
| --- | --- |
| | 2017 Estimates |
| FCF | $800 |
| Distributions | (516) |
| 2017 Debt Outstanding | (615.5) |
| Total | (331.5) |
In millions
Based on the above example, ARLP will need to either refinance their debt outstanding or cut their distribution by at least $331.5mm. Investors should note that this example is not taking into effect interest payments on the debt outstanding either, which are currently running from $26-33mm/year.
We can go a little further into this example as well. Currently ARLP utilizes long-term coal supply agreements. Long-term coal supply agreements are done with the majority of its customers, as it is customary to do so within the coal industry. These agreements are beneficial to ARLP as a whole for they provide greater transparency of revenues. In 2014, 84% and 85.7% of ARLP's sales tonnage and total cost of sales were sold under these long-term contracts.
These long-term supply agreements do give ARLP an advantage when the price of coal is falling. However, investors must realize that all of their contracts are subjected to price adjustment provisions. In fact, one of their customers in 2014 said they can't accept any more coal shipments, despite the fact that they had signed an agreement.
ARLP is seeking to recover damages from this breach in the contract via legal matters. The agreement was supposed to go until 2021. This example shows that breaches may happen despite the fact that the company does have agreements. Breaches may have potential to be very damaging.
What is very interesting and could predict a distribution cut in the horizon is that coal supply agreements with the company's two biggest customers (Louisville Gas & Electric and Tennessee Valley Authority) are expiring in 2016. Below is a table that shows how much revenues each of these customers bring in for ARLP.

Source: 2014 Annual Report
In 2014 both of these companies together brought in 25.1% of consolidated revenues. If the company does not get as good of an agreement in which they had before, this could be very detrimental to the company's distribution.
Is it Possible for the Distribution to not get cut?
In theory, yes it is possible for the distribution to not get cut. The way for the distribution to hold its ground would be from; the price of coal rising or from an increase in production. With regards to the price of coal rising, we believe that since coal is facing a secular shift to cleaner energy, betting on a rise is not in your favor. Even in China (one of the biggest importers of coal), has been shifting the ways it generates energy.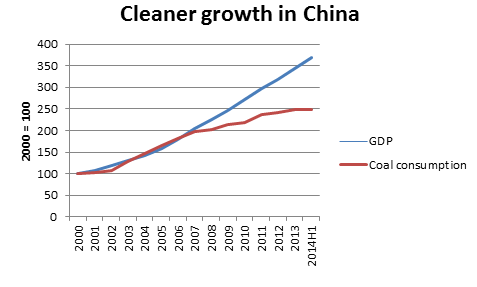 Source: Clean Tech
In the first half of 2015 coal consumption in China fell 3-5% YOY. Even on a globalized standpoint, coal consumption continues to fall…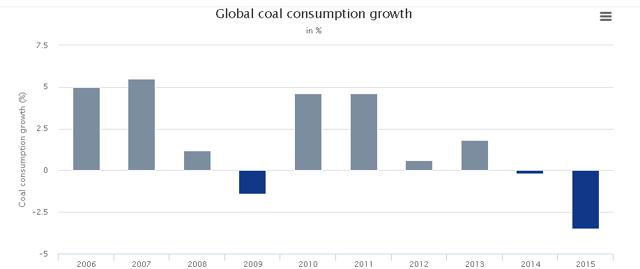 Source: Energy Desk
So will the price of coal rise in the near-term? We would not bet on it, or invest on it. But what if there is such a rampant production cut that the demand for coal actually outpaces the supply? Based on traditional economic theory, that would cause prices to rise.
If there is a continual amount of bankruptcies in the coal industry, going forward, that will make the supply of coal start to diminish. However, this is not as straight forward as it would seem. In some cases, when a company declares bankruptcy, they will continue to produce output though the bankruptcy (take Patriot Coal's first bankruptcy for an example).
Seeking Alpha Contributor "Balance Sheet Guru" stated the following about a statement made about bankrupt and restructured companies continuing to operate…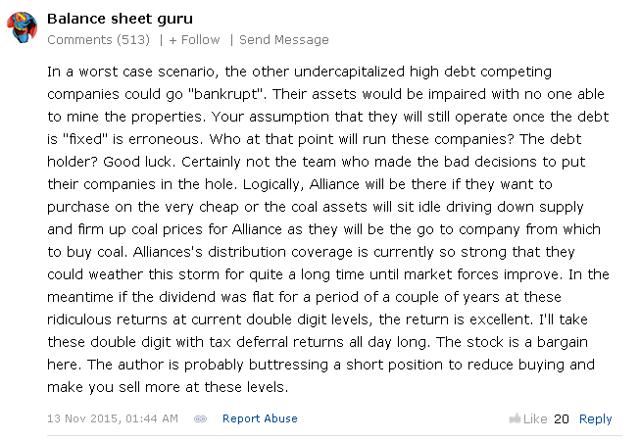 Source: Alliance Resource Limited Partners' Dividend Is Unsustainable Under Current Market Conditions
"Balance Sheet Guru" obviously has not done his or her homework in regards to companies operating once they go bankrupt. Remember, Patriot Coal, in their first bankruptcy had backing from hedge fund Knighthead Capital Management LLC, while continuing to operate. So yes, production may get cut from further bankruptcies, yet it may not get cut as much as we need it to for prices to start rising.
And as for his or her statement regarding ARLP purchasing cheap coal assets while at the same time keeping that "strong" distribution…how can the company acquire cheap assets, pay down their debt and pay out a distribution, when there is potential for a further margin squeeze from the lifting of a couple of notable supply agreements? Believing that the distribution is strong and stable going forward is in fact erroneous.
Finally, the price of natural gas is putting a price ceiling on coal. The picture below represents the historical price of natural gas (Henry Hub Natural Gas Spot Price).

Source: EIA Natural Gas
One way for the price of coal to rise going forward, would be from a rise in the price of natural gas. Currently the supply of natural gas exceeds the demand for it, which has kept prices at historical lows.

Source: EIA US Natural Gas Supply and Demand
We believe that the supply and demand disequilibrium will continue for the foreseeable future as well. Not helping the oversupply situation with natural gas is the mild winter the Northern states have been experiencing.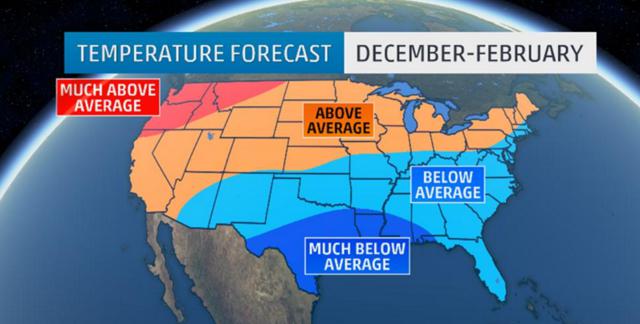 Source: Weather Forecast
As long as natural gas prices continue to stay low, the price of coal will too. If we were betting men, we would bet that ARLP's distribution has a high chance of getting cut going forward. A list of reasons why we believe the distribution has potential to get cut is below.
Secular shift to cleaner energy resulting in a decrease in overall consumption.
Lack of FCF that does not have potential to cover the distribution and pay off near-term debts and interests.
High potential for long-term supply agreements with the company's two biggest customers either not continuing or with less attractive features than the previous agreement.
The price of natural gas staying at historical lows, putting a price ceiling on coal and further downward pressure.
Chinese and worldwide demand for coal decreasing as a whole.
Current supply and demand disequilibrium (there still needs to be further supply cuts for a stabilized price).
Conclusion…
Is ARLP going to go bankrupt in the near-term? In our opinion, that would be a strong NO. Despite the fact that the company has a decent amount of debt on its balance sheet and is facing secular shifts in its core product, ARLP has plenty of ways to hold its ground. In reality, all the company would have to do to get a clean balance sheet is cut its distribution payment by 100% and it could, in theory, be debt free in 18-24 months. If we were in management's seat, that is just what we would do.
If a distribution cut happens, investors should expect a huge selloff. The thing with partnerships is that they attract investors solely focused on income. Thus one their stream of income is gone, you can say goodbye to those investors. If you don't believe us, just look at what happened to other MLP companies that have cut their distribution in the past.
If the distribution is cut, this will free up ~$258mm/year going forward. This money could be used for the paying down of debt, or buying other coal assets on the cheap. As value investors, we find this situation very attractive that could have very real potential to produce long-term value. If distribution is cut, we may take a second look at ARLP, that is, after the price sells off.
Disclosure: I/we have no positions in any stocks mentioned, and no plans to initiate any positions within the next 72 hours.
I wrote this article myself, and it expresses my own opinions. I am not receiving compensation for it (other than from Seeking Alpha). I have no business relationship with any company whose stock is mentioned in this article.
Editor's Note: This article covers one or more stocks trading at less than $1 per share and/or with less than a $100 million market cap. Please be aware of the risks associated with these stocks.