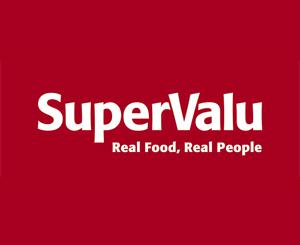 Just recently I wrote an article about Supervalu (NYSE:SVU) and selected it as my top pick for 2016. I picked Supervalu because it is undervalued and also because it should be a defensive play in the event of an economic slowdown. I also expected that we could get news in early 2016 on a potential spin-off of its Save-A-Lot division and we just got news on this upside catalyst. I thought this stock would get a rebound when tax-loss selling ended and it did start to trend higher, but the recent 5% plunge in the market in the first several days of 2016, has put a significant amount of pressure on many stocks including Supervalu. However, this market pullback appears to be a great buying opportunity. If you like to buy stocks when they are cheap, and also have a significant potential upside catalyst, then there is clearly an opportunity for you to consider investing in Supervalu.
Supervalu is a giant in the grocery business with about 3,400 stores and around 35,000 employees. The Save-A-Lot division, which has over 1,000 stores, is a high growth business. Save-A-Lot is a low price chain that competes with dollar stores. Save-A-Lot had sales of about $4.6 billion, while Supervalu had total sales of around $17.8 billion in the past year.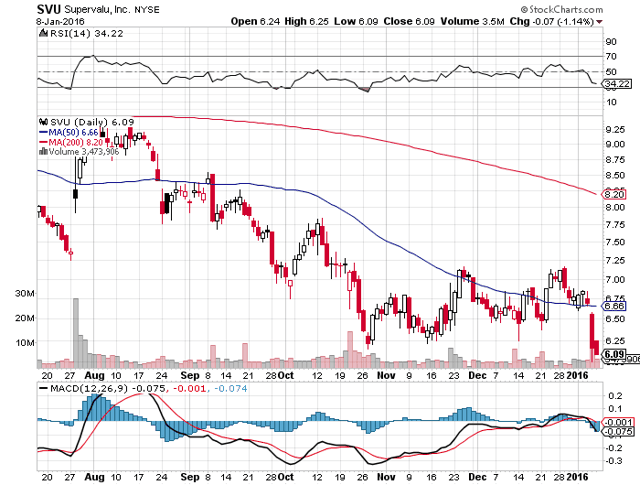 As the chart above shows, Supervalu shares started to trend higher towards the end of December, but more recently pulled back with the stock market plunge, and now trades at just over $6 per share. The stock is currently oversold and trading below the 50-day moving average of nearly $6.70 and the 200-day moving average of $8.20 per share. This pullback appears to have created a bargain out of Supervalu shares, especially since the company just filed a form 10 with the SEC on January 7, stating that it plans to move forward with a spin-off of Save-A-Lot. Many analysts believe this move will unlock significant upside because Save-A-Lot is growing fast and it is likely to achieve a much higher valuation when it trades as a stand alone company.
Analysts expect Supervalu to earn 73 cents per share in 2016, and about 80 cents per share in 2017. That means this stock is trading for just about 8 times earnings which is well below the industry average. Other retailers are growing faster than Supervalu's regular grocery store division and therefore these retailers enjoy a higher PE multiple. However, the Save-A-Lot division is an industry leader in terms of growth and that is why the spin-off of this division makes sense and has the potential to create major shareholder value through PE multiple expansion. Supervalu is currently trading for just over 8 times earnings estimates, which is in the low range of the average it has experienced in the past two years of 8 to nearly 15 times earnings. Investors who have bought Supervalu shares when it traded in the low range have been rewarded over the past couple of years. As shown below, many other retailers in this industry have PE ratios that are between 15 to 30 times earnings, so that means there is significant multiple expansion upside for Save-A-Lot.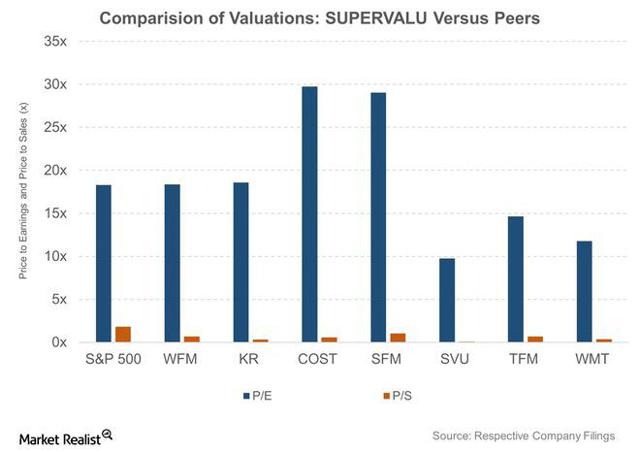 Source: Marketrealist.com
Supervalu says that shareholders will get about 80% (or maybe more) of the Save-A-Lot spin-off. That means the company could use the proceeds from the remaining 20% to further pay down debt or it could just hold this stake as an investment. This spin-off should not only unlock shareholder value, but it could also allow Save-A-Lot to pursue its expansion/growth plans at a faster pace. Save-A-Lot currently has just over 1,000 stores and Supervalu has laid out rapid expansion plans that call for 100 store openings in 2016, with annual store openings increasing to about 150 by 2020. It appears that a total of 3,300 stores is a reasonable goal in the coming years and this means there is significant growth potential.
It is worth noting that some "smart money" investors have large stakes in Supervalu stock. For example, Jana Partners is a value oriented, event-driven investment fund that was founded by Barry Rosenstein in 2001. Mr. Rosenstein's strong investment results have helped Jana Partners grow to about $8 billion in assets under management. Jana Partners has been known as activists with some of the company it invests in and it reportedly holds over 25.5 million shares of Supervalu.
Analysts have set price targets between $9 to $13 per share for Supervalu. Morgan Stanley (NYSE:MS) has set the lowest price target of $9, which still implies almost 50% upside.
In addition to the news about the Save-A-Lot spin-off, Supervalu is also getting noticed by more bullish analysts. Just over a week ago, TheStreet.com published an article that suggested Supervalu shares could have significant upside and set a 6 to 12 month price target of $12 per share. The analyst noted that the net debt to EBITDA ratio continues to improve and that Supervalu generated about a 23 to 24% return on investment in each of the past couple of years. The article stated:
"Supervalu shares are a compelling buy, and detailed analysis shows they have the potential to rise 100% from recent levels. Investors should consider adding this retail stock to their portfolios."
In summary, Supervalu shares are now too cheap to ignore at about 8 times earnings which is the low end of its PE multiple range for the past couple of years. The recent market plunge has created an ideal buying opportunity that might not last long, especially since the company appears to be moving forward rapidly with the Save-A-Lot spin-off. This spin-off news could act to support the stock, as could the rock bottom valuation. That means the potential downside risks could be very limited at these levels, while the upside potential could be significant with multiple analysts offering a price target of $12 or more. In the short-term, I expect Supervalu shares to rebound sharply when the market calms down and also as the company gives additional details on the timing and exact structure of the spin-off. Longer-term, Supervalu could rebound back towards the analyst price target of $12 which is the exact 52-week high for this stock. If you are interested in hearing more about Supervalu and about other value stock picks, please follow me for future articles.
Data is sourced from Yahoo Finance. No guarantees or representations
are made. Hawkinvest is not a registered investment advisor and does
not provide specific investment advice. The information is for
informational purposes only. You should always consult a financial
advisor.
Disclosure: I am/we are long SVU.
I wrote this article myself, and it expresses my own opinions. I am not receiving compensation for it (other than from Seeking Alpha). I have no business relationship with any company whose stock is mentioned in this article.