L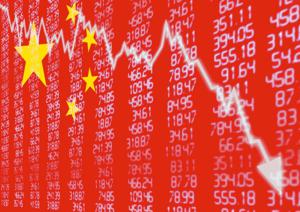 ast week was the worst opening week of any year in history, with the S&P 500 down 5.96%, the Dow Jones Industrial Average (DJIA) down 6.19%, and NASDAQ down 7.26%. Last week's wave of profit taking was triggered after China's stock market had to close repeatedly due to circuit breakers. The market rallied briefly on Friday morning after a positive jobs report, but it fell sharply in the final hours.
In addition, crude oil plunged to a 12-year low at $33.16, due primarily to concerns about slowing global GDP growth, especially in China, which had been a major consumer of commodities. Right now, the best we can hope for is 2% global GDP growth; but economists are notoriously behind the curve with their forecasts, so be prepared for more GDP downgrades for the global economy in the upcoming months.
As I have indicated in the last few issues, some of last year's market leaders, especially Amazon.com (NASDAQ:AMZN), had their valuation bubbles "pricked" by analyst downgrades at the start of the New Year. This leadership change is especially important to us, because more money can now be diverted back to stocks with superior fundamentals and earnings growth, creating a "stock picker's market" in 2016. (Please note: Louis Navellier does not currently own a position in AMZN; Navellier & Associates does not currently own a position in AMZN for client portfolios.)
On Friday, the Labor Department announced that 292,000 payroll jobs were created in December, substantially above economists' consensus estimate of 210,000. In addition, the October and November payroll reports were revised up by a total of 50,000. This means that 2015 delivered the strongest job growth since 1999. The unemployment rate remained unchanged at 5%. Hourly wages declined by a penny to $25.24 per hour, which may cause some FOMC members to hesitate before raising key interest rates further. December's robust job growth might have been artificially boosted by abnormally warm winter weather, but the positive upward revisions signaled that the job market is now much healthier.
I should also add that the broader household survey reported that an extra 485,000 people were working in December and that the overall workforce expanded by 466,000. On Wednesday, ADP reported that the private sector created 257,000 jobs in December, the highest monthly gain in the past 12 months and well above the economists' consensus estimate of 190,000, so every major employment survey was positive.
In other news, the Institute of Supply Management (ISM) announced last week that its manufacturing PMI slipped to 48.2 in December, down from 48.6 in November. U.S. manufacturing is now back to recession levels, despite a very strong auto sector, since a strong U.S. dollar has curtailed exports and driven down the price of energy. ISM also reported that its new orders component rose to 49.2 in December, so there is some hope, but new orders still remain below 50. ISM's employment component plunged to 48.1, down from 51.3 in November. Of the 18 industries that ISM tracks, only six expanded.
On Wednesday, the ISM added that its service index slipped to 55.3 in December, down from a very strong 55.9 in November. Since any reading over 50 represents an expansion, the ISM number was still very strong; but it was the lowest reading since April 2014, so even the service sector is contracting, which might make some economists revise their fourth-quarter GDP growth a bit lower. Currently, economists are estimating that the U.S. economy expanded at a 1.2% annual pace in the fourth quarter.
One sign of hope for the U.S. is that the first tanker exporting crude oil from the Eagle Ford Shale region left the Port of Corpus Christi last week after the 40-year ban on crude oil exports was finally lifted in the controversial budget bill that Congress recently passed. The massive U.S. crude oil storage facilities in Cushing, Oklahoma are nearing record levels and are near capacity, so it is crucial that the U.S. exports crude oil, otherwise the price of crude oil could collapse if the Cushing storage facilities hit capacity. (See the December 31, 2015 Fortune article, "Tanker With First U.S. Crude Export in 40 Years to Set Sail.")
Speaking of exports, on Wednesday, the Commerce Department reported that U.S. exports declined 0.9% in November to $182.2 billion, while imports declined 1.7% to $224.6 billion. Overall the trade deficit declined 5% to $42.4 billion in November (down from $44.6 billion in October) and is now at the lowest level since January 2012. Falling prices for commodities and electronic items are helping to shrink the trade deficit, which remains a drag on overall U.S. GDP growth. However, as the trade deficit continues to shrink, its negative impact on the U.S. GDP growth will continue to moderate a bit.
FOMC Minutes Reveal Dissension in the Ranks
In my opinion, the most important economic news released last week was the minutes of the last (mid-December) Federal Open Market Committee (FOMC) meeting, released Wednesday, which revealed that many Fed officials expressed trepidation about (1) the Fed's 2% inflation forecast, (2) a strong U.S. dollar pushing down commodity prices, (3) slowing exports, and (4) tepid overseas growth. Specifically, the minutes revealed "significant concern about still low readings on actual inflation" in addition to "uncertainty and risks present in the inflation outlook." Furthermore, the FOMC minutes said that their "decision to raise the target range was a close call, particularly given the uncertainty about inflation…."
The concerns expressed by FOMC members could derail the Fed's inflation forecast and their plans to raise key interest rates further. In fact, on Thursday, Chicago Fed President Charles Evans, who is a major dove, said, "I believe that policy should plan to follow an even shallower path for the federal funds rate than currently envisioned." Due to the FOMC minutes and Evans' comments, fed funds futures have fallen below 1% and are expected to fall further as evidence of deflation and slow economic growth spreads. Personally, I expect that the "data dependent" Fed may only raise key interest rates once this year, probably at its March FOMC meeting. After that, we are getting too close to the Presidential election. I expect them to stop raising rates and to try to 'lay low" until after the Presidential election.
The European Union's statistics agency, Eurostat, announced on Tuesday that consumer prices rose only 0.2% in 2015, so the European Union is teetering on the edge of deflation. ECB President Mario Draghi said in early December that he expected inflation to start to pick up "at the turn of the year," and continue to move toward the central bank's target of just under 2% in 2016 and 2017.
However, the opposite seems to be happening. So just like some FOMC members were skeptical about the Fed's own inflation forecast, skepticism in the European Union is spreading. This means that last week's collapse in bond yields may persist as economists, central bankers, and investors continue to realize that deflation is spreading due to the global economic slowdown, which continues to push down commodity prices.
Speaking of commodity prices, the strongest commodity continues to be gold, which rose $40 per ounce in the first week of 2016. Naturally, gold does well as the confidence in central banks wanes and global turmoil increases, since gold is historically a safe haven. Not only is the steadily eroding value of the Chinese yuan helping to firm up gold, but the ongoing tension between Iran and Saudi Arabia, plus the North Korean nuclear test last week, all contributed to help gold prices rally by almost 4% last week.
Disclosure: *Navellier may hold securities in one or more investment strategies offered to its clients.
Disclaimer: Please click here for important disclosures located in the "About" section of the Navellier & Associates profile that accompany this article.