Let me be clear, this isn't a direct buy or sell recommendation when it comes to oil of the U.S. Oil ETF (NYSEARCA:USO). Instead, this is a food for thought piece as I continue to read articles and commentary written by some SA authors and readers that suggest that oil will experience a sharp rebound in 2016. I am not smart enough to pretend that I can accurately forecast the future price of oil, but these articles seem to be based more on hope than rational thought or empirical evidence.
Unlike coal or natural gas prices, which are mostly U.S. centric markets because of the high costs to export, the oil market is truly a global market. Notwithstanding the rational adjustments for quality (light vs. heavy, sour and sweet, etc.) as well as transportation costs and currency adjustments, prices move in tandem, especially with the lifting of the U.S. export ban. The spread between Brent and WTI is near parity. As we can see below, compliments of the CME Group, spot oil closed Friday at $33 per barrel for WTI. One of the few glimmers of hope for oil bulls is the steep market contango that helps midstream owners of oil storage in various forms.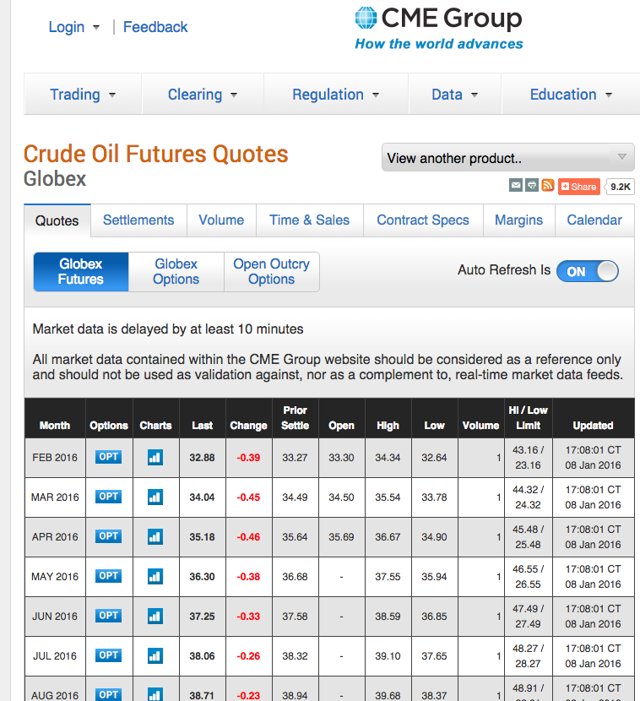 Here is the problem, global commercial crude inventory reached 3 billion barrels in mid-November 2015. This is simply way too high.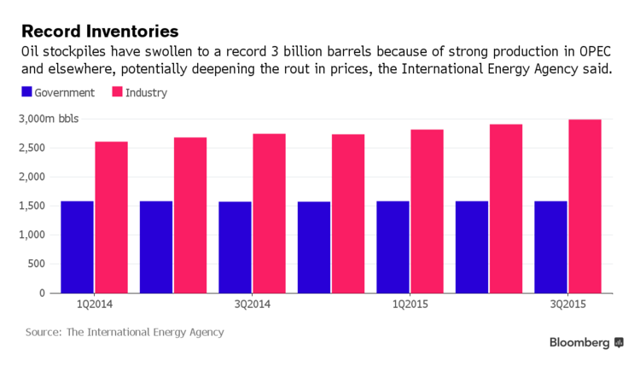 Source: Bloomberg
U.S. crude inventories, measured at approximately 482 million barrels, are the highest in history measured in the absolute sense.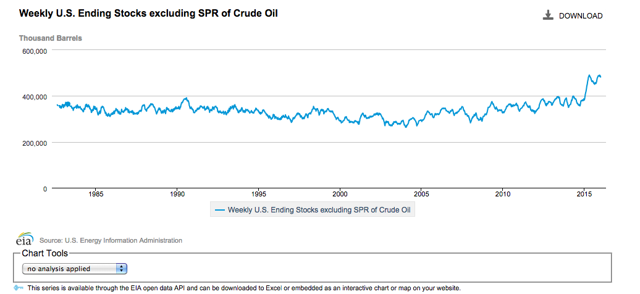 Here is one interpretation of the Global Supply and Demand dynamic. As we can see, record crude output that outpaces healthy demand growth.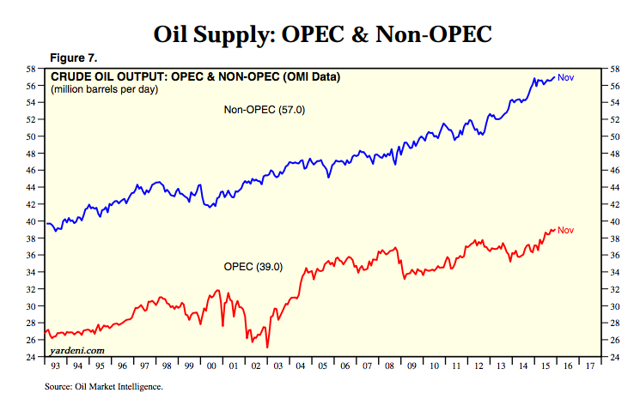 Source: Yardeni.com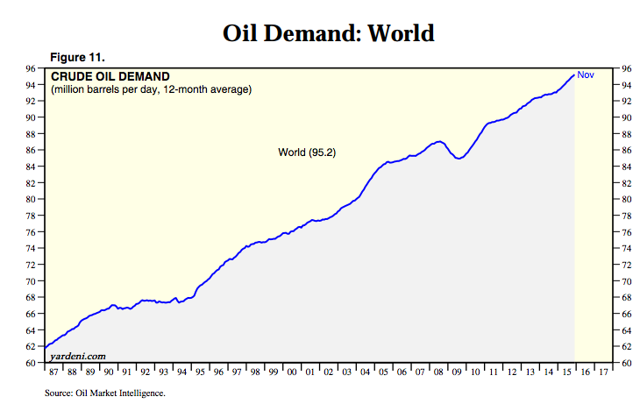 Source: Yardeni.com
Enclosed below is an EIA snapshot that captures the dire situation. There are 2.975 billion global barrels of oil inventories, which confirms the 3 billion figure above (from early November 2015). However, despite healthy demand growth in 2013, 2014, and 2015, global supply has outpaced demand by a factor of 1.47 million barrels per day in 2015 (down from 2 million barrels per day in 2013 and 2014), but still way too high given the inventory overhang.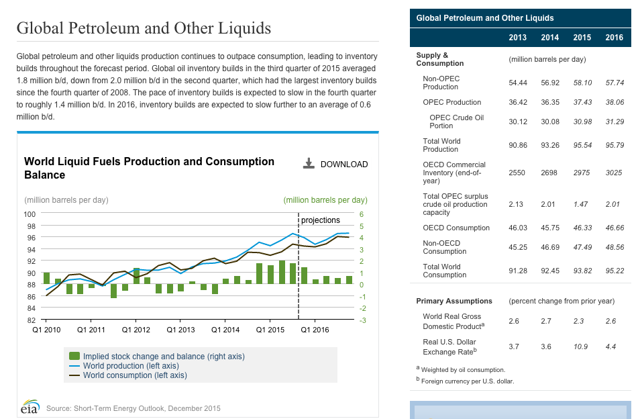 Saudi Arabia
Now let's turn to Saudi Arabia, the most important country when it comes to oil. Here is a snapshot from the December 28, 2015 New York Times article below.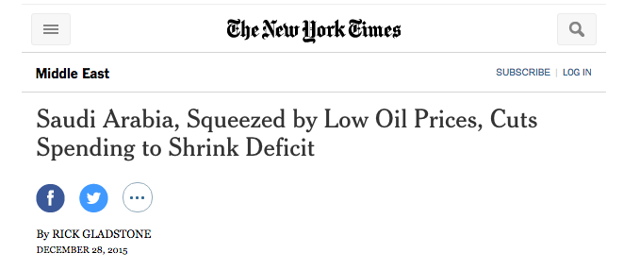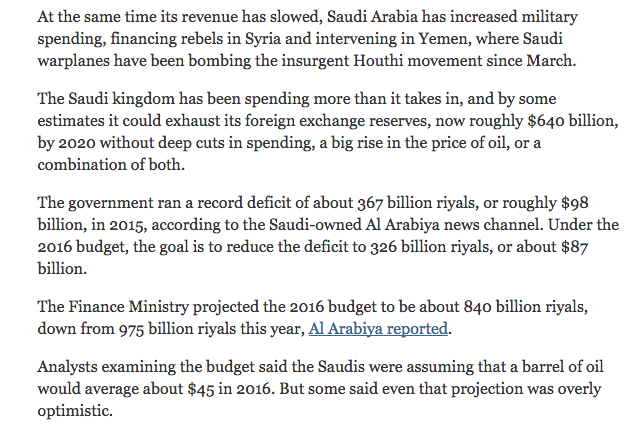 As everyone knows, despite running a $98 billion deficit in 2015, Saudi Arabia still has $640 billion in foreign exchange reserves.
Here is where the checkmate scenario comes in. Enclosed below is a snapshot of this past Friday's WSJ article of a possible Saudi Aramco IPO. Estimates vary, but depending on which assets would potentially be brought to the market, the Saudis could easily raise a $100 billion or more by selling a minority stake in its Saudi Aramco or a stake in some of its downstream assets.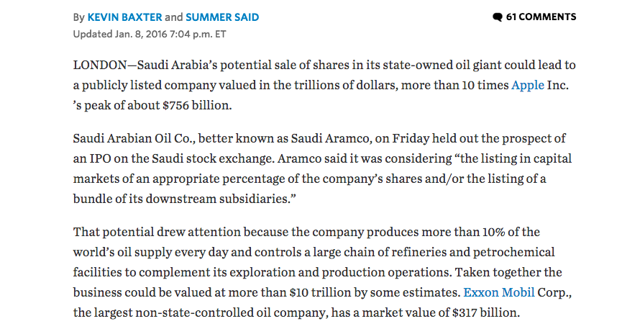 If I were a U.S. Shale executive of a second or third tier producer, I would be shaking in my boots and doing everything I could to preserve capital. The Saudis have essentially signaled to the market "We must break you" (Ivan Drago - Rocky IV).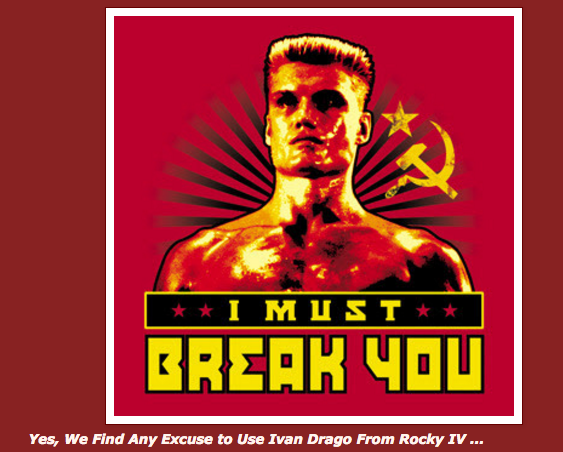 Source: Google Search Link
The other dynamic that could prove untenable for the highly leveraged U.S. shale producers is the break and ice cold relations between the U.S. and Saudi Arabia during the Obama Administration. I don't want to get overly political as SA isn't a policy website, but I must mention the conclusions and insights by Princeton University's well-regarded Middle East policy expert, Bernard Haykel.
I listen to a lot of podcasts during my daily one-hour commute each way to work and I would recommend intellectually curious SA readers listen to Tom Ashbrook's January 5, 2016 podcast "Why The Saudi-Iranian Standoff Is Escalating." I will simply provide readers with some of Mr. Haykel's high-level thoughts and if they so chose then they can listen to the podcast as well as explore his many books on the Middle East. Essentially, in Mr. Haykel's estimation, the House of Saud no longer finds the U.S. a reliable ally since Obama's presidency.
This view has been shaped by the U.S. not protecting Egypt's Mubarak in 2011, the civil wars in Syria financed by Iran, and most notably the Iranian nuclear deal, which is already faltering (i.e. ballistic missile program). As forty years of favorable Saudi Arabian relations have frayed not to mention a cooling in the U.S.'s relations with its once staunch ally, Israel, Saudi Arabia seems to be protecting its own interests.
The other bearish dynamic from an oil price perspective is if the Iranian sanctions were lifted then another 1 million barrels per day of crude supply could hit the market quickly. Even Russia is digging in and playing for the long game. Check out this article if you don't believe me. Russia is planning on oil remaining in a range of $40 to $60 per barrel for the next seven years.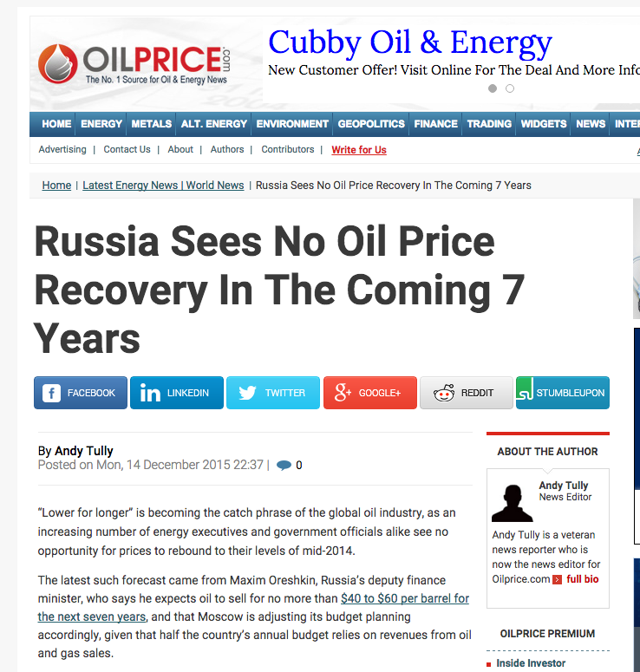 Source: Oilprice.com
It is so bad in Venezuela that the social party got swept out of office in a recent election. Check out this BBC article chronicling the December 2015 elections. Weak players want prices to rise, but no one is willing to unilaterally cut output.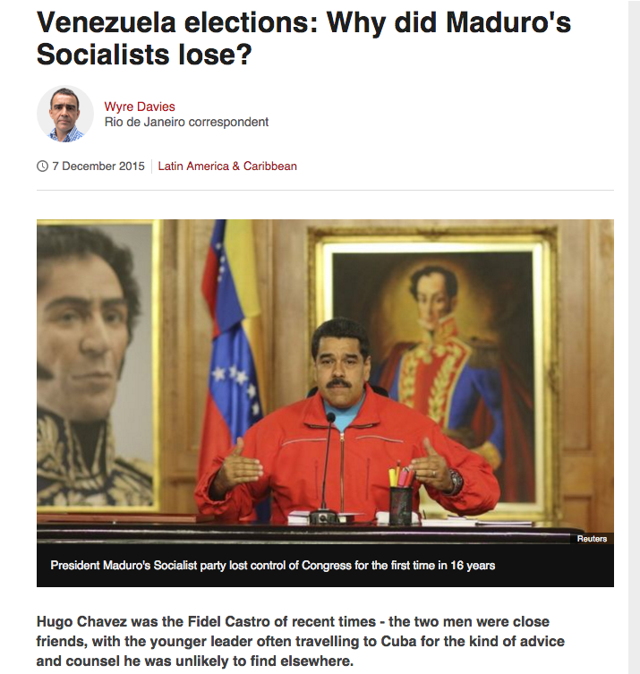 Major headwinds for U.S. shale include high production costs, the threat of bank re-determinations lower due to low prices (PV-10 accounting benchmark prices will be dramatically lower in 2015 than 2014), and a reduced hedge book to insulate producers from low prices.
Here is a recent WSJ article that estimates the following price per barrel per basin in the U.S.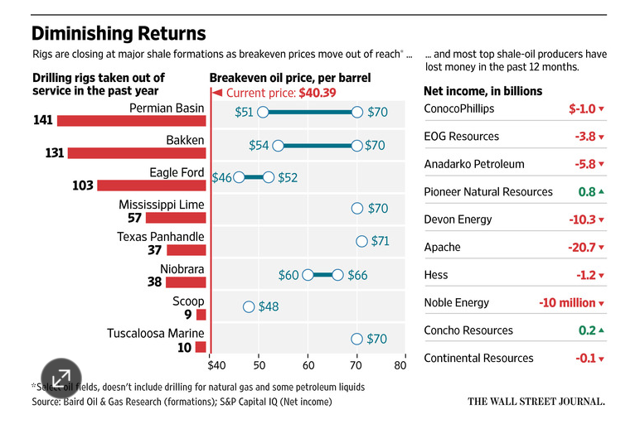 Here are the PV-10 accounting benchmark prices from 2012 - 2014


Here is a poignant snapshot from a December 2015 article discussing the 2016 hedges rolling off from Reuters.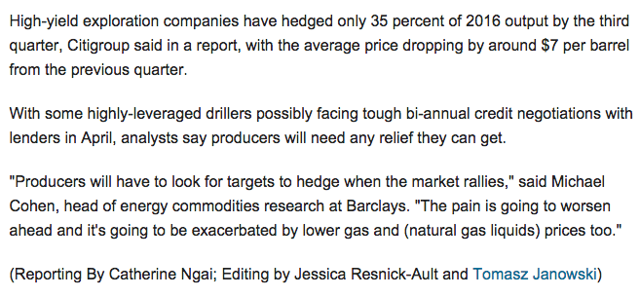 As there must be a large backlog of articles in the queue early Monday morning, I added these snapshots from Oppenheimer's well-regarded oil industry veteran, Fadel Gheit.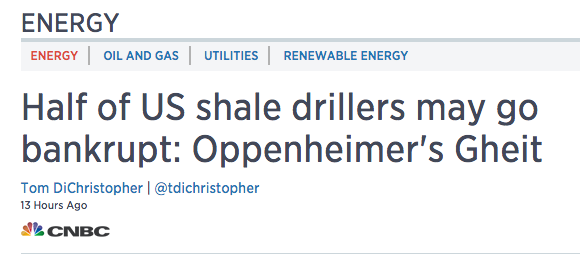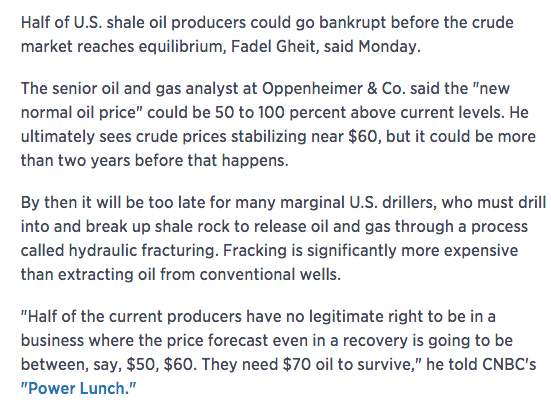 Concluding thoughts: The point of my article is to pour cold water on SA readers' hopes for a sharp oil price recovery. Unfortunately, the lower for much longer scenario seems the most likely one in the near and intermediate term. The upcoming Q1 2016 balance sheet risk of liabilities surpassing soon to be written down assets values led by the likes of PV-10 accounting is significant. Again, given the low price environment, most likely, bankers will protect their own interests and use covenants to reduce secured credit facilities bank lines during bank re-determination in late Q1 or early Q2 2016.
U.S. shale producers can create the most amazing slide decks with cherry picked data with bold proclamations of high EURs, break through lateral drilling techniques, multiple drill pads, declining well costs, etc., etc. But at the end of the day, my view is that U.S. shale with its inherently high decline rates is a lousy business, unless oil prices are north of $70. The tide has gone out and we will learn how many companies were swimming naked. Expect many bankruptcies in 2016 and expect production to fall off. There is a natural lag effect that has delayed the appearance of this production decline led by DUCs and drillers cherry picking the most productive acreages.
If you look at most oil and gas cash flow statements (in this low price environment), it is obvious that cash flow from operations can't fund capital expenditure programs needed to maintain production. Therefore, the capital markets are largely closed for the tier 2 and tier 3 producers as the hangover from the greatest oil and gas high yield financed binge ended last year. So my view is be careful out there, as even at $40 per barrel, I expect it to get worse for E&P producers and oil services companies. Proceed with extreme caution when considering doubling or tripling down on weak shale players.
Disclosure: I/we have no positions in any stocks mentioned, and no plans to initiate any positions within the next 72 hours.
I wrote this article myself, and it expresses my own opinions. I am not receiving compensation for it (other than from Seeking Alpha). I have no business relationship with any company whose stock is mentioned in this article.