I know. I said this before about Sirius XM (NASDAQ:SIRI) and it went over like an errant New Year's resolution. But this time I am as serious as a paper cut. Other than mentioning the company as a play in the $100,000 portfolio, I'm done writing about Netflix (NASDAQ:NFLX) on Seeking Alpha. I simply cannot handle the inanity any longer.
No jokes. No games. No change of heart because something big happens in a week or a month or a year. I'm done. There are so many other media companies I can focus on and better ways to illustrate options trading and such beyond NFLX. While Netflix might get a passing mention in an article on the media space, it will only be because they're a necessary part of the story.
No more focus articles. No more rehashing of the same old tired points. No more yelping about the misstep or contradiction of the week. After today, that's done. What was once an interesting work of mystery and suspense that I could not put down has become little more than a pathetic story of inept inanity.
What was the straw that broke the short Italian's back?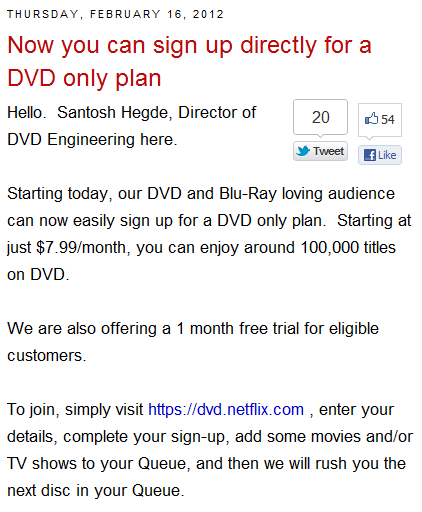 I had a feeling this was coming. But let me take you behind the scenes here. I received an email from a reader in mid-January with what appears to be an internal memo sent from the Netflix VP of IT Operations to staff:
Split 2.0. Interesting, I thought. And, of course, I immediately jumped to the conclusion that Netflix was looking to make a clearer distinction between DVD and streaming ... again.
But, the fair-minded guy that I am I could not go with the story. I had to contact the company and ask "exactly what does 'Split 2.0' mean?" I did that and received the following of a few responses from Netflix VP of Corporate Communications, Steve Swasey:
Click to enlarge



In a follow-up email, Swasey stressed, "The memo refers to an internal IT issue that has no impact on Netflix members." That's a direct quote. And, in my mind, it clearly verified the authenticity of the memo.
As I always say when I bring up Swasey, based on the little contact I have had with the man, I have a favorable impression. He always gets back to me promptly and treats me with respect even though I am not the biggest fan of Netflix, the company or NFLX the stock. He does his job well and comes off like a pretty good guy.
And what he told me was, undoubtedly, true. At least as I interpret it. The memo was and is an IT memo. It was directed at IT staff. It has to do with IT-type stuff. Fair enough. But, because Swasey told me it had no bearing externally - as in, on customers - I dropped the issue. I did not reprint the memo last month. I was being fair.
And now, one month or so later, a logical person could reasonably believe that "Split 2.0" has occurred. If that's the case, certainly it matters to IT, but it also matters to Netflix customers and NFLX investors. And, as I continue to, for some reason, give the benefit of the doubt, "Split 2.0" could have absolutely nothing to do with this. I cannot say either way with certainty. I simply do not know.
That said, I probably should have brought up "Split 2.0" last month. I did not, choosing to err on the side of caution, fairness and the benefit of the doubt. At this point, it's a no-brainer that investors need to know that the term was floated internally at Netflix. Something was given the codename "Split 2.0." Whether it was solely IT-related or could be connected to what the "Director of DVD Engineering" blogged about on Thursday, we may never know. I can only go with what Swasey told me.
So, what does all of this mean for investors? I guess, at day's end, whatever Split 2.0 means probably does not mean much. What matters more, however, is that Netflix would name anything, even if something externally meaningless, Split 2.0, given the Qwikster fiasco. That's just plain dumb. There's simply not a nicer way to say it.
That seemingly small gaffe only helps illustrate the larger problems at a company where the left hand does not appear to know what the right hand is doing. I've chronicled CEO Reed Hastings' DVD flip-flop repeatedly here on Seeking Alpha:
Here's what Netflix had to say about DVD in its Q2 shareholder letter from July:

In addition to separating the plans, we are setting up a dedicated DVD division, led by 12-year Netflix veteran Andy Rendich, to focus on running a successful DVD by mail service in the U.S. for a long time. Andy and his team will be located nearby in San Jose, and are already planning some great improvements for the DVD service. Because we believe we can best generate profits and satisfaction by keeping DVD by mail as a division, we have no intention of selling it. In Q4, we'll also return to marketing our DVD by mail service, something we haven't done for many quarters. Our goal is to keep DVD as healthy as possible for as many years as possible.

In early December, here's what Hastings had to say:

DVD will do whatever it's going to do. We're not - we're going to try to not hurt it, but we're not putting a lot of time and energy into doing anything particular around it ...


And then on Wednesday's Q4 call, I turn things over to the Twitter feed of AdAge's Jeanine Poggi, where I first heard the latest:

Think about this. In July, Hastings presumably promotes a "12-year Netflix veteran" to head up DVD with "some great improvements" planned. In December, Hastings flat blows DVD off. And then, on Wednesday, he says he has no intention of marketing the DVD segment, even though in July he noted that "In Q4, we'll also return to marketing our DVD by mail service ... " Q4 was a month ago.
And now, Netflix has, for all intents and purposes, split DVD again. At this point, to be fair, it's not like they're marketing the heck out of it. As far as I know, they only publicized this via the company blog. Hastings did not even make the announcement, which should say something. But, it's early. Give Netflix time. They'll pull a Costanza and do the opposite sooner rather than later, assuming history actually does repeat itself.
I've always thought that investors hate uncertainty. That's a bit of a market mantra. You hear it spewed quite frequently by guests on CNBC. This latest whatever you want to call it from Netflix reflects nothing but uncertainty.
It takes a lot for me to get with SIRI longs on anything, but I've got to give them this. They have a CEO, Mel Karmazin, who runs not only a subscription-based model, but an entire business, on a day-to-day basis, better than Reed Hastings could ever dream of. Yet, NFLX soars and SIRI stagnates. You cannot chalk it up to valuation, as NFLX, about to post losses in 2012, is wildly overvalued, even when compared to SIRI. It must just be an anticipation of growth thing.
No matter what we're talking about with regard to Netflix - Qwikster, Split 2.0, the move to offer a DVD-only plan again - I think I have discovered what sits at the heart of the matter.
Like Karmazin, Hastings is a brilliant man. If you do not think that he is, you're being bias. Today, DVD-by-mail is an afterthought. It's only an afterthought, however, because Hastings hatched it on the way back from the gym after returning an overdue movie while the rest of us were stuffing our faces with Cheetos. The man had an incredible, ground-breaking, game-changing idea. And he still has an impressive knack for visioning the future. All of that talk about smart and social TV and targeted advertising - he knows how it will look before we think of it and before it happens. He plants the seeds. We act like we knew all along. It's as simple as that.
While Karmazin can run a business and deliver free cash flow, today, like nobody's business, Hastings maps out tomorrow like a mini-Steve Jobs. Hastings needs a Karmazin. He needs to have a strong COO. He needs to have a person who can say to him, "Reed, that's long-term, lofty, big-think ... and it's great, but we need to do this in the short-term to get you where you want to go, so this is how it's going to be." Hastings does not have that. Not in his CFO. Not on his Board of Directors. Nowhere. And, if he does, the relationship, obviously, does not work the way it's supposed to.
He needs a corporate structure that keeps underlings from recklessly labeling internal IT operations as "Split 2.0," given Netflix's shaky history. He needs a strong hand who will demand that the company milk DVD for all that it's worth and pour the profits from that high-margin business into the developing low-margin game of streaming.
Until he gets this - or some other profound change takes place - Netflix will remain little more than a circus act on a faulty high-wire. I nailed the NFLX short in 2011. I've predicted it will implode again in 2012. There's really not much more that I can say. I am almost as tired hearing myself talk about Netflix as my wife is. So, in the interest of not being a one-trick pony, I continue to shift focus to bigger and better things.
Disclosure: I am short NFLX.
Additional disclosure: I am short NFLX via a long position in NFLX June $40 put options.