The street's estimate of Citigroup's (NYSE:C) 4Q'2015 earnings have been coming down. As per the Wall Street Journal's: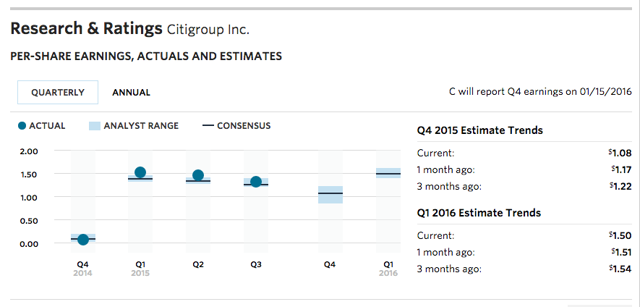 The reasons for the revised estimates are somewhat obvious - it is the recent decline in the oil price coupled with mediocre global growth picture and lackluster trading environment. Even the Fed's long awaited rate rise did not seem to raise the spirits for the large U.S. banks.
So what should investors pay attention to in upcoming earnings call?
Lower oil price for longer
I have covered this topic at length in a previous aticle "Citigroup And Oil: Time To Panic?"
During a recent financial services conference, John Gerspach, Citi's CFO guided to a reserve build of $300-$400 million in the fourth quarter. Mr Gerspach positioned that as an early and prudent reserve build for the firm - in other words, Citi is looking to get ahead of this issue. Its also important to note that Citi has booked ~350 million of hedge gains in the 3rd quarter mostly to do with Energy exposures. All in all, it appears that Citi exercised robust risk management relating to commodities credit exposures.
Having said that, expect the analysts to dig deep and attempt to box this risk. At the end of the day, the total notional exposure (funded and non-funded) is a material ~60 billion and oil price may decline further and stay low for the foreseeable future.
From my perspective, I will be looking to get some clarifications on whether we should expect significant reserve build and/or losses to continue in 2016.
China and slowing global growth
As discussed in my previous article, Citi's direct credit exposure to China is not significant - however, China's impact on global growth and other EM countries is supreme. The Chinese currency devaluation reverberated all the way through from Hong Kong to Mexico - clearly, this has ramifications to Citi's business model.
Expect Mr Corbat to articulate his views on topic in the earnings call. Will Citi consider further repositioning actions (bankers' code for cost cuts) or additional strategic exits? The revenue outlook certainly appears challenging but does Citi has any bullets left on the cost and efficiency side?
All about FICC
There are now very clear secular trends in FICC (banks' trading income incorporating fixed income, rates, currencies and commodities). Since 2009 capital requirements increased substantially (doubled and tripled in some cases), Dodd-Frank Act has been implemented (e.g. banning proprietary trading) and revenue declined (partly due to ZIRP in the U.S.).
While many of the smaller players (especially the Europeans banks) retreated (or in the process of retreating) from FICC markets - Citigroup (and its large U.S. peers) opted to stay the course and maintain a global and universal franchise in investment banking.
Will Citi's strategy to stay the course start to pay off in 2016?
Citi's CFO guided to sequential quarter reduction in FICC (and Equity) of between 15-20% - clearly a lackluster performance.
The guidance on the impact of Fed's rise on trading income would be a key point to look out for. As well as, the performance of the FICC franchise in the first two weeks of 2016. I suspect the China volatility didn't help but perhaps certain pockets (such as FX and Rates) performed well in the typically seasonally stronger Q1.
Finally....25 basis points
The Fed raised the short end by 25 basis points in mid-December. Citi estimates that 100 basis points rise in the short end should deliver more than $2 billion of annual pre-tax income.
Currently, the Fed is guiding to 3 or 4 rate rises in 2016.
Expect Citi's CFO to validate or otherwise amend the assumptions made on interest rates (e.g. beta on deposits). In the next few months, we shall find out whether interest rate rises in fact mean meaningful multiple expansions for the large banks.
CCAR 2016
Citi has probably generated $20 billion of capital in 2015 - a key question is how much of that capital is expected to be returned to shareholders.
My current base case is for a capital return of around $12 billion (50% higher than 2015). Investors should be looking for further insights on Citi's management thinking on topic. Longer term, one would expect a capital return ratio approaching 100% payout ratio.
Citi is uniquely positioned for organic capital generation. Apart from net earnings - it generates capital through DTA consumption (including a multiplier effect) and by unwinding Citi Holdings (its none-core division).
Final thoughts
It does feel like a mini kitchen-sink quarter. I do sense that Citi is perhaps sandbagging somewhat by taking a 'largish' repositioning charge of $300 million (reducing 2016 cost base), buying back expensive long-term debt and building energy-related reserves early (yet not incurring actual credit losses to date).
The $1.1 billion pre-tax gain on the disposal of OneMain helps to largely offset the impact of the mini kitchen-sink and still allows Citi to meet its stated 2015 financial targets.
In the next few days, I will publish my EPS estimate for Citi's fourth quarter - if you have any questions, please post in the comments section and I will be more than happy to respond. Lastly, do not forget to add me as a "real-time follower" if you are interested in the large banks' space.
I cover U.S., European, Asian, Canadian and Australian large-cap banks, identifying long and short opportunities. If interested in the topic, feel free to add me as a "real-time follower" or message me if interested in a specific banking name.
Disclosure: I am/we are long C.
I wrote this article myself, and it expresses my own opinions. I am not receiving compensation for it (other than from Seeking Alpha). I have no business relationship with any company whose stock is mentioned in this article.