I've read some very popular articles over the past couple of days that suggest we should be "buying the dip," because this sell-off is "way overdone" and the decline lacks any good "reasons." I couldn't disagree more. The only reason I can see for buying stocks at this point is to speculate on a bounce from a short-term oversold condition. It is a trade and nothing more.
The stock market's precipitous decline that began abruptly on the first day of trading in 2016 is now front-page news in the mainstream media. This usually signals a short-term bottom, but if so, it is a very weak one, and probably short-lived. The bulls want to compare this decline to the correction we had in August, concluding that we will hold those lows and recover to new highs. There is, however, one major difference between the current decline and the one in August - the fact that this one is the second such decline, and that it is started from a lower level on the S&P 500 index (NYSEARCA:SPY) than the one that began in August. This lower top is an ominous sign. It means the market is weakening on multiple fronts.
Additionally, other stock market indices, like the Russell 2000 (NYSEARCA:IWM), are breaking well below their August lows, signaling further deterioration. I wrote extensively about these developments in my analysis of the small-cap index last October in "Small Cap Stocks Are Sounding the Alarm, Again." I think we are in the midst of a textbook bear market decline that is probably only in the 5th inning.
It doesn't matter how much experience you have in markets, this type of decline, characterized by selling day after day, is unnerving. It has been relentless. It is emotional, even if you anticipated and were prepared for it. At the same time, it is important to keep a perspective on what is happening and why. There are fundamental factors involved that have been developing for months, and there is also a factor more technical in nature that I think could explain why the selling started on the first day of 2016.
I don't understand the logic behind blaming China or the plummeting price of oil for the abrupt decline we have seen over the past week. Oil prices have been declining for months and the Shanghai index has never been closely correlated with the S&P 500 index. China's economy has been slowing for years, and nothing has changed over the past six trading days. These are clearly factors in what has been a longer-term deterioration in our economic fundamentals. Yet the real reasons for falling stock prices are that corporate revenues have been declining, corporate earnings growth has been slowing, economic growth in the US is slowing, and credit conditions are tightening. This is a bad combination for risk assets.
Additionally, sobriety is setting in for the institutional investors that have been able to capitalize on near-zero borrowing costs to fund their investment strategies.
The only thing that I can identify as having changed dramatically on the first day of trading in 2016 is that there was a significant spike in short-term borrowing costs, which I surmise might have ignited a wave of institutional selling in financial markets.
After the Fed announced it was raising the targeted range for the federal funds rate by 25 basis points from a range of 0-25 to 25-50, it also said that it would be increasing the size of a program it already had in place to set a floor on the bottom of that range. It would increase the cap on its reverse repurchase program to $2 trillion in Treasury securities from what was $300 billion. In practice, the Fed sells Treasuries on its balance sheet to banks, brokers and money-market funds in exchange for cash in order to drain money from the financial system and reduce the amount of existing stimulus. It also raised the interest rate it pays on these reverse repos from 5 basis points to 25 basis points. That's the floor it was hoping to maintain.
On December 31, 2015, shortly after the last Fed meeting, the Fed sold a record $475 billion in Treasuries. That's a lot of liquidity leaving the financial markets. Additionally, the par value of repo contracts has plunged for the month of January relative to what it was each month of last year.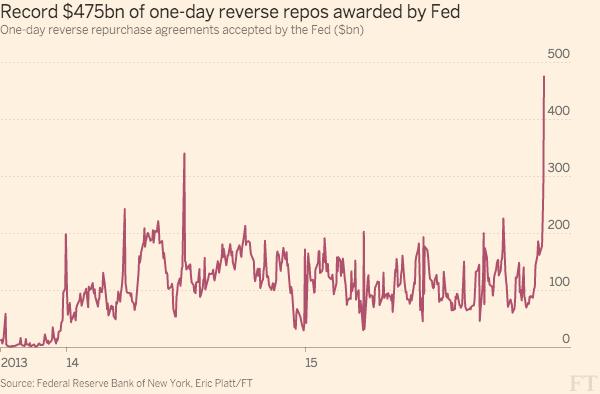 Hedge funds use repurchase agreements, swapping Treasury bonds and other related securities in exchange for cash, to borrow to finance their investment strategies. They borrow this money from institutions like money-market funds that are looking for a return on their cash. The money-market reference rate at which they borrow is called the general collateral finance repo rate. This rate fluctuated between 5 and 10 basis points over the past two years, but it has risen to what is now 47 basis points since the Fed's decision to raise interest rates. It spiked to 55 basis points on December 31st. Could this substantial increase in short-term borrowing costs be contributing to the selling that is going on in financial markets?
These borrowing and lending activities occur in what is called the shadow banking system, so it is impossible to know for sure what is actually happening. I do find it to be more than a coincidence that a significant increase in short-term borrowing costs at the end of the year, combined with a decrease in liquidity in the financial system, are not having some impact on financial markets that are all interconnected. There is undoubtedly a tremendous amount of leverage in the system after what has been seven years of zero-interest-rate policy. The Fed ended that policy last month and has indicated that interest rates will continue to rise from current levels. Whether they do or not, institutions that are invested on a leveraged basis will sell now and ask questions later. Especially when market prices are broadly declining.
Disclosure: I/we have no positions in any stocks mentioned, and no plans to initiate any positions within the next 72 hours.
I wrote this article myself, and it expresses my own opinions. I am not receiving compensation for it (other than from Seeking Alpha). I have no business relationship with any company whose stock is mentioned in this article.
Additional disclosure: Lawrence Fuller is the Managing Director of Fuller Asset Management, a Registered Investment Adviser. This post is for informational purposes only. There are risks involved with investing including loss of principal. Clients of Fuller Asset Management may hold positions in the securities mentioned in this article. Lawrence Fuller makes no explicit or implicit guarantee with respect to performance or the outcome of any investment or projections made by him or Fuller Asset Management. There is no guarantee that the goals of the strategies discussed will be met. Information or opinions expressed may change without notice, and should not be considered recommendations to buy or sell any particular security.