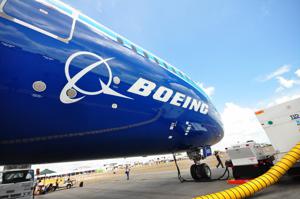 As part of my monthly look at orders and deliveries for Boeing (NYSE:BA) and Airbus (OTCPK:EADSF) and a comparison between both monthly order books, in this article I will deal with the commercial orders and deliveries in December.
Orders

Figure 1: Boeing orders (up until) December 2015 (Source: AeroAnalysis.net)
In November, Boeing booked 89 orders, with 65 orders for its single-aisle product and 24 orders for a wide-body aircraft. In December Boeing booked 223 orders.
While Boeing had a healthy balance between wide and narrow body in the previous months, in December just 1% of all orders were for a wide body airframe. At list prices, the orders are valued at $23.6 bn, but after discounts the orders have a market value of $11.7 bn:
Most striking is the fact that almost 80% of the orders came from Unidentified Customers
No orders for the Boeing 747 and Boeing 777
48 out of the 50 Boeing 767Fs FedEx committed to are now listed in Boeing's order books
Deliveries

Figure 2: Boeing deliveries (up until) December 2015 (Source: AeroAnalysis)
Boeing's delivery of 53 airframes was above expectations, given the full year target it had specified earlier. Deliveries were a mix of narrow-body aircraft (70%) and wide-body aircraft (30%). The estimated market value of the deliveries is $8.0bn.
A look at the deliveries per type:
Boeing delivered 9 airframes less than expected
Deliveries for the Boeing 777 fell short of expectations by 2 units
Deliveries for the Boeing 787 fell short of expectations by 1 units
Deliveries for the Boeing 737 fell short of expectations by 4 units
Deliveries for the freighters fell short of expectations by 2 units
Despite falling short of expectations, based on production rates, lower deliveries were to be expected given the full year target Boeing shared. All with all delivery volume was strong, beating the (conservative) target of 755-760 units.
Book-to-bill ratio
In December, Boeing booked 223 orders and delivered 53 units, resulting in a book-to-bill ratio of 4.21. For the full year, this ratio is 1.01 (including order cancellations). Boeing's full-year target was to receive 1 order for each delivery.
This shows that Boeing needed the surge in orders to reach its target and probably also has actively marketed their aircraft to receive some last orders before year-end.
Conclusion
Orders climbed 34% compared to last month
Boeing reached its desired book-to-bill ratio
As expected Boeing exceeded its delivery target
Disclosure: I am/we are long BA.
I wrote this article myself, and it expresses my own opinions. I am not receiving compensation for it (other than from Seeking Alpha). I have no business relationship with any company whose stock is mentioned in this article.