Kellogg Company (NYSE:K) is one of the world's leading producers of cereal, snacks and frozen foods with some of the most recognizable brands on the planet, from Eggo to Rice Krispies to Pringles. However, despite the fact its earnings and cash flow have plateaued, its recent market run-up has made it extremely overvalued. Coupled with a very extended balance sheet, Kellogg is my short pick for 2016.
The Opportunity
Even in the most recent market turmoil, Kellogg's share price has continued to march higher, even as the broader market has begun to fall: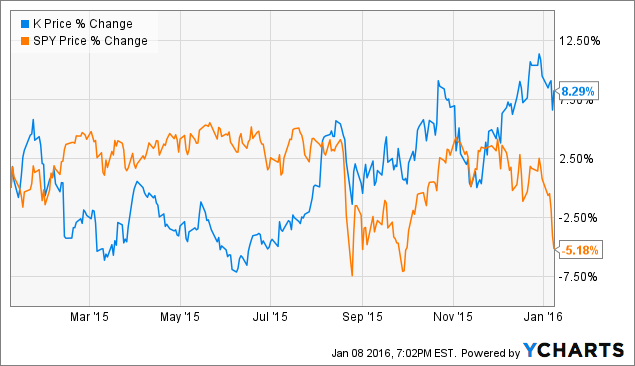 K data by YCharts
Normally, this would be a bullish indicator of some strength in the underlying company. However, this appreciation is largely a result of a massive multiple expansion that has occurred in the last year. The magnitude of this increase can be best be seen over a longer time horizon: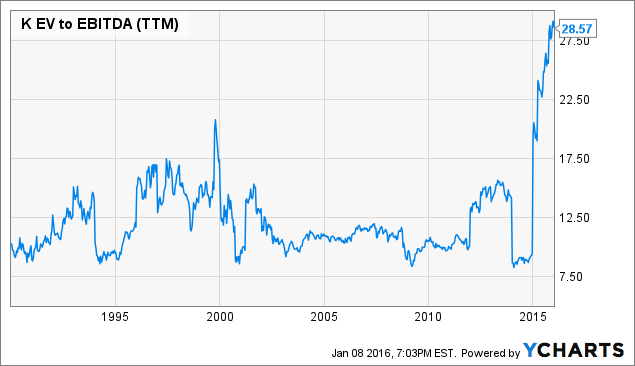 K EV to EBITDA (TTM) data by YCharts
Kellogg's shares have traded at an EV/EBITDA TTM multiple in and around 12.5 for most of the last 25 years. However, it has spiked up to over 28.5 in the last year as its share price has run up. However, this price move and multiple expansion has occurred even though its underlying fundamentals have begun to lag.
I don't believe anyone can short on valuation alone; just ask shorts of Netflix (NASDAQ:NFLX) and Amazon (NASDAQ:AMZN) over the last decade. Equities can get more expensive than anyone can possibly think. However, it is a definite red flag and worth digging further into the business.
The Business
Kellogg's business is quite simple; it manufactures staple food products and resells them for a premium, driven largely by a terrific stable of brands and a long history of success. However, things have been tougher for Kellogg as of late.
Both Kellogg's sales and EBITDA have been dropping in the most recent year, its sales by 6.2% for the 9 months ending September 30, 2015, and its operating profit by 21.9%:

Source: 2015 Q3 MD&A
Kellogg has at least been holding its own in its domestic markets where 54.5% of its sales originate from, though even these are roughly flat YOY. It is the only place where the USD is the currency for both its revenues and costs. Unfortunately, this is not the case for the other 45.5% of their business, which has been impacted by most currencies around the globe weakening substantially against the USD. This currency effect on its revenues will be partially hedged as Kellogg has manufacturing operations in 18 different countries. However, a lot of its overheads will be in USD, which will result in a higher relative cost of those products with lower revenues, especially as these costs are allocated out to the individual markets. As a result, their foreign markets bear a greater cost, producing worse margins. In a breakdown from its Q3 MD&A, Kellogg attempts to explain this through a "currency neutral" metric: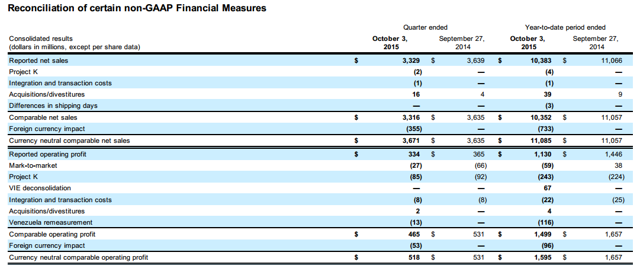 Source: 2015 Q3 MD&A
With this adjustment, their currency adjusted sales are roughly flat. However, currency fluctuations are here to stay, as they have been very volatile over the last several years as a competitive devaluation continues between countries around the world. Explaining them away as short term in nature is unfortunately no longer a business reality.
Even going back to the last fiscal year, Kellogg has been suffering negative sales growth. This isn't really a company worthy of the elevated multiple it is now trading at as a result, despite its long history of success. Management foresaw the need to improve its operations in late 2013, and launched Project K, an efficiency program designed to optimize its supply chain, boost productivity and help Kellogg become a product-focused company. With an estimated cost for the program of $1.2 to $1.4B over four years, it was no small initiative. They are now over half way through the program, though, and there has not been much visible progress made so far: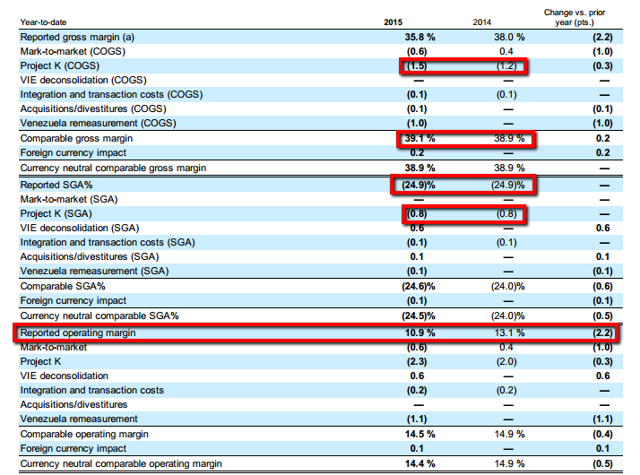 Over halfway through the project, Kellogg's margins have not improved (and have actually worsened overall, though some of this is not entirely of their doing) while they are spending over 2% of sales on their improvement programs. This is not a particularly good sign as even with comprehensive projects like this, there should be some "quick wins" to generate some project momentum at the start; without them, support for the project begins to wane, sidetracking its original goal. There still may be value in Project K's initiatives but it appears to be a minimal improvement, if any, at the present time.
So we have a company with stagnating sales (management's own estimates are for 1% sales growth for the coming year), with deteriorating profitability. Management is trying to address these issues with a comprehensive productivity improvement program whose efficacy has yet to be realized over halfway in. Its current growth multiple seems unwarranted but let's see if their balance sheet can make up for it.
The Balance Sheet
At the end of Q3 2015, Kellogg had $299m in cash against a debt load of $7.9B in long-term debt and notes payable. This is a significantly sized debt load, but at first glance, Kellogg has decent enough cash flows from operations, pacing at $1.3B for fiscal 2015. However, when we look at their regular cash obligations that need to be paid out of this amount, it becomes a significantly greater concern: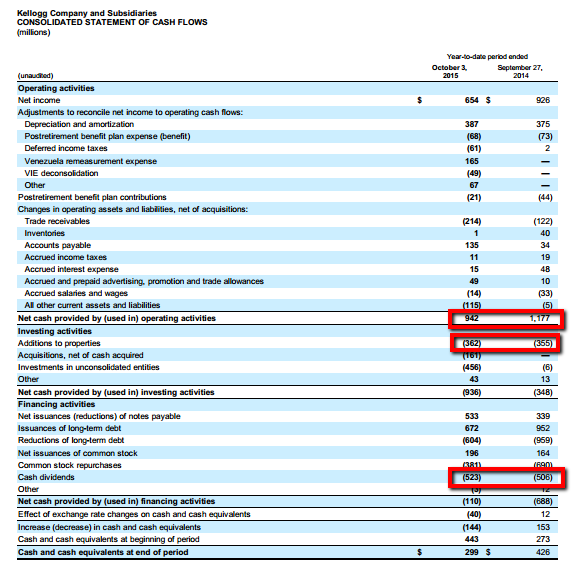 Source: 2015 Q3 10-Q
The acquisitions, both wholly owned and in joint ventures, are clearly within management's control going forward. However, the capex associated with its operations are likely required, to maintain, replace and service equipment. These are pacing at $0.5B per year. There is a chance this will be cut down in the future as a result of improvements from Project K but it is unknown. Kellogg has also been buying back shares into this share run-up, which are also discretionary in nature.
Kellogg pays out an annual dividend totaling $2.00 per share at its current rate, representing a current obligation of $0.7B per year. This dividend is fundamental to the company, which has a long history of raising their dividend and is a favorite among Dividend Growth investors. The company has a nice chart showing this history on its website: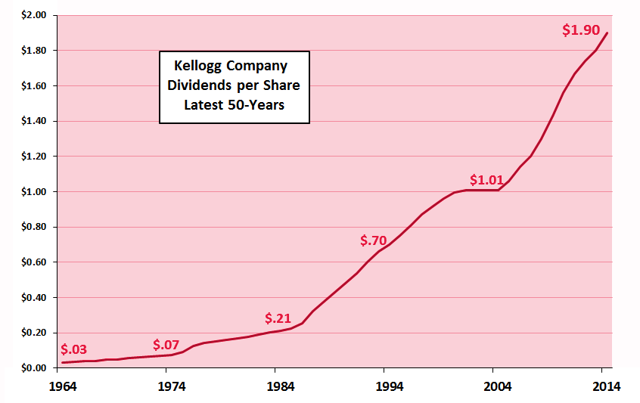 Source: Kellogg website
Management has indicated that they are broadly trying to keep their dividend payout in line with 40 to 50% of operating income. This is starting to be tested based on last year's results, which are tracking north of this upper limit, at 55% over the last nine months.
However, if we just combine these two commitments (maintenance capex and the dividend) there is just $100m left over for debt servicing. Not exactly gushing cash at this point as they have also continued to acquire businesses over the last several years, causing its debt to rise over the last years, including up by $600m in the 9 months ending in September 2015 alone.
Kellogg's financial flexibility becomes even tighter when we look at their upcoming bond maturities: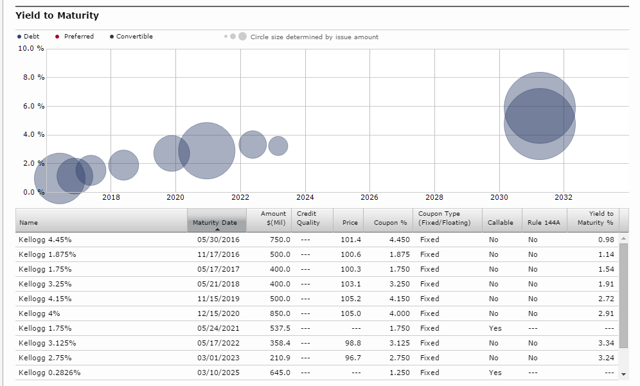 Source: Morningstar
The company has $750m coming due in May 2016 and another $500m due in November. While it is clearly lacking the cash flow to meet these obligations, Kellogg does have a revolving line of credit for $2B expiring in 2019 that will assist it in meeting these obligations. I also believe that Kellogg will be able to refinance these bond issues, though likely not at the favourable coupon rates they are currently enjoying. This refinancing requirement comes at a time when the bond market is becoming very stretched as investors and lenders alike are becoming more concerned with over-extended borrowing. To further exacerbate things, Kellogg suffered a S&P downgrade in November due in part to the increased debt-load associated with its acquisitions.
Kellogg had indicated in its Q3 MD&A, issued early in November 2015, that it was looking to refinance its notes payable with more favorable facilities. However, two months have now passed from this disclosure and there hasn't been any announcement of a refinancing. This could easily be due to the holiday season but it again looks like the company is struggling to get terms that it likes for even the $1.3B in notes payable on its balance sheet.
Finally, Kellogg's failed takeover of Diamond Foods (which was eventually acquired by a competitor at a lower price) was largely driven by concerns about its ability to finance the purchase due to its elevated debt load. Combined together and Kellogg's cost of borrowing will likely be increasing, again hampering its performance.
None of this bodes well for Kellogg in the near term. These types of financing issues are not currently being well received by the market. So what will be the drivers behind this short situation?
Short Catalysts
The biggest potential catalyst for a short of Kellogg's shares would be a dividend cut. The company has paid out dividends for 363 quarters in a row so the odds of it completely disappearing are unlikely. However, its payout is starting to become difficult to maintain in the face of its stagnating operations and growing debt commitments. Kinder Morgan (NYSE:KMI)'s recent woes related to its dividend and debt load can give us a view to what the market's reaction to a reduced dividend would be.
Continued troubles in its operations, combined with their heavy cash commitments, will also likely cause a share price downdraft. The market, at this elevated multiple, is pricing in either a turnaround in operations or a takeover by a larger player. They are clearly not growing. However, at this price, Kellogg does not currently make an attractive acquisition target either due to the elevated valuation that would then require a further premium on top; at some point the current premium will vanish. If we assume conservatively that the multiple reverts back to its previous multiple high of 20x EV/EBITDA, this would give a potential downside target of $49 to $50, well off its current elevated levels. At its historic band of 12.5, the share price is closer to $30 per share, well off its recent levels.
Finally, any issues with its refinancing will start to give the market jitters as well. I don't believe this should occur in a dramatic way as its credit line and long track record make it a relatively low risk for this to occur but there is still a chance as it is clearly very stretched financially. The bond due in May 2016 will be the first item that needs to be addressed and how Kellogg deals with this financing requirement will be critical, followed shortly after by its November 2016 bond.
Risks to Going Short Kellogg
No short is without risk, especially a company with a storied history like Kellogg does. Its strong brands and image with customers make this a favorite stock with retail investors, combined with its excellent history of raising dividends. Kellogg may be able to continue to maintain this elevated price level, especially in the face of some substantial market turmoil. Investors have fled to some of these well-known brand-driven equities (notably McDonald's (NYSE:MCD) and Nike (NYSE:NKE)) as the broad markets have sold off. However, at some point, there will be a question of confidence in the underlying company performance, triggered by one of the catalysts above.
A turnaround in its operations would also be a risk to a short-side position. However, I suspect any turnaround will be marginal (management is only targeting a 1% growth rate this year) and would only likely serve to support the current price, shrinking its currently elevated multiple rather than further expanding it.
Lastly, a potential acquisition of Kellogg would be a risk as well; I feel this is unlikely though due to the elevated multiple and the assumed debt load any acquirer would need to take on. It would be hard for any acquirer to justify an acquisition of Kellogg at these prices.
How to Take Advantage
Some may be comfortable enough to outright short Kellogg stock; however, this will require servicing the $2/share annual dividend over the duration of your trade. I am generally averse to outright shorting of equities due to the higher downside potential; I utilize put options. With the two bond payments in May and November serving as potential catalysts (along with its continued quarterly performance checkpoints), I am long put options to January 2017 with a strike price at $65 for $3.60 per share. This longer time frame gives more chances for the short thesis to play out while the use of put options caps your risk. With an estimated downside of $50 per share with a simple multiple mean reversion, this gives you over 4 to 1 odds on your money. At the $30 price level (with full multiple reversion), you are getting almost 10 to 1 odds on this trade.
For continued discussion, please don't hesitate to comment below; I learn from your feedback. If you like what I'm doing, you can follow me by hitting the "Follow" button at the top of this article. Plus, you can follow me in real time by selecting that option. It might give you somewhat of a head start whenever I write an article, as to what actions I am taking and the reasons behind them.