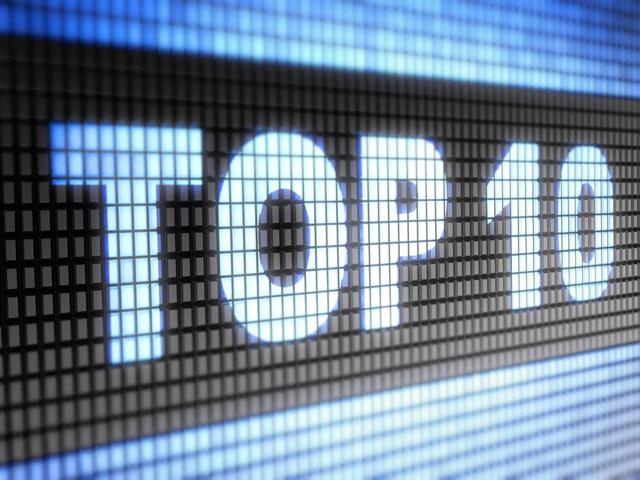 My top ten stock picks for the year is an annual tradition that began here on Seeking Alpha back in 2009. Each year I pick ten stocks that I believe will outperform the market. I try to select stocks that are familiar and unfamiliar names for investors. I will check back with updates throughout the year on these selections as well. Here are my returns from the seven years of the list:
· 2009: +99.9%
· 2010: +32.9%
· 2011: -11.3%
· 2012: +17.6%
· 2013: +41.3%
· 2014: -14.6%
· 2015: -34.6%
As you can see, 2015 was a year to forget as I produced my worst performance in this annual challenge. This also marked back to back losing years for the first time. My write-up on the reasons why the 2015 picks failed and what could be in their future will be written soon. Investing 10,000 in my ten stock picks every year and selling at the end of the year would now be worth $21,860. Despite the poor performance of 2015, my picks have averaged a gain of 18.7% annually.
Brookfield Infrastructure Partners (NYSE:BIP)
Start Price: $37.91
52 Week Range: $36.66 to $46.95
Top Three Reasons to Buy:
1. Strong dividend yield
2. Valuation near 52 week low
3. Company exploring new regions and segments
Brookfield Infrastructure Partners is the type of stock you put in your portfolio or retirement account and can forget about it for years. Along the way it appreciates and provides a great dividend yield. For the case of 2016, I think the dividend will rise providing a yield of close to 6%, and also think the stock is undervalued trading near its 52 week low. I'm not expecting a double or anything crazy here, but with the dividend factored in, think a yearly gain of 20 to 30% should be expected.
Brookfield Infrastructure is in the middle of trying to get a big acquisition accomplished. The company is trying to buy Asciano, a leading Australian port and railroad operator. The purchase price of $6.6 billion is more than the entire market capitalization of Brookfield Infrastructure. Under the terms of the buyout, Asciano would be 55% owned by Brookfield Infrastructure, 32% owned by Brookfield Asset Management (NYSE:BAM)(Brookfield's parent), and 22% owned by two institutions (11% ownership each).
In the third quarter, revenue declined 4.7% to $468 million. Earnings per share of $0.46 came in above consensus. The company's FFO (fund from operations) were a reported $0.91 vs. $0.85 a year ago. The increase came from the new communication infrastructure.
Brookfield Infrastructure plans on paying out 60 to 70% of its FFO annually. In 2014, the company reported FFO of $1.92. Since 2009, the FFO figure has risen at an annual rate of 12%. The company said back in October it was forecasting 11 to 13% distribution growth in 2016.
During an October investor presentation, the company's big focus was on its port and rail assets. The company has 30 bulk and container terminals in the port segment along with 1 landlord port. In the rail segment, the company has 10,000 kilometers of railroad track, 700 locomotives, 17,000 wagons, and 6 rail loading terminals in Australia and Brazil. A key figure from the presentation was the company's valuation of these assets. Based on recent acquisitions across the sector, the port assets would be valued at $1.2 to $1.5 billion. The company's rail assets would be valued at $4.1 to $4.6 billion. You can see how quickly the company might be undervalued with a sum of the parts valuation, given its $6 billion market capitalization.
Brookfield continues to diversify and acquire cheap assets to strengthen its position and also its FFO yield. The company acquired French telecom towers earlier in 2015 that helped boost the FFO. The company has singled out the Brazil crisis as an opportunity to buy premier assets cheaply. New offices have been opened in India, Mexico, and China. This should lead to further acquisitions and entries into new markets in the short term. The company highlighted North America as an opportunity market to grow in. New sectors of airports and water infrastructure were also mentioned.
Brookfield Infrastructure Partners was spinoff from Brookfield Asset Management back in 2008. At that time, the new company had five businesses and a market capitalization of $500 million. The diversification was only two sectors: utilities (54% of revenue) and timber (46%). Since that time, the company has now grown to be made up of 30 businesses, a market capitalization of $10.5 billion and better diversification. The revenue sector breakdown is now 30% utilities, 46% transportation, 17% energy, and 7% communications. These current figures include the pending Asciano acquisition.
CBS (NYSE:CBS)
Start Price: $47.13
52 Week Range: $38.51 to $63.95
Top Three Reasons to Buy
1. Super Bowl 50
2. Star Trek
3. Valuation
Shares of CBS are trading towards the low end of their 52 week range, making it one of the most attractive media stocks heading into 2016. CBS is a dominant leader in television with some of the top shows, and with the upcoming Super Bowl 50 and 50th Anniversary of Star Trek serving as additional catalysts, should be a top performing stock.
In 2015, CBS had five of the top ten watched shows in America. The Big Bang Theory ranked second 2ith 21.1 million viewers per episode and NCIS ranked third with 20.9 million viewers. The other CBS shows in the top ten were Thursday Night Football (#6), NCIS New Orleans (#7), and Blue Bloods (#9). CBS was the number one network for the 2015-2016 Primetime season.
The Super Bowl will be a huge catalyst for CBS, with advertising rates once again setting new records. Last year, 115.2 million people tuned in to the Super Bowl. For 2016, 30 second advertisements will cost $5 million, up from last year's $4.5 million cost. On the latest earnings call, the company said "Super Bowl sales are going extremely well" and said it was in fact receiving record pricing and only had a few units left.
Star Trek is going to be a catalyst in 2016 and also more importantly in 2017. This year marks the 50th anniversary of the original Star Trek television series. To celebrate, there will be numerous consumer products and monetization assets for this franchise. CBS will showcase the brand and its upcoming series through the over the top CBS All Access service. This service, which costs $5.99 a month, is one of CBS's future revenue drivers.
CBS announced it will debut a new Star Trek show. This series will premiere on the CBS channel, but then move to and become an exclusive for CBS All Access. This will mark the 6th series in the Star Trek universe and is being led by executive producer Ale Kurtzman who worked on the recent movies. All the prior Star Trek series are available on CBS All Access now. No figures are out yet for CBS All Access. The company did say the largest subscriber growth yet came during the month of September. The company also said it can see millions of Star Trek fans joining All Access.
In the recent third quarter, earnings per share rose 19% to $0.88. This marked the 23rd consecutive quarter of earnings per share growth, a pretty remarkable feat in the media sector. Network advertising rose 8%, led by a double digit gain in the sports market.
This company should have a strong year. The first quarter will be led by NFL Playoffs and Super Bowl 50. The fourth quarter will be led by political coverage. Remember, CBS News is a leader and gets good advertising rates. Also keep in mind, CBS owns several radio and television stations, which should get plenty of commercials from politicians. In between those quarters is the 50th anniversary of Star Trek and plenty of television hits.
FBR Capital issued an outperform rating back in November with a price target of $66. That would set a new 52 week high for shares and mark a return of 40% from the current level. I don't think that is totally out of the question, but I think $60 by the end of the year is more doable.
Disney (NYSE:DIS)
Start Price: $105.08
52 Week Range: $90.00 to $122.08
Top Three Reasons to Buy:
1. Fiscal 2017 has two Star Wars movies
2. Theme park segment ready for boost from China and new expansion
3. Undervalued based on 5 year average
I told myself a couple years ago that Disney would end up on one of my top ten stock lists due to the Star Wars films being made. Well, given the stock's fall to end 2015 that time has come as valuation is well below where I think shares should trade. There are concerns about the company's ESPN segment, which dominates Disney's operating profit. I think the concerns are overblown as ESPN is spending a lot on sports content, but still is getting good advertising revenue and affiliate revenue, despite a shift away from cable television packages. Star Wars was even bigger than the company likely forecasted and will be trickled down across all segments. It's hard to believe, but investors may actually be undervaluing the impact Star Wars will have on the upcoming quarters.
The movie studio business is booming for Disney and likely won't slow down. In 2015, the company had three of the top four grossing movies domestically with #1 Star Wars: The Force Awakens, #3 Avengers: Age of Ultron, and #4 Inside Out. Disney had a market share of 19.8% in 2015 with $2.28 billion in box office receipts. That figure came from 15 movies tracked. Leader NBC Universal/Comcast had $2.56 billion in box office receipts from 36 tracked movies. Disney greatly improved on its #3 market share percentage of 14.9% and $1.62 billion in box office receipts. Back in August, I highlighted the company's shift to focus more on blockbusters and release fewer movies a year.
The other big key here is Disney's leverage on movie exhibitors. The company is charging exhibitors a higher percentage of 60% from Star Wars: The Force Awakens tickets versus the industry norm 50/50 revenue split. The same thing happened with Avengers: Age of Ultron. While movie theatres are upset at the higher revenue split, they likely made up for it with concessions and increased attendance from those movies. Ultimately, Disney has the upper hand with its high demand record breaking blockbusters and is using this to its advantage. The Star Wars movie is also playing across IMAX theatres for the entire month of December, cutting out rivals that usually get some time on the oversized screens.
Star Wars: The Force Awakens will hit fiscal 2016 revenue and earnings. Current estimates call for earnings per share to rise to $5.66 and revenue to increase 6.8% to $56.0 billion for fiscal 2016. In fiscal 2017, earnings per share are forecasted at $6.22 and revenue is estimated to rise 5.9% to $59.3 billion. One of the key pieces investors and analysts may be missing is the calendar split of Disney's fiscal year. The fiscal year ends in September for Disney. This means that fiscal 2017 will see not only one Star Wars movie being released, but two Star Wars movies in the same fiscal year.
Star Wars: Rogue One is scheduled for a December 2016 release and Star Wars VIII is scheduled to be released in May of 2017. This is huge for Disney and should lead to some higher estimates coming in when numbers are tallied for the year. Fiscal 2017 will also include the theatrical releases of Doctor Strange, Guardians of the Galaxy 2, Toy Story 4, and Pirates of the Caribbean 5. That is a monumental fiscal year worth of theatrical releases.
As mentioned above, the Star Wars effect trickles down across the board and should boost other segments. Consumer products is one that will see a huge boost in revenue thanks to the added toy lines and licensees surrounding the Star Wars property. The big news here is consumer products could see a big boost in the first quarter. Many investors may have missed the fact that consumer product revenue in the fourth quarter contained no revenue from Star Wars The Force Awakens, despite Force Friday taking place in September. The company does not record the revenue until the movie is released. From the earnings call, "Licensing revenue and the 9% earned licensing revenue growth I just mentioned do not reflect the revenue from Q4 sales of Star Wars Episode VII merchandise, which we cannot recognize until the film is released."
Theme parks is an area that investors should be watching for Disney. While the segment provides great revenue and profits, the next few years could see improved overall results. Later in 2016, the long awaited Disney Shanghai theme park will open. Going forward, Disney is revamping its parks to include new Star Wars and Avatar areas, which should almost guarantee higher attendance over the next few years.
Here is the breakdown by segment for Disney's revenue and operating profit for the full year:
| | | |
| --- | --- | --- |
| Segment | Revenue | Operating Profit |
| Media | $23.3 billion, +10% | $7.8 billion, +6% |
| Parks/Resorts | $16.2 billion, +7% | $3.0 billion, +14% |
| Studio Entertainment | $7.4 billion, +1% | $2.0 billion, +27% |
| Consumer Products | $4.5 billion, +13% | $1.8 billion, +29% |
| Interactive | $1.2 billion, -10% | $0.1 billion, +14% |
| Total | $52.5 billion, +7% | $14.7 billion, +13% |
That table will always have investors worried with the importance of ESPN. ESPN is the key to the media segment, which produces more than 50% of the company's operating profit. However, there are other pieces to the media segment (Disney Channel, Disney Jr., ABC) and ESPN might not have as bad of a year as believed. There are no new major sports contracts that kick in for fiscal 2016. ESPN had more than half of the top 50 cable telecasts for calendar 2015, making the channel a must have for every cable package out there.
Over the last five years, the price earnings ratio has averaged 18.7 for Disney. With earnings forecasted to hit $5.66 in fiscal 2016, the current ratio is 18.6. However, if investors start to look towards fiscal 2017, the ratio drops to 16.9 based on the estimate of $6.22. Again I believe that figure will end up being conservative, so I'm willing to bet closer to $6.50 based on the higher revenue particularly coming from the studio and consumer products segments. Based on the multiple of 18.6 and $6.50 in earnings, I get a target price of $120.90, which would put shares back near their 52 week high. I think investors have a great opportunity here at the start of the year to accumulate shares.
Grupo Aeroportuario del Sureste (NYSE:ASR)
Start Price: $140.67
52 Week Range: $125.36 to $167.86
Top Three Reasons to Buy
1. Airline growth in Mexico
2. Good entry point
3. Puerto Rico airport ownership
One of my worst performing stocks in 2015 was Empresas ICA (NYSE:ICA), a large construction company in Mexico. Part of my thesis was the company's stake in airport operator OMA (NASDAQ:OMAB) was undervalued. That didn't turn out to matter, as ICA saw its huge debt take hold and ruin the company financially. I am back with another Mexican stock pick, and once again it is related to the airline industry in the country.
Grupo Aeroportuario del Sureste is an airport operator in Mexico with ownership of seven airports. Here is a look at those airlines and how they performed in 2014.
| | | | |
| --- | --- | --- | --- |
| Airport | Rank in Mexico | Passengers (millions) | Growth from prior year |
| Cancun | #2 | 17.5 | +9.4% |
| Merida | #8 | 1.4 | +9.2% |
| Veracruz | #12 | 1.2 | +14.5% |
| Villahermosa | #13 | 1.1 | +10.5% |
| Oaxaca | #23 | 0.5 | +6.3% |
| Huatulco | #26 | 0.5 | +7.2% |
| Cozumel | #27 | 0.5 | +14.4% |
As you can see the company owns the number two airport in Mexico with Cancun. The risk here is how important that airport is to the company. In 2014, that airport made up 75% of the company's passengers and 80% of its revenue. However, if you look at the other airports, you see some impressive growth in terms of passengers, a sign of things to come.
From the most recent third quarter earnings, the growth for the company continued across the board. Mexican passenger traffic increased 15.2% to a new record high. Domestic traffic increased 14% to a record high of 3.3 million passengers. Cancun Airport also saw record highs of 1.8 million domestic passengers (+9.4%).
A new bilateral agreement was just passed between the United States and Mexico. The deal calls for unlimited airlines and unlimited routes between the two countries. This deal isn't immediately important to this company, but has long lasting impacts. You will start to see some American airlines pop up at more Mexican airports.
Along with the Mexican airports, Grupo Aeroportuario also owns 50% of the San Juan Puerto Rico Airport. This airport opened in 2013 and has already seen strong early results. Grupo Aeroportuario has a 40 year term on the airport. The airport had 8.6 million passengers in 2014. In the third quarter, passengers were up 1.5% at this airport. The important thing here is the airport contributes revenue sharing payments to the company. In 2014, the airport was profitable, bringing in revenue to Grupo Aeroportuario. Airlines pay $62 million a year for the first five years, with annually increases after.
Grupo Aeroportuario is the airport operator to buy here with the better growth in Mexico. From 2006 to 2014, the company grew revenue an annual average of 6.7%. Peers grew at rates of 2.1%, 2.8%, and 3.8%. The company had 12.9 million international passengers and 10.3 million domestic passengers in 2014 for a total of 23.2 million. The company's balance between the two is attractive.
Analysts see Grupo Aeroportuario posting earnings per share of $5.66 in fiscal 2015 and $6.42 in fiscal 2016. Revenue is expected to rise 2.9% in 2015 and 7.7% ($489.6 million) in fiscal 2016. That doesn't exactly scream a buy with high multiples. When compared to rival PAC, this company has the cheaper price to earnings on a current and forward basis with 24.8x to 28.3x and 21.9x to 25.7x respectively.
Inventure Foods (NASDAQ:SNAK)
Start Price: $7.10
52 Week Range: $6.57 to $13.08
Top Three Reasons to Buy:
1. Problems behind the company
2. Low valuation to recent IPO peer
3. Buyout target
Inventure Foods is the smallest company on this annual list with a market capitalization of just $134 million. The company saw an extremely rough 2015 with a voluntary product recall, a fire at an operating facility, and production constraints. With all those problems behind them, Inventure Foods sets up as a great play on growth, a M&A target, and a cheaper alternative to a recent IPO.
Inventure Foods operates under the following segments:
· Frozen fruit
· Healthy snacks
· Frozen vegetables
· Frozen beverages
· Premium private label
· Indulgent snacks
From 2011 to 2014, Inventure Foods grew revenue at an average rate of 21%. The company also grew EBITDA at an annual rate of 36%. As the company continues to grab shelf space and further expand its presence in stores, these strong rates should continue.

The frozen vegetable recall happened back in April of 2015, but shares are still trading at year lows. Remember this comes despite the plant being back up and running in June, no illnesses reported, and the company maintaining 95% of its pre-recall volume.
The company's Boulder Canyon line is absolutely killing on the market. Growth of the brand was up 70% in 2014. The company sees this brand growing by double digits in fiscal 2015. The brand was acquired in 2000 by Inventure Foods. A new popcorn line was also introduced under the Boulder Canyon brand in 2015. The brand has seen 11 consecutive quarters of revenue growth. The production constraints mentioned above were due to the success of this brand. The company has ramped up production and even used co-packers to keep shelves stocked.
Revenue for fiscal 2014 increased 33% to $285.7 million. Analysts see only a slight increase of 0.2% for fiscal 2015 ($286.2 million). Investors also see the company reporting a small loss per share versus the profit of $0.47 reported in fiscal 2014. Going forward, fiscal 2016 is the year that should be focused on. Analysts see earnings per share of $0.33 and revenue of $323.0 million. With its current market capitalization, shares are trading at a price to sales ratio of 0.4.
Amplify Snack Brands (NYSE:BETR) went public last year and now commands a market capitalization of $765 million. Amplify is expected to grow revenue 37% to $181.3 million in fiscal 2015 and by 27% to $231 million in fiscal 2016. So Inventure is already doing that much in revenue and trades at a much lower valuation due to several issues. If I was investing in one, it would definitely be Inventure Foods.
Go here for Part 2
Disclosure: I/we have no positions in any stocks mentioned, but may initiate a long position in SNAK, ASR, DIS, CBS, BIP over the next 72 hours.
I wrote this article myself, and it expresses my own opinions. I am not receiving compensation for it (other than from Seeking Alpha). I have no business relationship with any company whose stock is mentioned in this article.