Go here for Part 1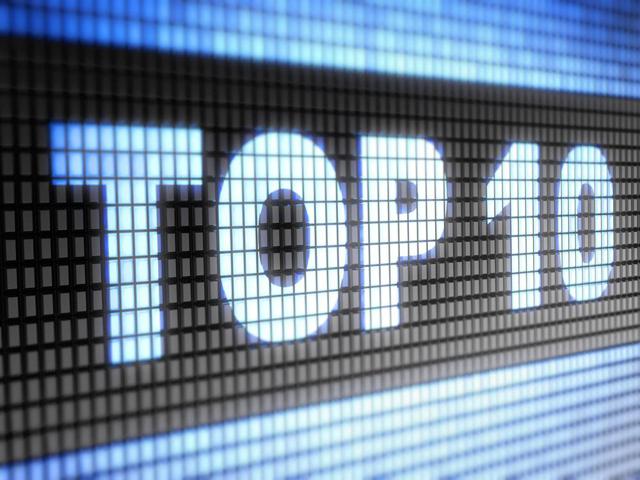 My top ten stock picks for the year is an annual tradition that began here on Seeking Alpha back in 2009. Each year I pick ten stocks that I believe will outperform the market. I try to select stocks that are familiar and unfamiliar names for investors. I will check back with updates throughout the year on these selections as well. Here are my returns from the seven years of the list:
· 2009: +99.9%
· 2010: +32.9%
· 2011: -11.3%
· 2012: +17.6%
· 2013: +41.3%
· 2014: -14.6%
· 2015: -34.6%
As you can see, 2015 was a year to forget as I produced my worst performance in this annual challenge. This also marked back to back losing years for the first time. My write-up on the reasons why the 2015 picks failed and what could be in their future will be written soon. Investing 10,000 in my ten stock picks every year and selling at the end of the year would now be worth $21,860. Despite the poor performance of 2015, my picks have averaged a gain of 18.7% annually.
IXYS Corp. (NASDAQ:IXYS)
Start Price: $12.63
52 Week Range: $10.00 to $16.75
Top Three Reasons to Buy
1. Small cap with room to grow
2. Good diversification
3. Involved in several high growth sectors
Most investors won't be familiar with this small $400 million valued company. IXYS is an undervalued technology company producing chips for some of the biggest growth markets. The company often has its name thrown out in the drone industry. While this could be an exciting growth market for the company, it will make up a small part of an overall healthy diversification across multiple growth sectors.
The sector breakdown in the second quarter for revenue nicely sums up the segments the company is in:
· Industrial/Commercial: 44%
· Communication Infrastructure: 13%
· Medial Electronics: 10%
· Consumer Products: 15%
· Transportation: 4%
· Others: 14%
From the company's investor presentation, here's some notes for the sectors:
· Communications: chips regulate high voltage electricity required
· Medical: recognized worldwide with FDA approval for MOS power in defibrillators. Also used in Xrays, MRI, CT Scans, surgical lasers, and ultrasounds
· Transportation: 20 year history in electrified transit, was a key chip supplier to GM's first electric roadster
· Consumer: used in portable electronics, LCD/LED backlight, flexible displays, digital cameras, smart phones, and GPS
The company has 14 divisions and serves more than 3500 different customers. Power semiconductors make up the majority of the company's revenue, with circuits/mixed signals and RF Power making up the rest. The company said the semiconductor market is expected to grow to $55.2 billion in 2017 from $32.4 billion in 2011.
In the second quarter, IXYS reported revenue of $80.3 million, a decline of 7%. Gross profit rose 210 basis points to 32.4%, making up for some of the fall. Earnings per share were a reported $0.16. Revenue was split geographically with 46.4% of sales in Asia/Rest of World, 24.7% North America, and 28.9% EMEA/Europe/Middle East.
The second quarter was a disappointment, as it marked the second quarter in a row where revenue targets were missed. In the first quarter, the company reported $82.1 million in revenue, a decline of 7%. The company said on the latest earnings call that it expects next quarter's revenue to be higher than the $80.3 million reported in the second quarter. The one estimate listed on Yahoo Finance for third quarter revenue is $81.0 million, so it would seem that the company will come in around that figure based on their slightly higher estimate.
IXYS is more of a gut pick then anything. The company competes in several markets, but has its name pop up when mentioning drones, electric cars, and alternative energy. All of these sectors are hot, have plenty of room for M&A, and can carry small cap stocks much higher.
Jack in the Box (NASDAQ:JACK)
Start Price: $76.71
52 Week Range: $63.94 to $99.99
Top Three Reasons to Buy:
1. May investor presentation
2. Qdoba could benefit from Chipotle troubles
3. Strong company with two great brands
I have been a fan of Jack in the Box for some time and often ponder writing an article on how the company should spin-off its Qdoba brand. However, whether or not that will happen, there are a lot of positives to like about this company.
Jack in the Box owns two quick service restaurant brands, its namesake Jack in the Box and also Qdoba. At the end of the last fiscal year, the company owned 2249 Jack in the Box stores and 661 Qdoba locations. Around 75% of the stores are franchised, with Jack in the Box leading the way with an 82% franchise ratio. Qdoba on the other hand is nearly split down the middle with 51% of stores franchised.
Growing the Qdoba brand continues to be a great opportunity for the company. With 661 stores open across 49 states, the brand clearly has a ways to go to catch up to competitor Taco Bell, which has more than 6400 U.S. stores. The company opened 39 Qdoba stores in 2014 and 38 in 2014. The plans call for opening 50 to 60 Qdoba stores in 2016, with a 50/50 split between company owned and franchised.
Qdoba has been on fire with its unit growth and also same store sales. The brand saw overall same store sales rise 9.3% in fiscal 2015, led by growth of 10.4% at franchised locations and 8.3% at company owned locations. These results were stellar considering they were up against same store sales growth north of 8% in the prior year. The company is guiding for same store sales to grow 2 to 4% in fiscal 2016 at Qdoba. This amount was one of the triggers that sent shares down after earnings. Investors are expecting much higher numbers than these and I believe they may get them.
Jack in the Box may have been overly conservative and cautious with its 2 to 4% guidance. The restaurants show no sign of slowing down and also have another trend working in their favor. Due to the issues going on at rival Chipotle Mexican Grill (food safety), new customers may be seeking out Qdoba as an alternative. Perhaps no company benefits as much from Chipotle temporarily closing stores, or losing confidence from customers, as Qdoba does.
Perhaps the biggest catalyst in years is coming to Jack in the Box Inc. in May. The company will hold an investor day for the first time in more than four years. Already announced topics that will be discussed are:
· Grow same store sales and average unit volume
· Expand both brands more quickly
· Evaluate franchise vs. company ownership
· Reduce G&A
· Optimize cost structure
I see this event being a strong catalyst for the company, as it will show off the strong numbers from the brands and also highlight a strategic growth plan going forward. The company will likely discuss new prototype models for both brands and also detailed plans on opening more Qdobas annually from the current pace. The company could also announce plans to shift more stores to the franchise model, which could benefit shareholders and also raise the dividends and share repurchases.
Franchising is strong with this company and an undervalued asset. The real estate owned by Jack in the Box is also undervalued and a major source of income that presents "annuity like cash flows" according to the company. In the last fiscal year, the company saw company restaurant revenue of $1.16 billion, franchise rental revenue of $0.23 billion and franchise royalties of $0.16 billion.
Jack in the Box began paying a dividend in 2014 at a quarterly rate of $0.20. That amount has since been raised by 50% to $0.30, offering a current yield of around 1.6%. The company will likely raise that figure again by at least 20%. The company split shares in 2007 when shares consistently traded in the high $60s, something worth watching here with shares. The company has lately become more aggressive in its share repurchases. In the last fiscal year, Jack in the Box bought $317 million worth of shares at an average price of $84.71, well above where shares trade now. The company just announced another $200 million buyback program.
Analysts see the company reporting earnings per share of $3.62 in fiscal 2016 on revenue of $1.63 billion. For fiscal 2017, analysts see earnings of $4.08 per share from revenue of $1.70 billion. Jack in the Box guided for fiscal 2016 to come in a range of $3.55 to $3.70. I see the company posting strong earnings for the first quarter in February and seeing shares slowly rise. The May investor day could send shares much higher depending on the direction the company takes. Shares were down 4% in 2015, but traded near triple digits earlier in the year.
LG Display Co. (NYSE:LPL)
Start Price: $10.44
52 Week Range: $8.20 to $18.43
Top Three Reasons to Buy
1. Apple rumors
2. Shares down 27% in 2015
3. OLED market growing, company should benefit from more deals
There's plenty of information out there on how LG Display is undervalued. I'm jumping on that bandwagon and think 2016 is the year the company breaks out. Of course a lot of this has to do with a possible extension with Apple and the continued market prevalence of OLED screens.
The newest reports say LG Display will supply OLED screens for a new Apple iPhone. This has of course been rumored for some time, but this year appears to be the one where suppliers are finally secured by Apple. OLED is said to provide better picture quality on phones, but Apple is rumored to be worried of supply constraints (with 200 million iPhones sold annually) and pricing. Reports also say Apple could provide funding to help with the investment.
In the third quarter, revenue rose 7% for LG Display, driven by strong large television sales. Televisions made up 39% of revenue in the quarter. The company said during the earnings call that it had increased OLED smartphones next year, but capacity still is very small. They also said OLED for smartphones would continue to increase in 2017.
LG Display made headlines earlier in the year when they said they would invest $8.5 billion into OLED displays for televisions, smartphones, and wearables. Through 2018, the company will continue to ramp up production and invest this money to become a leader in the market. According to DisplaySearch research, the OLED market was worth $8.7 billion in 2014 and will grow to $28.3 billion by 2022. That amazing growth should make LG Display an attractive stock for short and long term investors.
LG Display has a long term licensing deal with Universal Display (NASDAQ:OLED) through 2022. Universal Display saw its stock rise 60% in 2015. LG Display on the other hand saw its stock fall 27%. Universal Display has the upper hand with patents and the technology, but LG Display should not be left out in the dust as it was.
The risks here of course are no deal for OLEDs with Apple could see the company having a flat year. Samsung is also a competitor with OLED screens, so there is always a chance that LG doesn't get as much as expected. As an existing Apple supplier, the average sale price will need to be much higher to make a difference for LG Display going forward and help to justify all of the spending on OLED production.
Analysts see LG Display posting earnings per share of $1.37 in fiscal 2016 and revenue falling 6% to $23.1 billion. This pick is really more about an announcement coming from Apple at some point in the year and the continued discussion of the OLED market. I don't see a huge boost to revenue and earnings in 2016, but rather new deals signed to get shares back to the level they should be trading at, as an attractive technology stock in a huge growth market.
Neogen (NASDAQ:NEOG)
Start Price: $56.52
52 Week Range: $41.51 to $62.70
Top Three Reasons to Buy:
1. Benefits from Chipotle health concerns, ongoing food safety talks
2. Growing international sales
3. Steady growth and proven track record
Neogen has been on my radar for awhile, as it is a Michigan based company. The company is a leader in the food and animal safety industries. The company could just be the best $2 billion company you've never heard of. With recent food safety issues at Chipotle, Neogen could be in for a big 2016. Add in the company's focus on international expansion and several incremental acquisitions.
Started by a former Dow Chemical executive, the company competes in food and animal safety. The company has a market share of around 12% in both the intervention and diagnostic markets. Neogen sees (investor presentation) both of these markets worth more than $1 billion. Since 2000, revenue has grown at a rate of 18% for Neogen. The company's customers include Coca-Cola, Smithfield, Procter & Gamble, General Mills, Sara Lee, Nestle, ConAgra, Kraft, PetSmart, Pepsi, Nabisco, Unilever, DuPont, and McDonald's. The company's four main goals right now for growth are:
· Expanding market share
· Internally developed products
· Synergistic acquisitions
· Expanding international growth
The company reported second quarter earnings on December 21st. Revenue grew 16% to $79.6 million, setting a second quarter record. Net income grew 16% and produced earnings per share of $0.24. The food allergen segment saw revenue increase 24%, led by sales in the rapid testing and sanitation markets. One area to watch for the future is the company's general sanitation line, which was up 25% in the quarter. The AccuPoint monitoring system was introduced recently and helped boost quarterly sales. AccuPoint Samplers (the razorblade in this model or disposable component) saw sales up 25% in the quarter.
The recent food borne illness outbreaks at Chipotle Mexican Grill should once again put food safety back into the spotlight. Neogen benefits from this as they provide the equipment to test for many of the most common illnesses. Sales of Listeria test kits were up 27% in the second quarter. The company also provided its answer to the E. Coli illness with the 0157:H7 test kits. This device already got an important third party approval from the AOAC Research Institute, one of the food safety governing bodies.
The company also discussed the Food Safety Modernization Act again. The FMSA was passed back in 2011, but recently got some updates in November. From the site is this:
· FDA today released groundbreaking final rules that will help produce farmers and food importers take steps to prevent food safety problems before they occur. The agency also released a Final Environmental Impact Statement on the rule's provisions.
Neogen reminded investors this was the biggest reform to food safety law in the United States in 70 years and continues to see updates. All of this benefits Neogen as they have proven tools to help suppliers test their food before it is shipped out. In the last 90 days (as of December 21), there were 78 food recalls in the United States. For the year to date period, that figure was 248. Neogen also said it was working with organic food suppliers to work on better testing methods for them as well.
If you're not familiar with the company, you might be surprised by some of the figures thrown out during the second quarter earnings call. The second quarter was the company's 100th quarter in public traded history. Of those 100 quarters, an amazing 95 of them have seen revenue increases from the prior year. All of the quarters in the last 10 years have seen revenue increases. Neogen has also been profitable each of the past 88 quarters.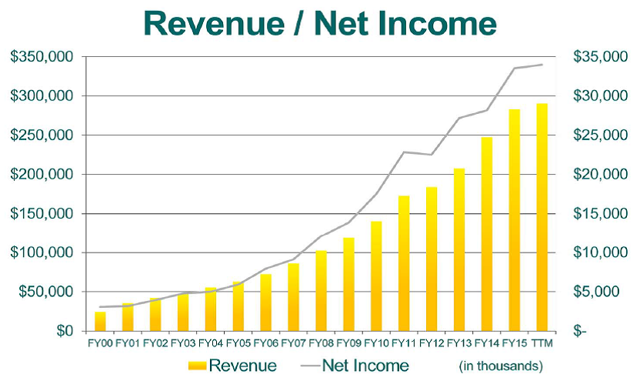 (Image Credit: Investor Presentation)
On December 23rd, Neogen announced it had purchased the rodenticide business from Virbac. This deal includes a key rodenticide ingredient. That likely will have an impact on Neogen's existing products. The assets acquired also include a large retail and OEM customer base, which will of course help Neogen's existing business. The rodenticide business is of particular note, as second quarter sales were up 69% in the second quarter and up 54% through the first six months.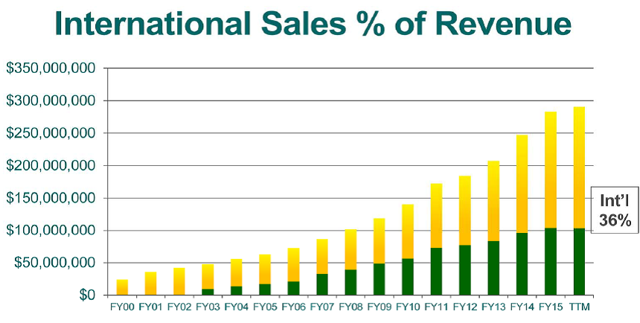 (Image Credit: Investor Presentation)
International sales continue to climb for Neogen, providing another source of optimism for investors. In the second quarter, international sales were $28.7 million, or 36% of the quarterly total. Year to date, international sales are 34% of total revenue. The company's Mexican subsidiary Neogen Latinoamerica, which also includes seven other countries, had revenue increase 28% in the second quarter. The results are even more staggering when the currency impact is stripped out, representing growth of 58% in the quarter. The company has 123 distributors across 110 countries. Neogen sells direct to market in the United Kingdom, Germany, France, Netherlands, Brazil, and the Aforementioned Latin American region.
Since the year 2000, Neogen has made more than 30 acquisitions. Spending $162 million on those acquisitions has given Neogen current annual sales worth $127.5 million. The recent acquisitions have centered around international sales. In 2014, the company made two deals in China. In 2015, the company made acquisitions in England and India. These deals should further international revenue growth in fiscal 2016.
Ventas Inc. (NYSE:VTR)
Start Price: $56.43
52 Week Range: $49.31 to $71.46
Top Three Reasons to Buy
1. Dividend yield
2. Strong portfolio
3. Shares beaten down
Ventas Inc. is a top healthcare REIT owning properties across several healthcare segments. The current break down from the November presentation was:
· 31% hospitals
· 39% outpatient
· 15% senior housing
· 10% post-acute facilities
· 5% life sciences
One of the keys to this investment idea is the notion the company has about being in the "early innings". Only 12 to 15% of healthcare properties are currently owned by REITS. Compared to retail and other segments, that is an extremely low percentage. Ventas has an opportunity to continue to invest money back in the business by acquiring strong assets.
The population shift and increasing number of baby boomers made healthcare and particularly senior living a hot investment idea years ago. I think Ventas is well positioned here with its exposure to senior housing, but also hospitals and outpatient facilities, frequented by this growing population subset.
The company completed its spinoff of Core Capital Properties earlier in the year. Core Capital Properties was made up of the company's skilled nursing assets. That new company actually has a higher dividend yield than its former parent, but has less diversification. I would urge investors to look the way of Ventas. The dividend yield at Ventas is around 5% and could rise in 2016.
The company may have said it best on the third quarter earnings call with, "Ventas is now a better, stronger and faster growing company, well positioned to deliver sustained excellence." With the spin-off done and other acquisitions complete, 2016 is shaping up nicely for this REIT company.
Disclosure: I/we have no positions in any stocks mentioned, but may initiate a long position in IXYS, JACK, NEOG, VTR, LPL over the next 72 hours.
I wrote this article myself, and it expresses my own opinions. I am not receiving compensation for it (other than from Seeking Alpha). I have no business relationship with any company whose stock is mentioned in this article.