Master limited partnerships have had immense appeal to retail investors and even institutional investors, albeit to a lesser extent. Several legendary investors, such as Leon Cooperman of Omega Advisors' interest in Linn Energy (LINE), invested heavily in the space and repeatedly told the public they "had done their homework" and understood these firms very well.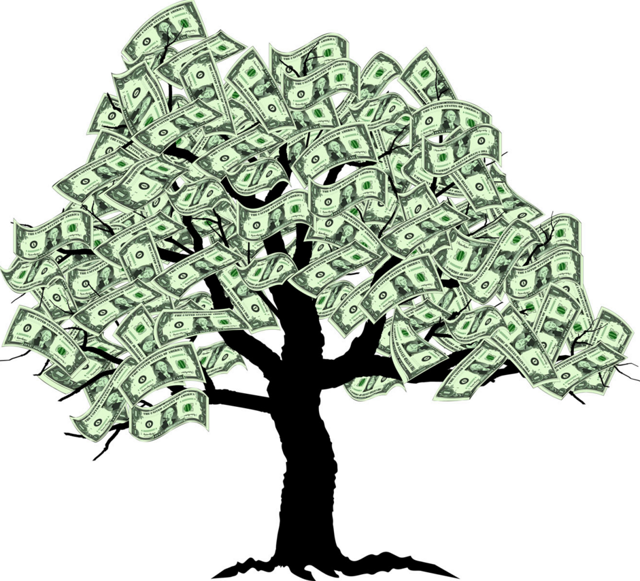 Source: Pandaimages.
The Setup
What's not to like about these money trees? These companies paid distributions 800 to 1200 basis points above treasuries like clockwork. Sure, they had commodity exposure but they hedged the majority of their production, and therefore that risk, several years out. This should buy them plenty of time to cut costs, adjust strategy, and ride out a depressed commodity environment. Outside of the great recession of 2008/2009, strong global growth and the coinciding steady increase in aggregate crude oil and natural gas demand has kept prices well above exploration and lifting costs. Oil and gas firms made huge profits since the great recession and worries of a sustained downturn were brushed aside given how quickly crude recovered from the supposedly once in a lifetime great recession.
It took less than one year for crude prices to normalize despite global GDP contracting sharper than any other time outside of the Great Depression. That was sufficient evidence for most that any major move down in crude oil would be temporary even if it did not necessarily remain above $100/bbl.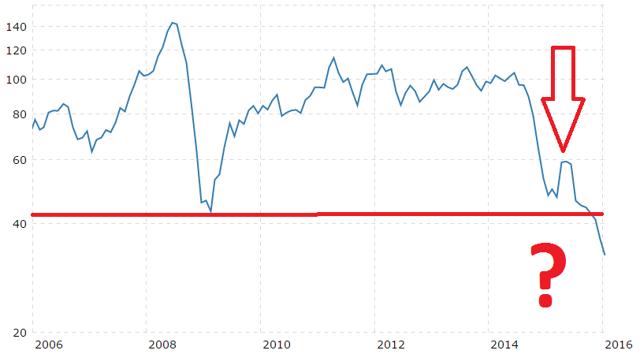 Source: Macrotrends.net.
Seemed reasonable at the time, didn't it?
The Reality
Things did not exactly pan out that way, however, thanks to the optimization of hydraulic fracturing and lateral drilling combined with realizing the full potential of geological formations such as the Eagle Ford shale. The substantial and largely unexpected increase in U.S. crude oil production, primarily due to the enhanced development of the Eagle Ford shale, Bakken shale, and Permian Basin, was the primary cause of the 1.5-3 million barrel per day over supply globally which was further augmented by OPEC's unwillingness to stick to their 30 million per barrel day quota, much less cut production. We are now witnessing crude at decade lows and a very flat futures curve well into the 2020's. The pessimism regarding future oil prices cannot get any worse.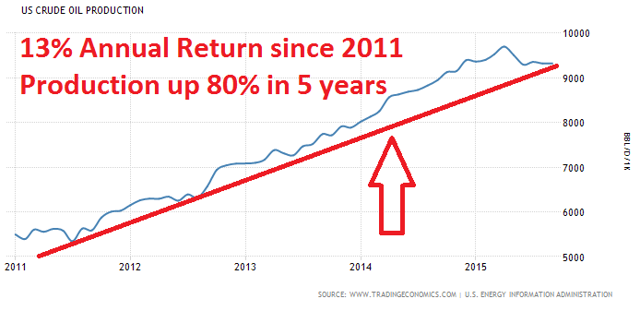 Starting in 2011 natural gas faced and to a large degree is still burdened by an oversupplied market in the U.S. due to game changing production levels in the Marcellus shale.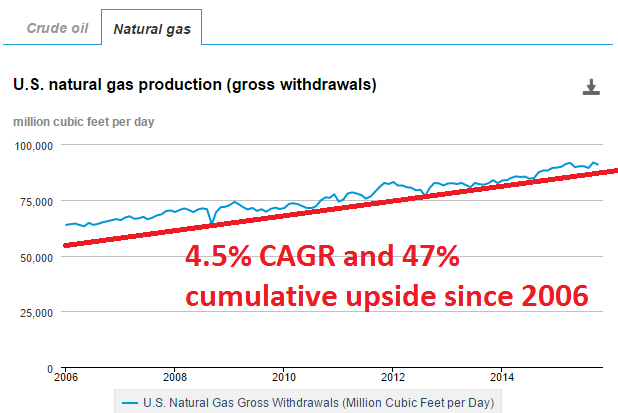 Source: EIA.gov
As a result, natural gas prices at Henry Hub are now at 15 year lows and futures prices aren't much better.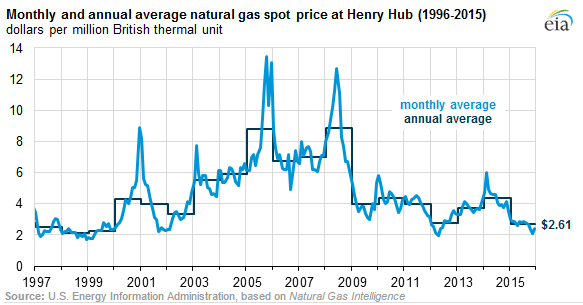 The huge inventory of cost effective wells in the Marcellus and Utica shale essentially guarantees low natural gas prices for several years even if export facilities live up to their expectations.
How have the upstream and midstream MLPs held up given most have solid hedges at least through 2016 and some with price protection through 2019? We'll review the upstream segment in Part I and midstream in Part II.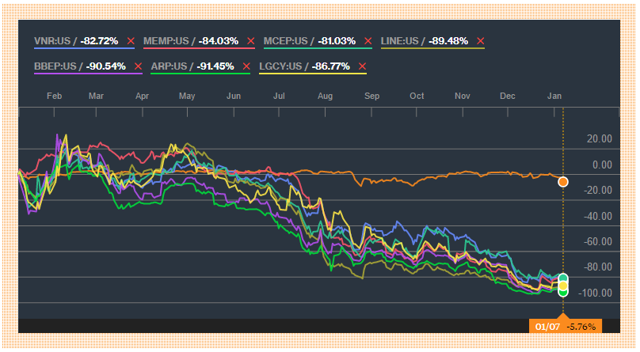 Source: Bloomberg.
The S&P 500 finished the year about flat, but Vanguard Natural Resources (NYSE:VNR), Memorial Production Partners (NASDAQ:MEMP), Mid-Con Energy Partners (NASDAQ:MCEP), Linn Energy (LNCO), Breitburn Energy Partners (BBEP), Atlas Resource Partners (NYSE:ARP), and Legacy Reserves (NASDAQ:LGCY) all have something in common. No matter their hedges, liquidity, margins, cost controls, or balance sheet, they are all down 90-98% in the last year.
Memorial Production Partners, thanks to its extremely strong hedge book, and Vanguard Natural Resources, due to its arguably best in class operating efficiency, were the last to capitulate but like the others their debt now trades well below 50 cents on the dollar and their equity is in the low single digits.
So What Went Wrong And How Do We Fix It?
As an asset class, the management of upstream MLPs made several mistakes. I am not here to criticize management as hindsight is 20/20 and I fully appreciate the fact that the quality of a decision is not based on the quality of the outcome (graduate school work in decision analysis and applied probability shining through). I myself lost plenty of money in the downturn. That being said, we can still learn from their miscalculations which become our mistakes as investors in the companies they manage. These are the attributes we need to look for going forward.
Debt loads have to be manageable even if commodity prices are low. This can be achieved through smart and conservative balance sheet management (low current liabilities relative to current assets and for one) or by ensuring hedges will generate sufficient cash flows to support interest and debt refinancing even under dire conditions. One big difference between 2009 and now is that the sector is much more levered; the margin of error becomes smaller and smaller as commodity prices remain low.
Distributions simply cannot be fixed and should not give the impression of being fixed. The illusion of steady cash flows in such a volatile environment is dangerous and does not do investors or management any favors. I could literally spend hours going through conference call transcripts since fourth quarter 2014 of MLP CFOs and CEOs saying how distributions would not be reduced. Here is one of my "favorites" from Scott Smith, CEO of Vanguard Natural Resources, from the Q2 2015 call:
Let me turn to a topic that I expect is very important to our equity investor base. At today's strip pricing and the expectation of closing both the LRR Energy and the Eagle Rock mergers, we believe that our current annual common distribution of $1.41 per unit is covered in both 2015 and 2016 and no reduction to the distribution is necessary or contemplated. Let me repeat myself as we are being very clear about this point. We do not believe a common unit distribution reduction is necessary or contemplated at least through 2016 at current strip pricing and assuming that the mergers are completed. I don't think I can be any clear on that topic.
I am not picking on Scott and appreciate his frankness and willingness to discuss a difficult topic openly. I own some Vanguard preferred if that is not evidence enough. VNR is not alone here; most firms way over promised. This was irresponsible and unrealistic because cash flows ultimately depend on the realized prices of oil, natural gas, and natural gas liquids which will always fluctuate. People will be quick to mention hedges. As someone with exposure to the best hedged MLP in the business, MEMP, I can assure you strong hedges provide limited protection at best.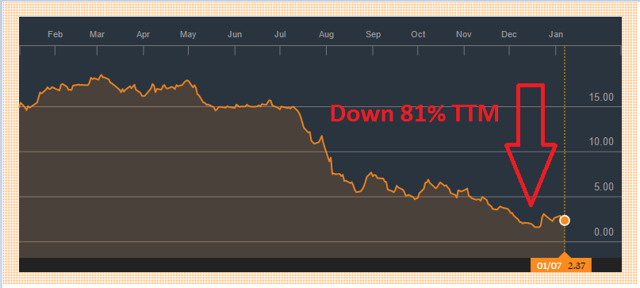 The hard truth is that it becomes increasingly difficult to hedge cost effectively the farther you go out on the futures curve. More than four to five years out on the curve and liquidity dries up. In addition, while there will be times when MLPs can hedge out several years well above their all in costs, this is not the magical solution many take it to be - all these prices are market prices. Eventually firms cannot hedge at such favorable prices and the market is forward looking. It has and always will punish firms severely if they will have trouble managing interest expense and debt maturities in two to three years' time.
Instead of pretending that revenues are not based on highly variable cash flows, MLPs in general and the upstream variant in particular should set a policy of payouts as a percentage of distributable cash flow ("DCF"). Admittedly, there are not a huge number of firms with this policy because it makes some investors nervous - the kind that like to pretend that distributions/dividends are not from cash flows.
One of my favorite companies follows this policy - Sturm Ruger & Co (NYSE:RGR). The CEO is a bit unorthodox (and blunt from time to time) but he ensures the firm maintains low debt levels and pays responsible distributions based on the firm's cash flows.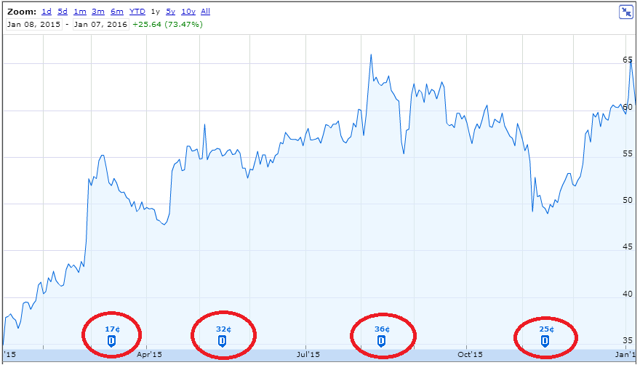 It is a tough pill to swallow for income investors, but Ruger knows gun sales fluctuate and maintaining a distribution based on the good years throughout market cycles will hurt the firm long-term.
The resistance of MLP management to adjust distributions to cash flows resulted in them holding on to hope for too long and sacrificing their balance sheet.
3. Have Skin In The Game When It Counts
One inaction by management has been particularly noticeable - a lack of insider buying in many MLPs. Let's let the numbers do the talking. Group 2 are what I consider the stronger names in terms of survivability. This partly opinion so do not panic if you own a firm within the other division. Group 1 are those with greater uncertainty and in general have suffered larger losses in the value of their equity and debt. All data is from S-4's filed with the SEC and aggregated via the Nasdaq.
Group 1
Linn Energy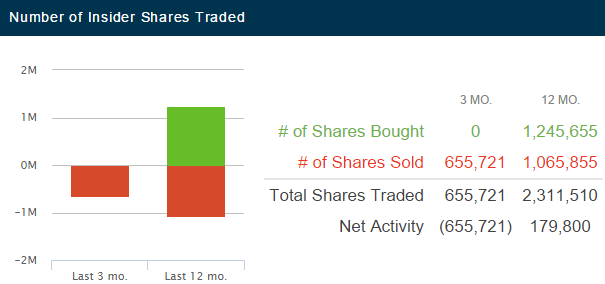 Breitburn Energy Partners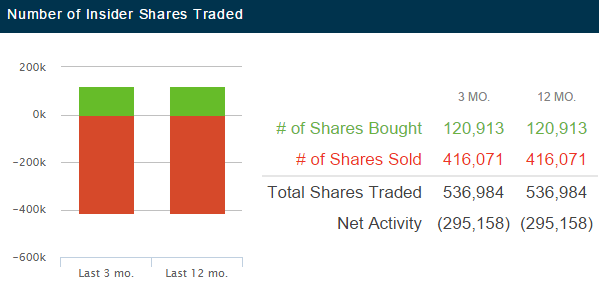 Atlas Resource Partners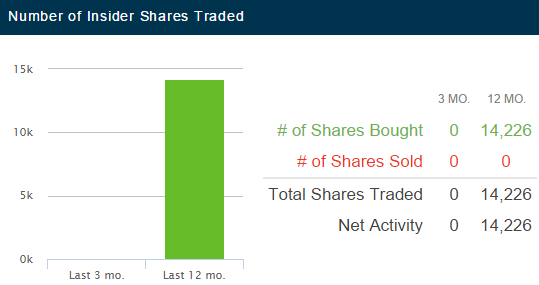 Summary of Group 2
Breitburn saw the heaviest selling relative to insider buys with several hundred thousand shares net sold with all of it being in the past three months. That's a meaningful amount of shares to be dumping when your stock has declined from $20 to less than $1. Linn Energy has also seen zero buys and 655,000 shares sold in the last three months. Atlas Resource Partners, to its credit, has refrained from selling any shares in the last twelve months. The insider buys, however, probably add up to one well optioned Acura - not overly confidence inspiring.
Group 1
EV Energy Partners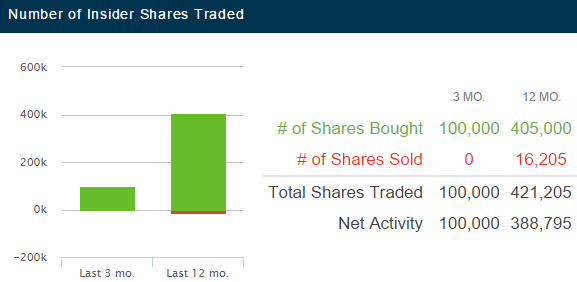 Memorial Production Partners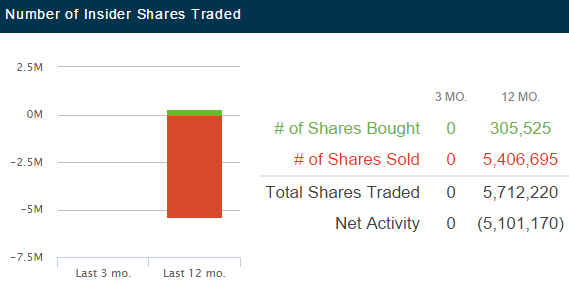 Vanguard Natural Resources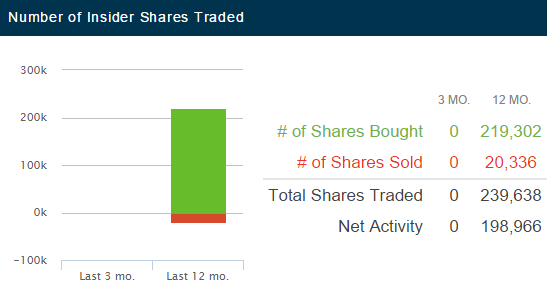 Legacy Reserves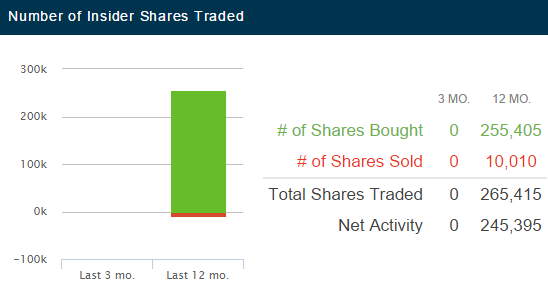 Mid-Con Production Partners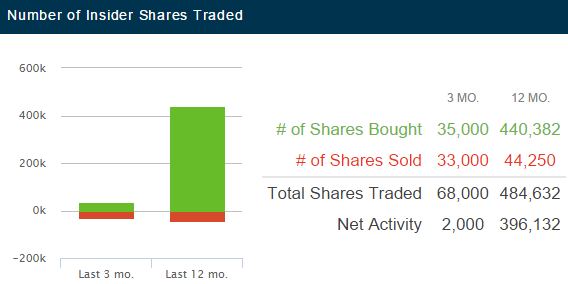 Summary of Group 2
Outside of Memorial Production Partners, which was a big net seller to the tune of 5 million shares, all the other firms were substantial net buyers of shares. Let's take a closer look at MEMP's transactions.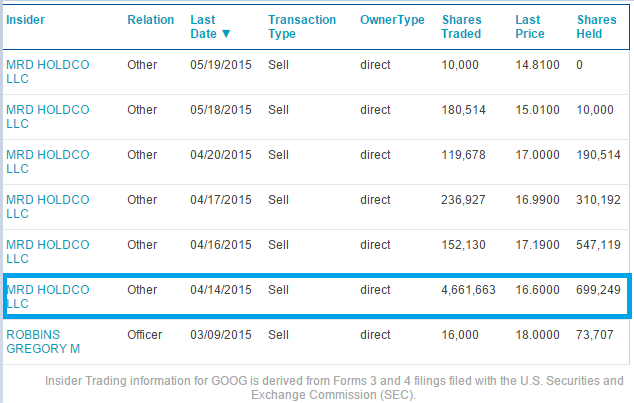 Over 90% of shares sold were in one transaction back in April by MRD HoldCo LLC also known as Memorial Resource Development Corp. More information can be found on this firm here via the SEC. I did the preliminary work for you:
We own a 0.1% general partner interest in MEMP through our ownership of its general partner as well as 50% of MEMP's incentive distribution rights. MEMP's objective as a master limited partnership is to generate stable cash flows, allowing it to make quarterly distributions to its limited partners and, over time, to increase those quarterly distributions. As a result of its familiarity with our management team and our asset base and our track record of prior "drop-down"transactions, we believe that MEMP is a natural purchaser of properties from us that meet its acquisition criteria.
It is worth noting that MRD HoldCo, rather than the CEO or other executives, is selling MEMP shares. The ownership structure is complex but those are the basics with the rest available through the above link.
Conclusion
What have we learned? Real cash flows are all that matters. Financial engineering, no matter how clever, cannot change this. Hedges are a temporary solution to unfavorable commodity prices because A) costless swaps are the only sustainable way to hedge and are always based on market prices and B) liquidity for crude oil and natural gas derivatives only go out so many years into the future. The firms that are closest to following the above parameters will have the best chance at making it through to the other side of this downturn. Watch closely for management teams that begin re-working their operations and balance sheets toward these guidelines. Legacy Reserves and Mid-Con Energy Partners are the closest at the moment.
Thank you for reading, and as always, please follow me if you'd like to read similar analysis in the future. I strive to reply promptly to all private messages from followers.
Disclosure: I am/we are long MCEP, MEMP, GST-A, LNCO, WPC, VTR, HCP, HTA, DOC, VNRBP, MAIN, BXMT, RY, BNS.
I wrote this article myself, and it expresses my own opinions. I am not receiving compensation for it (other than from Seeking Alpha). I have no business relationship with any company whose stock is mentioned in this article.
Additional disclosure: The author may enter into long or short positions in any part of the capital structure of any of the firms mentioned in this article. Readers should always conduct their own independent due diligence and not rely upon information or opinions provided by the author.
Editor's Note: This article covers one or more stocks trading at less than $1 per share and/or with less than a $100 million market cap. Please be aware of the risks associated with these stocks.