Walter Investment Management Corporation (WAC) — henceforth referred to as "WAC," "Walter," or "the company" — represents a highly attractive investment opportunity for long-term fundamental value investors. Walter's main business is the capital intensive mortgage servicing business which is currently in the midst of a dramatic transformation to a capital light model. Management has made substantial progress this year in capitalizing a REIT entity (Walter Capital Opportunity Corporation, or WCO) which will allow the company to unencumber its balance sheet through asset sales and a rapid deleveraging. Its other businesses include an originations and reverse mortgage insurance business, as well as other non-core ones that it is currently in the process of monetizing. After the transformation, Walter will be left with asset-light fee, incentive, and margin-based revenues. It will generate substantial capital for the purpose of de-leveraging and reducing its share count, which will be accretive to EPS (even as overall earnings shrink). I think investors can make over four times their money under very conservative assumptions, provided they have a decently long-term horizon.
Walter's History and Evolution

To begin the discussion, I will describe the current business and how it has developed over the years. Since coming public in 2009, WAC has significantly altered its portfolio of assets through a series of acquisitions. The following chart shows the timeline of major acquisition milestones, and the evolution of Walter's business.
Source: Oppenheimer.
WAC began its operations as the financing business of Walter Energy, where it originated and purchased residential loans and serviced these loans to maturity. In 2009, this business was spun off and became Walter Investment Management, which consisted of Walter Mortgage Company and two insurance subsidiaries. Immediately following the spin-off, the company determined that its most efficient capital strategy would be to operate as a REIT, thereby exempting it from U.S. federal income tax. In order to do this, it merged with an existing REIT, Hanover Capital Mortgage Holdings. As these events coincided strongly with the financial crisis, the company found itself in a period of prolonged low yields and in need of reliable income (not based on interest rate spreads). The company identified an opportunity in the servicing space. It thus began to expand the business into servicing credit-challenged accounts through a differentiated high-touch approach.
The company initiated this form of servicing in 2010 with the acquisition of Marix Servicing. Marix brought Walter access to a nationwide servicing platform, including default management, borrower outreach, loss mitigation, and liquidation strategies. It also provided WAC with relationships to Fannie Mae and Freddie Mac. This acquisition served as the platform for building the company's servicing operations. The growth in this business continued with the transformational Green Tree acquisition in 2011. To put the two acquisitions into context, Marix added roughly $1.3B in servicing assets to the platform. The Green Tree acquisition was more significant, adding approximately $56B in servicing assets, an asset recovery business, a residual loan segment, and additional insurance offerings. Because the Green Tree acquisition was so transformative, WAC no longer qualified as a REIT, and consequently filed to become a C-corporation. Through these two acquisitions, the company went from being primarily an asset owner to a provider of specialty mortgage servicing and generating recurring fee-based services for credit-sensitive consumer loans in diverse asset classes.
With a scalable servicing platform in hand, the company continued to take advantage of the secular opportunity by acquiring mortgage servicing rights (MSRs), origination platforms and entering the reverse mortgage sector. A mortgage servicing right is the contractual right of a mortgage servicer to service a loan, primarily via payment collection and processing, and receive a fee in return. MSRs are capitalized on the balance sheet as the present value of the expected future fee streams. Key determinants of the value of an MSR are future rates. As rates rise, borrowers are less likely to refinance and pay off the loan, increasing the value of the MSR, and vice versa. If a borrower goes into default, it is the servicer's responsibility to try and remediate the situation, through outreach, refinancing, modifications, or ultimately foreclosure, and to limit the losses for the owner of the underlying credit. The mortgage servicer does not have meaningful capital at risk in a mortgage default scenario and typically generates additional fees for default services (servicers fund advances when borrowers are delinquent on their payments, but are treated as senior lenders under a foreclosure scenario, so default risk is negligible). In 2012, WAC and OCN entered into a joint bidding arrangement on the MSRs and loan originations and capital market platforms of ResCap. In addition, it acquired Reverse Mortgage Solutions, to provide various services to a new reverse mortgage sector. Finally, it acquired all the outstanding shares of Security One Lending, which has a long-term relationship with RMS.
The Company's Various Areas of Operation
Servicing: the servicing segment is the core of the business at WAC. While the originations business has produced more adjusted EBITDA at times, it tends to be a volatile, unpredictable, and generally low-multiple one. The servicing segment is responsible for driving the majority of the stable earnings growth. It currently services roughly $245B of unpaid principal balance (UPB) and has a pipeline of potential acquisitions worth considerably more. The shift toward a servicing-based company began in 2011 with the aforementioned Green Tree acquisition. This core servicing platform has become the backbone of the company. Today the forward mortgage UPB stands at roughly $250B, and Walter ranks as the eighth largest servicer, and third largest non-bank servicer in the nation, according to Inside Mortgage Finance.
Servicing credit-sensitive mortgages is a fundamentally strong business with considerable barriers to entry and capital requirements. Recurring, high-margin, fee based revenues are a defining characteristic of this business. There exists a need for substantial scale, so as to match high compliance costs (among other fixed costs) over a larger asset base. Because of the need for achieving scale, incumbents enjoy substantial barriers to entry. Non-bank servicers also benefit from a secular growth story, as the larger financial institutions (Bank of America, Wells Fargo, and JP Morgan) view this as a non-core business from which to slowly exit. This will allow incumbent non-bank servicers to gain substantial share.
See the graph below to see how explosively the servicing portfolios of the nonbank servicers have grown in the past few years (note that Green Tree is Walter's largest servicing subsidiary).

Source: Fitch
This level of growth has allowed non-bank servicers to increase their market shares relative to the major banks. Non-agency servicing is now almost completely dominated by non-bank institutions.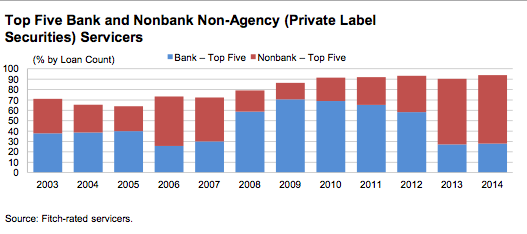 Source: Fitch
In spite of this, however, the servicing business suffers from a valuation misconception. It is perceived as a highly capital intensive business, and the financial treatment for it is highly complex. As MSRs are held on balance sheet, they are subject to mark-to-market accounting. This generally distorts GAAP results substantially and has given investors considerable uncertainty over WAC's true economics. However, it is important to recognize that generally speaking, servicing revenue has been stable and growing. In fact, it is volatility created by its accounting treatment and in the rest of the company's portfolio of assets that has created fear regarding Walter's business model. Fortunately, Walter is undergoing a series of transformational events to reveal the value of this business, as well as addressing the capital intensity fears by shifting to a capital light business model. These will be discussed subsequently.
Origination: In the first quarter of 2013, WAC closed on the ResCap transaction. This was a joint bid with Ocwen Financial for the mortgage servicing assets and the originations platform. The company paid $550M for $44B in FNM servicing rights and also received ResCap's originations platform. At the time of acquisition, sell-side analysts and management have touted the originations platform as a key component to the secular growth story of non-bank mortgage servicing. Given the volatility and outsize exposure to the Home Affordable Refinance Program (HARP), which was set to expire in 2015, but has now been extended through 2016, the market does not see this business as particularly valuable. Sell-side analysts in recent reports view this as a low-multiple business in their SOTP valuations. That being said, the originations platform is a top 20 mortgage originator and has sufficient scale and experience to be a leading subprime mortgage originator, should the market for those ever experience a resurgence. As such, while the servicing business and its associated catalysts will be the principal drivers of value at Walter, originations may be a source of value creation in the future (that investors at current prices are receiving for free). Moreover, this is a capital light business and should also benefit from rising profitability as interest rates improve.
Other: WAC also possesses a reverse mortgage (a type of mortgage in which the borrower can convert their home equity into cash) origination business. The reverse mortgage segment represents the late 2012 acquisitions of RMS and Security One Lending and includes both the origination and servicing operations. While the financial impact is relatively small when compared to the servicing and originations contributions, the longer term opportunity may prove valuable to shareholders. WAC is highly ranked in retailed reverse mortgage originations, and RMS is an industry leader in HECM (Home Equity Conversion Mortgage, an alternative term for reverse mortgage) securitization issuance. As a result, WAC has a strong platform to originate and the avenue to securitize the originations, so this is also a capital-light business. In addition, an appealing characteristic for these operations are that the servicing asset actually grows over time vs the forward asset, which shrinks.
The company has other non-core assets, which are in the process of being monetized: the insurance business scheduled for a sale in the near future.
Catalysts to Transform WAC into Capital-Light Business
Walter is in the midst of a major transformation from a capital-intensive servicer to a capital-light sub-servicer. While the shift to servicing created significant shareholder value and allowed the company to gain the scale required to be an effective competitor in the space, its accounting treatment and capital requirements have depressed valuation. Walter has decided to mark a strategic shift towards sub-servicing, and transferring its MSRs to a separate entity. This entity is Walter Capital Opportunity Corp (WCO), a privately capitalized REIT. Its purpose is to use its own capital to hold WAC's MSR assets, and to then hire WAC as a sub-servicer. This will accomplish two very substantial objectives. For one, WAC will de-lever substantially, dramatically shrink its Enterprise Value, and transfer its capital-intensive business to WCO. Secondly, it can then generate sub-servicing revenues on WCO's portfolio in an asset-light manner, reduce volatility (primarily due to lack of mark-to-market accounting treatment), and command a greater multiple in the stock market. While the sub-servicing fee is naturally lower than the full servicing fee, the lack of capital means it is a fundamentally higher ROE business, akin to an asset manager. Hence, multiple expansion is very likely, particularly since WAC trades for 6X 2015E earnings.
This is revolutionary for WAC's business model. Whereas its previous servicing model relied on owning large amounts of MSR on its balance sheet, financed by leverage, it may now transfer them to a low cost-of-capital entity, WCO. This will allow substantial free cash flow generation, as the need to reinvest in additional MSRs is borne by WCO. Furthermore, it also removes the volatility associated with mark-to-market accounting, and allow for simplified financial presentation. This will shift the perception around WAC-currently seen as a low ROE stock valued on a multiple of book value-to a high ROE, asset-light company generating growing fee revenue. This also makes financial and operational sense for both WAC and WCO. The shift towards non-bank servicing was an inevitable consequence, given that this is a non-core operation for most large banks. However, non-banks servicers are generally not as well capitalized as banks and have a higher cost of capital. The shift towards a lower cost of capital entity is beneficial for both parties, and will allow Walter to utilize its expertise in sub-servicing, while WCO uses its tax-advantaged, low cost of capital status to be a more effective MSR buyer.
Baker Street Capital, which currently has a board seat at Walter, released a presentation earlier in the year to discuss the impending transformation. Please see the chart from their presentation below for a representation of what this transformation will entail.
Source: Baker Street Capital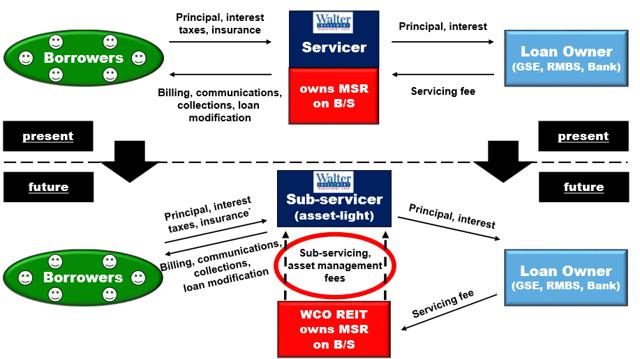 It should be said that this is not a riskless endeavor. Walter's transformation into a sub-servicer will meet regulatory and financing-related hurdles. Based on management commentary, the regulatory impact should not be a particularly significant hindrance to this strategic shift. After all, this amounts to nothing more than an asset transfer. Even still, one must take into account possible regulatory issues, as this industry can be highly uncertain with regards to regulation (as shareholders of Ocwen have discovered). WCO's ability to generate the capital needed to acquire MSRs is the principal obstacle to this transformation. It began with $220 million in private capital, but can likely tap the debt markets and potentially even the public equity markets to finance the acquisition of Walter's MSRs. WAC management and large shareholder Baker Street Capital have hinted towards a potential IPO of WCO, so the feasibility of a capital raise should not be a significant concern. Any kind of reliance on capital markets is indeed a risk, but WCO's low-cost of capital status should allow it to raise sufficient capital in a cost-effective manner. As such, this deleveraging can be accretive to both the involved parties.
This year, a number of developments have already occurred that highlight the progress in this strategic shift for Walter. In the second quarter, WAC contributed Marix (the aforementioned specialty servicer) to WCO. On August 27th, the company announced that Marix had received GSE approval to hold $3.3B in MSRs, and had retained Green Tree as a sub-servicer. In the third quarter, WAC successfully sold $70M worth of MSRs and excess servicing spread (which are excess mortgage cash flows attributable to the servicer after creditors have received their coupons) to WCO and is scheduled to transfer $60M more in Q4. These are large cash balances for a company of a market capitalization less than $570M. While the priority currently is to de-lever, it would not be unexpected to see repurchases, especially if WCO can build its capital base rapidly (and MSRs can be transferred rapidly from WAC). Repurchases this early in the transformation, and at these price levels, would be extremely accretive going forward. In addition to de-leveraging through MSRs sales, WAC is also in the progress of monetizing other non-core assets (see graph below), which have currently generated $240M, net of a term loan pay-down. An additional $60M is expected, net of commitments required by its restricted payments covenant. It is currently unknown how the company will allocate this, but at this stage, one should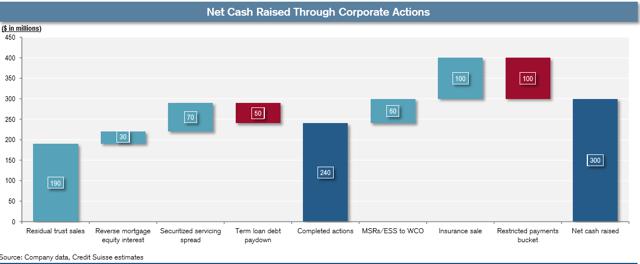 assume that management will prioritize debt pay-downs.
Source: Credit Suisse
Valuation
This valuation assumes an eventual complete transfer of MSRs to WCO, de-leveraging, and share repurchases from the excess capital generated from the company's various sources of cash. See the following for the company's current and pro-forma Enterprise Value.
| | |
| --- | --- |
| | Value ($M) |
| Market Cap | 536 |
| Net Debt (book value) | 2166 |
| Enterprise Value | 2702 |
| | |
| Sources of Cash | |
| MSRs (book) | 1639 |
| Servicer Advances | 320 |
| Non-core asset sales | 300 |
| Total Cash Generated | 2259 |
| | |
| Pro-forma EV | 443 |
With a combination of MSR sales, equity in advance sales, and non-core asset monetization, Walter can generate over $2.2B in cash, allowing it to de-lever completely and have cash left-over for repurchases. Once the asset-light change is fully implemented, it is likely that Walter will maintain some degree of leverage (which its capital-light business model will be able to sustain easily), and use its excess capital to repurchase shares. This analysis is conservative for two reasons. One is that it does not factor in any cash flow generated from operations. While it does make sense to assume some of this will be directed towards the de-levering process, there is too much uncertainty with how it will be allocated. The company may decide to continue to purchase and own some MSRs as this process gradually unfolds, so I do not want to speculate on how operating cash flows will be allocated. This analysis is also conservative in that it assumes debt reduction at par. Market values for the company's debt are currently below par, however. Thus, if the company is efficient in its asset monetization, it can retire its debt in a manner which will be accretive to the company's overall pro-forma EV. See graph below for the company's debt price trends. Note that these numbers do not account for the non-recourse assets and loans currently held on WAC's balance sheet (as part of the originations and reverse mortgage business), as these are irrelevant for shareholders (included solely for GAAP reasons).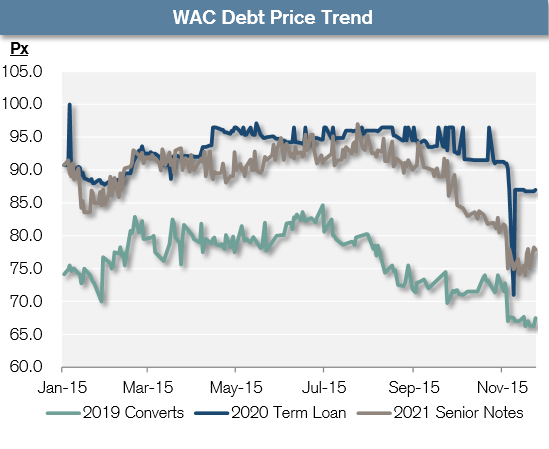 Source: Credit Suisse
After looking at Enterprise Value, one can consider what the pro-forma earnings will be under a capital-light business model. Note that this is dependent on what WCO's ultimate UPB will be and what WAC will ultimately sub-service. I will analyze a scenario in which WAC sub-services $245B worth of UPB (this assumes its entire current servicing UPB will be transferred to WCO) in addition to $47B of its own legacy sub-servicing UPB, for a total of $297B. This conservatively assumes no third-party MSRs will be acquired by WCO for WAC to sub-service. However, it is highly probable that external MSRs will provide additional revenue sources for Walter to sub-service. Historically, the company has managed 4 bps (0.04%) of UPB in EBITDA on its sub-servicing, yielding pro-forma EBITDA of $119M. This relates to roughly 14bps of EBITDA for the regular servicing business. See the following:
| | |
| --- | --- |
| | Value ($B) |
| Sub-servicing UPB ($B) | 297 |
| EBITDA Margins (% UPB) | 0.04% |
| Pro-forma EBITDA ($M) | 119 |
What about the rest of their businesses? The company will still have an originations and reverse mortgage business after the capital light transition is realized. The company is guiding towards $24B in originations for 2015-$17B in correspondent and $7B in consumer. My model assumes a no-growth scenario (no upside from the aforementioned subprime mortgage originations), as well as a haircut to the gain on sale margins the company is currently realizing.
| | |
| --- | --- |
| Consumer Origination ($B) | 7 |
| Margin | 1.8% |
| Correspondent Originations ($B) | 17 |
| Margin | 0.35% |
| Total Origination Revenue ($M) | 185.5 |
| SG&A ($M) | 70 |
| Total Origination EBITDA ($M) | 115.5 |
Reverse mortgages are expected to realize roughly $15M in EBITDA, bringing total pro-forma EBITDA (assuming 0% growth for reverse mortgages as well) to $249.5M. This implies roughly 1.77X pro-forma EV/EBITDA, following a shift towards sub-servicing! This also gives no consideration to the company's cost-cutting efforts, which are expected to realize over $40M of savings by the end of 2016. The stock is even more undervalued on an EPS basis as the company will almost certainly be using its excess capital to repurchase shares. If Walter uses pro-forma leverage of 3X EBITDA, it can cut shares outstanding to nearly one third! See the following:
| | |
| --- | --- |
| | Value ($M) |
| Pro-forma Net Debt | 748.5 |
| Current Net Debt | 2166 |
| Cash Generated from Asset Sales | 2259 |
| Cash Used to De-lever | 1417.5 |
| Cash Remaining | 841.5 |
| | |
| Shares Repurchased at $40/Share (NYSE:M) | 21.04 |
| Pro-forma Shares Outstanding | 16.76 |
Assuming an average repurchase amount of $40, the company can reduce shares outstanding by nearly 64%! The $40/share average repurchase price is an arbitrary amount, but it is significantly greater than the current price, and the company will be able to make a tender offer. In the worst case, $40/share can be released as a special dividend.
| | |
| --- | --- |
| | Value ($M, except per share) |
| EBITDA | 249.5 |
| Corporate D&A | 25 |
| Interest Expense | 66.3 |
| Tax Rate | 38% |
| Net Income | 98.08 |
| EPS | 5.85 |
Assuming historical corporate D&A, the current weighted average interest expense, and the historical 38% tax rate, the company can generate 5.85 in EPS. This means WAC currently trades for less than 3X pro-forma earnings! A modest multiple of 12X (capital-light financial services companies trade for much higher multiples generally) implies a $70.20 price target, for a 368% return. Of course, this price will likely be a few years out, but even if the full effect of this strategic shift require 6 years, an investor can generate 30% compound annual returns from current prices. Of course there are reasons to believe that the shift will occur much sooner. There has already been substantial progress this year and management has clearly been interested in pursuing this. Moreover, the two largest shareholders of WAC, Baker Street Capital and Birch Run Capital have board seats at the company, as of November. Both have expressed a desire to pursue this capital-light model (Baker Street gave a presentation on this exact topic earlier in the year, as noted in this article). Increased shareholder representation on the board will serve to heighten management focus (the Chairman and CEO has a significant ownership stake in the company to begin with). Additionally, the company's debt structure leaves considerable room for management to finalize the details of the new strategy. Looking at the debt schedule below, one can see that the earliest debt is due 2019, which leaves the company ample opportunity to pursue its transition (and for WCO to capitalize itself properly).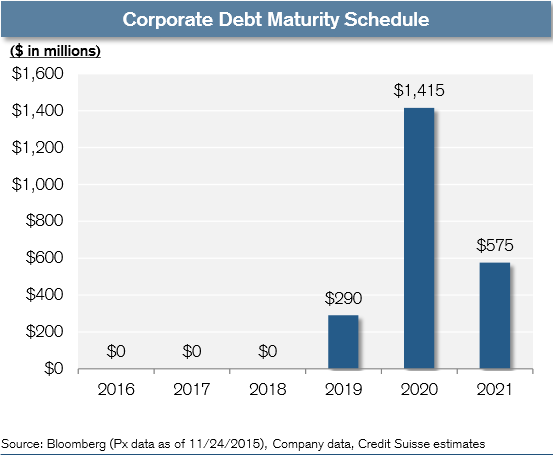 Source: Credit Suisse
Reasons for Mispricing
The main reason why this dramatic undervaluation exists is because this transition is predicated upon major, long-term changes that are only beginning to be realized. Uncertainty in future developments is compounded by the fact that the entire space has been impacted by major regulatory issues, which in reality are unique to one company in particular, Ocwen Financial. From 2014 through to early 2015, Ocwen came under intense regulatory scrutiny for its practices, which entailed conflicts of interest among different subsidiaries (which allegedly led to overcharging of borrowers). The company was also blamed for an "inadequate and ineffective information technology system and personnel." Ocwen had consistently been the lowest-cost servicer in the industry, which evidently entailed an underinvestment in personnel and proper servicing technology.
Walter, by contrast is a high-touch, compliant, but higher cost, servicer. It has the highest servicer ratings (5/5 stars) from the GSEs, and the lowest ratio of complaints to delinquent loans (2.5% versus Ocwen's 5%), in the period 2012-2014. Walter's operations are high-touch and highly compliant and it is not reasonable to think that the issues affecting Ocwen relate to WAC (or even the other non-bank servicers). However, the valuation compression that began with Ocwen's regulatory issues have been amplified by rising short interest and continued negativity from the sell-side. Most sell-side analysts assume that there is limited downside to shares under a run-off scenario. I demonstrated earlier that the company can feasibly generate the cash needed to pay-down its debt. In spite of this, the sell-side is negative on the space for primarily technical reasons. For instance, on November 6, Barclays stated that its bearishness is primarily based on "heightened volatility as a result of concentrated ownership" (the two aforementioned hedge funds own nearly 40% of the stock). When the market is uninterested in something simply because it can be volatile, and not for underlying fundamentals, it is likely a good time for a long-term value investor to become interested.
This is especially relevant in Walter's case, especially when one considers how significantly the outlook for the company has improved in the past few years. The most important step has been the creation and capitalization of WCO. The growth of Walter's originations business has also been a positive development for its shift towards capital light earnings. While the stock has also been partially depressed due to the outlook for lower origination profitability as rates rise, this will at least be somewhat offset by the increase in sub-servicing profitability.
At 6X adjusted earnings, it is difficult to imagine further valuation compression. Additionally, management and sell-side analysts have virtually unanimously agreed that the company can be worth more in a run-off scenario. As such, the risk-reward is extremely compelling. However, an extremely risk-averse investor may want to wait until further progress has been made with regards to the asset transfers. This will mean that the principal uncertainty (of WCO having the capital to acquire all of WAC's MSRs) will be removed, but it is probable that the stock would have moved up substantially by then (it is already up over 50% from the 2015 lows). More aggressive investors can consider a call option strategy. Because the investment is catalyst-driven and the valuation is below even a worst-case run-off scenario, call options can potentially drive phenomenal returns.
Concluding Thoughts, Additional Optionality
Whatever the trading strategy might be, it is clear that Walter is substantially undervalued based on fairly conservative assumptions, provided the capital-light transition can successfully unfold. At this stage, more progress on WCO's capital raises will be key to moving the stock. Ocwen managed to accomplish something similar with HLSS where the latter held the MSRs for the former to sub-service. In that case, sub-servicing began shortly (within weeks, in some cases) after the MSR sale was funded. I realize that I have said Ocwen and Walter should not be compared with respect to their regulatory standing. On the subject of sub-servicing, a comparison makes sense, to the extent that it can be used to gauge how quickly sub-servicing can be expected to begin after the REIT has been sufficiently funded. As said earlier, if WAC simply trades at 12X earnings, and can manage the transition in six years, an investor can earn a compound annual return of 30%. Considering how quickly WCO has been capitalized and that increased shareholder representation on the board is typically a good indication that shareholder friendly policies will be accelerated, it seems likely that these value creation steps will be enacted before six years. In their analysis, Baker Street assumes only three years. Management's repeatedly stated interest in shifting towards a capital-light framework is further evidence of this. With a concentrated ownership and owner representation on the board, it is unlikely that the capital generated from these actions will be squandered or invested into low-return opportunities.
Seeing as there is a substantial disconnect between price and potential value here, I believe WAC is an attractive investment at today's $15/share price. Board membership by prominent shareholders and continued progress at WCO means that the risk-reward for WAC stock has never been better. Additionally, an investor at today's prices benefits from a free call option on growth in the originations businesses. Improved fundamentals for the company's originations businesses due to a sustained recovery in housing lending will drive further free cash flow and value creation. Another undiscussed call option is that of the synergies from M&A. Both Walter and Nationstar have commented on the need for scale in this business. A merger between the two could drive operational synergies (due to the heavy overlap in the cost structure and inherent operating leverage), and allow better access to capital markets for capitalizing any future REIT entity.
Disclosure: I am/we are long WAC.
I wrote this article myself, and it expresses my own opinions. I am not receiving compensation for it (other than from Seeking Alpha). I have no business relationship with any company whose stock is mentioned in this article.