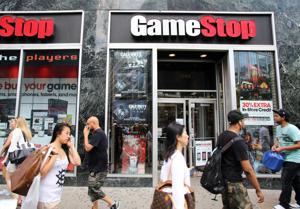 Two years ago, I wrote an article entitled "A Sweeping Change That Is Disrupting An Industry: The Inevitable Fall of GameStop (NYSE:GME)" which outlined the confluence of factors that is leaving the company's business vulnerable. At the time of publishing, GME traded at $45.52 per share and so far is down to $29.40. The article suggested buying long-dated out-of-the-money put options to have limited exposure while providing a large upside. However, the short term is tough to predict, and I was overzealous with the timeline. With hindsight being 20/20, GME's downfall has taken longer than I expected. Nonetheless, I have a conviction that the tide has begun to shift, and my top short idea for 2016 is GME.
About GameStop
GameStop is a global family of specialty retail brands that makes the most popular technologies affordable and simple. It is the world's largest multi-channel video game retailer, and sells new and pre-owned video game hardware, video game accessories, as well as new and pre-owned mobile and consumer electronics products. As of October 31, 2015, GME's Video Game Brands segments operated 6,122 stores in the United States, Australia, Canada, and Europe. These stores are primarily located in major shopping malls and strip centers.
GameStop has also focused on growing its Technology Brands segment, which includes the operations of the recently acquired Spring Mobile and Simply Mac. Spring Mobile is an authorized AT&T (NYSE:T) reseller operating T's branded wireless retail stores and prepaid wireless stores under the name Cricket Wireless. Simply Mac is a certified Apple (NASDAQ:AAPL) reseller selling AAPL's consumer electronics products in the United States. As of the last quarter, the Technology Brands segment operated 834 stores, all of which are located in the United States.
Moving Forward
Since my prior article, numerous commentators have pointed out the short opportunity found with GME. I will first outline the bear thesis, and then discuss GME's positive factors. Despite some potential positives, in balance, I believe GME will provide a great short opportunity. Its management will not be able to overcome being squeezed out of its industry on multiple fronts.
Bear Thesis
Brick-and-Mortar Becoming Obsolete
First and foremost, GameStop's business model is quickly becoming obsolete. Consoles shifting to downloadable content, as opposed to a physical disk, is a significant headwind to GME's business. The most direct negative for the company is that it is no longer necessary within the supply chain for its software segment. Sony (NYSE:SNE), Microsoft (NASDAQ:MSFT), and Nintendo (OTCPK:NTDOY) can sell games directly to consumers through their respective consoles.
Moreover, new hardware only provides miniscule gross profit margins at 10.8%. With other brick-and-mortar retailers such as Best Buy (NYSE:BBY), Target (NYSE:TGT), and Wal-Mart (NYSE:WMT), as well as online competitors such as Amazon (NASDAQ:AMZN) and eBay (NASDAQ:EBAY), competing for these sales, it is unlikely for these margins to expand from this level.
A corollary effect of this industry shift is that GME will be hurt by the used game market drying up. Publishers have a huge incentive to move away from physical disks, and there are already numerous games that are only available through download. It is only a matter of time until the majority of games are purchased through this avenue.
Currently, the used game market provides GME's most gross profit, providing 46% margins, with $231.2 million in gross profit in the last quarter; that represents more than the new video game hardware and software segments combined. Furthermore, Wal-Mart (U.S.'s second-biggest seller of video game software and hardware) has entered the used game market, which will compress margins on this segment as well. WMT announced its new initiative last year and introduced it in 1,700 of its 4,800 locations in the U.S. to start. Since its launch in October of 2014, it quickly expanded to 3,100 stores by March of 2014. With the ability to use this trade in credit anywhere in the Wal-Mart store, this provides customers with much more value than a credit at GME.

Source: 10-Q
Additionally, there is a small movement for game rentals from Outerwall (NASDAQ:OUTR), GameFly and PlayStation Now. GameStop has no rental offerings, so if the rental market were to expand, GME would face pressure from this front as well.
Counterarguments to Bear Thesis
Downloadable Content Headwinds Are Insignificant
GME bulls point to three reasons why the brick-and-mortar model will not quickly falter. First, they opine that download times are too long, and as such, consumers will prefer a physical disc. However, publishers such as Electronic Arts (NASDAQ:EA) have seen a large uptick in downloaded games as a percent of sales, growing from 10-15% last year to 20% this year. Moreover, broadband speeds have continued to increase, mitigating download times, and providing much more convenience to gamers when compared to having to drive to a physical store.
Net neutrality does not appear to be a risk to downloads either, as the FCC decided to reclassify broadband Internet access under Title II of the Telecommunications Act which categorizes it as an essential public utility. Although currently being debated in the D.C. Circuit Court of Appeals, this rule is unlikely to be overturned.
Secondly, a similar argument has been stated for hard drives being too small to carry all of this content. However, hard drive costs have been in a free fall, and console makers have responded accordingly, so this argument does not hold water either.
Finally, GME bulls have argued that typical gaming customers are underbanked, and thus, do not have access to online payment capabilities. However, this argument is weak; digital sales have been accelerating, and there are numerous ways to get around this problem - teenagers can simply give their parents cash in exchange for using their credit card, and those without credit cards can simply purchase gift cards at numerous retailers, which can be used to download content.
So now that I've flushed out the bear thesis, I will discuss why now is a good time to be a GME bear.
GME's Core Business Slowing
A bear thesis without numbers to back it up is merely speculation. With GME, the cracks have begun to show and speculation has started to become a reality. Most tellingly, same-store sales have been slowing - falling 1.1% in Q3 - leading to missing EPS and revenue estimates, as well as management giving a downward revision in guidance. Additionally, net sales decreased $75.9 million or 3.6% Y/Y.
With this being an ideal time for sales growth, based on the console cycle, this decline is quite salient. NPD data showed total software sales shrunk for the industry, but this figure is largely explained by the shift to digital downloads, which is not measured within the NPD data. An outspoken bear, Pacific Crest, opined that "[i]nvestors always wondered when GameStop would really break; this could be that moment."
Retail locations shift from being an asset to a liability when sales begin to decline. GameStop's ~6,000 store count, which provides a meaningful lease liability, can quickly flip GME into the red in a very significant way.
Financial Engineering
Despite clear headwinds and a faltering business model, I have to give credit to GME's management for its ability to prop up the stock price. During the third quarter, the company repurchased $44.9 million of common stock at an average price of $43.85 per share. Further, in the first three quarters of 2015, it repurchased 3.6 million shares at an average price per share of $41.95 for a total of $152.1 million.
Since Q3 of last year, the number of GME shares outstanding has been reduced from 112.9 million to 106.1 million. This leads to management financially engineering the EPS growth. GME is not becoming more profitable, and net income actually declined over that same period.

Source: 10-Q
Notwithstanding any other actions, I would applaud management for providing value to shareholders by repurchasing shares and by also providing shareholders with a hefty dividend. However, management has taken on debt, with restrictive covenants, in order to maintain this shareholder-friendly stance. GME took on $350 million in debt through Senior Notes that are due in 2019. It must pay 5.5% on these notes (which is more than its dividend yields), resulting in profitability declining by $3.4 million per quarter due to interest expenses rising.
The stock buyback program with the dividend has helped the stock price from temporarily declining for two reasons. First, it has prevented short interest from rising further, which would provide more selling pressure. Secondly, the dividend specifically, has stopped selling pressure because investors and analysts are loving the high yield GME provides (~5%), especially considering the near all-time low interest rate environment that investors are still facing.
If the stock repurchases and dividend were sustainable over the long term, I would call management prudent and shareholder friendly. However, I do not believe that is the case, and tellingly, management does not either, as insider selling has been strong of late.

Source: OpenInsider.com
Acquisitions
Management has realized that its core business is faltering, and has attempted to reconcile this through a series of acquisitions.
On July 17, 2015, GME purchased Geeknet, an online and wholesale retailer that sells collectibles, apparel, gadgets, electronic toys, and other retail products for technology enthusiasts and general consumers through the thinkgeek.com website and certain exclusive products to wholesale channel customers. GME paid $140 million in total for this business, which has ~$100 million in annual net sales.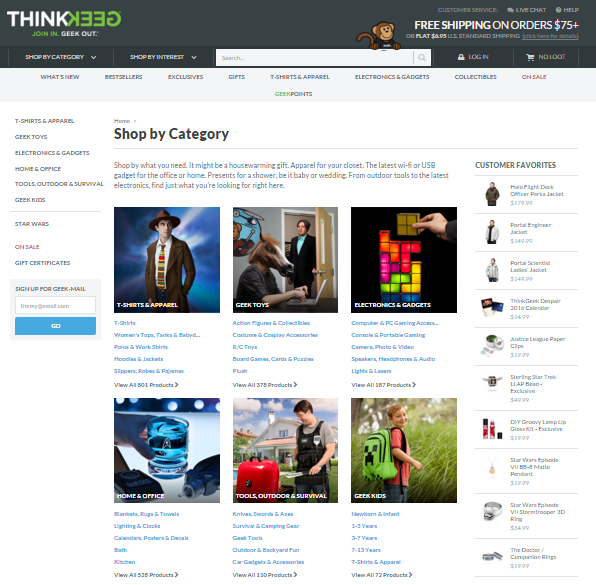 Source: Thinkgeek.com
GameStop previously acquired Spring Mobile, an AT&T wireless retailer, and Simply Mac, an authorized Apple retailer.
GME's strategy with these acquisitions is to broaden its product offerings into the collectibles and mobile categories. Management is attempting to slow its sales decline, but entrenching itself in brick-and-mortar is not a shrewd move.
Blockbuster Analogy
I avoided this analogy as long as I could, but needed to point out the parallel to Blockbuster here. When Blockbuster faced heightened competition from industry disruptors, it sought to acquire other companies to mitigate its sales decline, and also began trying to improve margins by selling other products within its stores, such as candy, collectibles, and other gadgets. This strategy certainly did not work for Blockbuster, and I do not believe it will work for GameStop.
Inside a Blockbuster Store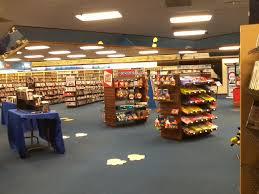 Source: Abobslife.com
Management's theory is that customers will purchase these collectibles and continue to come to their stores, even when games are sold as downloads, due to customer loyalty. This is a naive view, as customer loyalty is to the cheapest product when there are substitutes. Buying online, such as through Amazon is cheaper, which will put GME in a tough spot to compete.
Balance Sheet Concerns
In order to maintain its current dividend and stock repurchase plan, GME will have financing concerns. The current quarterly dividend of $0.36 per share requires $152.78 million per year to maintain. Additionally, another $150 million would be needed in just the first three quarters of 2016 to maintain the current pace of stock repurchases. With cash on the balance sheet of only $186 million, and $350 million in debt already due in 2019, there are concerns.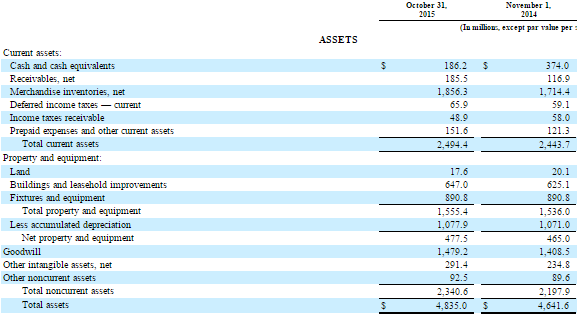 Source: 10-Q
Currently, net income is strong at $155 million for the first three quarters of 2015. Nonetheless, with high fixed costs from leases, a decline in sales can lead to a huge amount of losses. Comparable store sales are declining already, and inventories are rising, a clear red flag. With more competition coming from all fronts, I expect a detrimental combination of falling sales, stagnant fixed costs, and lower margins.
The Future Is Bleak
Once these factors lead to a decline in net income, and subsequently cash flow, GME will have to take on more debt at higher interest rates. This will further negatively impact profitability, with interest expenses rising accordingly. Moreover, the company may not even be able to take on additional debt because the Senior Notes due in 2019 include covenants restricting the incurrence of additional debt and asset sales. Therefore, if the holder of the Senior Notes doesn't agree with management's strategy, GME's options may be severely limited.
Management has done well to sustain its stock price in the near term, but it has overlooked the long term, and I believe that 2016 will show a shift in the tides. There are pivotal moments when changes become apparent, and this will be the year that the shorts are correct about GameStop's bleak outlook.
I once again suggest buying long-term out-of-the-money put options to profit from GME's decline.