The eighteenth edition of:
Resource Sector Digest (vol. 18 - January 11, 2016), an offering that is brought to you by Itinerant and The Investment Doctor.
As always, this edition of our newsletter will:
Set the scene;
highlight actionable ideas;
comment on news releases; and
link to relevant articles.
As always, here is a cordial invitation to join Itinerant Musings for exclusive access to actionable research on mining and energy stocks. Some examples are sprinkled throughout this newsletter for good measure.
And before we forget, you can read the three most recent editions here, here, and here in case you missed them.
Setting The Scene
UBS (NYSE:UBS), the large Swiss bank, released a very interesting report earlier this week which seemed to have been lost among the panicking sellers on the market.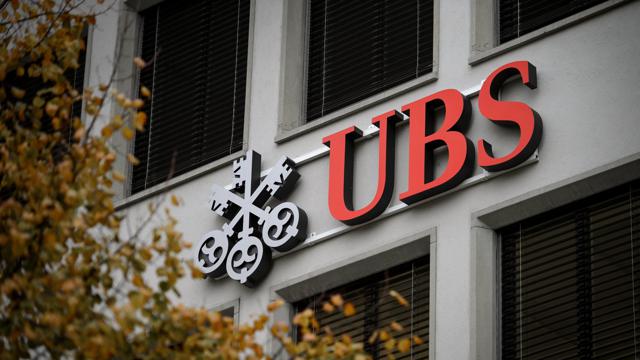 Source: Forbes.com
In the new report, some analysts of UBS are recommending to get out of stocks and into gold, as they fear the normal stock markets are reaching a top (which isn't unlikely given how nervous and volatile the markets were this week on the Chinese jitters) whilst the gold price is likely to bottom in 2016. From the report:
Gold has been trading in a cyclical bear market since 2011.

In 2016, we expect gold and gold mines moving into an eight-year cycle bottom as the basis for the next multi-year bull market.

Initially, we see gold profiting as a safe haven and as of 2017, gold could profit from the US dollar moving in a major top and starting a bear market.

A potential bottom in 2016 bottom could be a rather powerful bottom, since together with a four-year cycle low we have also an eight-year cycle low projection for this year. In this context we expect a potential 2016 low in gold to be the basis of a new multi-year bull market.
While other major banks like Goldman Sachs (NYSE:GS), ABN AMRO and the Bank of America (NYSE:BAC) were expecting the gold price to trend lower in 2016 (and even reach a triple-digit number), UBS has been quite bullish since a few months and said that "any weakness is unlikely to be sustained" as it expects the gold price to average $1,250/oz this year.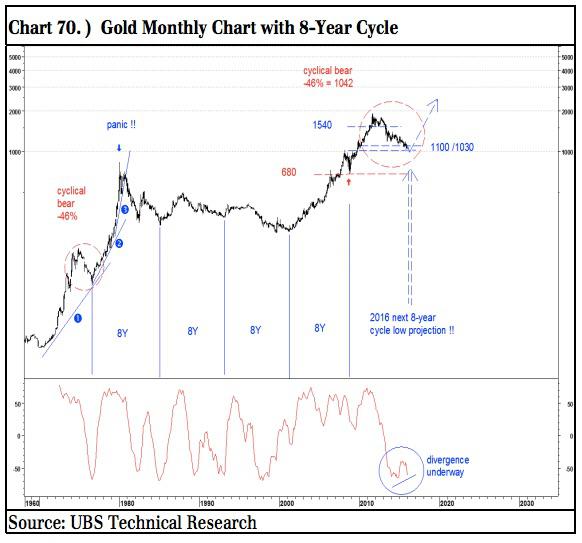 Source: UBS
That's a pretty bold statement, and we obviously hope UBS is correct, because even though an average of $1,250/oz would be just 13% higher than the current gold price, it could be an improvement that could save a lot of companies, projects and jobs in the precious metals sector.
Actionable Ideas
After a disappointing week before, the past week was a bit more entertaining with a lot of SA contributors chiming in on the Kinder Morgan (NYSE:KMI) "situation".
Courage & Conviction Investing remains positive about Peabody Energy (NYSE:BTU) as it's looking at the natural gas market to find out whether or not coal will regain market share over gas. C&CI argues the company's 2018 bonds might be the best way to gain exposure to BTU. CC&I isn't alone, as William Koldus has also picked Peabody Energy as his top idea for 2016.
Not a real actionable idea, but according to Lawrence Williams' article, China has acquired an additional 19 tonnes of gold (NYSEARCA:GLD) in December, and the yellow metal has once again proven to remain a safe haven for quite a few investors as the gold price increased by $50/oz during the collapses of the Chinese financial markets.
News Releases
As could be expected, the past week wasn't really busy in terms of noteworthy news as half of the commodity sector seems to have started an early hibernation, hopefully to emerge stronger in 2016.
Timmins Gold (TGD) was able to secure a short-term loan extension as the company had to find a solution for a loan that was maturing on December 31. Both Sprott and Morgan Stanley (NYSE:MS) have agreed to extend the maturity date by one month, giving Timmins Gold some additional time to try to refinance the $10.2M credit facility.
And Timmins Gold wasn't the only company getting a refinancing, as DRC-hopeful Banro (NYSEMKT:BAA) has also announced it has signed definitive agreements with RFW, a fund managed by Gramercy Funds. It's an extensive deal consisting of four different parts, but fortunately The Investment Doctor has broken it down in parts to make it a bit more comprehensible. You can read the article here.
McEwen Mining (NYSE:MUX) has found itself a new president as the company presented Colin Sutherland to be the newest addition to the team. Sutherland has previous experience in the mining sector after having worked for, for instance, AuRico Gold (NYSE:AUQ) and Timmins Gold lately. Sutherland will be responsible for the financial and operational performance of the company whilst Rob McEwen will remain the CEO and Chairman.
US Antimony (NYSEMKT:UAMY) has sold almost 50% more antimony in Q4 2015 compared to the corresponding quarter in the previous financial year. The Q4 sales came in at an excess of 617,000 pounds of antimony for a full-year total of almost 2.5 million pounds. 2016 might be a tougher year for players in the antimony space as the world market price of less than $2.5/lbs is hurting a lot of producers right now.
Osisko Gold Royalties (OKSKF) seems to have some pretty big plans as it asked its lenders to increase the size of its revolving credit facility by C$50M to C$150M. Both the Bank of Montreal (NYSE:BMO) and National Bank of Canada (OTCPK:NTIOF) agreed, and the additional C$50M will increase Osisko's financial flexibility. Does the company have its mind set on acquiring more royalties? Or will it finally acquire Falco Resources (OTCPK:FPRGF)? Who knows.
First Mining Finance (OTCQX:FFMGF) has closed the acquisition of Goldrush Resources (OTCPK:GDRRF). First Mining wasn't really interested in any of Goldrush's exploration properties but more in its cash position which was in excess of US$2.5M according to the most recent financial statements.
Claude Resources (OTCQB:CLGRF) has provided its full-year production results for 2015, wherein the company produced in excess of 75,000 ounces of gold, ending the year in excess of US$25M in cash and bullion on the balance sheet. Claude was one of the few (silent) outperformers in 2015 as it saw its share price more than triple in the past year. For 2016, Claude expects to produce 65,000-72,000 ounces at an AISC of US$850-935/oz.
Centamin (OTCPK:CELTF), the Egypt-focused gold mining company, has produced 117,644 ounces gold at its Sukari Gold Mine (according to the preliminary production results). The majority of the processed ore came from the open pit whilst the underground mine contributed 300,000 tonnes. The total gold production for 2015 was 439,000 ounces, at the higher end of the production guidance which called for a full-year production of 430,000-440,000 ounces.
Moving over to the energy sector, Pioneer Natural Resources (NYSE:PXD) has announced its plans to spend $2.4-2.6B in capital expenditures on its assets in 2016. That's quite an aggressive move, but fortunately the company gets a lot of support from its shareholders (and potential new shareholders) as it has increased the size of its capital raise to $1.4B.
NGEx Resources (OTCPK:NGQRF) has released what it calls a "positive" Preliminary Economic Assessment at Los Helados and Josemaria, but the company's definition is quite a bit different from ours. An after-tax IRR of 14.5% is pretty decent for a large project, but unfortunately the company needs a copper price of $3/lbs, a gold price of $1,275/oz and a silver price of $20/oz to achieve this result. As those commodity prices are quite a bit higher than today's spot prices, there's a zero chance the project will be built at $2.50 copper. Even if you'd use a copper price of $2.5/lbs (25% above today's price), the after-tax NPV8% would be less than $1B, or less than 1/3rd of the initial capex. It's a nice attempt, but the project isn't viable at the current metal prices.
Silver Standard (NASDAQ:SSRI) has released its full-year production results from 2015, and there don't seem to be any negative surprises, and both mines actually posted a record output. The Marigold mine in Nevada produced 207,006 ounces gold, beating the higher end of the production guidance by 1%, whilst the Pirquitas mine produced 10.3 million ounces, exceeding the guidance. Let's hope these excellent production results will translate into excellent financial results as well.
Taseko Mines (NYSEMKT:TGB) has also released the 2015 production results of the 75% owned Gibraltar copper mine in British Columbia, Canada. The mine produced 142 million pounds of copper as well as 1 million pounds of molybdenum. Unfortunately, the mine's production rate in the last quarter was a bit lower than the previous quarter due to a lower grade, lower mill throughput, and lower copper recoveries.
Royal Gold (NASDAQ:RGLD) provided an update on its performance in the second quarter of the financial year 2016, which ended on December 31. The total amount of gold sold in the most recent quarter was 61,500 ounces at an average price of $1,094/oz (compared to a "production" cost of $370/oz). At the end of the quarter, Royal Gold still had 25,700 ounces of gold on the balance sheet as "inventory".
Moving over to uranium, Cameco (NYSE:CCJ) has now said it expects the Cigar Lake mine to produce 16 million pounds of uranium in 2016, of which 8M lbs or 50% will be attributable to CCJ. This basically means the capacity of the McClean Lake mill will have to be increased (as the production limit is "just" 13 million pounds per year), and AREVA plans to submit an application to expand the production facility.
Golden Queen Mining (OTCQX:GQMNF) has started to commission the processing facilities at the Soledad Mountain gold project in California, as the construction of the project has now reached the 95% completion mark. Leaching of the ore should start in mid-January with the first gold production to occur in the first few days of February.
Guyana Goldfields (OTCPK:GUYFF) hasn't missed its start as the company produced in excess of 35,000 ounces of gold (with approximately 14,000 ounces produced in December) during the commissioning phase of the Aurora Gold mine in Guyana. Approximately 28,850 ounces were sold at an average price of $1,079/oz, generating in excess of $31M in revenue. The commercial production has been achieved on January 1, so from this quarter on, you'll see some revenue hitting Guyana's top line. The official production guidance for 2016 is 130,000-150,000 ounces.
Caledonia Mining (CALVF) has produced 11,518 ounces of gold in the fourth quarter of last year, which brings the full-year production rate of 2015 to 42,806 ounces, a 2.5% increase compared to the gold output last year. 2016 should be even better for Caledonia, as it's guiding to produce 50,000 ounces of gold this year on the back of a gradually increasing production rate.
Kaminak Gold (OTCPK:KMKGF) has released the results of a long-awaited feasibility study on the Coffee project in Canada's Yukon Territory. The results are pretty robust as Coffee has an after-tax NPV5% of C$455M with an IRR of just over 37% using a gold price of $1,150/oz as a base case scenario.
Lake Shore Gold (NYSEMKT:LSG) also released its full-year production results and with a total production of almost 179,000 ounces, not a lot of shareholders will be particularly unhappy. The company expects to continue its excellent performance and will produce 170,000-180,000 ounces in the current financial year at an AISC of less than US$950/oz, indicating the net margin will be approximately $150/oz.
That's it for us, and we're starting to look forward to see the financial results of some of the mining companies, as especially the Canadian (and other non-US) producers could have experienced a good Q4 on the back of a strong US dollar.
Disclosure: I am/we are long FFMGF, KMKGF, RGLD, BMO.
I wrote this article myself, and it expresses my own opinions. I am not receiving compensation for it (other than from Seeking Alpha). I have no business relationship with any company whose stock is mentioned in this article.
Editor's Note: This article covers one or more stocks trading at less than $1 per share and/or with less than a $100 million market cap. Please be aware of the risks associated with these stocks.