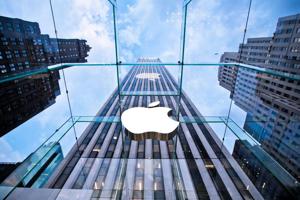 The Telegraph UK reported that Apple (NASDAQ:AAPL) is developing a tool that makes it easier for users to switch from iOS to Android given the mounting pressure from European telecom operators and potentially regulators. The software will make it easier for iOS users to transfer data such as contacts, music and photo from iOS to Android devices.
Given that many iOS users associate AAPL's ecosystem being the iOS presentation/organization of contacts, media files and photos, the facilitation of file transfer from iOS to Android is a negative to the iOS ecosystem due to potential higher than expected churn as consumers shift toward competing premium Android devices from Huawei, Samsung and Lenovo. This is another indication of the diminishing ecosystem risk that I have been highlighting since my initiation of AAPL in 2014 (see: Apple: The Party Is Over; Initiating With A Bearish View). I believe that growing pressure from overseas regulators and carriers could potentially further weigh in on the iOS and iPhone adoption rate given the already competitive premium handset market, the shift in carrier distribution model and new product risk (see - Apple 2016 Outlook: The Sun Can't Shine Every Day).
I reiterate my cautious view on AAPL for 2016. My preferred tech names are Facebook (NASDAQ:FB) and Google (NASDAQ:GOOG) (NASDAQ:GOOGL).
According to a senior industry source contacted by the Telegraph, AAPL have privately agreed to develop a tool that allows users to shift data from iPhone to iOS because major EU telecom operators are concerned about AAPL's market power due to the challenges of shifting data from the iPhone to a competing device. Speaking from experience, I would argue that many people do not want to go through the hassle of switching to an Android because of so much data are stored on their iPhone.
Notably, recent investigations by the European Commission on AAPL for antitrust concerns may be pressuring the carriers to pressure AAPL to facilitate file transfer from the iPhone in a way to appease the regulators. While it's worth noting that back in 2013 the European Commission was investigating AAPL over antitrust concerns but dropped the probe due to lack of carrier cooperation, I suspect that the carriers are using the possibility of the commission reopening the probe as a leverage to get AAPL to develop this tool, which ultimately benefits the carriers when it comes to commercial negotiations with AAPL.
Regulatory risk is an area that is often overlooked by AAPL investors and this is certainly not a Europe-only issue. I note that Canada's Competition Bureau started an investigation on allegations that AAPL's Canadian unit used anti-competitive clauses in contracts with domestic wireless carriers that sell the iPhone in their retail stores. Similar to the European conclusion, the bureau found no wrongdoing but I suspect that the Canadian carriers could potentially deploy similar tactics to that of the EU carriers given the maturity of the Canadian wireless market and potential increase in competition after Shaw Communications (NYSE:SJR) purchased the disruptive wireless start-up WIND Mobile, which is often regarded as the Canadian T-Mobile.
In my view, capitulating to the carriers and the regulators is something AAPL cannot avoid. On the other hand, I believe that the unbundling of AAPL's key services in media, music, payment and cloud could potentially protect its diminishing ecosystem. I note that AAPL's decision to make AAPL Music available to Android users in China may have potentially contributed to the strong growth in paid members that is reaching 10m vs. 6.5m back in October. Dedicated apps on Apple Pay or iCloud could deliver long-term user retention and more importantly protect the state of the iOS ecosystem.
Disclosure: I/we have no positions in any stocks mentioned, and no plans to initiate any positions within the next 72 hours.
I wrote this article myself, and it expresses my own opinions. I am not receiving compensation for it (other than from Seeking Alpha). I have no business relationship with any company whose stock is mentioned in this article.