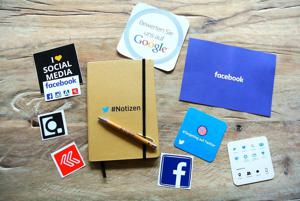 Social media stocks will again be in focus in 2016 as the internet advertising revenue model continues to evolve and companies begin restrategizing the best way to monetize their businesses. Companies like Facebook (NASDAQ:FB) (+33%) and Alphabet (NASDAQ:GOOG) (NASDAQ:GOOGL) (+45%) executed strategies with success in 2015 while the likes of Twitter (NYSE:TWTR) (-37%) and Yahoo (YHOO) (-34%) are still struggling to figure out what the next stage of their business model will be.
The Global X Social Media Index ETF (NASDAQ:SOCL) is the only ETF in the marketplace targeting this specific technology subsector. With roughly $107 million in assets, it's a mildly popular product. Its return of nearly 10% last year outperformed the Nasdaq Composite's 6% return and far outpaced the S&P 500, which was virtually flat on the year. However, since the fund's inception in late 2011, the Social Media ETF has significantly trailed the major indices.
Social media stocks present an interesting combination of potential and concern. The traditional internet advertising revenue model is rapidly changing and the continued emergence of ad blocking software programs is already hitting many corporate bottom lines. It's estimated that big ad revenue companies like Alphabet will likely begin losing revenue in the billions of dollars as ad blocking software becomes more prevalent so it will be important targeting companies with multiple revenue streams that can help soften the blow in 2016.
The Social Media ETF targets around 30-40 companies that the fund's fact sheet says are "designed to reflect the performance of companies involved in the social media industry, including companies that provide social networking, file sharing, and other web-based media applications." Over time, however, the fund's holdings are relatively little changed so investors in the fund should have a good understanding of what they're buying.
Buying the Social Media ETF is essentially putting a third of your investment in three companies - Facebook, LinkedIn (LNKD) and Tencent Holdings (OTCPK:TCEHY). Consider the top holdings of this fund over the past year and a half.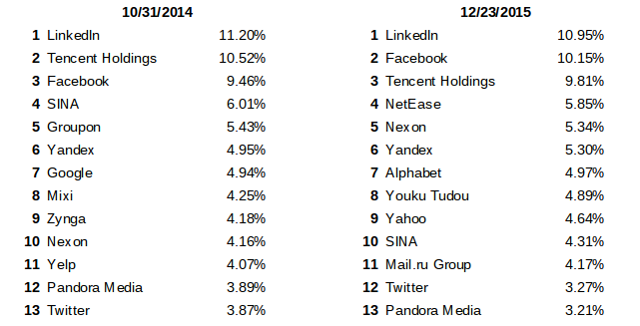 One of the more notable changes to the portfolio is Groupon (NASDAQ:GRPN) getting dropped from the fund's top holdings. Groupon still maintains roughly a 2% portfolio allocation but the combination of weak results and weak guidance hurt the stock to the tune of a 61% loss in 2015. Conversely, strong revenue and earnings growth coupled with international expansion efforts propelled NetEase (NASDAQ:NTES) to an 86% gain in 2015 and the 4th largest position in the Social Media ETF.
Yahoo represents the only brand new position in the portfolio (added on May 1, 2015 according to Morningstar). Since then, the stock is down 29% as the company figures out where exactly it plans on heading next.
The remainder of the portfolio looks substantially similar but Facebook, LinkedIn and Tencent will continue to be the primary drivers of this fund's performance. Facebook delivered shareholders a 33% return in 2015 but it has a number of catalysts in place to continue propelling the company forward like Facebook Messenger, video advertising and virtual reality. LinkedIn continues to build efficiencies related to the Lynda acquisition while China looks to be a future revenue driver for the company. Tencent may be in a bit of a more tenuous position. It has strengthened its position lately as the top video game publisher in the world thanks to the popular League of Legends title. But economic uncertainty in China along with currency risk could present challenges for the company in the new year.
Conclusion
The Social Media ETF looks to have positions in a number of net stocks that could stand to benefit in 2016. Facebook will see some revenue lost to ad blocking but it's got other revenue drivers in place. LinkedIn relies more on subscriber services than pure advertising. Tencent generates its revenue from game sales. Google may ultimately represent the fund's biggest exposure to the industry's changing ad revenue model.
The catalysts present for the fund's biggest holdings coupled with the fund's below average exposure to the negative impact of ad blocking could lead to another good year for this ETF.
Disclosure: I/we have no positions in any stocks mentioned, and no plans to initiate any positions within the next 72 hours.
I wrote this article myself, and it expresses my own opinions. I am not receiving compensation for it (other than from Seeking Alpha). I have no business relationship with any company whose stock is mentioned in this article.
Editor's Note: This article discusses one or more securities that do not trade on a major U.S. exchange. Please be aware of the risks associated with these stocks.