With the S&P 500 (NYSEARCA:SPY) having fallen by 6% in the last week, it's not particularly surprising that investors are concerned about the performance of their portfolios. One way to reduce the volatility of a portfolio, in theory, is to reduce its overall beta.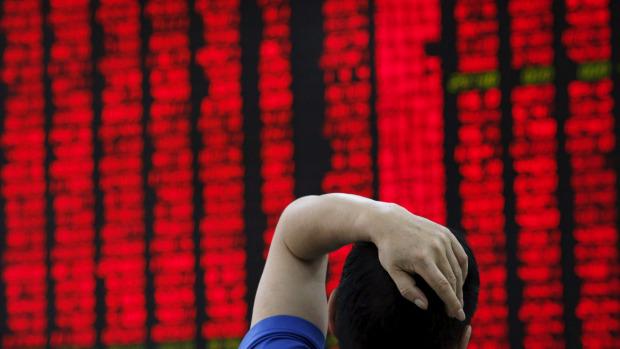 Beta measures how the returns of a stock move in relation to the returns of a selected benchmark for the same period. A beta of 1 means that the stock's return volatility is closely matched with the market and, therefore, you can expect returns that match those of the market.
A beta that is higher than 1 is considered to be a riskier investment due to possessing higher levels of volatility. It stands to reason then that for the additional risk, a higher level of return will be expected by investors.
Finally, a beta of less than 1 means less volatility in returns compared with the market, and considering the way the markets have been recently, it could be a good time to look for a couple of stocks that fit this criterion.
The picks
The first stock that we would like to discuss is Altria Group Inc. (NYSE:MO) which has a beta of 0.5366. The Altria Group manufactures and sells cigarettes, other tobacco products, machine-made large cigars and pipe tobacco. Perhaps the most well-known brand in its arsenal is the iconic Marlboro brand.
Now, as demonstrated below you can see how the stock pays very little attention to what the market is doing. A great characteristic when the markets are being as volatile as they have been recently.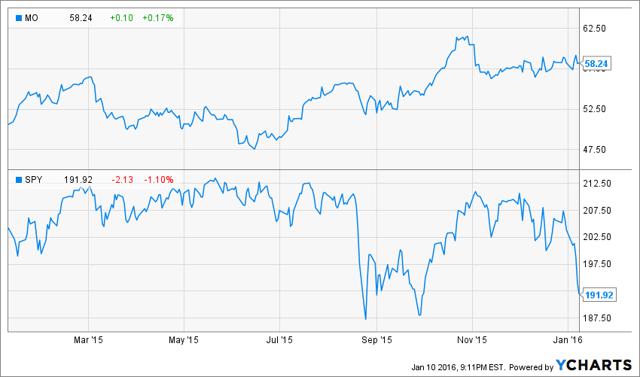 We haven't just chosen Altria because of its low levels of volatility, there are a number of stocks out there that behave in this way. What we feel sets it apart from the rest is the dividend it is yielding and the future earnings growth prospects.
Currently the stock is yielding a 3.9% dividend which on average has grown by over 8% per annum in the last five years.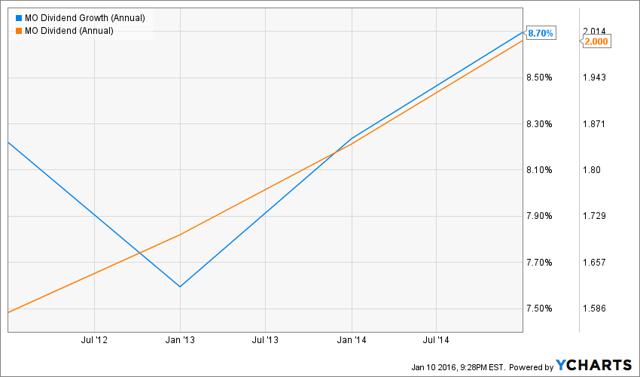 In its Q3 report Altria reaffirmed prior guidance of earnings per share of $2.76 to $2.81, up by 7.5% to 9.5% from FY 2014's $2.57 earnings per share figure. We believe this will be replicated in FY 2016, and forecast earnings per share of approximately $3.02. This incidentally, comes in at the low end of the analyst consensus as per data provided by Yahoo.

(Source: Yahoo Finance)
The market has placed a $64 one-year price target on the company, which translates as almost 10% upside from where it sits now. That price target implies a price to earnings ratio of 21 times our FY 2016 earnings forecast. A little on the pricey side, but we feel that market is willing to pay a slight premium than the industry average (18.5 times earnings) for a company with low volatility, a strong dividend yield, and industry-beating earnings growth.
The second stock we'd like to discuss with a beta of 0.56 is Republic Services, Inc. (NYSE:RSG) which is a provider of services in the domestic non-hazardous solid waste industry, providing services for commercial, industrial, municipal, and residential customers.
As demonstrated below, much like Altria, the stock has appreciated at a time when the S&P 500 has really struggled.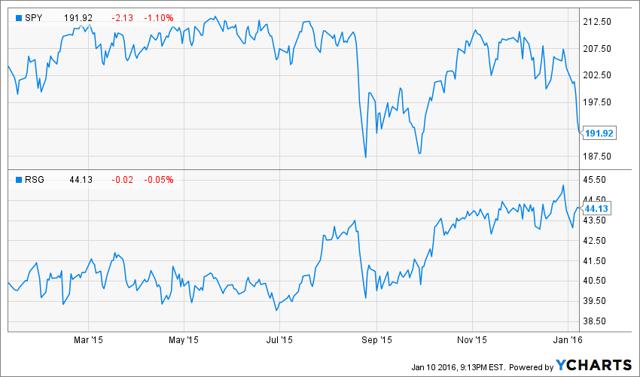 While Republic Services does not pay out as great a dividend as Altria, the 2.73% yield is not to be sniffed at, considering it too has been growing its dividend by over 8% per annum for the last few years.
We like the company because of its growth prospects. Currently it trades on a forward PEG of 0.493, implying lots of future earnings growth ahead of it. Further to this, the company exhibits extremely strong and predictable levels of free cash flow.
As the company consumes 160 million gallons of fuel a year, it continues to benefit greatly from the record low oil prices. It is estimated that a $0.20/gallon move in diesel fuel has a $1 million impact on operating Income. We see this contributing to future earnings growth.
In the last ten years the stock has traded at an average price to earnings ratio of 22.5 times trailing earnings. Based on our models we anticipate earnings per share of $2.17 for FY 2016, giving us a one-year price target of $48.83. This represents a return of approximately 10.5% from the last week's close price of $44.13.
A Final Thought
Our analysis shows that both these stocks could be good additions for investors looking for low beta stocks to reduce the volatility of their portfolios. Considering the low level of risk, the great returns, and good dividend yields, we believe you could do a lot worse than Altria and Republic Services in 2016.
Disclosure: I/we have no positions in any stocks mentioned, but may initiate a long position in MO, RSG over the next 72 hours.
I wrote this article myself, and it expresses my own opinions. I am not receiving compensation for it (other than from Seeking Alpha). I have no business relationship with any company whose stock is mentioned in this article.