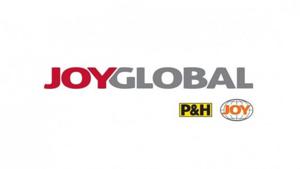 Joy Global (NYSE:JOY) has been falling for the past three years, but it dipped especially sharply in 2015. The company is exposed to several headwinds, which are impacting its business model and financial performance. It is directly dependent upon activity in the mining and minerals industry. Unfortunately, this entire industry has been facing trouble due to a significant drop in commodity prices, affecting coal, copper, and iron, among others.
This situation has put mining companies off balance, posting big losses each quarter due to the considerably depressed prices. Consequently, their cash flow generating potential is diminishing and these companies are highly reluctant to invest in new projects. In fact, many big companies like Cliff Natural Resources (NYSE:CLF), Vale S.A. (NYSE:VALE) and BHP Billiton (NYSE:BHP) are suspending their high cost projects and are only backing high-margin assets.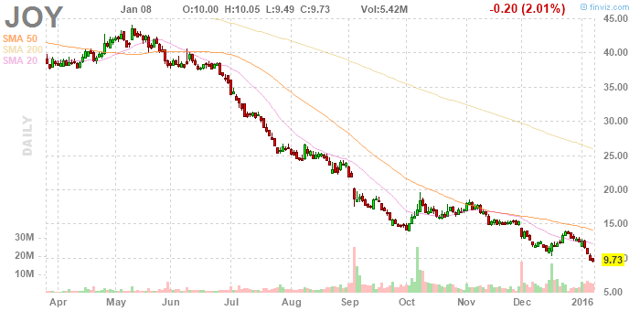 Joy Global's stock price fell quite dramatically in the last few quarters. Its share price lost almost 78% of its value in the past twelve months alone. In addition to this, the company has sharply cut its dividends to $0.01 per share, down from $0.20 per share. The steep fall in share price and the cut in dividends are big setbacks for shareholders, leading us to wonder now, what's next?
At present, the company's stock is trading at its lowest levels since late 2008. However, this does not represent a buying opportunity, in my estimation, because its future business fundamentals appear very bleak indeed. The company's backlog is falling at a considerable pace and the rates of new orders are very low. In addition, mining companies are demanding discounts on products and services due to the industry's extreme overall depression.
Recently, the company announced its results for the final quarter of 2015. These results were very poor, as it posted a major loss of $13.43 per share relative to a gain of $1.31 per share in the same quarter of last year. In addition, Joy's full year earnings per share stood at around negative $12.02, compared to a gain of $3.35 per share in the prior year. This is a very bad performance, but we cannot blame the company; its problems are solely due to an extremely rough market environment.
Even if we forget the results of the fourth quarter and all of fiscal 2015, the market dynamics will not let this company prosper or make a comeback in the short-term. Its backlog has been squeezing at high double digits. Its bookings for the full year declined 25%, down to $2.7 billion, relative to the previous year.
In addition, the first and second quarters are expected to be even tougher for Joy Global, based on losses from miners, the recent economic plunge in China and continued low commodity prices. Moreover, the company is also open to currency headwinds, which are damaging its financials. Its cash generation is declining along with its drop in earnings. Along with other rating agencies, UBS recently downgraded Joy global to the target price of $8. The firm states that JOY's customer spending is likely to extend on into FY 2017 amid further downsides to coal and other mining activities over the next two years. Meanwhile, Chinese imports are in decline as the country tries to prop up its domestic supply while shifting its power consumption toward cleaner sources.
In Conclusion
Joy Global is not expected to exit this storm any time soon, as its business model is solely dependent on the vicissitudes of the mining industry. Its future market fundamentals are bleak, with further downsides ahead. The company's backlog is shrinking and its financials are tumbling. I do not foresee any improvement in its share price in the coming days. Therefore, I do not recommend investors board this troubled ship.
Disclosure: I/we have no positions in any stocks mentioned, and no plans to initiate any positions within the next 72 hours.
I wrote this article myself, and it expresses my own opinions. I am not receiving compensation for it (other than from Seeking Alpha). I have no business relationship with any company whose stock is mentioned in this article.