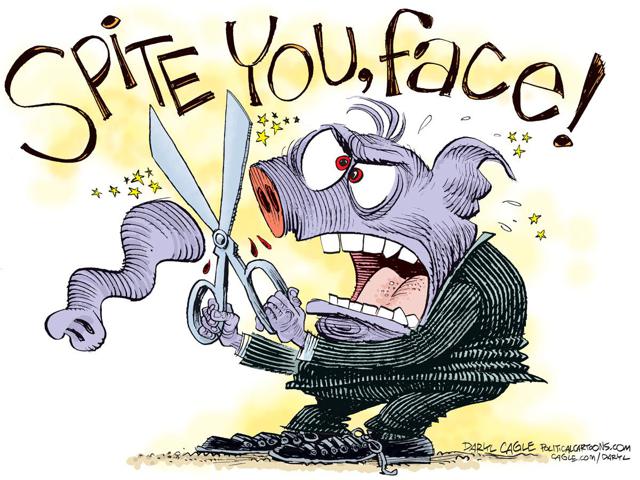 Courtesy, Daryl Cagle
The gathering sense of panic since the start of the year has been palpable. Blame has been heaped upon China for putting up lousy manufacturing numbers. But China's manufacturing sector has been slowing down for some time now as their economic ministers have been in the process of transitioning the country from a manufacturing-based economy to a consumer focused one. And this is old news.
China's stock market swooned 7% one day, 8% the next. We've seen this movie before. China survived and so did we. The world did not come to an end.
China's regulators tried to stop the bleeding in their markets by simply suspending trading and closing the doors. They did that twice last week, to no effect. They've done this before, too. And the world did not end then either.
They instituted a ban on shorting, and stopped large shareholders from selling more than 1% of their positions to try to stop the collapse in their stock markets. They've done this before, too. And still, the world didn't end.
Saudi Arabia and Iran have been mortal enemies for many centuries. The Iranians sacked and burned the Saudi embassy in Tehran last week in retaliation for the execution of one of their revered Imams. Even with this intensifying tension in the Middle East, the price of oil did not rise. It continued to fall and the world is still functioning.
Oil prices have collapsed in the past. Then, as now, we had the giddy pleasure of driving on cheap gasoline, and the oil industry did not disappear. The world did not come to an end.
North Korean dictator Kim Jong-un last week successfully detonated what he claimed was a hydrogen bomb, thousands of times more powerful than the atom bomb. The world scolded him yet again and the U.N. threatened him with more sanctions. Thankfully, yet again, the world did not come to an end.
A Chicken Little Litany
With all of these worries befalling humanity in the past few weeks, it's no wonder the Chicken Littles of the world are engaging in a cacophony of warnings that the sky is falling. In August, I wrote "The Sky Is Falling Into The Hands Of Astute Dividend Growth Investors: Did You Catch Any?" Then as selling intensified, I wrote, "The Sky Keeps Falling: Are Dividend Growth Investors Buying A Value Trap?" These two articles garnered a combined audience of almost 60,000 readers with close to 600 comments. People were spooked then by a 16% market correction and it's happening again today.
Sell everything! The chorus is getting louder. The drumbeat, far off in the distance, is beginning to be heard. The news that the main, broad indices are off 6% to 7% since this worst ever start to a New Year is making mainstream headlines, front page, and top of the news broadcast placement.
The Worst Start To The Year, Ever
For most investors, the beginning of this year has been a frightful one. The broad indexes are showing losses of from 6% to 7%. Without the help of some of the most popular and widely held stocks, like Facebook, Apple, Netflix and Google (NASDAQ:FANG), these indices would be considerably lower.
In fact large sectors and groups of stocks are well into bear market territory already. We are having what some are referring to as a stealth bear market (prices down 20% or more from their recent highs).
While all of this price destruction is occurring, those investors who are focused on those prices are going through a daily struggle. They're trying to decide whether to stick it out or just bail now and take what's left of their assets off the table.
A lot of the recent selling is in fact tied to individual investors who are taking a "shoot now and ask questions later" approach to their investments. They are calling their mutual funds and telling them to get them out at any price.
This type of panic selling causes well-meaning mutual fund managers to do their bidding and sell out of perfectly good equities simply to meet the redemption demands of these frightened investors. Accordingly, this means that even good quality companies are being sold to raise funds. This additional forced selling is putting downward pressure on the prices of even the highest quality companies in the market.
Margin Selling Adds to the Selling Pressure
Investors who bought on margin are receiving margin calls daily from their brokers. They too are being forced to sell the good with the bad just to meet those margin calls. The falling prices in the markets are making these margin calls more frequent and causing a negative loop to form and play itself out.
Sometimes these cycles can take weeks or months to play out until the selling is finally exhausted. It's only then that bargain-seeking investors, like us, step forward to buy artificially depressed stocks for higher yield and income.
We succeed in this pursuit the other day with our purchase of additional shares in Vector Group (NYSE:VGR) for our exclusive subscriber portfolio. Our patience and limit order paid off as we secured the $22.85 price we sought and secured the 7% dividend yield we coveted. I bought more shares for personal portfolios I manage for $22.45.
In addition to being able to buy at a lower price and obtain a margin of safety with this purchase, we've also been rewarded with a nice capital gain of $132.88, or 1% in just a couple days.
Monday's Performance
As the battle between bulls and bears played out Monday, the market see-sawed between gains and losses, finally closing very close to even for the day. While all this was playing out, the RODAT subscriber portfolio was solidly in the green all day and soared higher to the close, finishing with a 1.34% gain, or $2,222 dollar gain.
The Fill-The-Gap Portfolio developed exclusively for Seeking Alpha readers closed up a solid 1.19% Monday, gaining $5,157.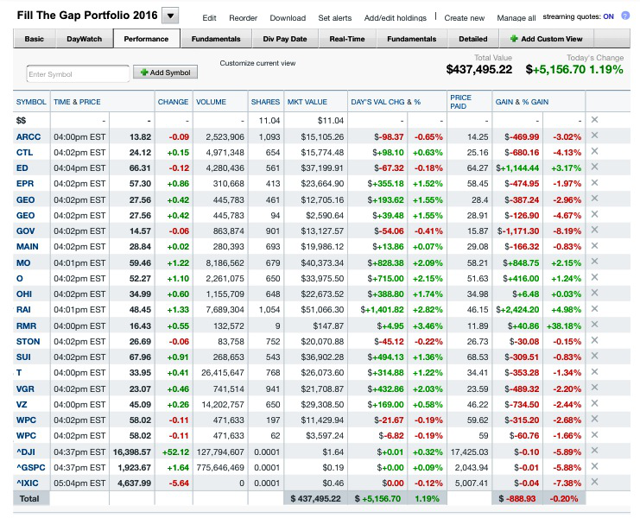 As you can see, for the first 11 days of this grim New Year, the Dow Jones Industrial Average and the S&P 500 Index are both down close to 6%, and the Nasdaq Composite index is down close to 7.5%.
In stark contrast, the FTG portfolio is off a mere .2% over these 11 days. In thirteen months of this portfolio's existence no dividends have been cut. No dividends have been frozen. No dividends have been eliminated in this portfolio. Dividend income just keeps on flowing in, giving us a yield on cost now over 6%.
And, since portfolio inception on 12/24/14, the FTG has grown from $411,600 in value to $437,495 today with only one $6500 IRA contribution along the way. This compares quite favorably to the 9.33% decrease in value of the Dow Jones Industrial Average and a 7.89% decrease in value of the S&P 500 index in the comparable time frame.
Cut Off Your Nose To Spite Your Face
Giving up on your goal to grow your income for retirement because stock prices are falling would be like slashing your other three car tires simply because one tire got a flat.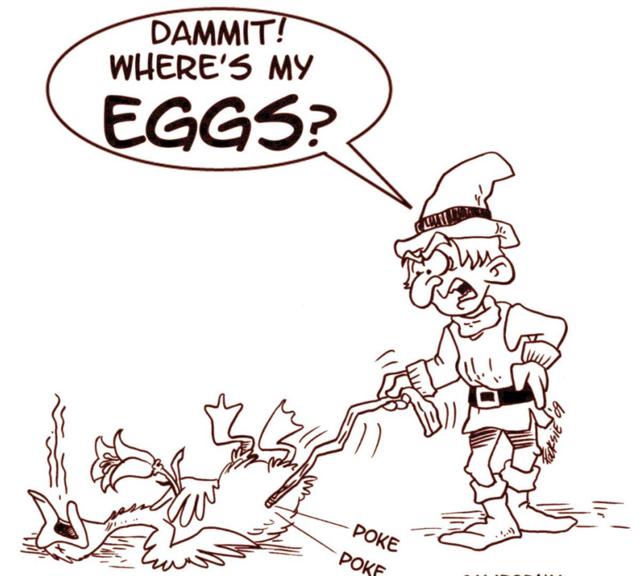 If you surrendered now to all the talking head warnings we are confronted with you'd be selling the golden goose that lays those golden eggs for you. Sell all your stock and you've sold all your reliable income down the river. How would you replace that income now?
Of course, dividend growth investing is not for everyone, but there are millions of us who are coming to the conclusion that it is the right path for us.
Give a little thought today while you're feeling nervous about the market. Think about how you might feel if you were investing solely for capital growth and reliant on stock prices for the bread on your table. Now, imagine that today was the first day of your retirement. If you were doing "as well" as the averages, your assets in the market would have depreciated by 6% or 7.5% in just 11 of the past days. If you were invested in many of the sectors or stocks that have already fallen more than 20% (50% and more in the energy sector), how confident would you feel that you'd be able to pay your bills from the sale of shares of these depreciated assets?
And what if this is, in fact, the beginning of a true bear market that might take us down 57% like the last growling bear we knew in the financial crisis, just seven short years ago? How comfortable would you be feeling as a newly minted retiree, facing the prospect of having to sell off your seed corn to pay the bills, in an environment where your assets kept depreciating in value by the day?
Dividend Growth Investing Can Be Your Antidote In A Bear Market
If you inoculate yourself and your portfolio with high-quality companies that continue to grow their earnings and pass some of those along to you in the form of increasing dividend payments, you will have found an antidote to the anxiety and hysteria that grips you from time to time when market prices contract.
If you were a landlord during the financial crisis, when all things real estate were compressing, would you have jumped off the roof of one of your buildings simply because the market was dictating a price 30% below what you paid for that building just a few years before? Or would you be rejoicing that the $1,000.00 a month rent you were charging grew to $1,100.00 the following year, and perhaps $1,400.00 a few years after that as the economy recovered?
I'll choose the predictability of those rent increases and those dividend increases over the value the market places on the building or the value the market places on my stocks, every day of the week.
Every day that we receive a dividend is another reminder of the viability and predictability of this type of income stream. Every time a company pays us to own their stock is a reinforcement of our original decision to buy that share.
Dividends paid by solid companies with long histories of increasing them are the predictable foundation upon which a retiree and near-retiree can build a comfortable and secure retirement.
The FTG Portfolio
I began writing a series of articles on December 24, 2014, to demonstrate the real live construction and management of a portfolio dedicated to growing income to close a yawning gap that so many millions of seniors and near retirees face today.
The beginning article was entitled, "This Is Not Your Father's Retirement Plan." This project began with $411,600 in capital that was deployed in such a way that each of the portfolio constituents yielded approximately equal amounts of yearly income.
Having reduced our risk to portfolio income by spreading our income equally among many separate high-quality companies with long histories of paying and increasing their payouts, we built out the foundation further. Additional strength was derived from diversifying to several sectors to mitigate our risk.
The Fill-The-Gap Portfolio, or FTG, was born of the realization that the average American couple can expect to receive $28,800 in Social Security benefits that they worked their whole careers to earn. We also understand that a fairly comfortable retirement in most parts of the U.S. is going to cost us around $50,000.
If we simply subtract the smaller amount from the larger required amount, we come to see that this average couple is short a couple tens of thousands - $21,200 to be exact.
Where Has The FTG Portfolio Sought Income In Past Months?
I'm glad you asked. Readers of my series have been following the progress of my Fill-The-Gap Portfolio, which I have been demonstrating exclusively for readers of Seeking Alpha since the inception of the portfolio on December 24, 2014.
Its aim is to illustrate how an average retired couple receiving an average of $28,800 in combined Social Security can close the gap between that amount and a fairly comfortable $50,000 retirement income. If we add this $28,800 average from Social Security to the current $25,359.69 in FTG Portfolio dividend income, we see that the current annual total of $54,160 comfortably surpasses that initial goal and continues to increase through growth of dividends and opportunistic reinvestment of those dividends.
Portfolio Construction And Management 101
I have recently launched my premium subscription service right here on Seeking Alpha. For those readers who have not yet joined, it's a service of active portfolio management that will help you build an exclusive dividend growth portfolio for your retirement. Please click the banner at the bottom of this article to learn more about my premium subscription service.
Retirement: One Dividend At A Time
This new portfolio began with a starting overall portfolio dividend yield of 5.77%.
The FTG Portfolio
Constructed beginning on 12/24/14, this portfolio now consists of 17 companies, including AT&T, Inc. (NYSE:T), Altria Group, Inc., (NYSE:MO), Consolidated Edison, Inc. (NYSE:ED), Verizon Communications, Inc. (NYSE:VZ), CenturyLink, Inc. (NYSE:CTL), Main Street Capital Corporation (NYSE:MAIN), Ares Capital Corporation (NASDAQ:ARCC), Reynolds American, Inc. (NYSE:RAI), Vector Group Ltd. (NYSE:VGR), EPR Properties (NYSE:EPR), Realty Income Corporation (NYSE:O), Sun Communities, Inc. (NYSE:SUI), Omega Healthcare Investors (NYSE:OHI), StoneMor Partners LP (NYSE:STON), W.P. Carey, Inc. (NYSE:WPC), Government Properties Income Trust (NYSE:GOV), and The GEO Group (NYSE:GEO).
Plan of Action-Portfolio Management
Our aim is to get the most bang for our bucks. We will look toward any further weakening in the markets as our developing opportunities to buy more income for the portfolio at cheaper prices, gaining higher yield along the way.
We are in no hurry here. We will follow our playbook just as we did with the Vector Group purchase. We'll pick our spots and when those entry points arrive we'll pounce.
Capital Preservation, Capital Growth and Dividend Growth
We are happily meeting all of our objectives, preserving our capital, growing it strongly and collecting 103 separate dividend payments every year. All of this is being accomplished while the rest of the market and most investors are struggling and flailing around, unsure of whether they should stay or should they go.
We stick to our plan to grow our income. Some investors now find themselves gravitating to the kinds of stocks we've bought because they offer some safety, some downside cushion and growth of income by reason of their paying us dividends. That is what has contributed to some of our capital gains to date.
Final Thoughts
The Fill-The-Gap Portfolio for 2016 presents a new beginning, an opportunity for retirees, near-retirees and new, younger millennial investors to start the process of making their transition to dividend growth investing in some of the safest, most predictable, long-paying, high-payout companies in America.
For younger millennial investors willing to be open to ideas to further their financial education, this portfolio represents a solid foundation. For them, and all pre-retirees and retirees, this model of portfolio construction is offered as a foundational way to build retirement income for the future that addresses inflation head on. The dividends in this portfolio will continue to grow in such a way that future income will not be degraded and decimated by inflation. On the contrary, purchasing power will be preserved, unlike what would befall an investor buying 0% T-bills today or negative interest rate T-bills next week as discussed in those articles I penned.
Conclusion
If you accept the premise that the equity markets will eventually correct back to more normal prices (we saw this again on Wednesday, December 23, 2015, with the powerful rebound from the summer correction), you may wish to consider some of the equities discussed here for your income portfolio needs. Now that many of them have suffered a good degree of price compression, their yields for new investors, as demonstrated, are accidentally high and that much more attractive today. The research presented today should lend some degree of comfort as well since this is the bottom line for income investors - sustainable and growing income.
If we can maintain discipline to shut out external world event noise and stick to our plan of growing the income stream, no amount of external events will impact our income component. If we allow ourselves to let in just a portion of the noise and be on the lookout for opportunities that pop up, we can profit from these opportunities by buying on the dips and corrections as we've done and demonstrated here. We need to filter out extraneous cues and simply profit from all the confusion around us.
Author's note: Please consider following me in real time. This will enable you to receive an email the moment any of my articles are published on Seeking Alpha. Just click the down-arrow next to the "Follow" link above this article title, and check the boxes for "Follow this author" and "Real-time alerts on this author."
Please don't keep me a secret. I'd appreciate it if you forwarded this article to your friends, colleagues and family who you think might find this work interesting and something they might benefit from.
If you found this article, the concept and investment results interesting and intriguing, I invite you to read the other articles in this series. Stay tuned for further articles that will introduce additional sectors and names to further diversify a portfolio for continued ballast and mitigation of risks to any one sector.
Should you be interested in reading any of my other articles detailing various strategies to enhance your returns on a dividend growth portfolio, you will find them here.
As always, I look forward to your comments, discussion and questions.
Disclaimer: This article is intended to provide information to interested parties. As I have no knowledge of individual investor circumstances, goals, and/or portfolio concentration or diversification, readers are expected to complete their own due diligence before purchasing any stocks mentioned or recommended.
Disclosure: I am/we are long ARCC, CTL, ED, EPR, GEO, GOV, MAIN, MO, O, OHI, RAI, STON, SUI, T, VGR, VZ, WPC.
I wrote this article myself, and it expresses my own opinions. I am not receiving compensation for it (other than from Seeking Alpha). I have no business relationship with any company whose stock is mentioned in this article.