The People's Bank of China allowed the largest devaluation in some time last week resulting in equity losses both in China and in global markets. Gold has climbed 4% this year as concerns about China, the devaluation and the rout in equity markets as well the escalation of geopolitical tensions in the Middle East and Asia. The year started off with the Chinese stock market selloff followed by voicing of disagreement between Saudi Arabia and Iran and finally North Korea's test of a hydrogen bomb all pushed gold higher by creating different sources for risk aversion. As a result, investors bought the most gold through exchange-traded funds in three weeks on Friday, data compiled by Bloomberg showed. Gold ETF holdings climbed 9.1 metric tons to 1,475.3 tons after rising 8.1 tons the day before.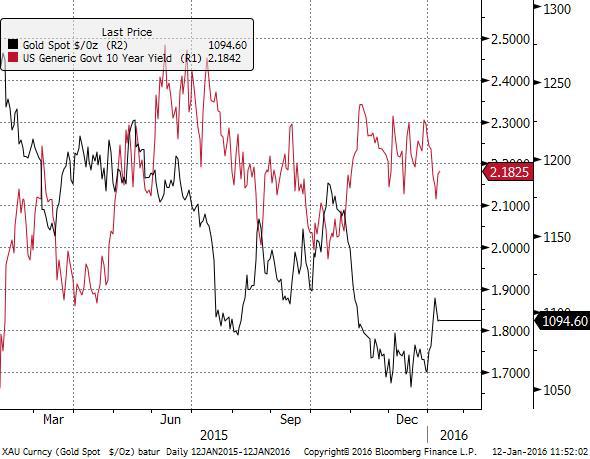 These factors have been reasonable drivers of the gold price move to 1110-1120 area, which had been a relatively important level on the way down. As you can see from the chart above, gold remains in downtrend for the time being and it has been somewhat linked to US interest rates. Investors have been mostly focused on monetary policy in the US and the rate increases until now. The factors that drove the prices higher seems to be easing somewhat and while it is too early to say these risks have been averted, with the US dollar strengthening , the currency is becoming a safe haven in itself offering some yield. Moreover, a sustained oil price slump lowered the inflationary outlook globally which in turn marred the need for inflation-hedged investing. Apart from a few emerging economies, inflation is not a blazing issue across the globe. In fact, several developed nations face deflationary threats. Even in the U.S., inflation is not rising fast.
The recent rally in gold prices since the first of January has curbed demand in markets like India and Turkey, sending local prices to a discount versus global markets for the first time in three weeks. The tumble in Yuan is underpinning Chinese demand and the selloff in ZAR is pushing producers to produce more Gold than they have been 3 months ago. For the first time since December 17 th, local Indian dealers are offering discounts up to 3 dollars and the demand is not expected to pick up any time soon.
Conclusion: At current prices gold has rallied around 6-7% relative to industrial metals and it seems demand from the retail side is not as strong as it was end of last year. With US rates still picking up and less demand from Asia against an abating risk aversion could send gold prices lower to test lows in the midst of the commodity rout.
Best choices take advantage or prices in such a scenario would be to take positions in DB Gold Double Short ETN (NYSEARCA:DZZ), UltraShort Gold (NYSEARCA:GLL) and DB Gold Short ETN (NYSEARCA:DGZ).
Disclosure: I/we have no positions in any stocks mentioned, and no plans to initiate any positions within the next 72 hours.
I wrote this article myself, and it expresses my own opinions. I am not receiving compensation for it (other than from Seeking Alpha). I have no business relationship with any company whose stock is mentioned in this article.