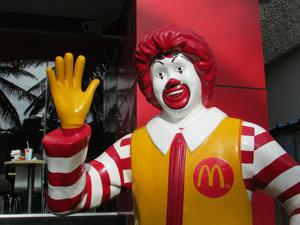 Something of a fun complaint out of Italy about McDonald's (NYSE:MCD). That being that they own most of the real estate which is used to underlie McDonald's franchises: and that they then charge well above market rents for that real estate. Rather breathlessly we get told that this is an abuse of their dominant market position and that the European Commission could fine them as much as $9 billion as a result of this.
That's really a very hopeful point they're making there: there's a very long way to go before any of this is proven and anyone can indeed make a complaint to the European Commission. This is also really nothing at all about real estate in Italy or Europe: this is being backed by the SEIU, the same people behind the Fight for $15 in the US. And the basic tactic seems to be continuing to throw up whatever problems they can for the main opponent to that idea, McDonald's, while being involved in that fight for $15.
Further, there's a very basic problem with the original complaint. Which is that the real estate for a McDonald's is a different market from that for an office, an apartment, even a KFC. So, the rent being charged for a Maccy D's is in fact the market rent for a Maccy D's. They can't be charging above the market rent if they are, umm, charging the market rent.
And it's also obviously true that all of these terms are made entirely clear before a franchisee signs on the dotted line and thus there's not even any market power being thrown around here. There's an entirely free market in becoming a franchisee of McDonald's or anyone else of course: and thus this just isn't the exercise of market power.
Reuters covers the story:
Three Italian consumer organizations have urged EU antitrust regulators to investigate McDonald's (MCD.N) franchise system in Europe, a month after the opening of an EU inquiry into the U.S. fast food company's tax deals with Luxembourg. Codacons, Movimento Difesa del Cittadino and Cittadinanzattiva filed their complaint with the European Commission on Monday, urging the EU competition enforcer to step in and look at a system, which they alleged was anti-competitive.
Actually, behind all of this is that SEIU. Who are also behind those complaints of tax dodging. And who are also arguing within the NLRB in the US about whether McDonald's is a co-employer along with the franchisees of the working staff. And behind the Fight for $15, that campaign in which McDonald's is the major opponent in many eyes. This is really all about cranking up the pressure, the anti-McDonald's public opinion in the US, in order to boost that campaign for a rise in the minimum wage.
And USAToday:
The Service Employees International Union, which has more than 2 million members in the U.S. and Canada and has backed a push in the U.S. for a $15 minimum wage, has thrown its support behind the European Commission complaint. Several American fast food workers traveled to Brussels on Tuesday to call on the European Commission to investigate the antitrust complaint and to publicize the push in the U.S. to improve wages for fast food workers.
Yes, quite, this is a political move, not an economic or legal one. As the SEIU's own press release says:
If found guilty, McDonald's would face severe penalties, possibly as high as 10% of its global turnover, or USD 9 billion based on 2014 sales, as well as any additional remedies that the Commission may deem suitable to secure fair competition.
That's a nice scary number to throw around, isn't it? And that is all part of that pressure. The commission never does levy those 10% fines, it most certainly won't against McDonald's whatever the finding in a few years' time is.
And as above, the basic complaint doesn't really make any sense in the first place. Consider the two parts of it. Firstly, McDonald's controls the real estate pony which people may build a McDonald's franchise. Secondly, that it charges above market rents for those sites. But if the only place you can get a site for a McDonald's is those sites then what is being charged for those sites is the market rent. So they cannot be charging above it.
Don't take this as a real economic threat to McDonald's: it's just part of the ongoing political campaign by the SEIU, that campaign generally known as the Fight for $15.
Disclosure: I/we have no positions in any stocks mentioned, and no plans to initiate any positions within the next 72 hours.
I wrote this article myself, and it expresses my own opinions. I am not receiving compensation for it (other than from Seeking Alpha). I have no business relationship with any company whose stock is mentioned in this article.